In Insights, you can create a Competitive Report, which allows you to understand how the patent portfolio of up to 10 companies compare with each other. You'll have access to a number of graphs that will enable you to obtain a picture of those companies' strategic ambitions and will also allow you to judge what their future plans will be in comparison with each other.
This article will cover the following topics:
Setting up a Competitive Report
To set up a Competitive Report from the Insights homepage, make sure you are selecting the "Company" option, and type the companies' names into the search bar. A list of suggestions that match each company name you enter will appear. This list will include any custom assignee groups you have created in the past.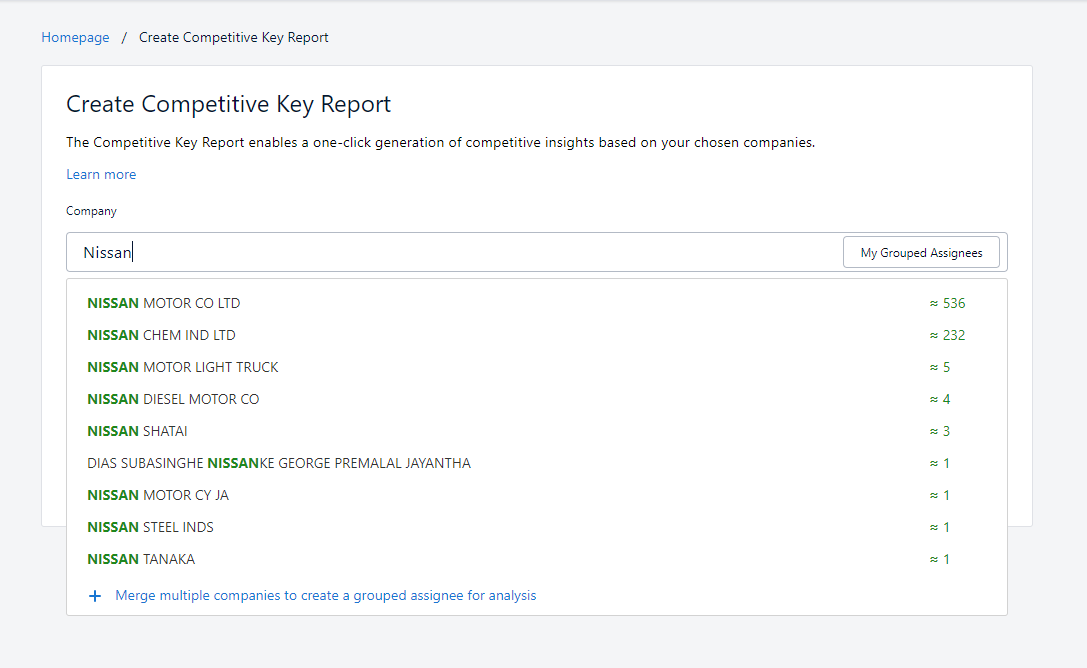 After you click on one of the suggestions for each company, you will get a screen similar to what is shown below.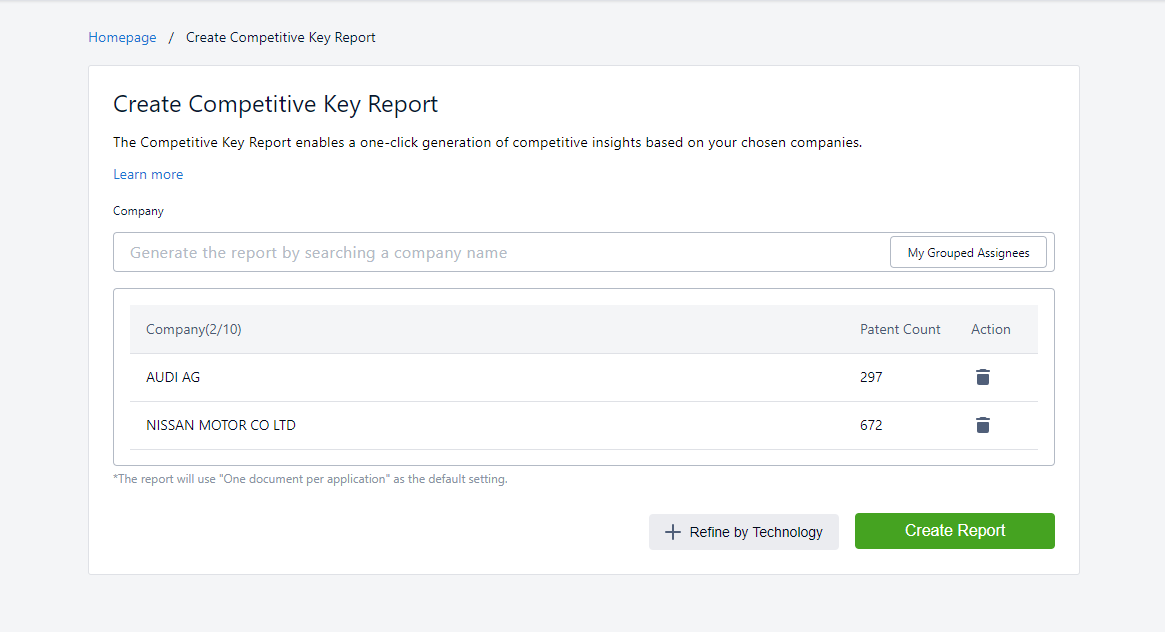 Before you create your report, you are able to refine by technology (in terms of IPC) and limit to keywords/query. You can set these refinements per company if you only want to look at a certain sector from one company.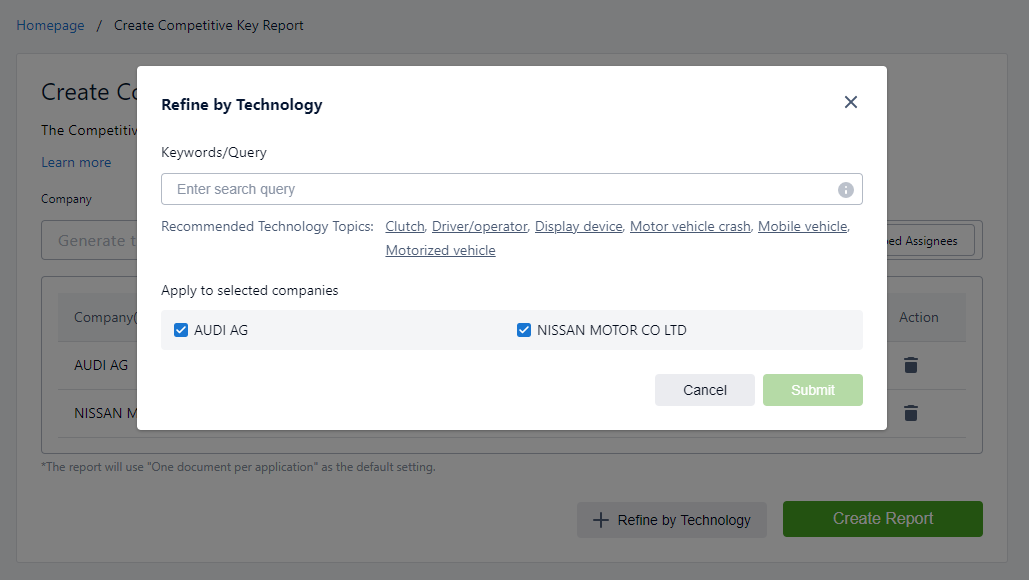 Once you are happy with your refinements, click on the "Create Report". You will come to a screen like this: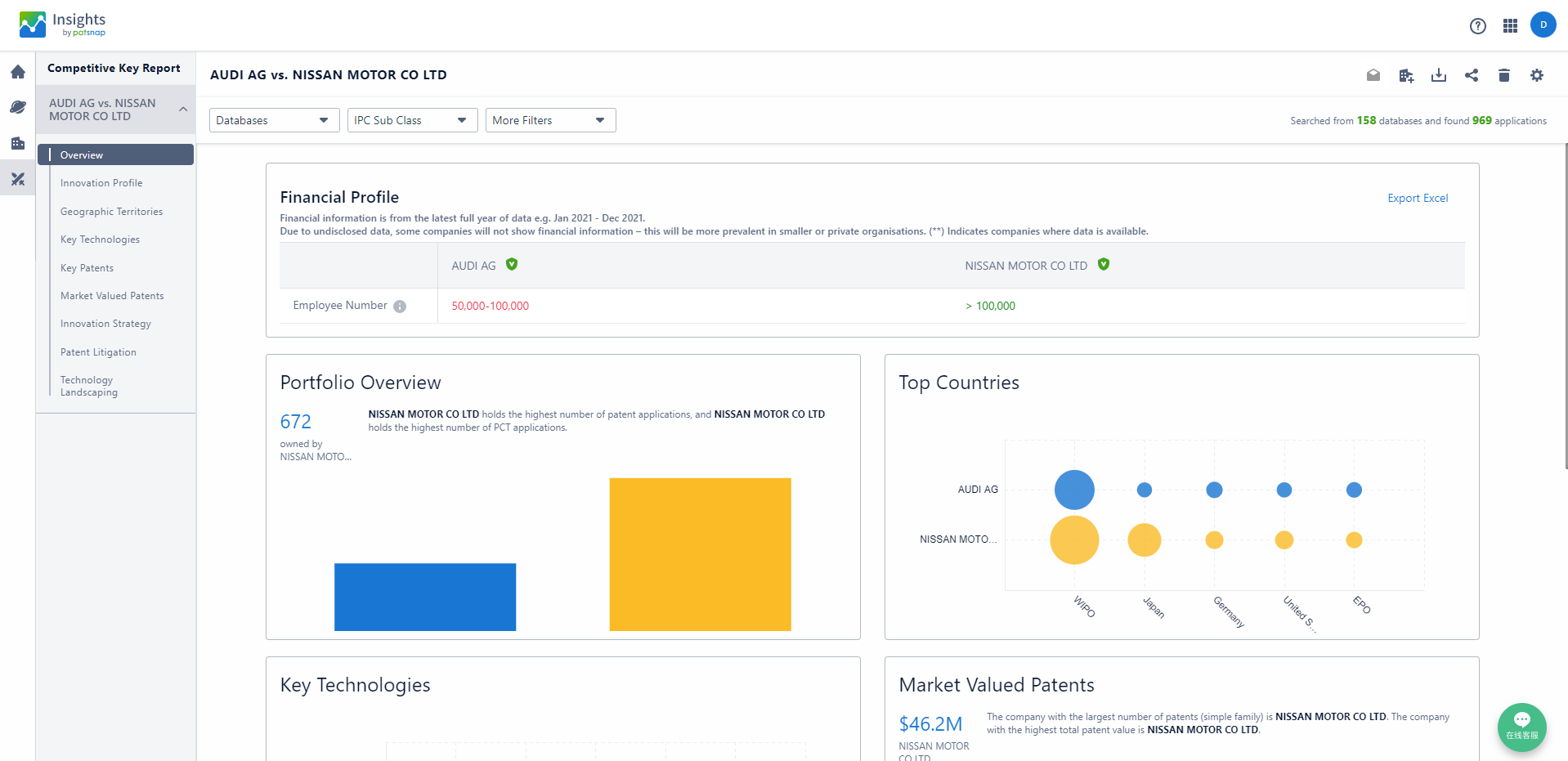 Toolbar
On the top right corner of the page, you will see a toolbar that gives you options to change report settings.

Let's go through each of the options in the toolbar.
Compare Company
Compare with more companies or select a new combination of companies.
Export
Export reports in PDF, PPT, EXCEL or WORD format.
Share Report
Share the report with co-workers.
Delete
Delete reports you no longer need.
Settings

There are 3 different tabs on the settings menu.

"Report Settings", "Analysis Preferences" and "Display Settings"

In "Report Settings", you are able to change the name of your report, or to modify the data source behind it.

In "Analysis Preferences", you are able to modify the way your results are displayed, and toggle stemming "on" or "off".

In "Display Settings", you are able to decide whether to show or hide numerical values in the Report charts, to select the colors that will represent each company, and to adjust the font size that is used in different sections of a Report.
Filters
On every report page, there are three different filters you can make use of. They are located at the top left corner of the Report view, and they will allow you to customize your report's content even further.

1. Database selection tool
Allows you to filter results by authority.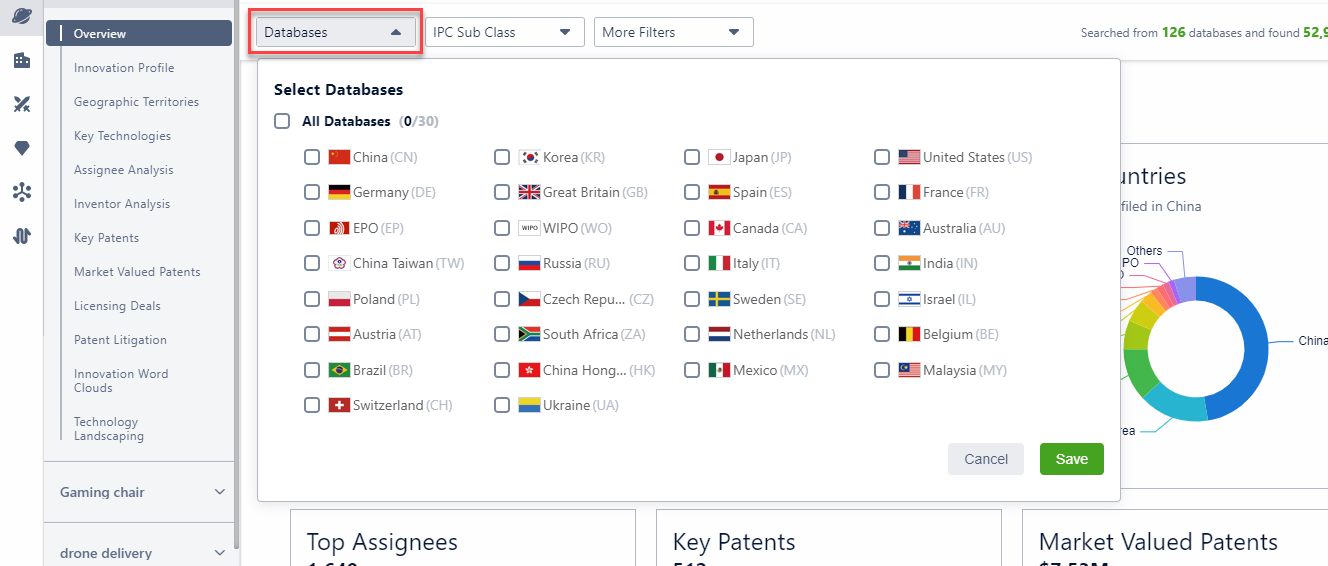 2. IPC Sub Class
Allows you to filter by IPC Sub Class.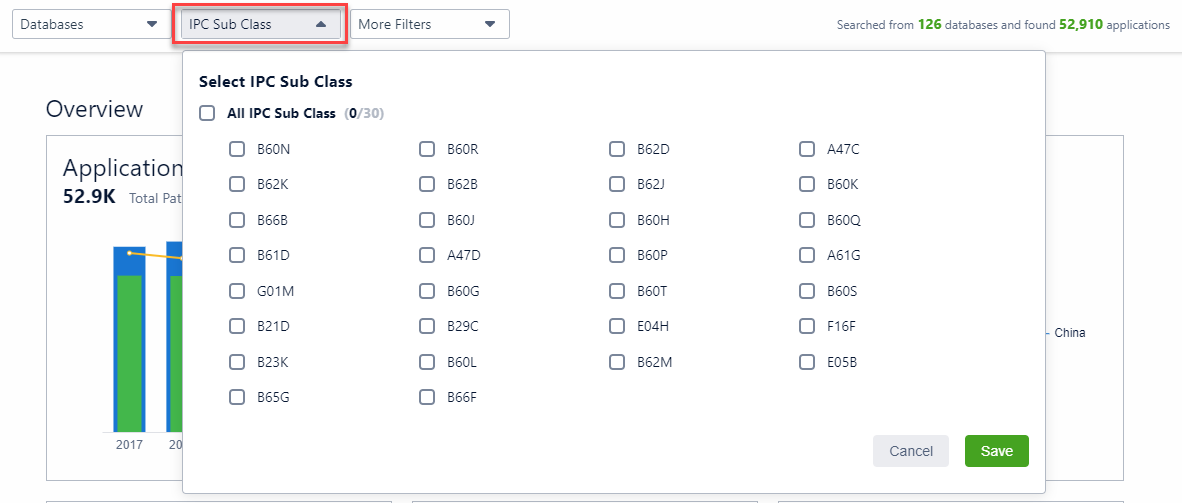 3. More Filters
More filters allow you to filter by Application Year, Publication Year, Simple Legal Status, Patent Type, CPC Sub Class and Litigation Database.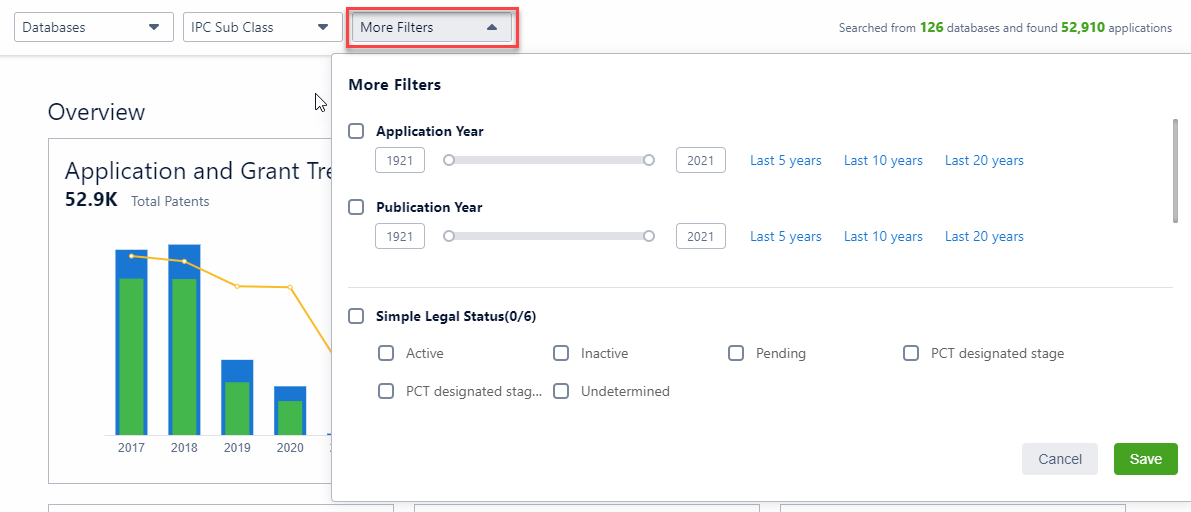 Competitive Report Sections
On the left-hand side bar, you are able to access the different sections available in the Competitive Report.
Each section allows you to view the data in different chart types (pie chart, bar graph, and more) along with a description. Each chart within the competitive report that compares three variables has the option to view in a bubble chart format. Additionally, you can also display numbers on your chart data. These displayed numbers can also be exported.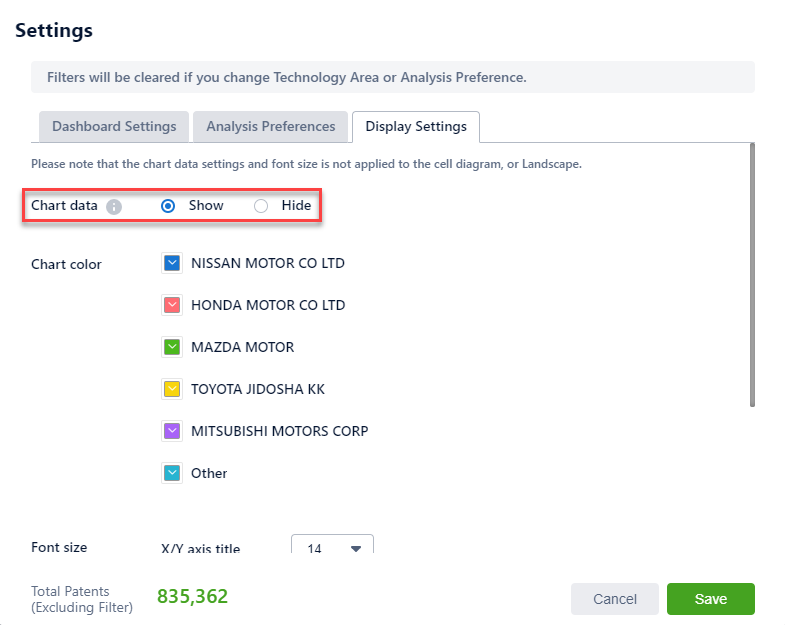 Here's how you can easily toggle between different chart types: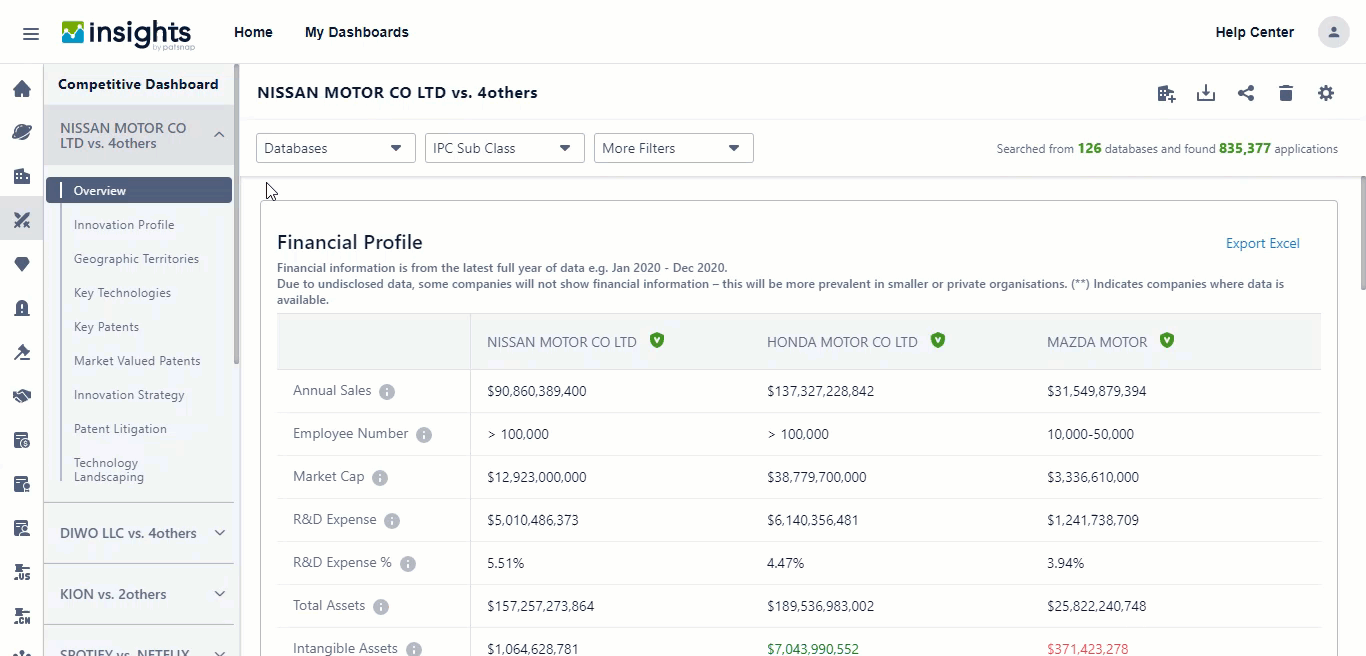 Below we'll go through the different sections and chart options under the Competitive Report.
1. Overview
The Overview page provides the following 6 charts about these companies:
Financial Profile
Portfolio Overview
Top Countries
Key Technologies
Market Valued Patents
Innovation Strategy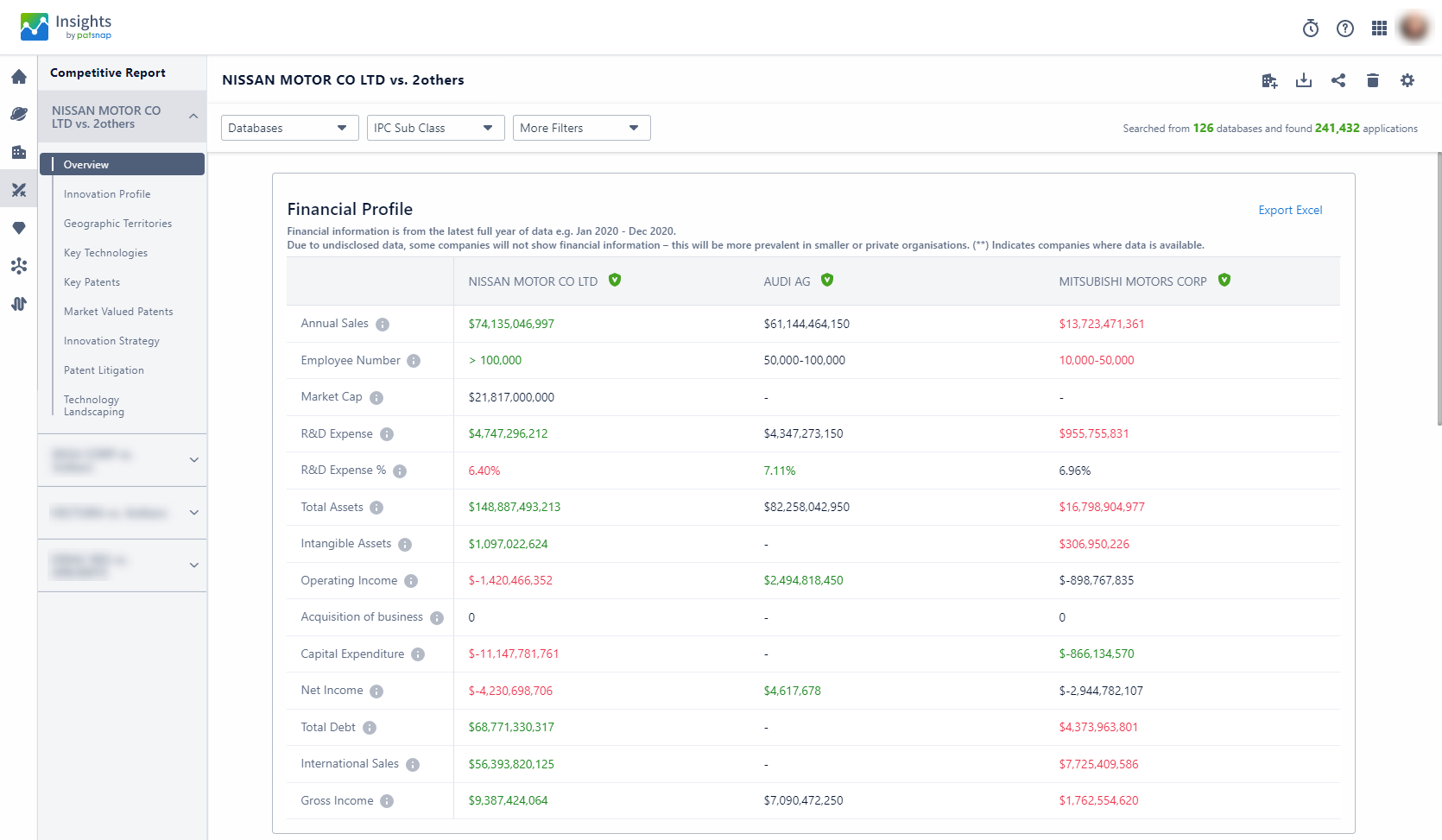 2. Innovation Profile
Within Innovation Profile, you can find the following charts and data:
Portfolio Overview

- Understand the total number of applications for each company and how many PCT's they have.

Application Trend

- Analyze the annual application trend of each company. This helps to understand changes in patenting activity for each company over time.

Simple Legal Status

- Simple legal status breakdown of each company's portfolio. This tells you the proportion of patents in each portfolio that are in effect, or no longer active, which you can then use to filter by.

Patent Type

- This chart gives a breakdown of the patent right protection each company is filing for; whether they are protecting the function (Invention, utility) or the appearance/shape (design) of their inventions.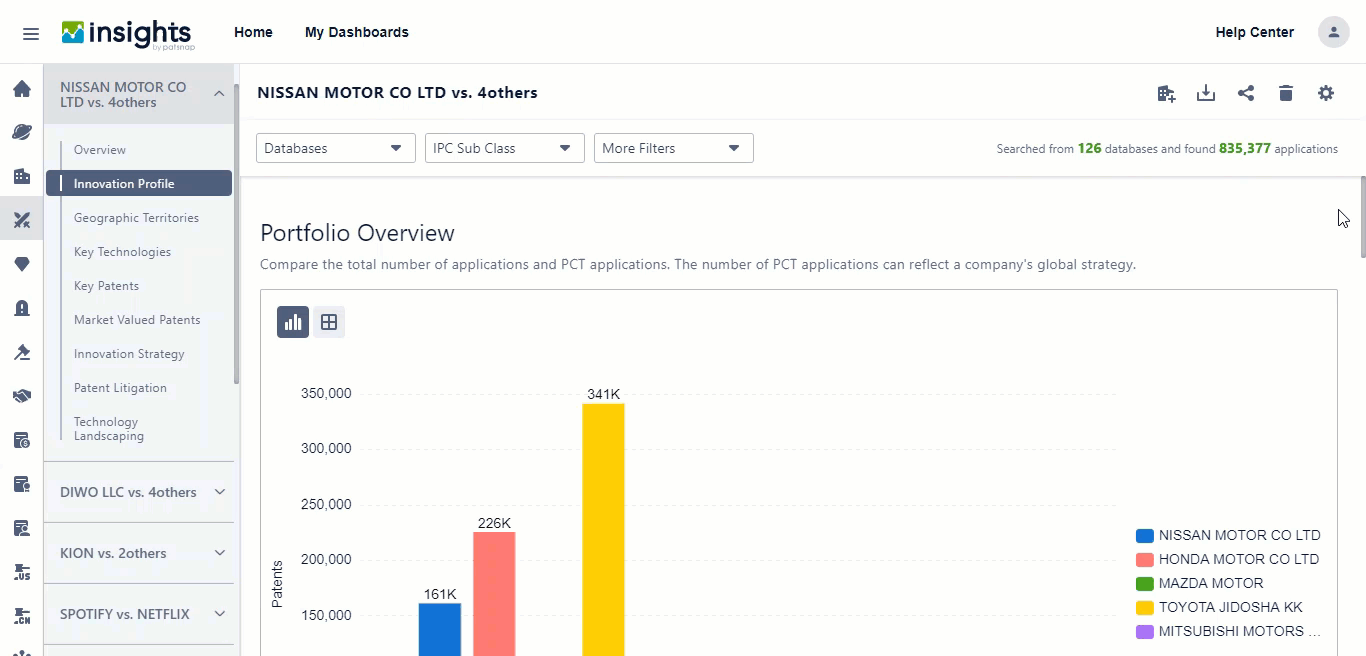 3. Geographic Territories
Within Geographic Territories, you can find the following charts and data:
Top Countries

- Shows the geographic coverage of where patent applications have been filed by each company. This gives an indication of the targeted geographic markets each company is most prominent and potentially commercializing in.

Application Trend in Top Countries

- Shows each company's yearly application trend within the Top Countries. This gives a indication of the geographical markets each company is targeting and how their direction has changed over time, to help you identify shifts in targeted markets and their focus over targeted time periods.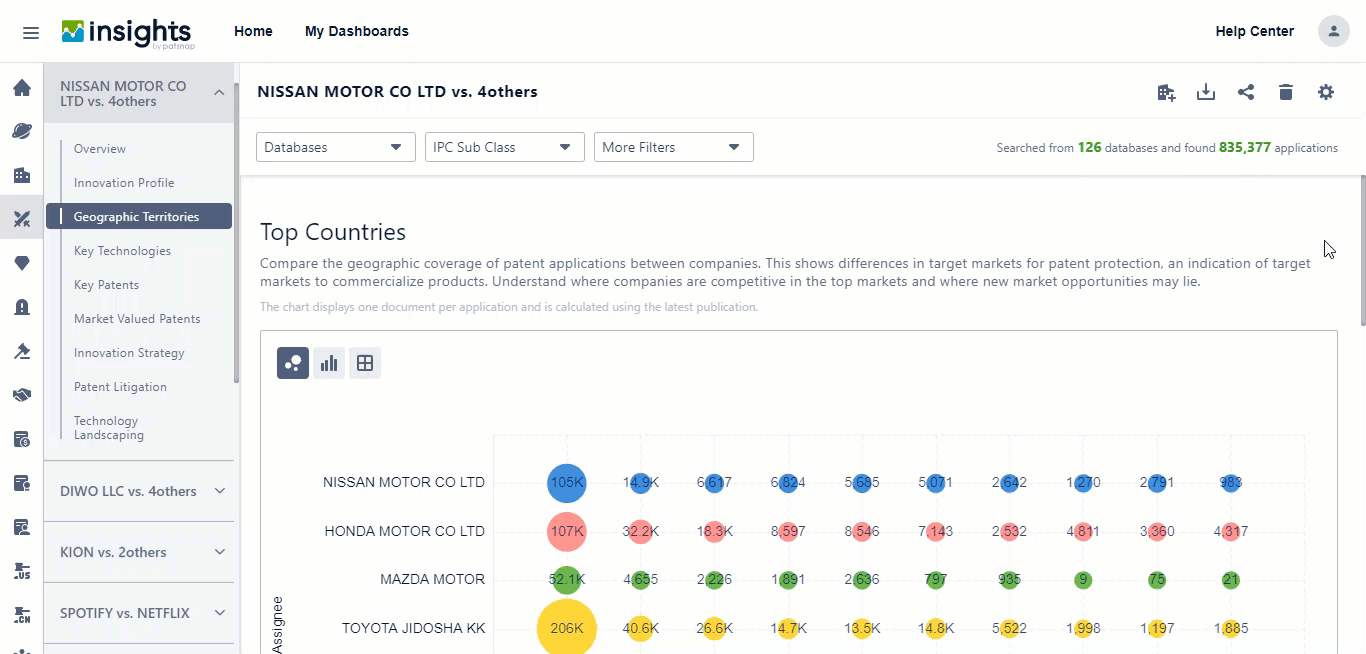 4. Key Technologies
Within Key Technologies, you can find the following charts and data:
Key Technologies

- Visualize the top technology areas each company is operating in, with the size of the bubble corresponding to the number of patents. This visualization is helpful for determining each organization's top competencies and to understand which technology areas they have invested in. Assess whether each company is focusing on one broad technology or if they have a diverse portfolio across a number of different technologies.

Geographic Distribution of Key Technologies

- Understand the top targeted markets by analyzing the distribution of the key technologies in each company's portfolio across the top 10 jurisdictions. This can help you identify the top targeted geographical markets for commercialization and any differing technological focus in specific markets.

Technology Cell Diagram

- The cell diagram shows the different technology areas each company has invested in. This will allow you to identify differences in technological focus and priorities between the companies.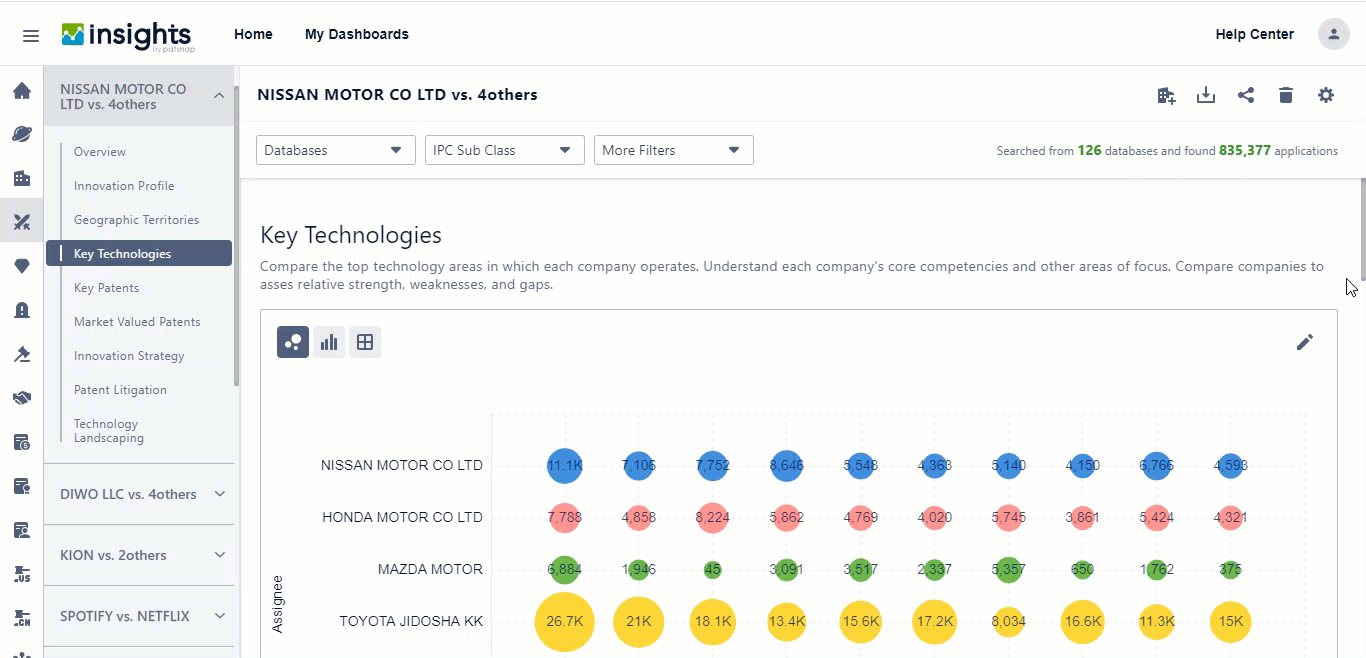 5. Key Patents
Within Key Patents, you can find the following charts and data:
Key Patents

- Identify and compare key patents between companies. This will allow you to understand and compare influence, size, and investment between each companies' portfolio.

Most Cited Patents

- Identify the records in each company's portfolio that have been cited most frequently by other records. These represent more referenced patents that have had their technology build upon by others. These patents are likely to be more valuable and may represent the more relevant technology to the industry.

Largest Invention Families

- Identify the patent families in the company's portfolio that have the furthest reach in either global coverage, divisional counterparts, or continuations. Pinpoint the most successful inventions that have received a large amount of resource for increased level of coverage (either by expanding the technical coverage or geographical reach).

Most Claim-Heavy Patents

- Identify the patents that hold the largest number of claims (independent and dependent). These records represent more complex inventions and those that have the highest level of financial and time investment involved in filing and prosecution.

Most Litigated Patents

- Identify the patents involved in the highest number of litigation cases. This may represent areas associated with litigation risk.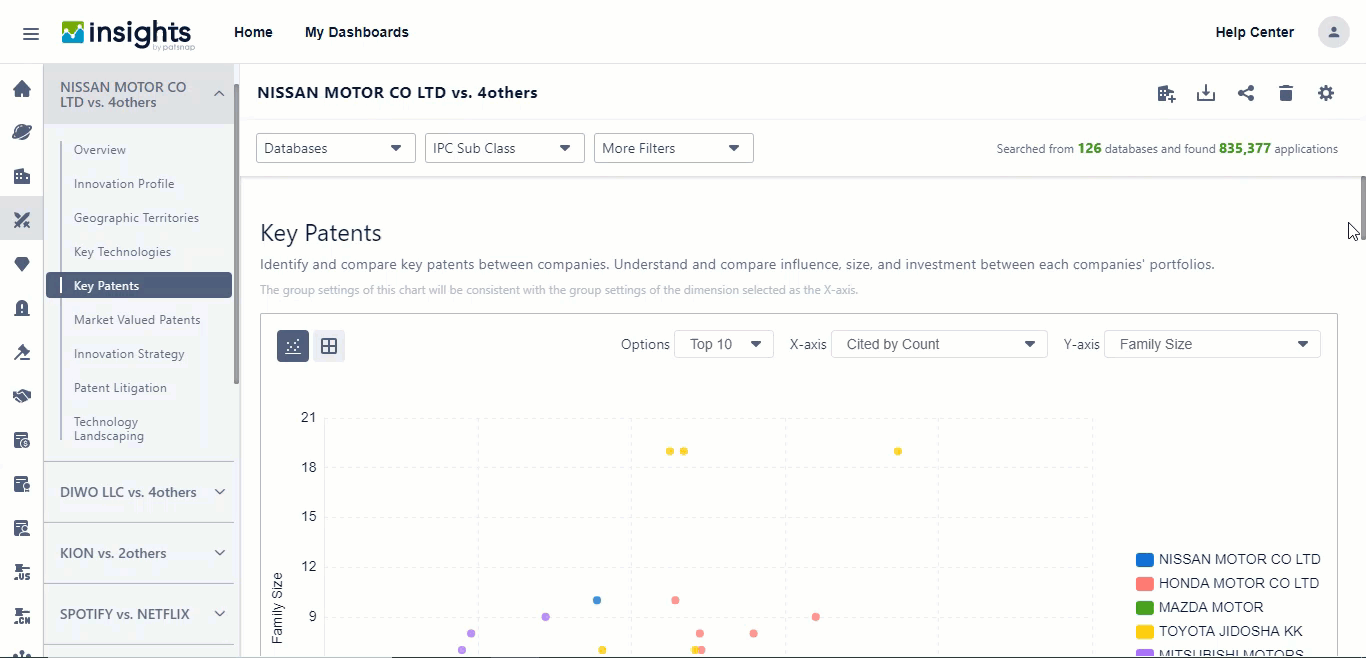 6. Market Valued Patents
Within Market Valued Patents, you can find the following charts and data:
Portfolio Valuation

- This compares the total value and total number of patents in the portfolio for each company.

Portfolio Value Distribution

- Understand the strength of each patent portfolio, based on the distribution of estimated patent valuation, with stronger portfolios having a greater proportion of their portfolio in higher value buckets. Learn more about the patent valuation methodology here: How Does PatSnap Valuation Work?

Market and Technology Value Comparison

- Compare the patent portfolio market value and technology value of each company. This will allow you to understand whether a company's portfolio is stronger in technical value or market value.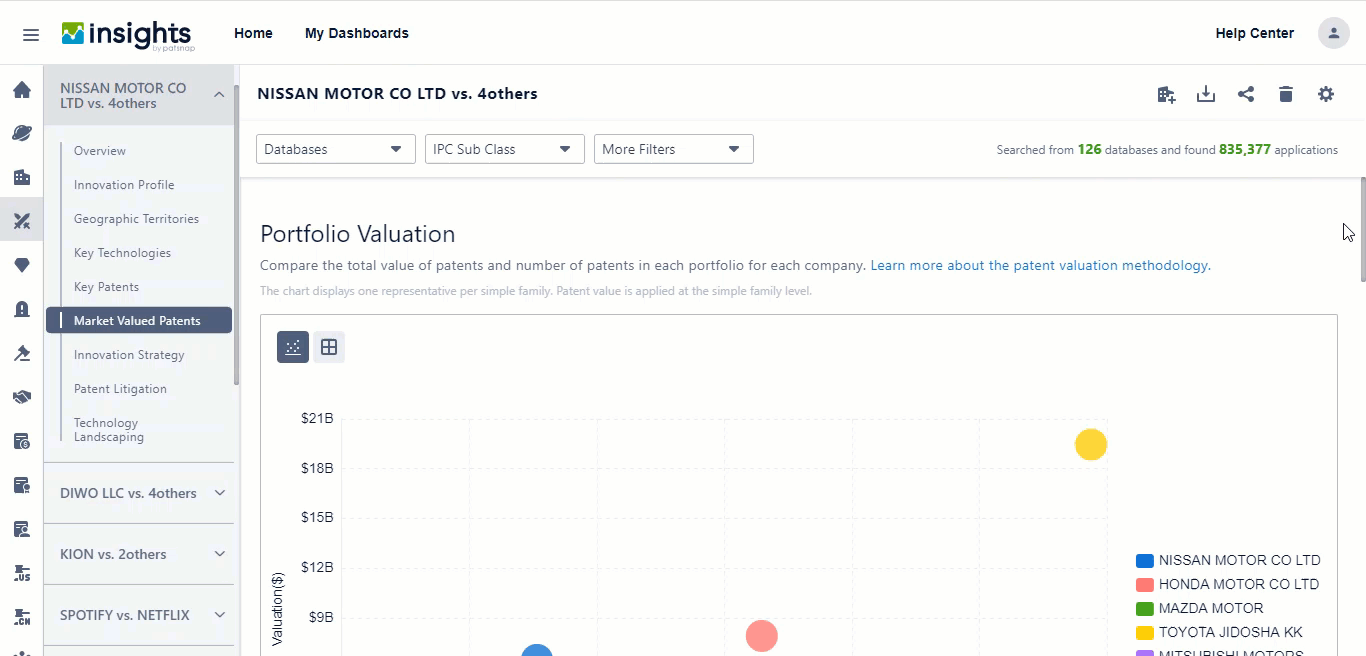 7. Innovation Strategy
Within Innovation Strategy, you can find the following charts and data:
Portfolio Strategy Radar Map:

The Portfolio Strategy Radar Map uses patent information as an indicator of portfolio strategy. The graph compares various metrics of the portfolio to highlight the characteristics and the strengths. The algorithm for the Radar Map was developed in collaboration with the Entrepreneurship Center, National University of Singapore.

The different factors considered in the radar map are:
Portfolio Strategy Bubble Map

- The Bubble Map is an extension of the Radar Map that show the degree of the various metrics used to highlight the characteristics and strength of each company's portfolio. Assess the contrasting dimensions to understand the differences in innovation strategy between the companies.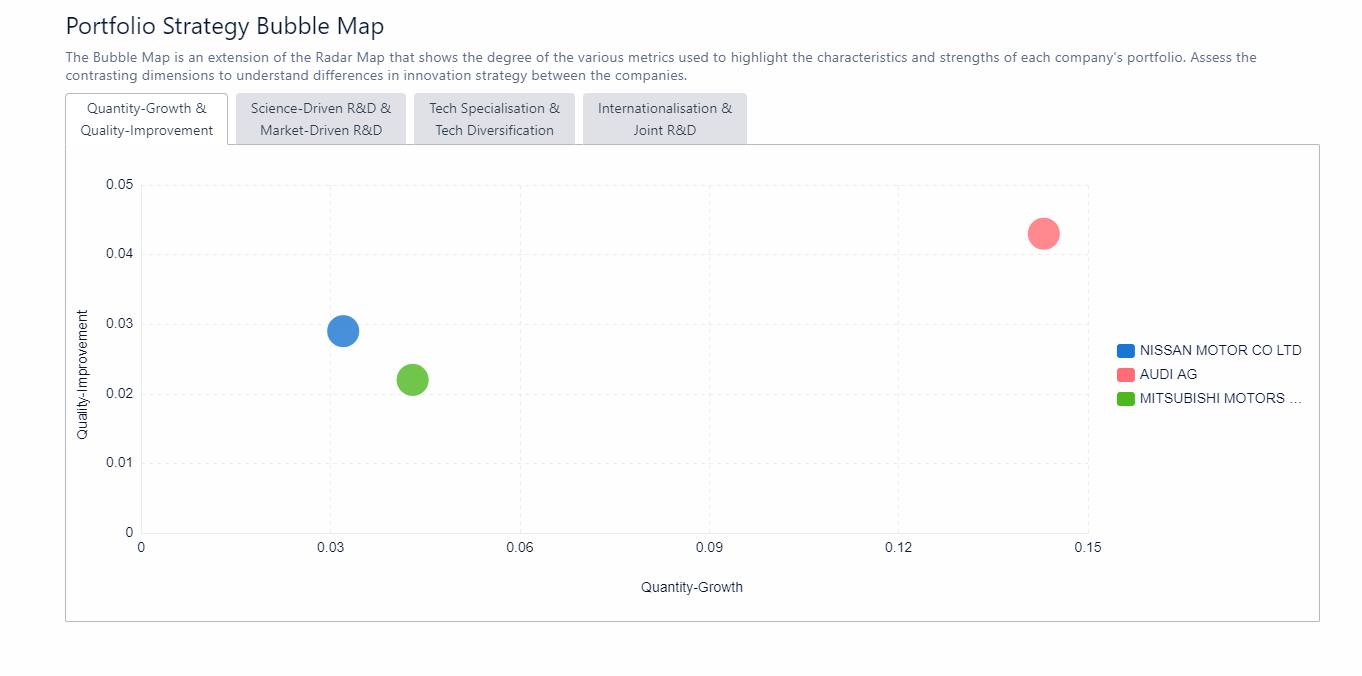 8. Patent Litigation
Within Patent Litigation, you can find the following charts and data:
Litigation Overview

- This allows you to view the number of litigation cases each company has been involved in.

Litigation Timeline

- This graph shows the annual litigation trend of each company.

Longest Litigated Patents

- This chart identifies the patents with the longest litigation duration. Lengthy litigation cases require a lot of work and carry heavy expenses and risk.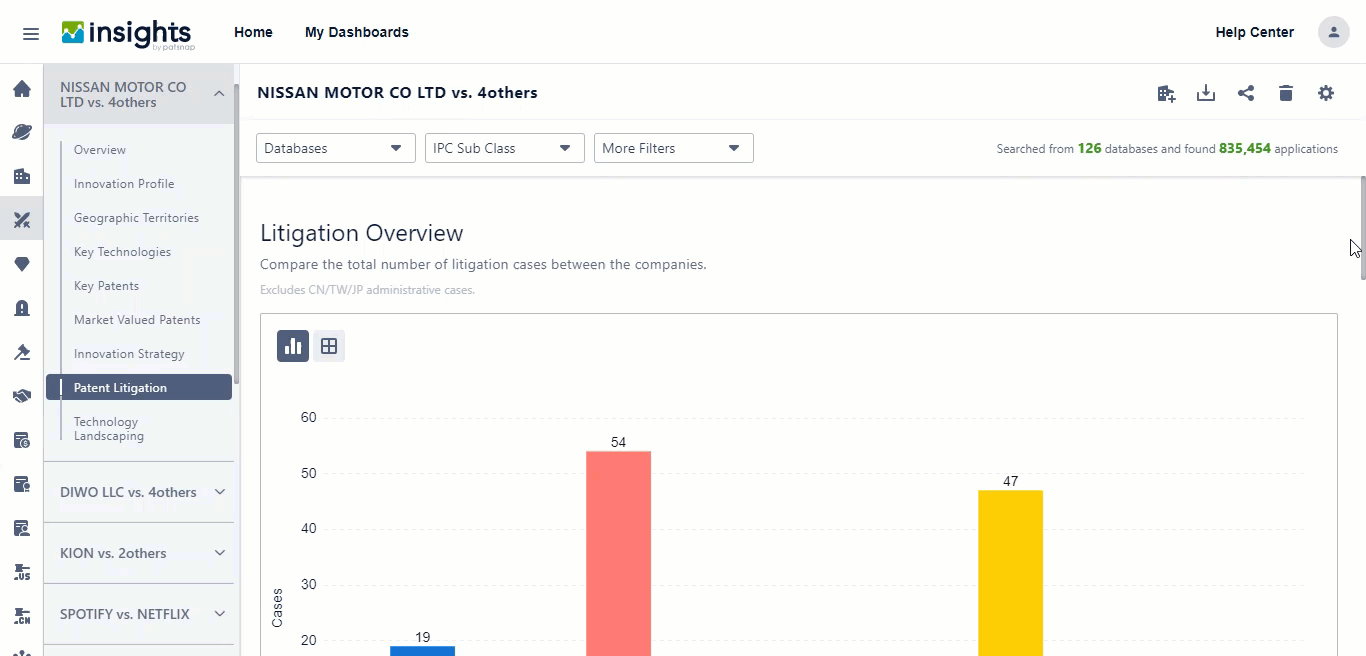 9. Technology Landscaping
The Technology Landscape enables you to visualize the layout of the technology space that the companies operate within. Peaks represent a more concentrated area of patenting activity and troughs represent areas of little or no activity.