If you are conducting a patent search to determine if you have freedom to operate or to assess patentability, it is recommended that you refine down the results to reduce the number of patent documents you have to review. When conducting a search within PatSnap, ­the refinement options appear in a pane on the left-hand side of your results display page. You can then expand the categories (e.g. Assignee, Grouped Assignee) and select the box-filters to add or exclude criteria before hitting the refine button.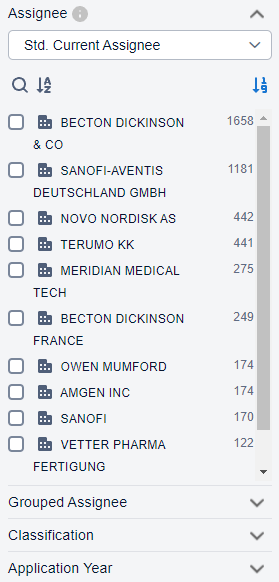 What is the difference between Assignee and Standardized Assignee?
A purported assignment gives the assignee the right to exclude others from making, using, selling, disposing of or importing the invention disclosed in the claims section of the patent document. Licensing is different from assignment because it transfers to the licensee a bundle of rights as designated by the owner in a contractual agreement. For this reason, determining who the assignees are in a technology area can help identify the key players. Companies often file patents under different assignee names to prevent other competitors tracking their portfolio. PatSnap allows you to filter your results by standardized assignee, so you can trace the holding company, partner or separate legal entity back to the well-known assignee name.
What is a Grouped Assignee Name?
Creating a grouped assignee name allows you to create a named group of your desired assignee names. This can be done by clicking on the initial drop-down menu in the top right of the screen, searching for a company and adding up to 500 named groups. The potential applications of this feature could be, for example, creating a customized group entitled "Patent Trolls" or "Top Competitors" to monitor those companies that pose a risk to your IP strategy in combination with each other.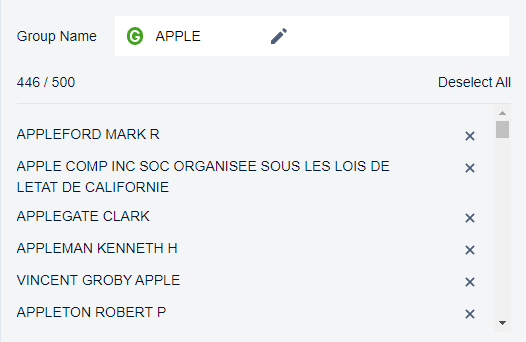 What are the different Standardized Assignee Types?
When conducting a patent search it can be useful to filter your results by the different classes of organization that appear as an assignee on the patent document. This enables you to identify what types of institutions are prevalent in the technology space and speculate about the source of funding (i.e. public or private equity), that these organizations receive to subsidize the cost of their portfolios. The different types of assignee can be defined as follows:
Company: separate legal entities that have filed for a patent under their registered organization name.
Person: an individual, typically the inventor, listed as an assignee of the patent.
Academy: educational establishments and public research organizations (e.g. Universities).
Government: bodies, offices and authorities (e.g. the US Federal Government and Technology Transfer Offices).
Hospital: Medical institutions that are marked as assignees of patents.
Bank: Financial institutions that are marked as assignees of patents.
Other: organizations that do not fall within the above categories, including unincorporated associations, trusts and charities.