In Insights, there is the option of the Licensee Locator Report (if you don't have it, speak to your account manager) which will help you to identify the most compatible companies to acquire or license your technology.
Finding licensing partners often comes down to reliance on a company or Technology Transfer Office's existing network and knowledge. Licensee Locator can automate the identification process for licensing partners, broadening the field of potential candidates. It considers objective metrics based on licensability, including similarity of technology, historical licensing strategy, and licensing culture. A breakdown of company licensing strengths and culture will enable you to identify the best partners to license their technology to.
To access the report, choose the "Licensee Locator" option on the Key Reports list: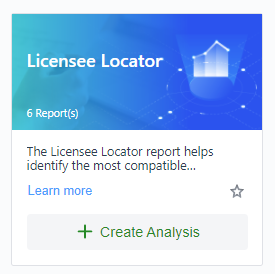 Once you have selected this option you will be able to create a licensee locator report where you can either input a publication/application number or a piece of text to create the report. If you use a piece of text, then the report will be created using a semantic analysis, the same as what is used for our Semantic Search. Once you have done this you will see a screen that looks like this: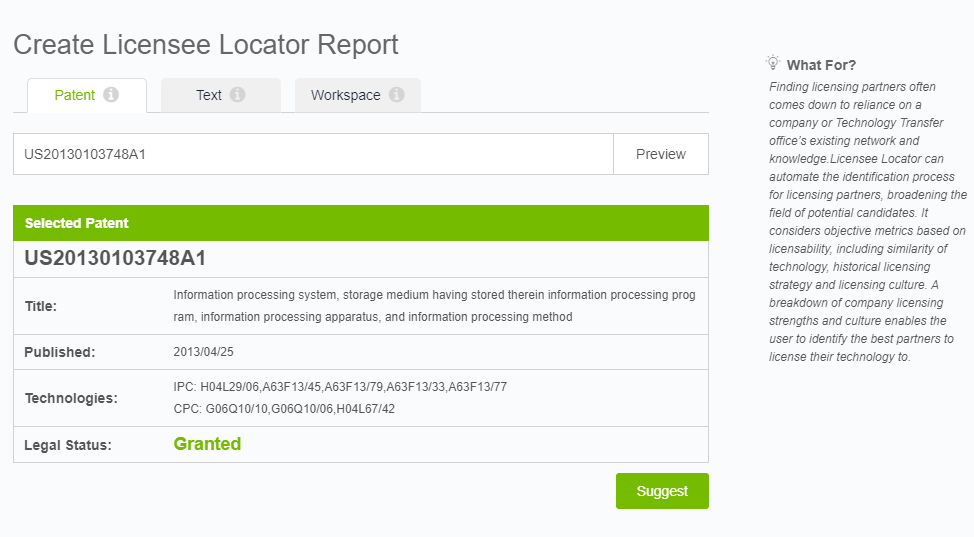 Once you are happy, click on the "suggest" option. From here, you will come to this screen: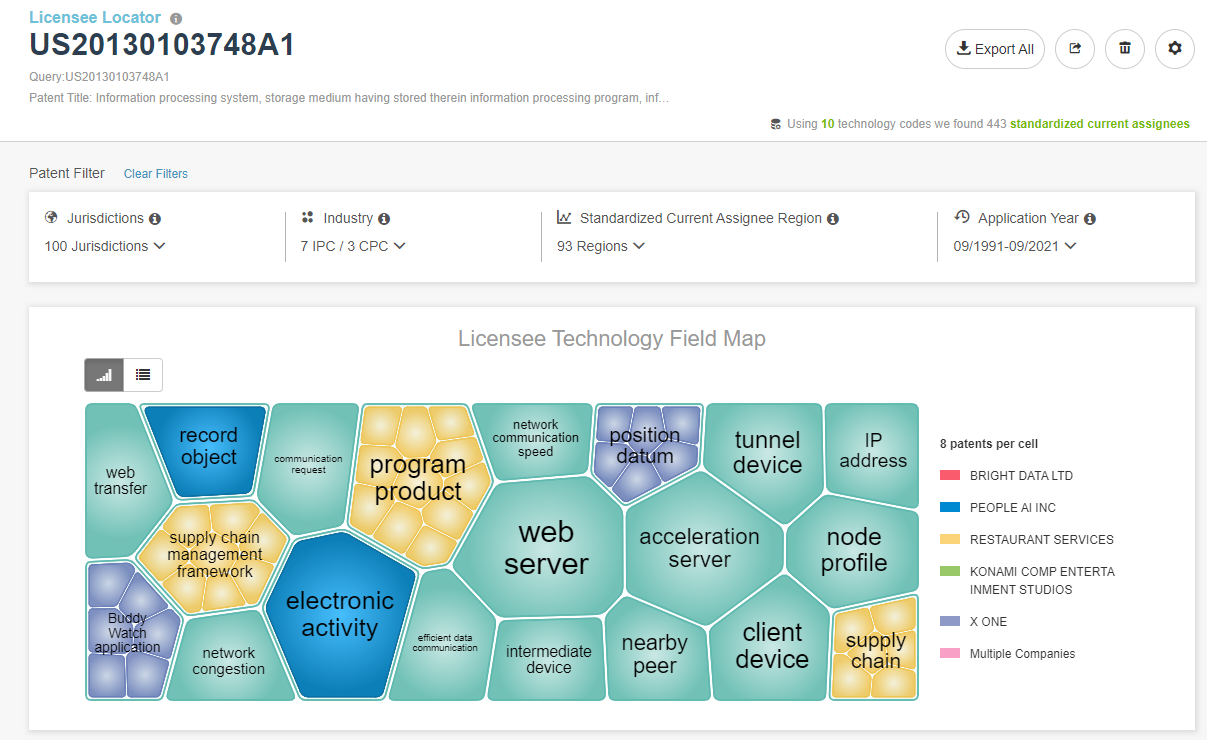 Using the options on the top-right corner of this screen you can edit report settings, export the graphs that are used, share the report and delete the report.
You are also able to edit the filters that are used for the patents that are displayed. These come in two different types those being patent filters and company filters.
For the patents filters, these are in terms of editing jurisdictions, IPCs/CPCs, assignee country, and application year.
You can also see the licensee technology field map which shows the keywords and phrases of the patents belonging to the top organizations in the technology fields that relate to your suggestion.
Below this, you can see a list of the top standardized assignees in these technology fields based on 6 different metrics where you can also find a description of these metrics here as well. The licensability score metric is based on the other 5 metrics.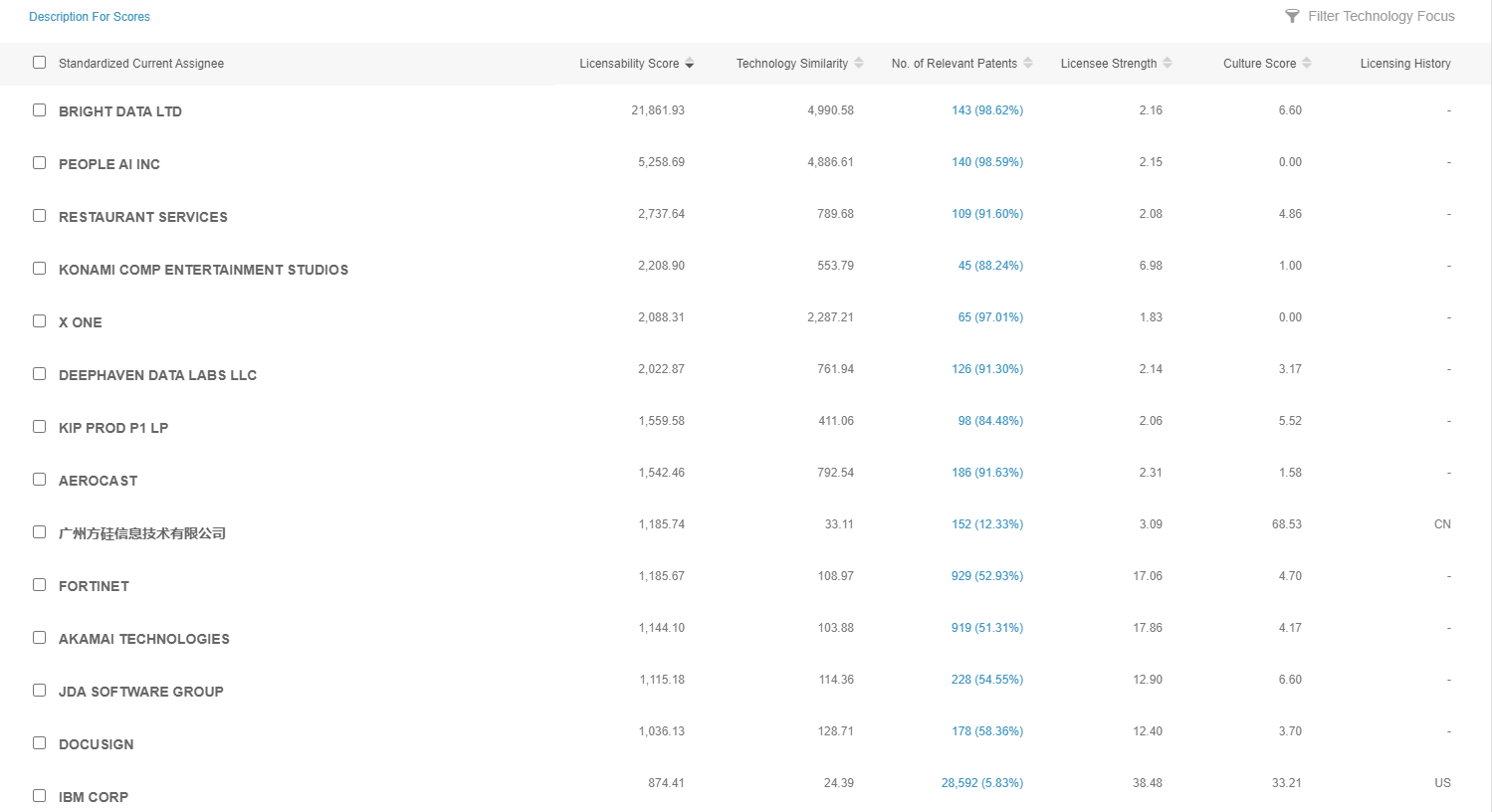 From here you can filter by technology focus for the IPCs and CPCs that were suggested. You can also select a number of the standardized assignees and either view them in analytics, export them or create a report using them (if you select 1 you can create a company report and if you select between 2 and 5 you can create a competitive report).