PatSnap's database contains patents in many languages. For this reason, it is possible to perform searches and to view your results with the aid of translation tools. We use a combination of machine, and human-assisted translation which currently supports English, Chinese and Japanese for all patents. Patent text in other languages is only available when provided by the patent office.
We can machine translate into English, Chinese and Japanese from all well-known languages.
It should be pointed out that there is a difference between searching for foreign language patents and searching in a different language. The former is searching in the machine translation of patent whereas the latter is directly searching for patents in the language that was used.
In this article we are going to cover the following topics:
How Do I Search For Translations?
There are two ways you can perform a search that will make use of our machine translations.
Simple Search
For a simple search, you will need to manually add the necessary translation related search fields into your query.
To search for documents that contain text in a language other than English (using keywords in English), you can use the following search fields as part of your query.
TTL_ENTRANS, ABST_ENTRANS, CLMS_ENTRANS, or DESC_ENTRANS. These fields will search for the English-translated title, abstract, claim, or description of a patent respectively.
Similarly, you can search for Chinese-translated patents using:
TTL_CNTRANS, ABST_CNTRANS, CLMS_CNTRANS, or DESC_CNTRANS
Or Japanese-translated patents using:
TTL_JPTRANS, ABST_JPTRANS, CLMS_JPTRANS, or DESC_JPTRANS
It is important to point out that the Japanese translation includes titles, abstracts, claims, and descriptions for China, but not for Hong Kong, Macao, or Taiwan.
Finally, if you would like to perform a search that considers machine translation for the three languages at the same time, you could use:
TTL_ALL, ABST_ALL, CLMS_ALL, DESC_ALL,
TA_ALL (for Title and Abstract), TAC_ALL (for Title, Abstract and Claims) , TACD_ALL (for Title, Abstract, Claims and Description).
Advanced Search
A quicker way of searching for patents using machine translation, is to go to the "Advanced Search" page and then toggle the option of "Include Machine Translations" to on. By doing so, all of the translation fields mentioned above will be automatically added to your search query, meaning that it will automatically search for your keywords in their original language, and using machine translations as well. If you would prefer not to include one of the languages while using this method, you would need to manually edit your query.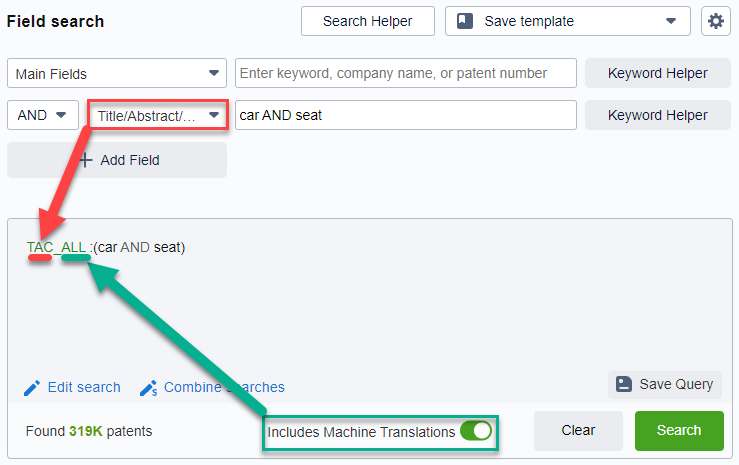 What else can be translated?
Results page
While looking at the results page, you can choose to display the patent's title in English, Japanese, or their Default language.
This can be done from the settings menu on the search results page.
Patent view
You can translate the patent title, abstract, claims and description using PatSnap's translation tool by selecting the Translate language option that is on the left-hand side of the page in the patent Overview tab.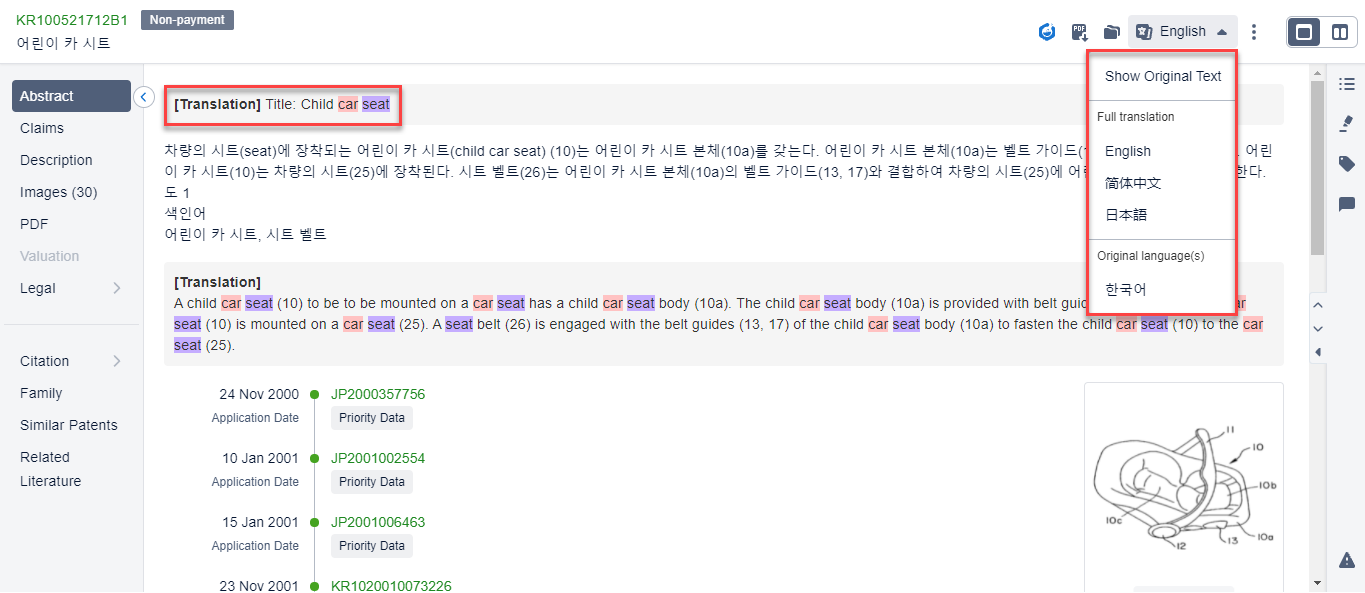 You can do the same in the "Dual View" tab as well. Keep in mind that the PDF will always remain in the original language.