Run your first search in PatSnap, and locate the "Save Query" button, which is on the top-right of the screen, just above your search results.

Save your query in here, and do the same for any subsequent queries that you want to combine.
Then, click your initial at the top right-hand side of the PatSnap page, and select "Saved Search".

In the saved search area, you will find any queries that you have saved, and if you tick the small checkbox next to any query that you want to combine, you will notice the "Combine Queries" button at the top becomes available.

You can then choose whether you want to combine queries within an AND, an OR, or a NOT. Your combined query will then appear at the top of the saved search page, and you can click on this to view the results.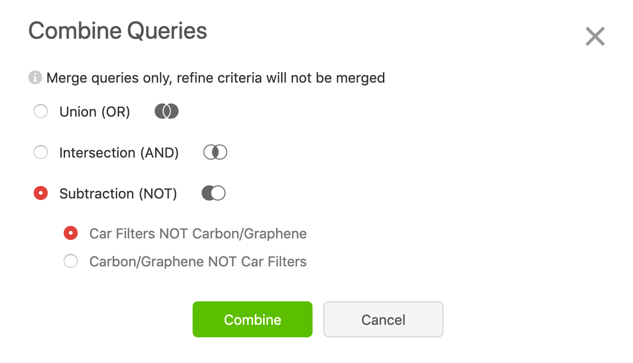 You can also combine queries by going to the "History" option found just above the "Saved Search" option and once in the "History" area, go to the option of "Search" and you can then do the same procedure as you would from the "Saved Search" area.