What are Custom Fields?
Creation
Custom fields are designed to be a helpful tool for recording your thoughts on a patent. Indeed, you might ask yourself multiple questions when screening through a list of patent literature such as "Is this patent relevant?", "Does this patent present a high infringement risk?" or "Is any action required?". Using PatSnap, you can, therefore, categorize your patent based on internal metrics, which is one step towards customizing and classifying your search results within a Workspace.
Custom fields can be created using the "My custom fields" option within the Workspace area.

It is also possible to create new custom fields from within a Workspace by clicking on the "+Add Custom Field" button.

Or by clicking on the arrow pointing down on the columns' headers.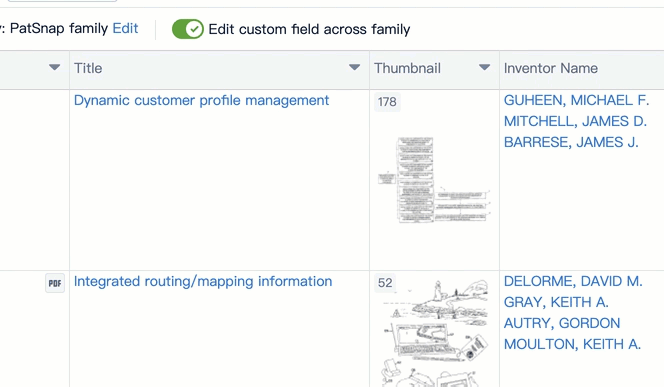 These fields are global to your entire account and can easily be shown or hidden in the different Workspaces based on your needs and objectives.
As you create a custom field (you can create a maximum of 50 custom fields), you will be given five different options to select from: text, date, drop-down menu, numeric, drop-down tree (within Workspaces only), and URL Link.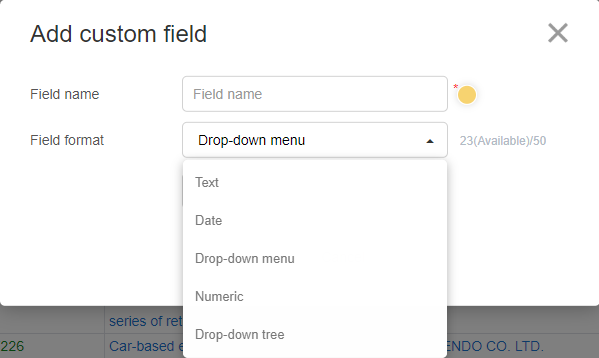 For the drop-down menu and tree custom fields options, you can automatically apply these to Workspace folders using specific rules. You can find details of how to do this here.
More information about different types of custom fields can be found here.
Refinement
Custom fields are not only handy to annotate patents, they are also one of the most powerful data management options available on the platform. Once created, you may also use these as a refinement tool, which is one step towards categorizing your patents to meet your needs.

You may then select all the filtered hits to either export, copy or move them to a separate folder within the same or a different workspace.

To select the custom fields you would like to display in the refinement section, you can click on the 'More Filters' tab at the top of the refinements list:

If you then click on the 'Custom fields' tab, you will see all the custom fields you have created and can select all the ones you would like to display in the refinements section. You are also able to search for the fields you created by using the search bar.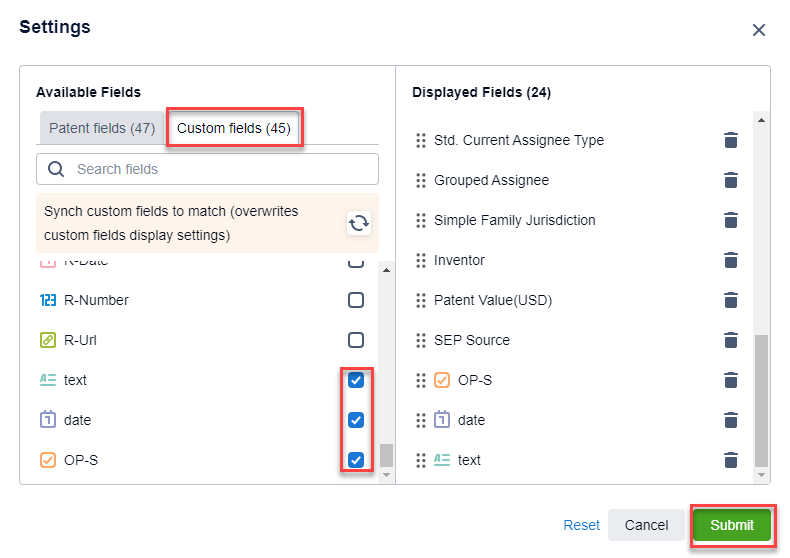 If you click on the synchronize button, all the custom fields that are already in the display settings will automatically be added to the refinements section so you don't need to add them one by one. For example, if you have five custom fields displayed in the list and you would like to filter based on them, you can click the synchronize button to add all five automatically to the refinement options on the left-hand side of the page.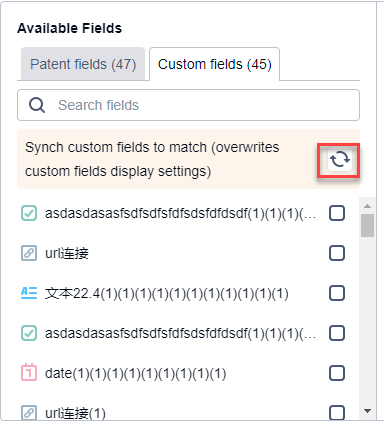 Collaboration
The sharing and commenting options in a Workspace leave space for collaboration. Multiple accounts can be linked to the same workspace and access the created custom fields. This can be useful to create a workflow by using custom fields such as "Team", "Team Leader" or "Technical Expert" in addition to using them to categorize patents to meet your personal needs. In this way, you can use these shared spaces to internally structure your workflow.
Interestingly, custom fields can also be used in combination with the commenting tool. Should you wish to only see custom patents with a comment attached to them, you might want to create a custom field "Comment?" with the option to select from "yes" or "no". That way you will be able to use that custom field to obtain a list of only commented patents.
It is important to note that custom fields can be seen and edited on a shared Workspace but these shared custom fields will not show on your other Workspaces. Additionally, settings are proprietary to the user, which means that despite the possibility to share a Workspace with custom fields, it is not possible to visualize the table view and family grouping settings that are shared with you.
You are also able to directly share the custom fields themselves you have created with your colleagues, allowing for more freedom in collaboration.
To do this, head to the Workspace main page and click on 'My Custom Fields', then click on the share icon and enter the email address of the person you wish to share it to.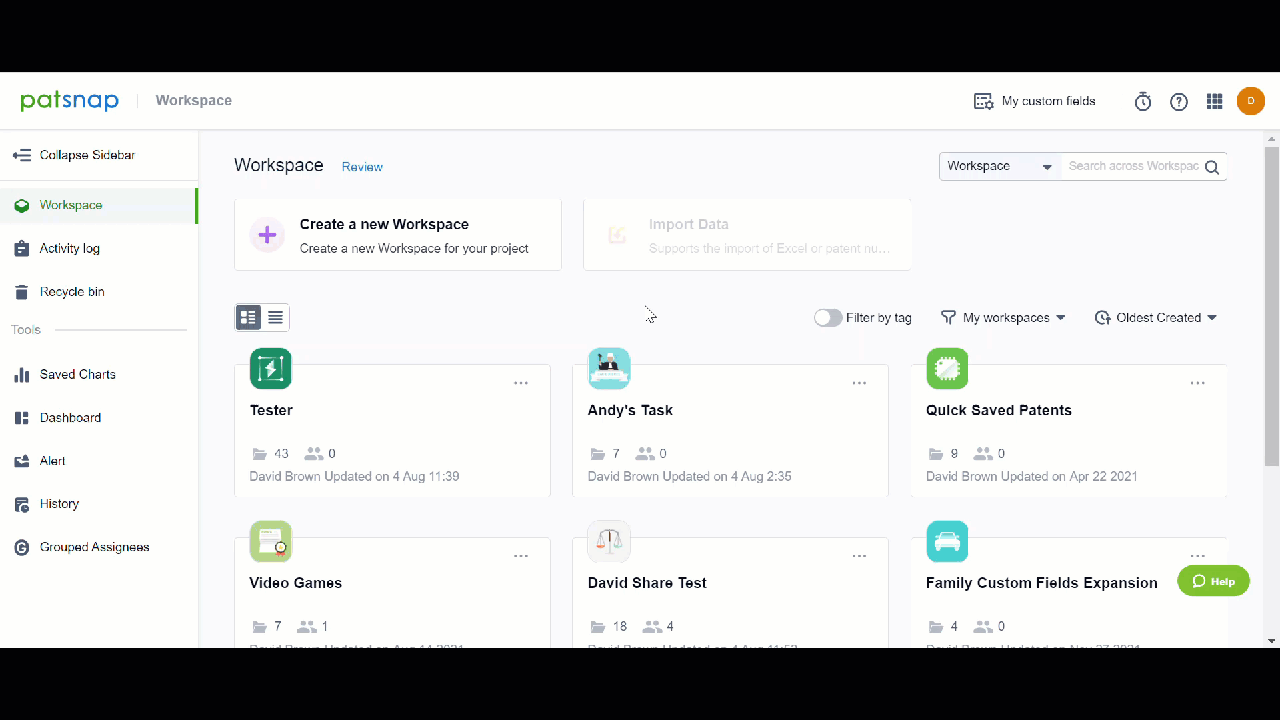 Custom Analysis
To access the "Analyze" section of a Workspace, click on the "Custom Analysis" option from the Analysis & Alerts tab.

You can select any of the pre-set fields, or any custom fields that were created using the "Date" or "Drop-down menu" , and Drop-down Tree type.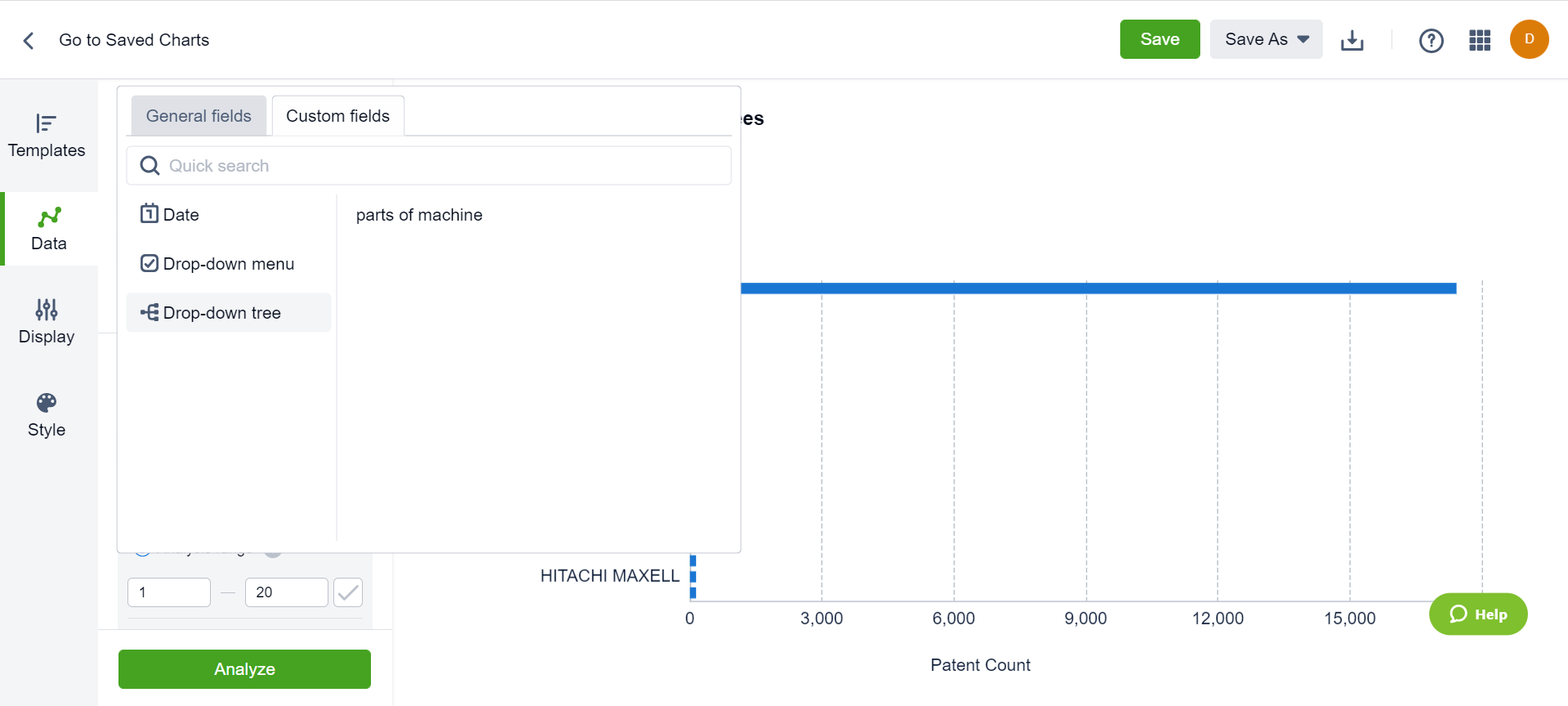 You can learn more about the "Analyze Overview" here: What Information is Visible in the Analyze Overview?
Landscape
Custom fields can be used in the chart analysis on Landscapes to start grouping your results in a customized fashion.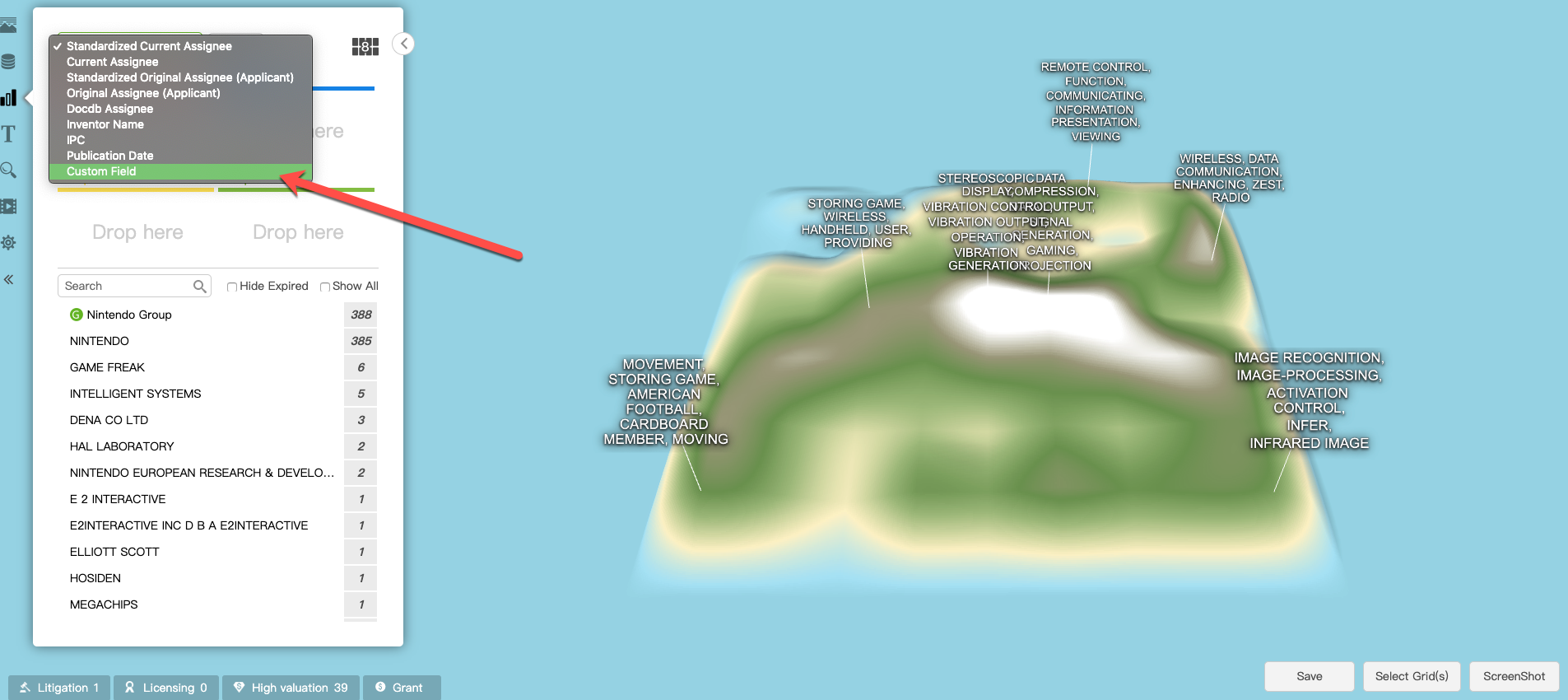 For example, if you use the "Relevancy" custom field as a positive indicator to annotate patents that are the most relevant, you are then able to quickly visualize these patents on the Landscape and start answering questions such as: "What areas of the Landscape do these patents fall into?", "Are these patents all present in the same area on the Landscape? In which case, can I just select the relevant grids and generate a new Landscape with only the relevant parts of the current Landscape?"