To capture and manage what you find on the platform, you can use the Workspace function. Workspaces allow you to:
Save patents that are interesting, or need to be worked on later.
Add your comments or customized fields to categorize your patents.
Filter through patents and move or copy them into different folders.
Share folders with colleagues so you can collaborate on a project or share your thoughts.
Set up automatic updates to have any new patents relevant to your interest automatically placed into the appropriate folders.
To create a Workspace, you can either click on the Save to Workspace button that can be found on the top right of the search results, or the top right of the individual patent view.

You'll be prompted to either select a current Workspace, or create a new one, and to choose a folder within it.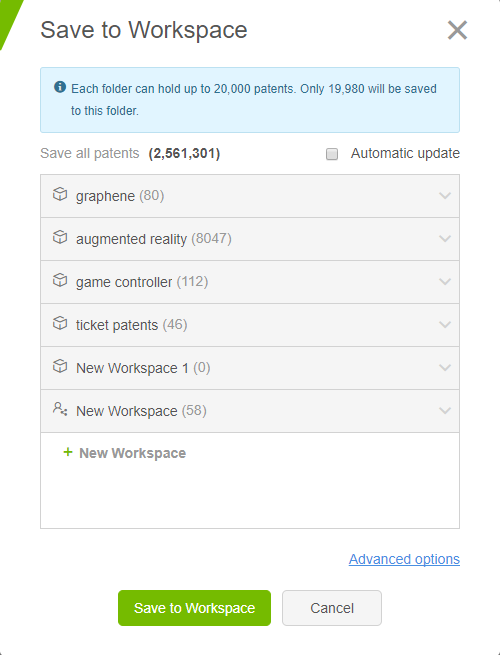 Once you've created a Workspace and want to view the contents of it, hover over the icon in the right upper corner and click on "Workspace".

Workspaces allow you to manage your work, capture important patents and your own notes. You can then share that observation with your colleagues and work on the same dataset. This will ensure there is no work duplication, which will make your work process much easier, organised and productive.