Within a Workspace, you can select "Settings" at the top of the page.

Under the "Page Settings" tab you can edit how you want your patents grouped, the sorting option for which patents are displayed first and also how many records are shown per page. This is individual per folder within a Workspace.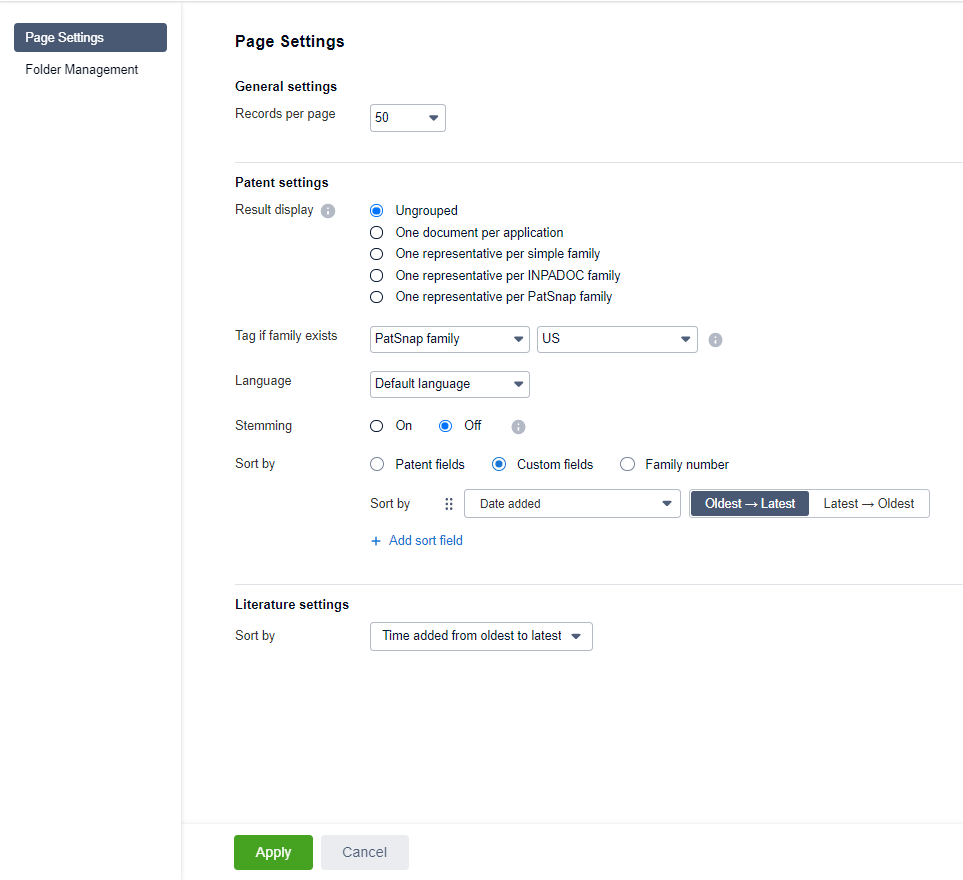 In the "Sort by" section of "Page Settings", there are multiple sorting options for viewing your results in the workspace.

These sorting options and corresponding sub-options include:
Patent fields

Application Date
Publication Date
Issue Date
Priority Date
Estimated Expiry Date
Application Number
Publication Number
Cites count
Cited By Count
Simple Family Count
PatSnap Family Count
INPADOC Family Count
Original Assignee (Applicant)
Current Assignee Count of Inventors
Claim Count
Patent Value (USD)



Custom fields

Text
Date
Drop-down menu
Numeric

Family number
Patent fields and Custom fields can be ordered by Oldest to Latest or vice versa.
Additional sort fields for Patent fields and Custom fields can be added through the '+ Add sort field' option.

A maximum of up to three sorting fields can used, which can also be re-ordered by clicking and dragging them.

Under the 'Folder Management' tab, you can add/remove folders or edit their names.