Within PatSnap, it is possible to manage your email alerts. You can do this by going to your initial in the top-right corner of the screen and clicking "Alert".

Inside the email alert management area the email alerts are divided by 'Patent & Legal' alerts and 'File Wrapper' alerts. The name of the Workspace for the corresponding email alert is also displayed.
New email alerts can be created as well as editing preexisting email alerts. The titles and the types for each of the email alerts can be seen too. Multiple email alerts can be selected with the checkboxes on this screen as well.


If you choose to create a new email alert, you can do it for either a Search Query, Workspace, or File Wrapper.
If you decide to do it for a Search Query, you are able to choose which databases are included, edit the title, type, recipients (it should be noted that when you input multiple recipients you need to put a comma and no space between the email addresses), and frequency of the email alert. As well as this, you can preview the number of results that there would be for this query (this number depends on the settings you are currently using for your searches), and decide whether or not you would want to be alerted when there are no updates.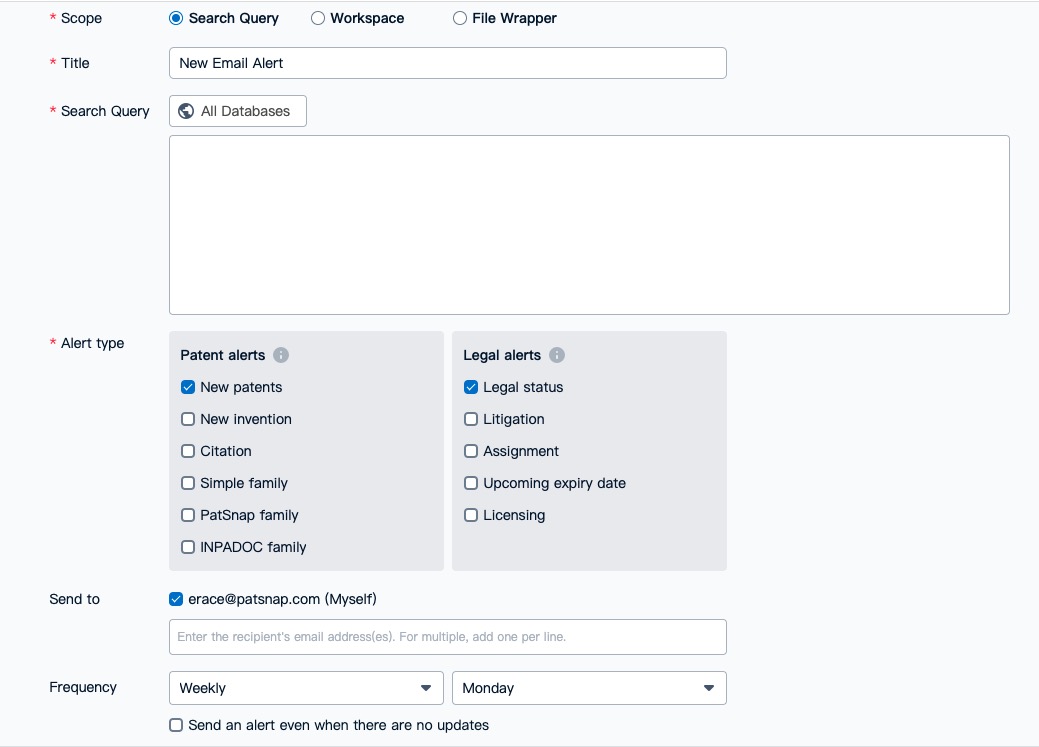 If you decide to do it for a Workspace you can decide both the Workspace and the folder within the Workspace that the email alert is set up for. As with the Search Query email alert, you are able to edit the title, type, recipients, and frequency of the email alerts as well as being able to decide whether or not you receive alerts when there are no updates.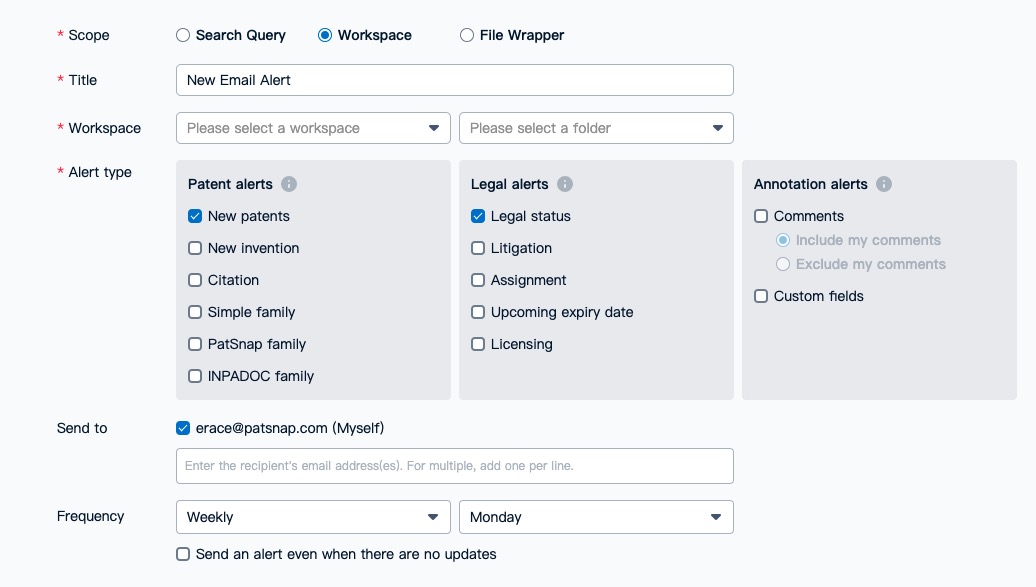 For File Wrapper alerts, notifications can be received for US patents applied for since 2002 and CN patents applied for after 2013. To monitor the applications, enter them in either USnn/nnnnnn, USnnnnnnnn, CNnnnnnnnn.n or CNnnnnnnnnnnnn.n format. You can chose to be notified of only certain types of information in the file wrapper, or all of this information.
There are 4 types of alert for US patents:
All: This will update you on any new documents that have been added to the file wrapper.
Office Actions
Application Docs
Arguments & Applicant's Responses
In addition to this, there are 5 types of alert for CN patents:
Office Actions
Notification to Grant Patent Right
Notice of Termination of Rights
Report on Patent Evaluation
Notice of Avoid Double Patenting
The title, recipients and frequency of alerts can also be specified for File Wrapper alerts, as with the Search Query and Workspace alerts.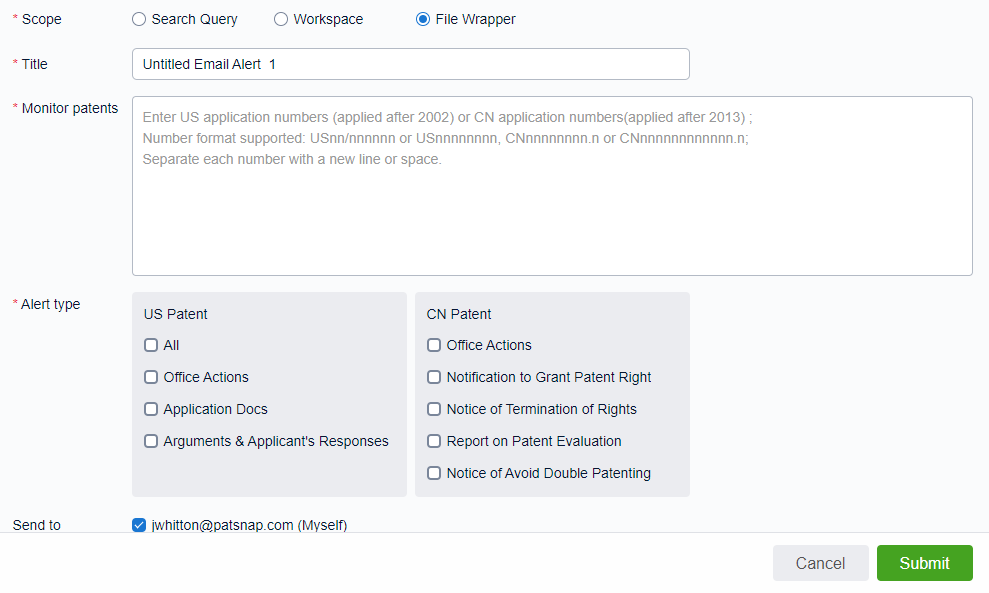 For your current email alerts, you are able to decide whether they are active or inactive, delete them or edit them.
Irrespective of the type (Search Query or Workspace) of email alert you are editing, you are able to make the same changes here as you would have when you originally set the email alert up.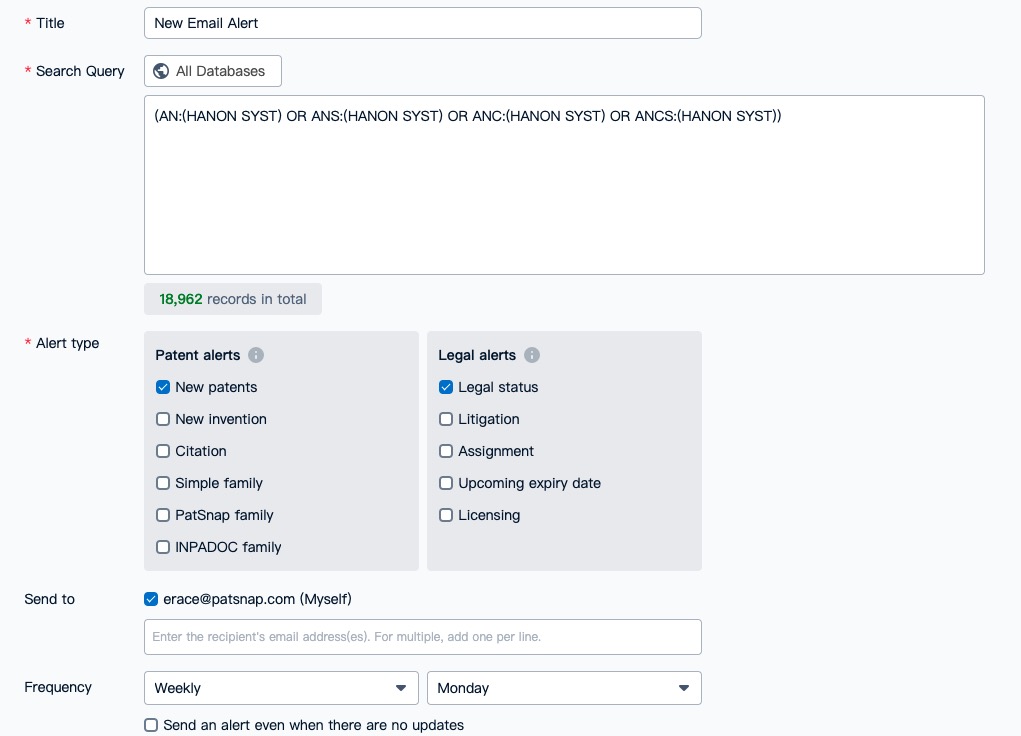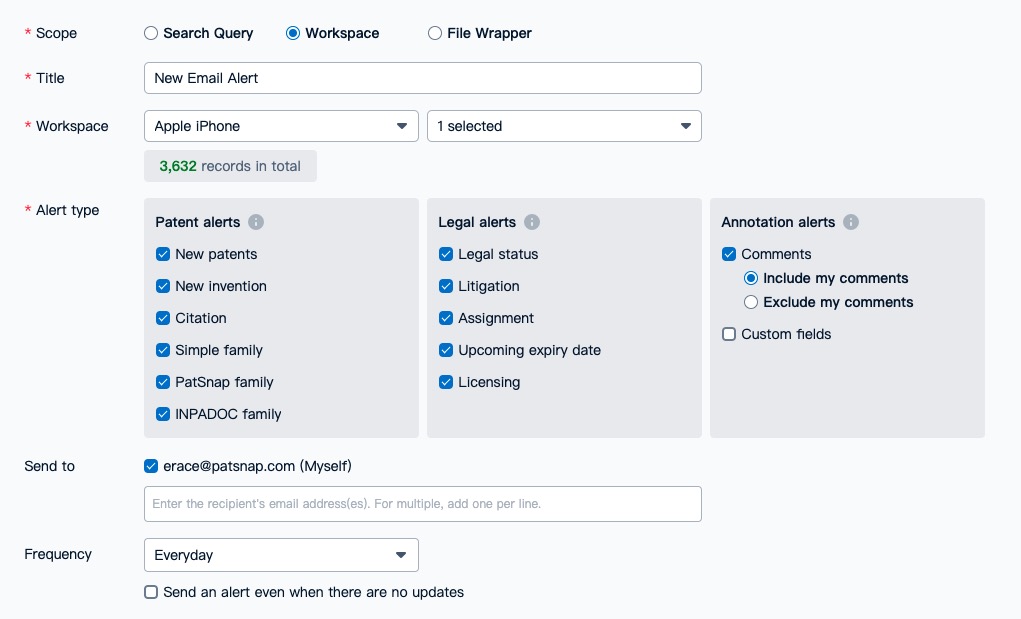 Content of email alerts can be customized with abstract, translation and custom fields as options through the alert management page.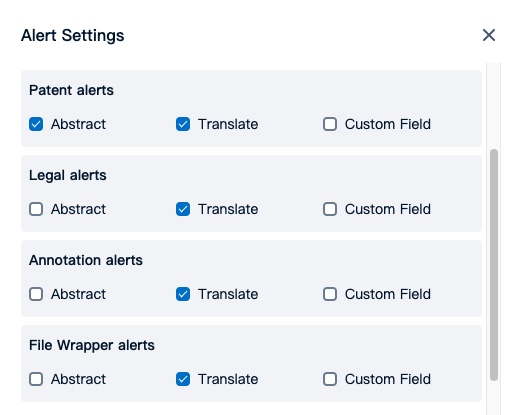 The last 2 updates of each alert can also be viewed online through the alert management page.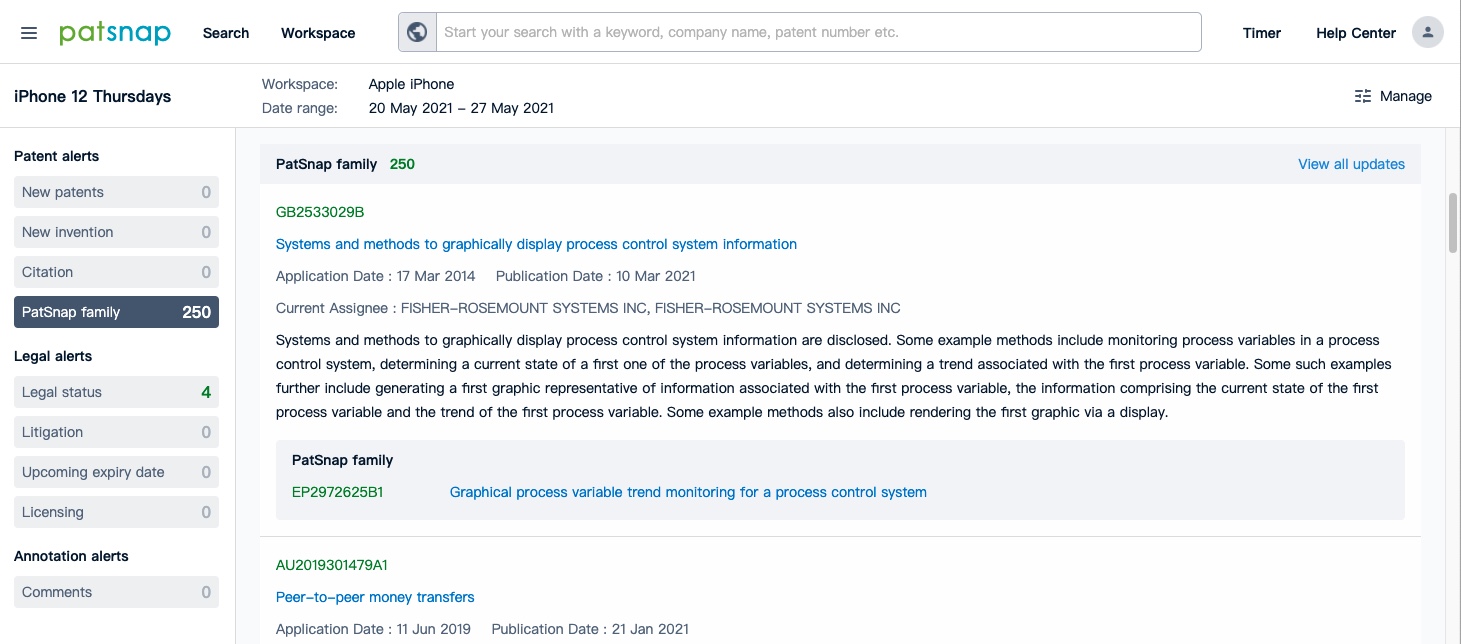 Up to 1000 records will be displayed for each update (excluding custom fields).