This article covers:
Importance of Results Analysis
Different ways to Analyze Results
Importance of Results Analysis
Being able to effectively analyze results is a critical skill for any business. The quality of analysis performed on the result set is a key factor when it comes to being able to make the correct decisions for your business which will then enable you to not only survive but also be successful within your particular technology field. This analysis can also be considered critical for the results you get when you perform a patent search, since having knowledge of both your own and your competitors' IP capabilities should be a key consideration when it comes to making many important business decisions.
Since PatSnap has a considerably large patent database, it's important to make sure you effectively analyze any results you pick up from the performed searches.
Using PatSnap you could use different types of data sets and analyze them through different techniques.
Different ways to Analyze Results
Here are some ways to analyze your results in PatSnap:
1. Analyze Tab
'Analyze' tab allows you to do a quick analysis on your results. After you've entered your search query and are happy with the results, you can analyze the results by clicking on "Analyze" button.

Format of the Analyze Overview page
Clicking on Analyze, brings you to the 'Overview' page. Here you can see a snapshot of your results in the form of 6 default charts. You can also create custom analysis charts by clicking the 'Custom Analysis' button on the left. Furthermore, you can refine results by using keywords or through different filters available in the refine tab.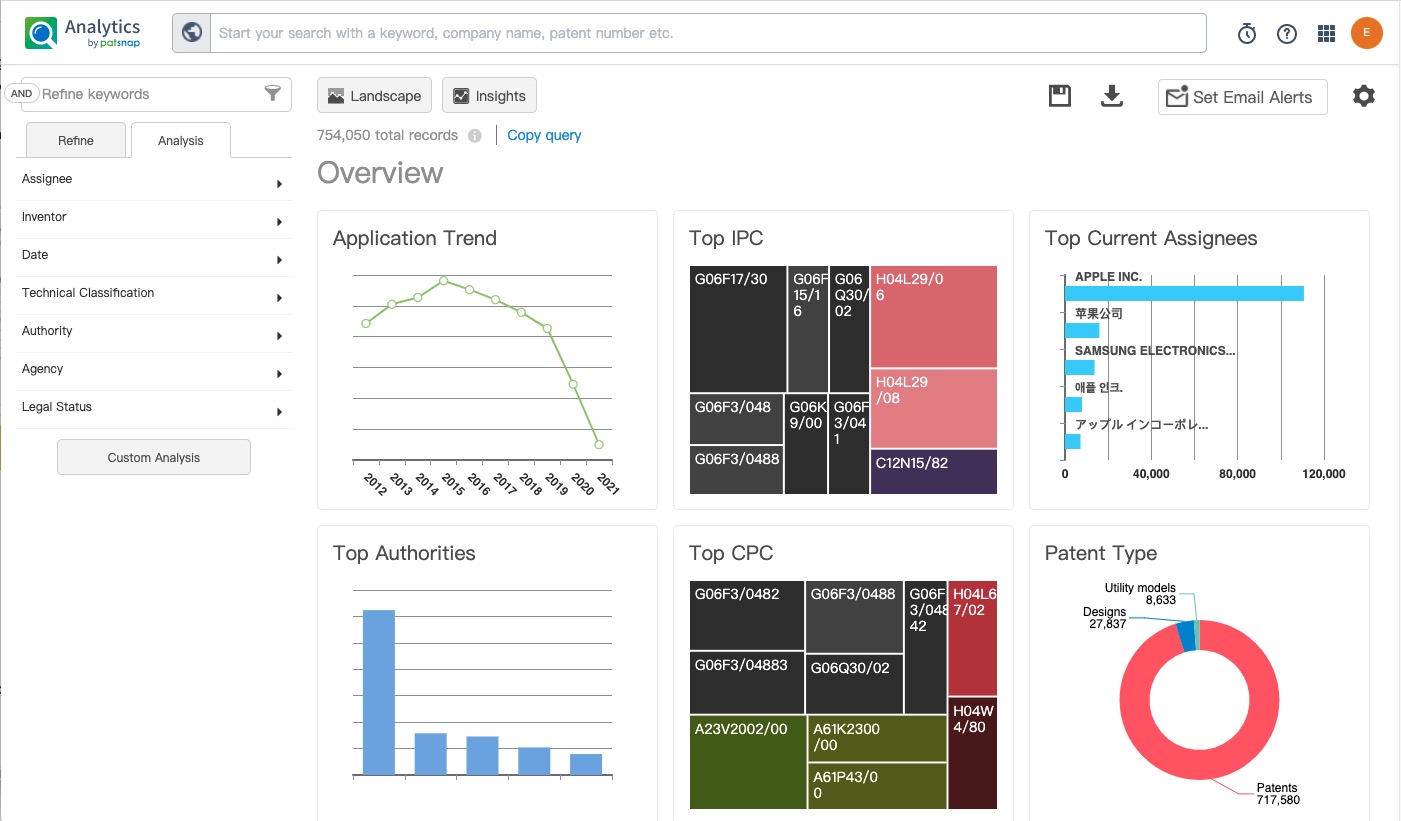 Charts available on the Analyze Overview page
Here's a quick introduction to the six default charts available on the overview page.
Application Trend
This graph shows the trend of patent applications, this could be your competitor or about a field of interest over time. This information is important as it will let you know whether or not one of your competitors is becoming more active within a particular technology, which will then allow you to react accordingly.
You also have an option for "Trend Prediction", this gives a prediction of the true number of applications within the last two years for your search query. This is important as the majority of patent applications take a couple of years before the final application is published. You can also select to see only the application within a particular time frame by restricting the time frame so the chart looks less cluttered.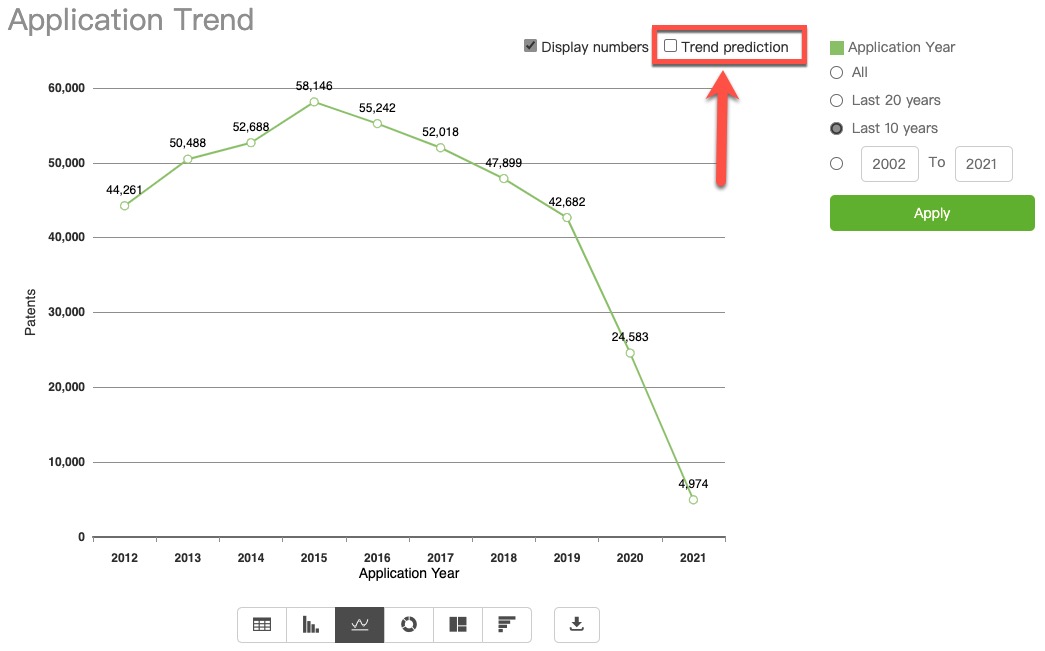 Top IPC
This graph shows the most common IPCs for your search results. If you are searching for a particular competitor's portfolio, this chart displays the technology fields that they are focused on. Thus, you can plan to either work against them in these particular fields or avoid them altogether.
You can also select multiple IPCs to get a more holistic view of your competitor's portfolio and see some of the more abstract areas they are working in. Additionally, you can select the level of IPCs you want to view the IPCs from, which means you can have a more general view of the technology fields that they are working in.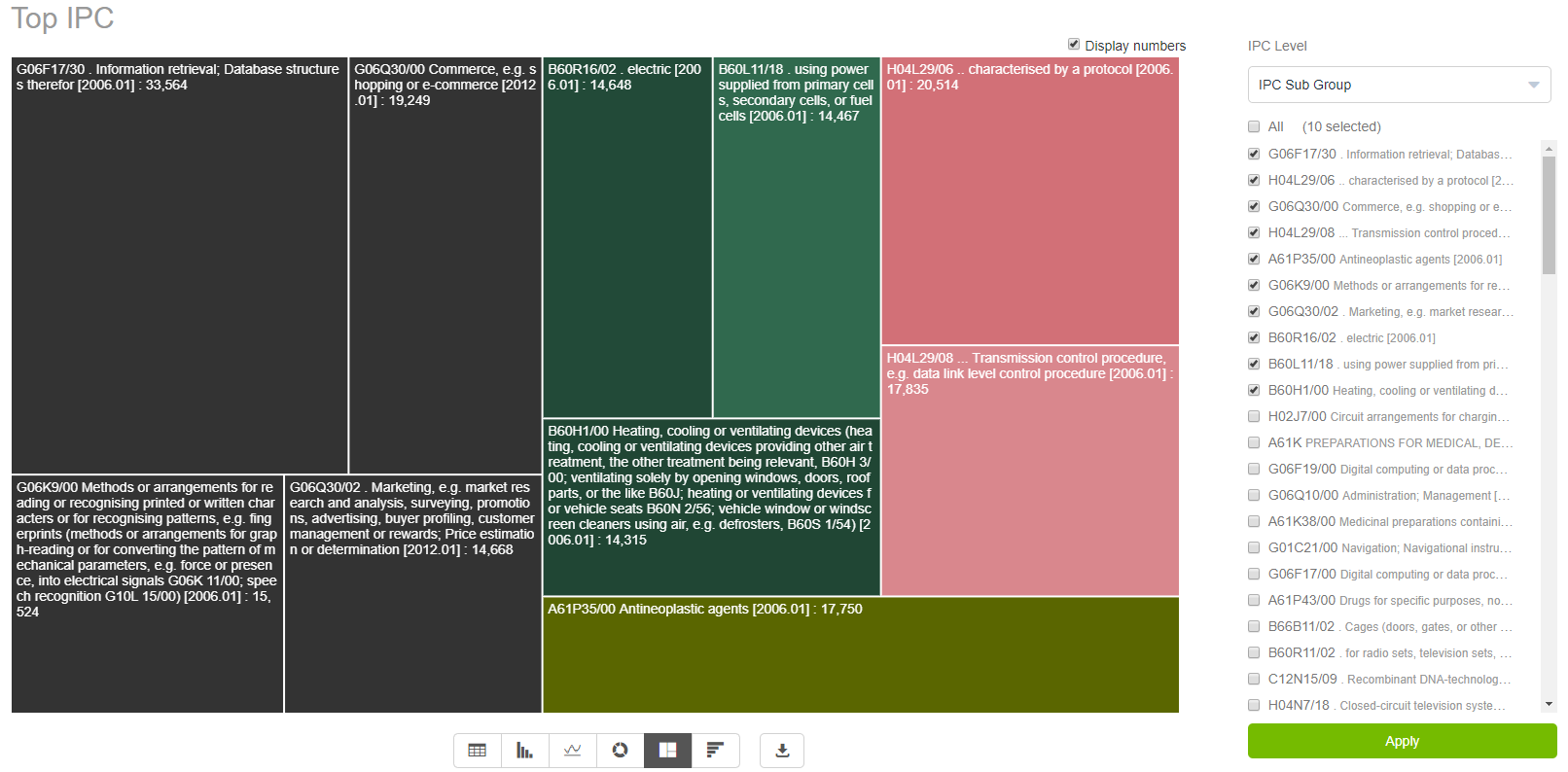 Top Current Assignees
This graph shows the top current assignees for your search query. This is critical information to have since it enables you to work out which are the companies that are most active within your field of interest. You can also make plans to work out how to combat these potential competitors or steer clear of them altogether. Furthermore, you could select assignees to get an even stronger idea of who is operating within your space of interest.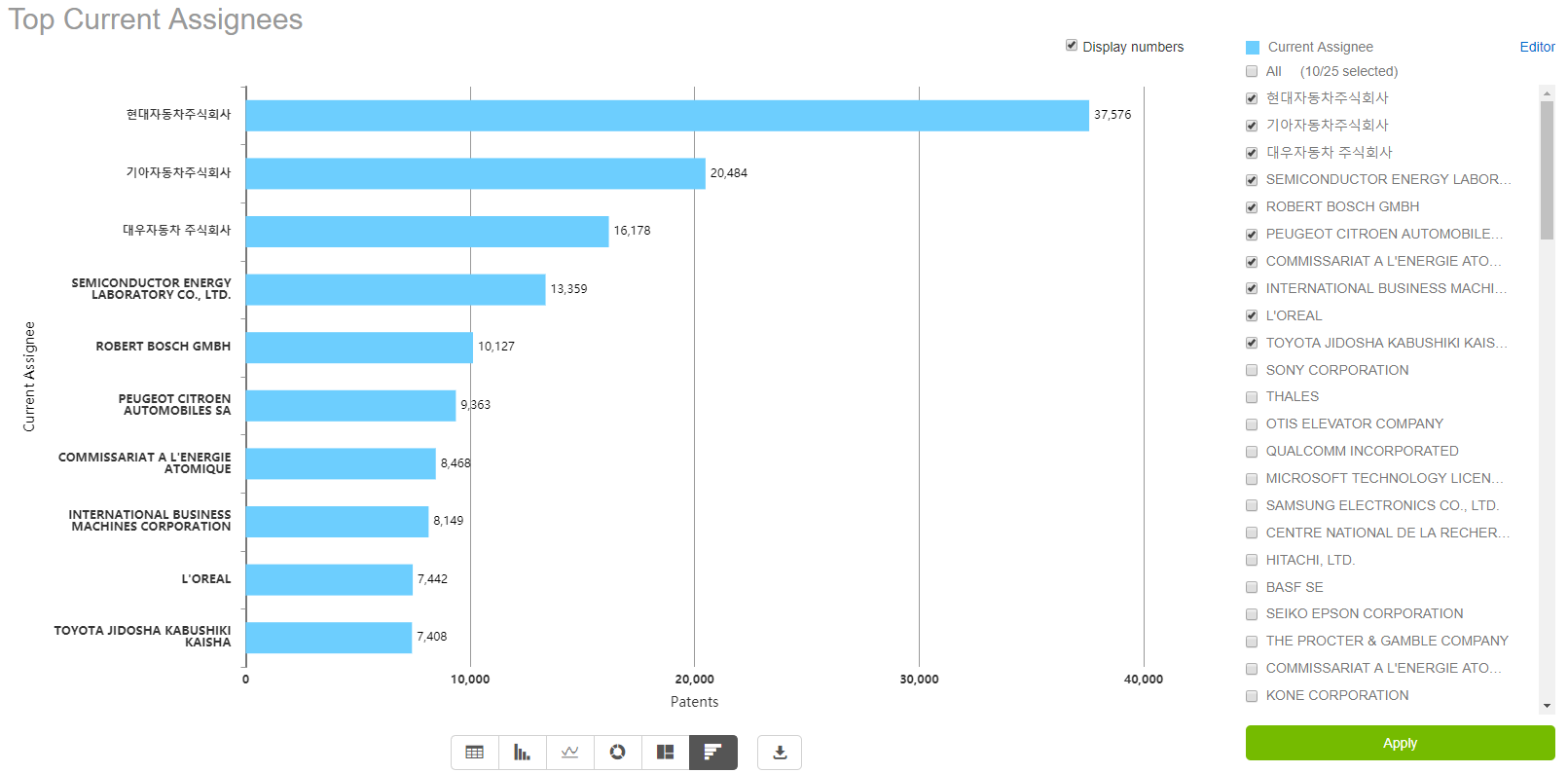 Top Authorities
This graph shows the top authorities based on your search query. It shows the jurisdictions that have had a lot of patenting activity within this space and would be best to avoid. As a patent can only block your freedom to operate within the country it was filed in, you can instantly feel more comfortable from working within one which has a lower patent count.
You can also select authorities to enhance the global picture of the patenting strategy of various companies within this area.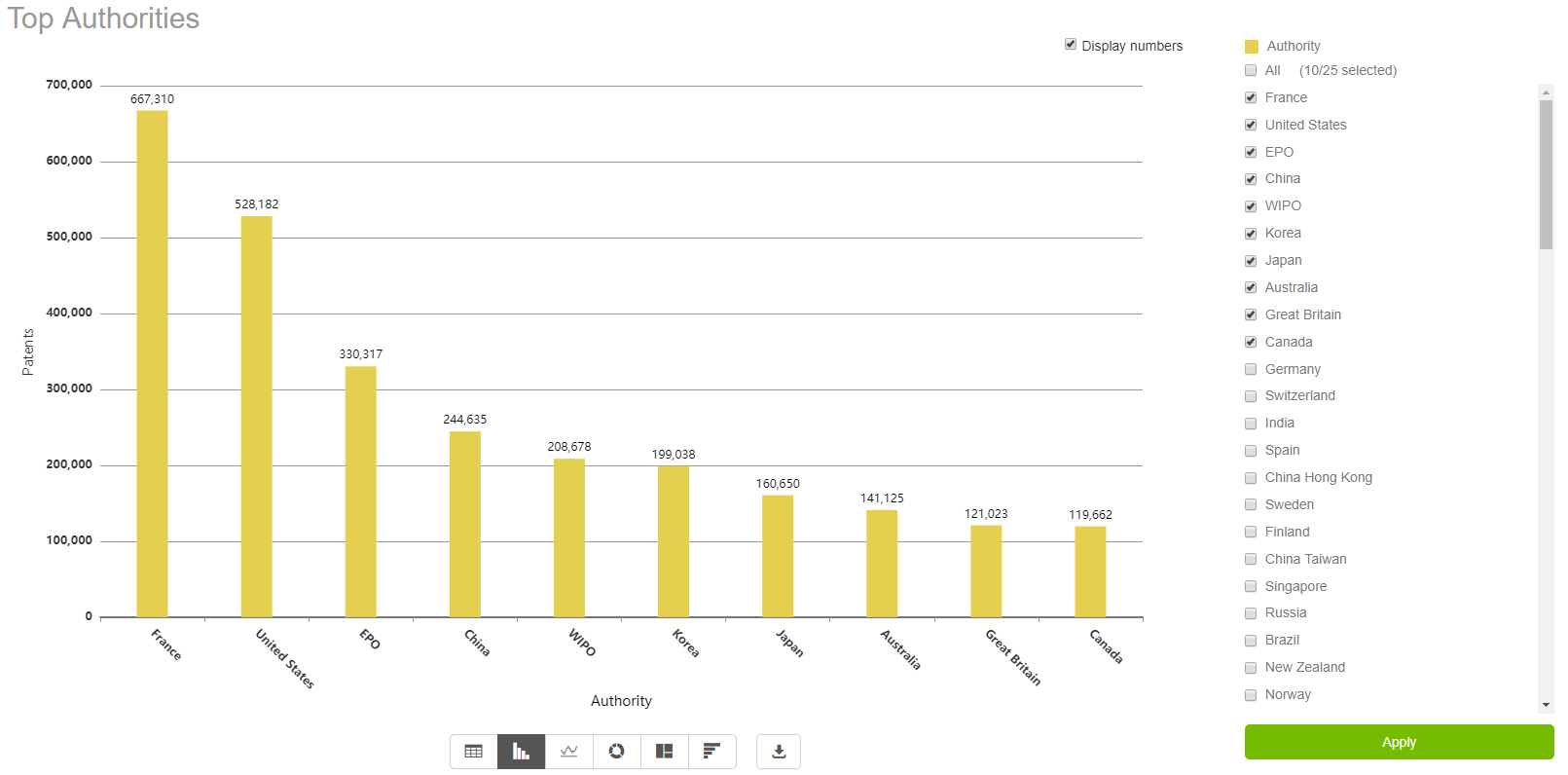 Top CPC
This graph shows the most common CPCs for your search results. Like IPCs, CPC is a type of classification code so the reasons for Top CPC chart would be the same as the IPC chart. However, you may prefer CPCs over IPCs since they are more up to date and include newer technologies.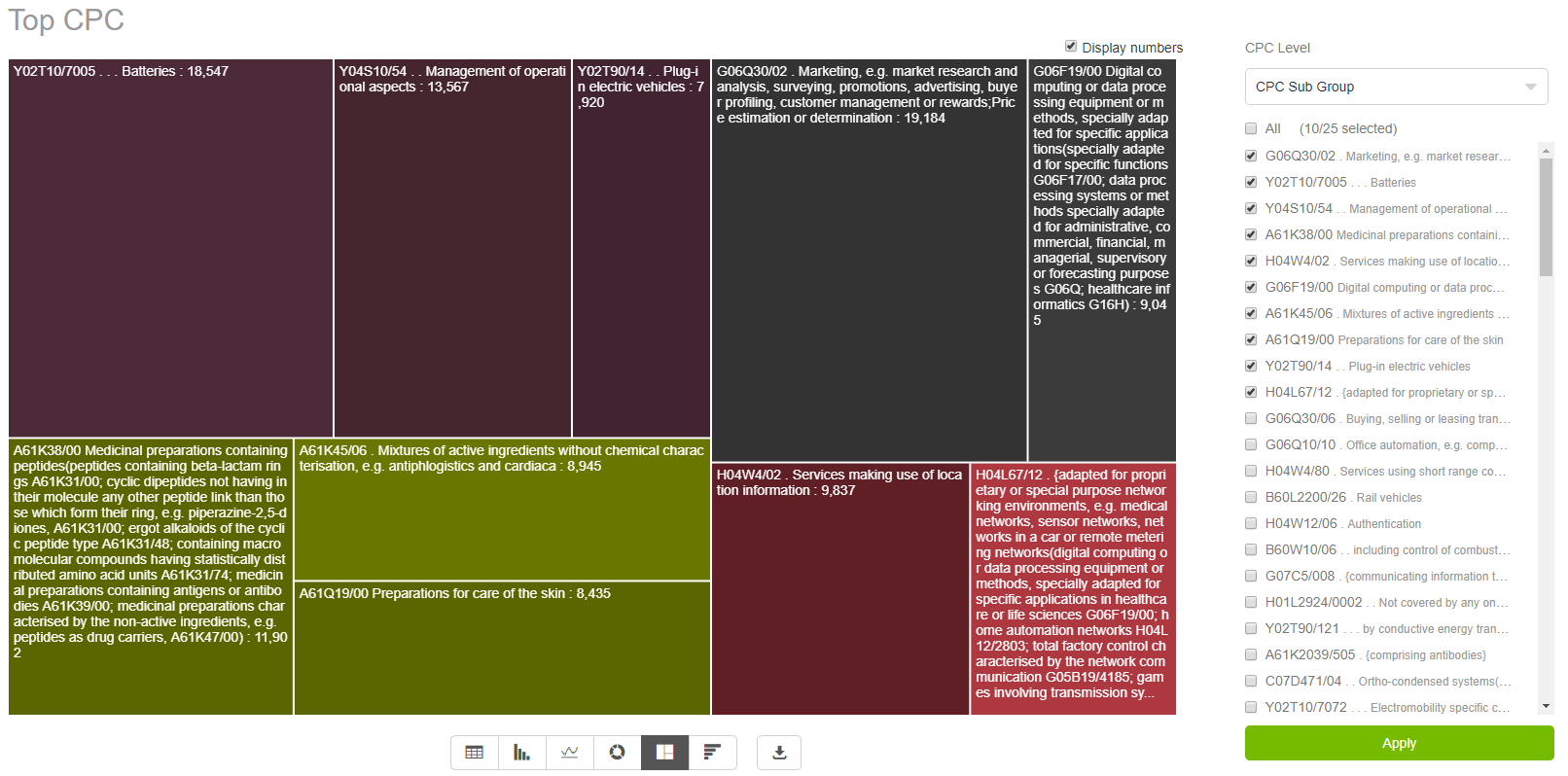 Patent Type
This graph shows different types of patents that are included within the results for your search query. This information is useful if there is a significant proportion of patents labelled as "Utilities", then these will be utility models and will therefore have a shorter life span and will block your ability to operate for a shorter period of time. Alternatively, if there is a significant proportion of patents that are labelled as "Design", then these will be design patents so will be protecting a shape or ornamentation rather than a functionality.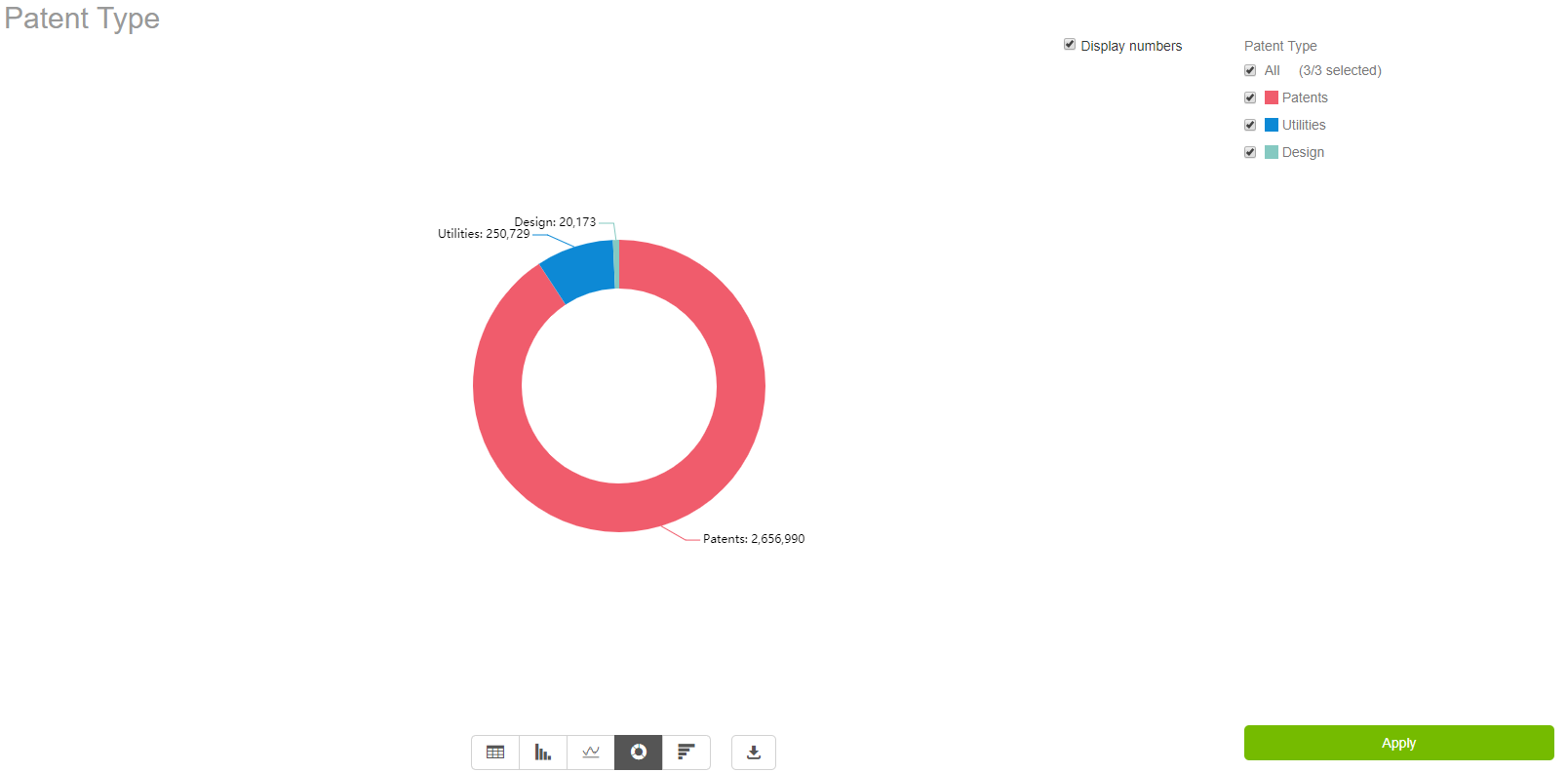 Exporting charts from Analyze tab
You can find information about exporting charts from Analyze tab here Exporting Analyses (From Analyze Patent Tab)
2. Insights
Insights platform allows you to do a more in-depth analysis of your results whether that be regarding a particular company or an overall technology field. You can create an Insights technology dashboard based on the results for your search query by clicking on the "Insights" button from the search results page.

You can also access Insights by following these steps below: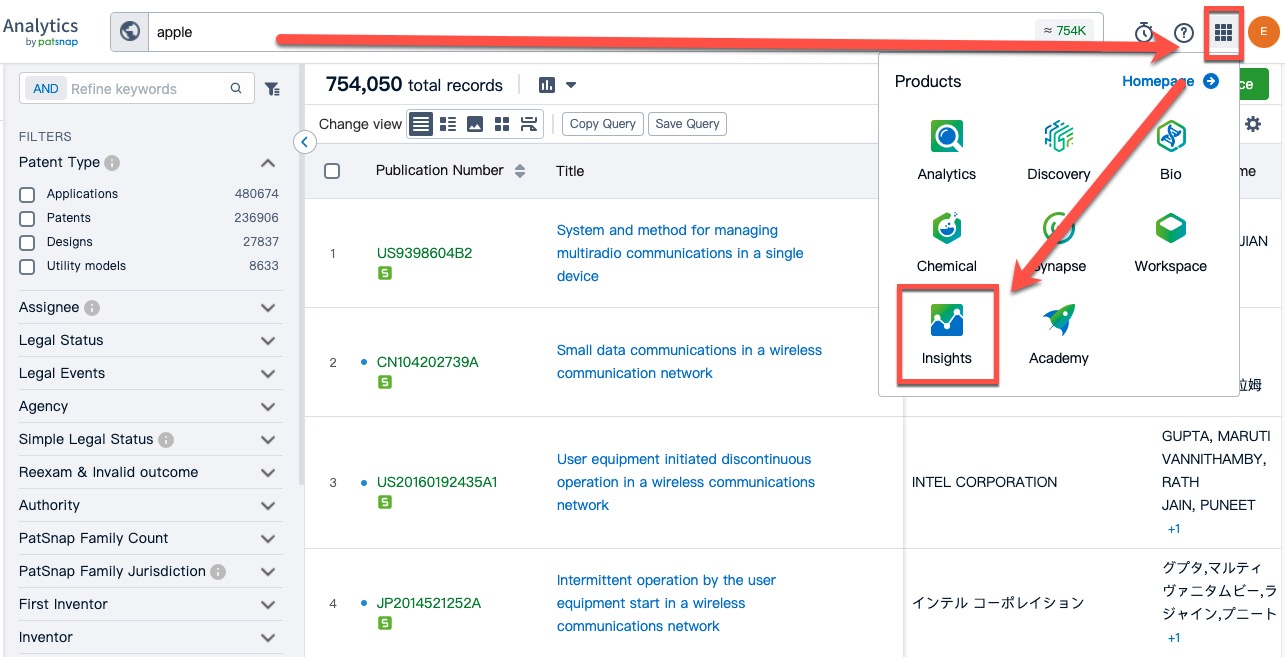 Alternatively you can go to Insights platform via https://insights.patsnap.com/
You can find more information about getting started with Insights here: Getting started with PatSnap Insights
3. Landscape
Using Landscape you can asses a large volume of data related to the information in patents by turning the data into a topography that can be visually explored, annotated, and interrogated.
Once you've entered your query, you can create a landscape by clicking the "Landscape" button.

Alternatively, you can access Landscape through the sidebar along the left-hand side of the screen.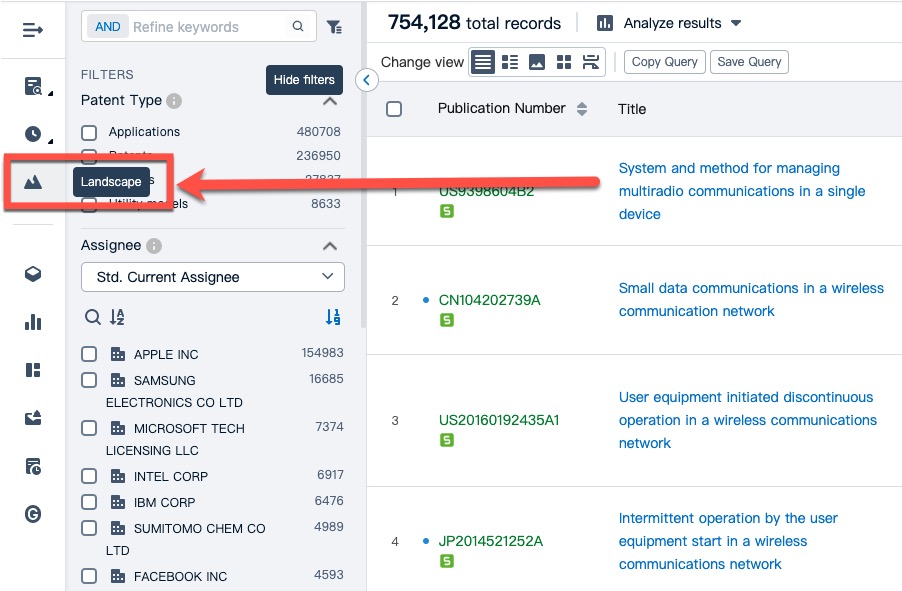 Patent landscape can help to answer questions on whether your proposed invention – or similar inventions - have already been patented, on the level of patent activity around specific technologies and the key actors in those spaces, as well as to identify new opportunities for innovation.
You can find more information about using Landscapes here How can Landscape be used for different tasks?
4. Custom Analysis (within Workspace)
Custom Analysis can be used within a workspace to analyze various different metrics with each other. This includes metrics with any custom fields that you may have set up.
To access the Custom analysis in a Workspace, click on the drop-down menu labelled Analysis and click on the option "Custom Analysis".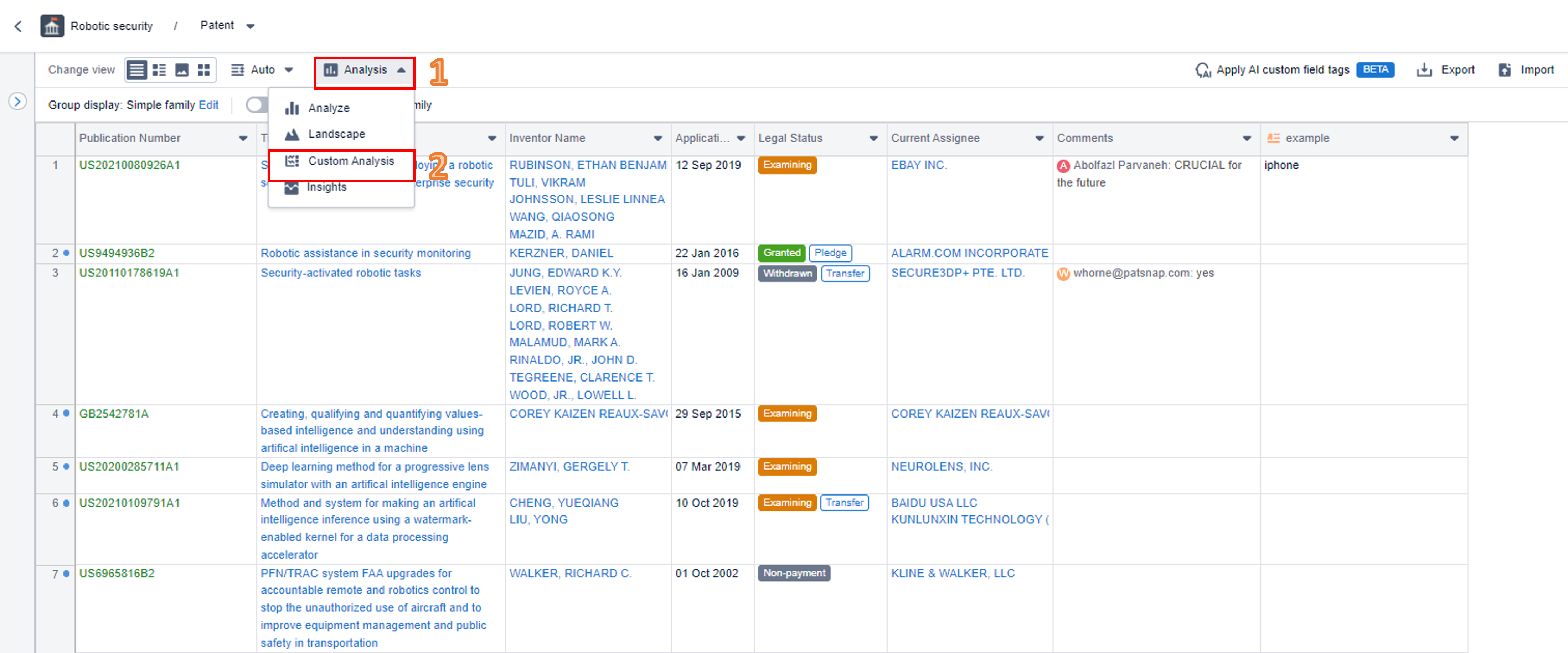 You can find more information about Custom Analysis here: How Do I Use The Custom Analysis?
Summary
There are three key points to consider when it comes to analyzing your results:
Make sure you know exactly what pieces of data you want to get out of the analysis
Locate the charts that best exhibit this data
Collaborate with others to further explore the data
Whatever industry you are in, it is always important to effectively analyze your results since it will support you when you make key business decisions. This is certainly true regarding patents since they can be the different between being able and not being able to operate in a specific area or to be able to block one of your competitors who has violated one of your patents.