Workspaces enable R&D teams to manage their workflow. It is possible to capture important patents and annotate them, set up automatic alerts, and share all of this among colleagues. Lists of patents can be assigned to, shared between, and edited by anyone in an organization with a PatSnap account. The reviewing process of a list of shared patents can be easily tracked as well, enabling teams to work from the same dataset, avoiding duplication of efforts.
Introduction to Workspaces
PatSnap's Workspaces provides an ideal forum for you to capture and manage what you find on the platform, including your IP portfolio, competitors' portfolios, and general technology searches. Within each Workspace, you can create multiple folders that allow you to store up to 20,000 patents.
In this part of the guide, we will explore in detail each of the multiple features available in Workspaces, but before we do that, take a moment to watch this video that serves as a quick introduction to the use and functionality of Workspaces.
Creating a Workspace
The starting point before creating a Workspace is to establish the associated strategic objectives. These can either relate to internal projects, such as managing the current R&D pipeline, or external goals that encompass commercialization via licensing and M&A targets. The Workspaces that you create will stem from the type of searches you originally conduct. Whether you are looking into different companies' patent portfolios or delving into new technology areas, make sure you store your results in a Workspace with a clear label that easily relates back to key objectives.
You will find the option to save patents to a Workspace in multiple places within PatSnap. For now, we are going to focus on the most used one from the results screen. Once you have conducted a search, you will see at the top of your results page the "Save to Workspace" button. Keep in mind that the maximum amount of patents you can save per folder is 20,000. If your number of results is higher, the button will be greyed out.
After you click on the "Save to Workspace" button, you will be asked to select the folder where the patents will be saved. You can choose from existing Workspaces and folders, or you can create new ones. If you hover your mouse over the Workspaces/folders on the list, you will also have the option to rename them or to create sub-folders. At the moment of creating a new Workspace, you can choose to enable alerts, or automatic updates.
You will also be given the option to add either the selected patents only, or the selected patens and their family members as well.
Managing Workspaces
It is possible to access your Workspaces at any given time. Just click on the "Workspace" button located on the left sidebar.
Once you have clicked on the Workspace button, this is the screen you should see:
You'll notice that on the left side of the screen there are multiple sections to choose from. The first page you will see after accessing the Workspaces area is "My Workspaces"
My workspaces
On the center of the screen, you'll find the existing Workspaces. Each one will display an icon, the given title, the number of folders and how many of them are being automatically updated. You can also click on the ellipsis (...) to see the number of patents within the Workspace, the date it was created, and the date it was last edited. It will also give you the Edit, Transfer, Share, and Delete buttons.
Clicking on the "Edit" button, will give you the option to change the name, description, icon and the tags for the Workspace.

To get through patent portfolios as efficiently as possible, you have the option to share your Workspace with other PatSnap users. This is not limited to people that work in the same company. You can share Workspaces with people from a different organization, you can even share them with our support team if you suspect something is not quite right.

If you click on "Share", you will be asked to indicate the users that will have access to this Workspace, and the permissions that each one will have. Simply enter an email of a PatSnap user, and click "Submit".

Users with reading permissions can view the patents within the Workspace, the comments, and/or custom fields.

You can allow users with edit permissions to modify the patents, custom fields, comments, and/or folders within the Workspace. You can also let users share the Workspace with even more people.

Clicking on "Delete" will remove this Workspace from your account, and from anybody else's you have shared it with.
It is also possible to create a new Workspace from "Workspace". All you need to do is to click on the "+New Workspace" button, and enter a relevant Name and Description.
Views and Sorting
The "Thumbnail view" is selected by default, but it is possible to change it to "Table View" using the buttons located on the left side of the screen.
The information displayed per Workspace is the same on both views. Here is how your Workspaces would look using the table view:
| | | |
| --- | --- | --- |
| You can also choose to sort the Workspaces by created time, last updated, last viewed, or sort it alphabetically. | | |
Shared Workspaces
Shared Workspaces can be found under the same Workspace tab. You can filter the list to only show Shared Workspaces beside the sorting options.
Saved Charts
In this section, you will find all of the Charts you have created in the past.
Custom charts can be used to analyze and compare various different metrics between each other, including any custom fields that you have set up in your Workspace.
We will describe the process of creating new Custom Analyses again later in this part of the guide. Once we have finished learning about the features found within Workspaces.
My Custom Fields
The next section is "My Custom Fields". Here, you will be able to find and manage all of the Custom Fields you have created in the past.
While we have mentioned custom fields a couple of times in the previous parts of this guide, they are an essential part of Workspaces, and before we start learning about the things you can do inside a Workspace, it is important we take some time to learn what custom fields are, and some of their uses.
Custom fields are designed to be a helpful tool for recording your thoughts on a patent. They will allow you to add information that is not normally part of the data contained within a patent. You might want to indicate if a patent is relevant to your research, or flag what patents are similar to an invention you have been working on in order to avoid infringement. Using custom fields, you can categorize your patents based on internal metrics, which is one step towards customizing and classifying your search results within a Workspace.
In the following video, you will be able to learn how Custom Fields are created, and get an idea of how they are used within a Workspace.
Creating and Managing Custom fields
Custom fields can be created either within, or outside of a Workspace. These fields are global to your entire account and can easily be shown or hidden in the different Workspaces based on your needs and objectives. They can also be viewed and edited while examining a patent, in the "Patent View".
To create a new Custom Field in the "My Custom Fields" Section, click on the "+Add Custom Field" button located on the top left corner of the screen. Then, you will be able to select from six different types of Custom Fields. Text, Date, Drop-Down Menu, Numeric, Drop-Down Tree, and URL link.
For Text, Date, and Numeric fields you only need to provide a Title, and click "Submit". You are also able to select a color to identify your field by clicking on the colored circle on the right side of the Title.
For Drop-Down Menu, and Drop-Down Tree fields, you will need to select a title, a color, and enter the values that will be the options you will be able select from.
Once you have created one or more custom fields, you will be able to manage them from this same section. The name, type, options (for drop-downs), and creation time will be displayed along each custom field. You can also edit or delete your custom fields from here.
Recycle bin
In the Recycle bin section, you'll find recently deleted items. They will indicate the type (Workspace, folder, or patent), name, the time they were deleted, and their original location.
Review
In this section, you will be able to track the patents that someone else has assigned to you, or that you have assigned to one of your colleagues. We will talk about how to assign patents at a later point in this guide.
Assigned to me
Here, you will find a list of the different assignments you have received from someone else. Each assignment will indicate how many patents you have to review, who assigned them, when they are due, and the progress made so far. It is also possible to reassign them to a different person. If they were marked as having a high or urgent priority, they will be tagged.
When you open one of these assignments, at the top of the screen you can see a who it comes from, and if a short message was included, it will be displayed as well. You can also find the progress made so far, and the due date.
On the right side of the screen you'll find the Workspace that the patents come from, and the custom fields that were assigned to them. After you have reviewed a document, and filled out the necessary custom fields, you can click on "Complete Review" to save your progress.
You can also click on a patent to open the "Patent View". The custom fields and "Complete Review" button will remain on the right side of the screen. The navigation arrows will allow you to move back and forth between the patents you need to review.
Patents I Assigned
Similar to the "Assigned to me" section, you will be presented with relevant information regarding the patents you have assigned. Here, you will have the option to reassign the patents to someone else, send a reminder of the assignment to a user, edit the details of the assignment, or delete it completely.
Workspace limits
The total number of patents which you can store in your total personal workspace is dependent on the package you are on:
Lite users - 100,000 patents
Standard users - 1,000,000 patents
Premium users - 10,000,000 patents
You can view your personal and company workspace limit at the bottom left hand corner of the Workspace home page.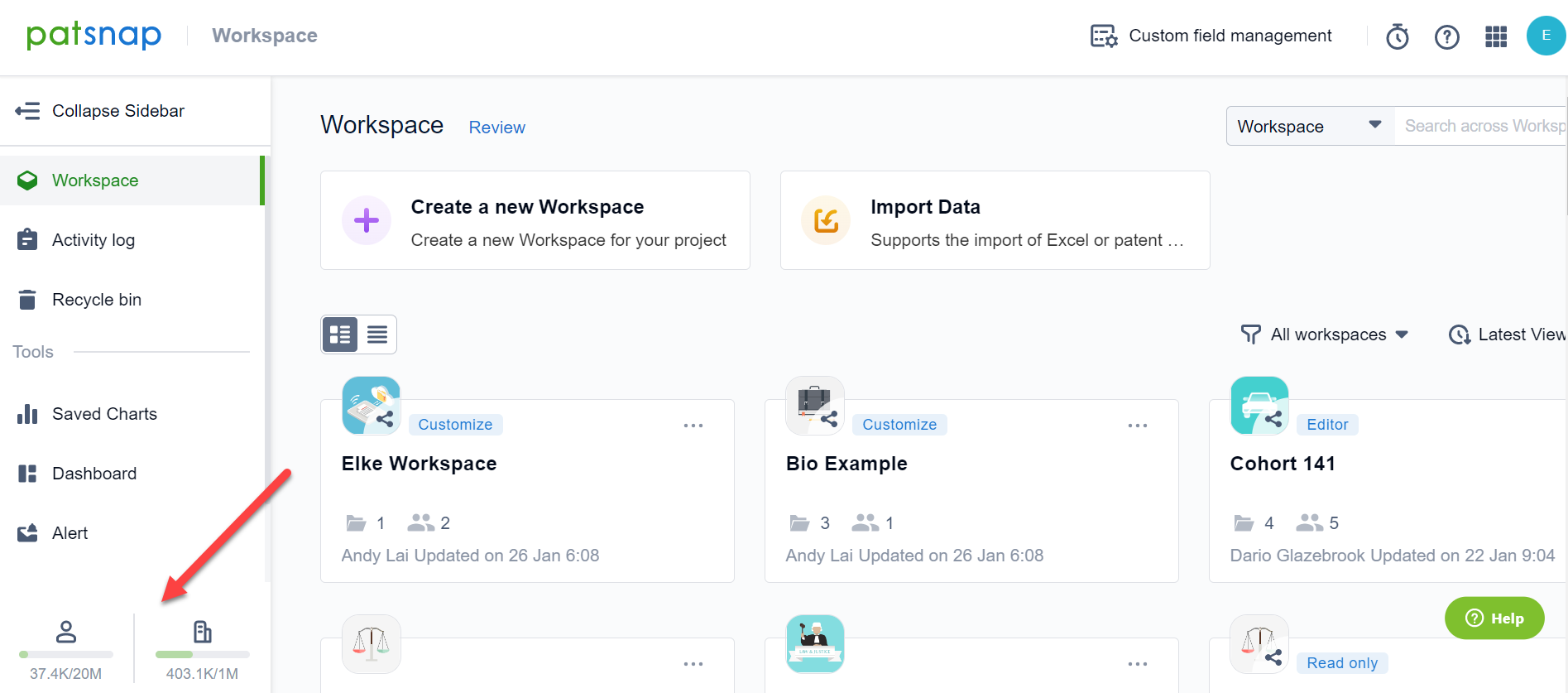 Folder limits:
Patents: 500,000
Literature: 50,000
Market report: 50,000
Venture capital: 50,000
Mergers and acquisitions: 50,000
Sequence: 100,000
Custom fields:
Lite users - 50 (excluding drop-down tree)
Standard and Premium users - 70 (including drop-down tree)
Inside a Workspace
When you first open a Workspace, you'll realize that they are very similar looking to the results screen. Even some of the options and tools available are the same, but the more you use and explore Workspaces, the more differences you will notice. This is how a Workspace looks:
To deliver a better user experience while navigating Workspaces, PatSnap has implemented options similar to those of the most popular Spreadsheet programs out there.
| | | |
| --- | --- | --- |
| Move Columns by clicking on a column header and dragging it to a new position. | | |
| Adjust the width of any column simply by clicking on the right side line of a column header, and dragging it left or right. | | |
| Freeze and unfreeze columns by clicking on the arrow pointing down located in the column header, and then selecting freeze/unfreeze. Frozen columns are always placed on the left side of a table. | | |
| Edit the contents of a cell by double-clicking on it. | | |
| Copy the contents of a custom field by clicking on the lower right portion of the cell and dragging it down. | | |
In the following paragraphs, we will explore the multiple options that are available to you while making use of Workspaces. We are going to start by describing the functionality of all the tools located at the top of the screen.
Settings
The "Settings" button is located on the top left corner of a Workspace.

Inside settings, there will be 2 different sections on the left side of the screen. "Page Settings", and "Folder Management". The first section you will see is Page Settings.

"Patent Settings" contains the options for grouping, tagging, sorting, and translating the patents within your Workspace.
| | | |
| --- | --- | --- |
| As its name implies, in the Folder Management section you can make changes to the folders inside your Workspace. | | |
| You can create new folders by clicking the "+New Folder" button. | | |
| You can edit a folder's name and description, create a subfolder, or delete it altogether by using the buttons on the right-hand side of the screen. | | |
| If you select one or multiple folders, a menu will appear on the lower right corner. It will give you the options to delete them, move them to a different Workspace, or combine multiple folders. | | |
| General Settings is where you can tailor your patent view based on your viewing preference. If you have both an Analytics license as well as a Eureka license you can now choose what view your workspace will open the patents to. If you would prefer more of an IP focused view Analytics is recommended, and if you are working more in an R&D role Eureka is recommended. | | |
View Settings
Just like in the results screen, you have the ability to change between views, and to sort the patents inside the Workspace.
| | | |
| --- | --- | --- |
| You can choose to display a Workspace in Table, Standard, Full Images, or Thumbnail view. | | |
| Manage fields allows you to customize your view. This is where you can add, or remove other available fields including custom fields. | | |
| Freeze is gives you another way to keep your most important fields on the screen as you work. | | |
| The Highlighter will allow you to locate keywords throughout the workspace. | | |
| Most of the sorting options are the same as the ones found in the results screen. Order by "Most Relevant" is not available since that option can only apply to search results, and it is replaced by "Latest Added" and "Oldest Added", referring to the time the patents were saved to the Workspace. | | |
Data Management
The next set of options you will find in a Workspace, are the data management options. This section is useful for giving you the data that you would like to analyze.
Family Grouping
This will allow you to group your total results by application, or by family. The available grouping options are: Ungrouped, One representative per family, One representative per simple family, One representative per INPADOC family, and One representative per Patsnap family.
Refine
This will change the view of the left sidebar from the folder management to a view of possible refinements for the workspace.
Import
"Import" will allow you to upload an xls/xlsx file with a a maximum of 20,000 patents at a time. PatSnap will match this list of patents to the corresponding entries in our database, and add them to your Workspace. The patents must be contained in a column with the title "publication number".
With the exception of "drop-down tree" fields, you can include any of the custom fields as part of an import. You just have to make sure that the custom fields used in the XLS file, are also present in your Workspace folder, and that they have the same title.
Export
The main difference between exporting patents from the results screen, and exporting them from a Workspace, is that in a Workspace export you are able to include the custom fields that you are currently using.
Automatic Updates
By clicking on the "Automatic Update" button on the top right part of the screen, you will be able to enable or disable Automatic Updates.
When you create a Workspace from a set of search results, you are given the option to enable automatic updates. If you choose to do so, you will be able to see the query you used as your search in this window.
If you chose not to, the text box in this window will be empty and greyed out. If you wish to enable automatic updates, you will need to enter a query. Future updates will be based on this query.
The total patents contained in the current folder is displayed along the last time that an update took place. Automatic updates will be run weekly, and patents you have deleted in the past will not be added automatically as part of an update even if the update query matches them.
Family Expansion Mode
Family Expansion mode can be used to add all of the family members that are currently not in the folder. It currently is available for Simple families, INPADOC families, and Patsnap families. Once the documents have been added there is not a way to automatically get rid of the added documents.
Custom Fields
We already learned what Custom Fields are, where to find them, and how to create them from outside a Workspace in the "Managing Workspaces" section of your this guide. Within a Workspace, you can choose which of the previously created custom fields you want to use, edit the available custom fields, or create completely new ones.
Creating New Custom Fields
To create a new custom field from within a Workspace, click on the "Add Custom Field" button.
The process will be the same as the one described in the "Managing Workspaces" section of this guide. You will need to select a Custom field type, a Title, a color, and for the Drop-Down menu and Drop-Down tree, you will need to enter the predetermined values as well.
Editing Custom Fields
The most straight-forward way to edit a custom field is to simply double click on it and enter a value. However, if you intend to enter the same value on multiple patents, this might become a tedious process.
It is possible to edit custom fields on more than one patent at a time by selecting the patents you want to edit, and then clicking on the "Edit Custom Field" button. You can find it on the menu that pops up on the bottom right corner of the screen after selecting one or multiple patents.
You will be asked to enter the new value for the Custom Fields you are currently using in this folder.
Once you have finished editing the values of your custom fields, click on "Submit".
Analysis and alerts
Alerts
The Alerts in Workspaces work the same way they do in the results screen. The only option that is unique to Workspaces, is the "Comments" alert. It will alert you when a new comment has been added to a patent within the Workspace.
Custom Analysis
We already covered what Custom Analyses are, and where to find them earlier in this part of the guide. Here is how you would create them within a Workspace.
1. Create a folder in a workspace, or choose an existing folder within a Workspace.
2. Collect the patents which you want to analyze in this folder.

3. Create "Drop-down Menu" custom field. The fields name can be "Technology", "Effect", "Advantage", "Competitors", "Importance" etc.

This is mostly a recommendation, Custom analyses can be created using different custom field types.

4. Select the respective value for the field, you can select multiple value

5. Click "Custom Analysis" button, then select the custom fields for 1st, 2nd, or 3rd Dimension, and the type of chart

6. Click "Analyze" to start analyzing
All the custom analysis created by you will be saved under "Saved Charts" in your account.
The chart will not be changed even if you change the list folder's contents. We will always keep the original analysis result.
Insights and Landscape
The Insights and Landscape button will can be used to create reports/charts for further analysis of the folder.
Sharing Workspaces
In the "Managing Workspaces" section above, we already described one way to share Workspaces, and where to find the Workspaces that have been shared with you.
It is also possible to share the Workspace you are currently working on by clicking on the "Share" button. Located on the top right corner of the screen.
Just like we explained earlier, you will be asked to enter the email address of the PatSnap user you want to share this workspace with, and specify the permissions levels they will have.
Assigning Patents
We already covered where to find the patents that you have assigned, or have been assigned to you as part of the "Managing Workspaces" section of this guide. This is how you assign patents for review to your colleagues from within a Workspace.
First you have to select one, or multiple patents from a Workspace folder, and then click on the "Assign to" option. You can find it on the top right part of the screen, or the menu that pops up after selecting a patent on the bottom right part of the screen.
After clicking on the "Share" button, you will be asked to specify how many patents you are are assigning, who you are assigning them to, the due date for completion, and how urgent this task is. It is also possible to leave a short note, and select what custom fields you want to be used as part of the review process.
Once you have filled out the necessary information, click on "Assign". This will complete the process. An email will be sent to your colleague, and the task will appear on the "Assigned to me" section of their PatSnap account.
Training Webinar - Part 3
In this final part of the webinar series, Hannah goes over the many features Workspaces have to offer. While we have already described everything you will see in the following video, it is always good to see these features in action. Please take the time to watch.
A Final Word
Hopefully this guide has been useful as an introduction to PatSnap. If there is something that you are still curious about, but was not explained in this guide, remember that there are many other articles available in this Help Center. At the very top of this screen there is a Search bar that you can use to search concepts, or PatSnap tools you'd like to learn more about. You can also mail our tech support team at help@patsnap.com for any other inquiries.
Until then, PatSnap responsibly!
You can also check: