There are 5 different search types on the Bio platform.
Sequences
Antibody
Motif
Fragment
Advanced
This article will cover Sequence Searching:
When searching and viewing patents on the Bio Platform you will need to follow a three-step process.
Run a sequence search with Bio filters.
Refine Search results using source filters.
View results on analytics.
Sequence Searching:
When doing a sequence search you have two options:
Type out the sequence you are interested in.

When typing out a sequence you can input the query as a DNA or RNA chain, protein sequence, FASTA format, or by typing out a string of amino acids.
The system supports multi-format input so you can combine any of the input formats up to 200 sequences.

Upload a FASTA file.

After inputting the search query, specify the input type and search database using the filters on the right side of the screen.

Once you have selected the filters the search button will be activated.

Once the search results are collected, you can further refine using the filters on the left-hand side of the screen

After filtering your search results, you can:
View the patents in analytics.

To view patents on analytics, select a sequence code.
A new window will open into the analytics platform to view all patents that cite the selected code. Once you open analytics with all the desired patents you can save them to a workspace and interact with them using the workspace functions.

Export the results as a FASTA file.
View sources
The view sources page is used primarily to view the overlap in entered sequences. Additionally, the view sources page can be used to view all patents at once for all sequences rather than selecting sequences individually.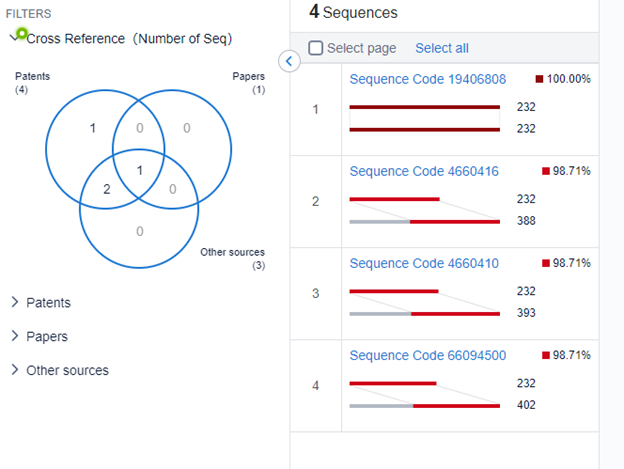 To make things easier to find patents and literature with the most relevant documents with the highest identity sequence hits, sorting options have been added to the Patent and literature tab allowing you to sort documents according to sequence attributes. Added fields include:
Sequence Fields -
Blast score

Alignment

identity

Query/subject coverage and identity

Positive Score

Sequence length

The number of sequence hits etc.
Literature Fields -
Patent Fields -
Publication Date

Application Date

Priority Date