There are multiple types of searches available in Eureka, each with their own advantages. The four main types are Keyword searching, Competitor searching, Semantic searching, and Image searching.
Keyword Searching
This is the most basic way you can search within Eureka. All you need to do is enter the keywords that you are looking for, and our system will find you patents that match your search. It will look through the Title, Abstract, and Claims of our entire database to find you your desired patents. You can utilize the Boolean operators if you would like to customize your search further. If no operator is used it will act as if there is an AND operator in use.

The basic operators are AND, OR and NOT. They allow you to say whether words must be returned, whether they are optional, or not wanted at all.
OR: We would usually insert OR between terms used to provide a variant or set of options in your search. It retrieves patents containing either or both of the keywords or criteria.
AND: AND serves as a bridge between more than one term that you want to categorically appear with each other. It retrieves patents containing both keywords or criteria. Either keyword or criteria may appear first.
NOT: This operator works like the word NOT does in day to day life. If you want to look for some terms, but NOT others, you can list the others after the operator NOT. It retrieves patents containing the first keyword but not containing the second keyword.
Competitor Searching
Similar to keyword searching you first start your search by entering your desired company in the search bar. It will give you recommended Organizations in a dropdown that matches your search. When you use the recommended companies it will only look for that company as an Owner, and not look for it in the body of the patents.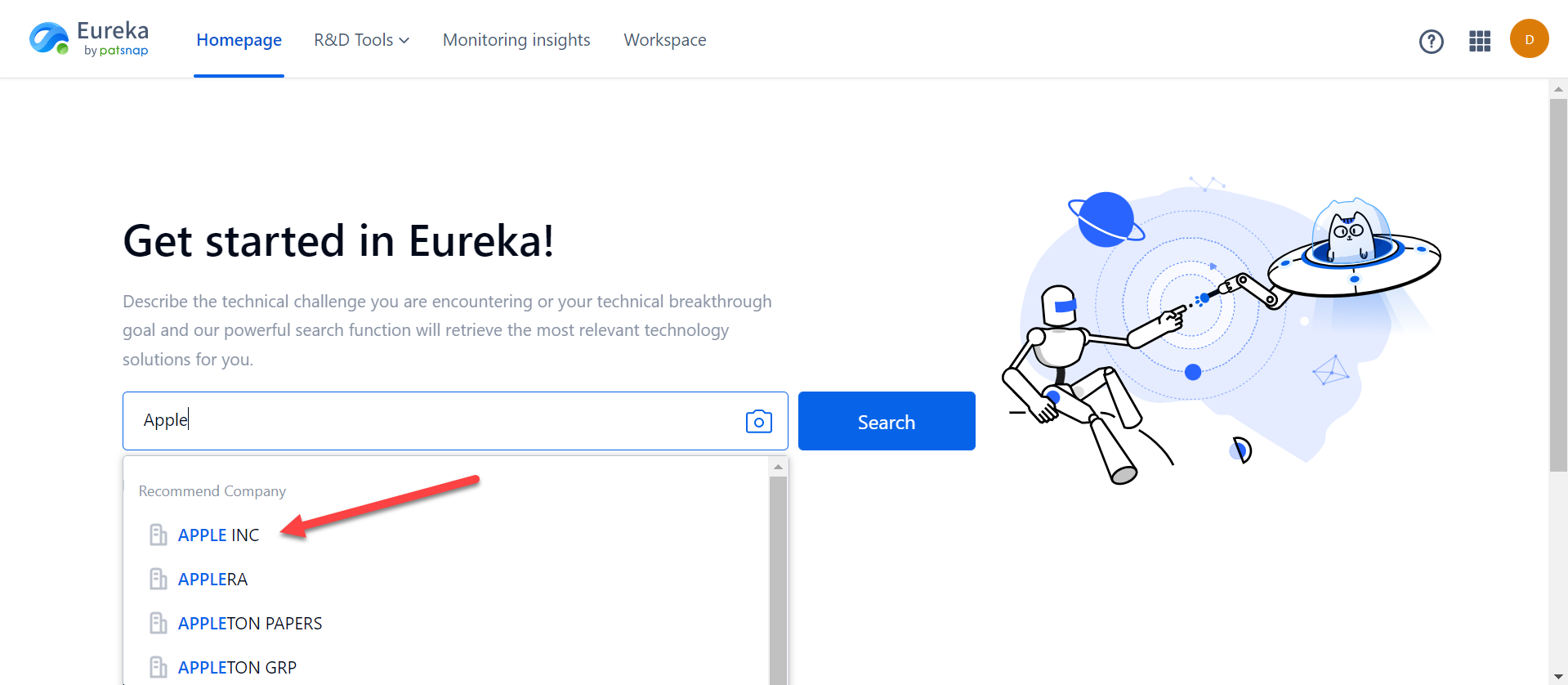 Once you have selected your company it will bring you to the results screen showing every patent that is owned by that company.

Semantic Searching
You are also able to complete a Semantic Search in Eureka. PatSnap's Semantic Search is a quick and easy way of searching for patents or literature relevant to a portion of text that you have provided. You can either copy and paste in a body of text, or you can write out your own. For optimal results we recommend that your text is at least 200 words long. This search will give you the top 100 most relevant results based on your text.
Image Searching
Image search in Eureka allows you to search for design patents, registered design rights, and utility models in the same place by uploading an image. You can upload a JPG and PNG image up to 4MB from your personal device and PatSnap will analyze the visual features of the image and return any global designs that share visual similarity.
You can access the Image Search feature by clicking on the camera on the right side of the search bar. Once you have uploaded your image you can choose what type of document you are looking for between Design Patents, or Utility Models.