This article describes what will be displayed, as well as other refinement, saving and sorting possibilities once you have run your search in Eureka.
How to navigate
Per default, your results will be split into 20 patents per pages. You can change this setting at the bottom of your results page. You may also at any point switch from Patent results to Non-Patent Literature results on the top left side of the result page.
Similar to "Simple Family", your patent results will be grouped, only displaying one result for multiple applications for the same invention in multiple jurisdictions. This is to prevent repetition and enables you to only scroll through different inventions without having to filter the duplicates yourself later on.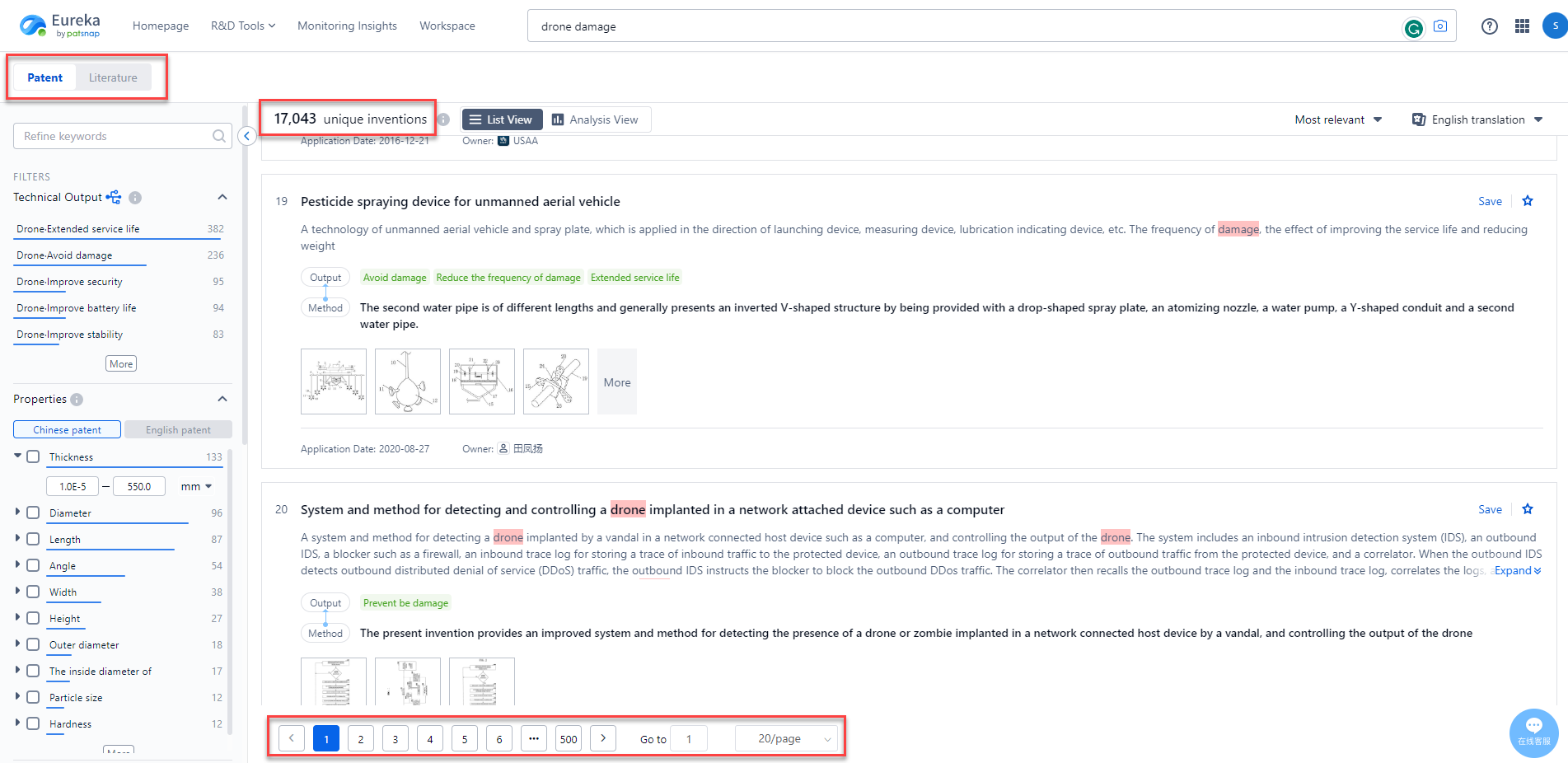 How to sort your results
On the top right side, you will find three different sorting methods.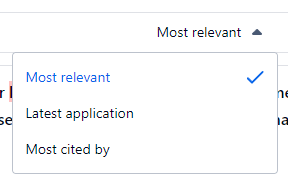 "Most Relevant" refers to your initial keyword, competitor or image search. Patents will be listed and ranked according to which results is closest to your search, starting from most relevant at the top.
"Latest application" refers to which application has the latest (from most recent to least recent) date of application.
"Most cited by" will sort your results with the most citations by, which is also displayed at the bottom of your patent result.
How to save your results to a workspace
At this moment, you are only able to save one patent at a time to your workspace folder. You can do this by hovering with your mouse over the patent of your interest, this will now show the save option on the right side of it:

Clicking on the little star will automatically save the patent to your "Quick Save" workspace folder.

By clicking "Save", a new window will appear which will enable you to save this patent in any of your existing Quick Save workspace folder, or enable you to create a new folder.
How to further refine you results
On the left hand side you will have further options to refine your results according to your search needs.
Entering follow up keywords in the "Refine keywords" section will add the search operator "AND" to your search. For example, if your initial search was "Lithium battery" you may at a later stage also want to refine by "recharging". This will then filter your results some more and make a more precise search according to the invention you are interested in.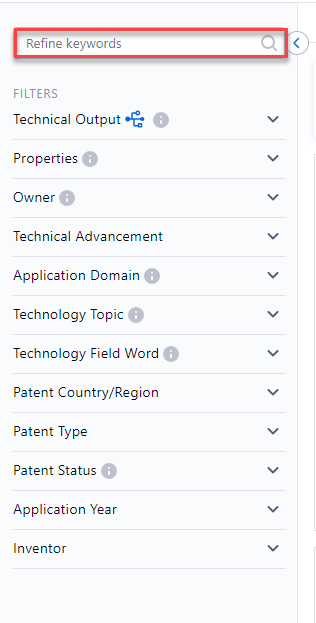 Other filtering options are also available according to your needs. 
Technical Output
Patsnap AI technology uses patent text data to train the model; through this model, the patent data is extracted and processed, and the "Technical Output" that can accurately describe the direction of patent optimization is obtained, so that users can use it reasonably. This field only supports the screening of Chinese patents for the time being.
Properties
This allows you to quickly filter based on the properties of a material that you are searching for. This is extracted from the full text of the patent, it includes property, measurement, and unit.
Owner
This refers to the (standardized) current patent assignee. 
Technical Advancement
These are advancements that are pulled from the patent results themselves. They are keywords that are based on certain benefits found within the patent. Meaning if you are, for example, more interested in the ease of use rather than a low-cost battery, then you would be able to filter by that specific efficacy here.
Application Domain
The application domain filter will display the different domain for which your keywords, company or image result is mostly used for. By going down a level you will be going into more detailed domains.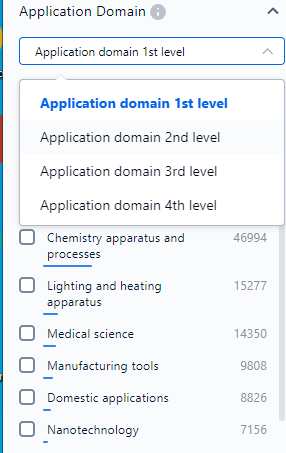 Technology Topic
Similar to "Application Domain", you are able to refine your results based on the technology it covers. By going down a level, you are going into more detailed technology.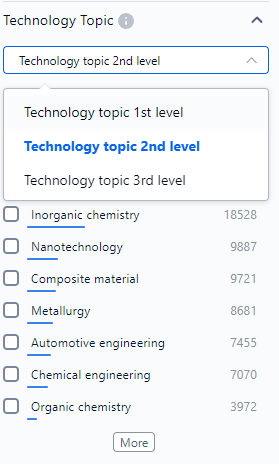 Technology Field Word
This content is extracted from the description and uses AI technology to intelligently identify the technical fields described in it.
Patent Country/Region
This is to refine your results by the jurisdictions of your interest. The Patent Country is the country of application for the patent.
Patent Status
This is our simple legal status. You are able to refine by Active (a granted and currently active patent), Inactive (which consists of withdrawn, expired, non-payment, revoked, discontinued, etc.. patents), Pending (which consists of applications which are published or in examination) and undetermined (which consists of applications where we were not able to get a determined status from the data source).
Application Year
This refines your results according to the year of which the patent application was created.
Inventor
This refines your results according to the original inventor of the invention.