Throughout March we've added more general improvements, including additional filter options on search results, improved market reports dashboard, explanation of why companies appear in search results, and more. Check out the 9 most important changes below:
Explain company search results
Many customers have asked us to explain why companies are being returned on the search results. Now you can see exactly why. Clicking on the Venn diagram icon will popup a dialog box which shows where this company is being found in each data set, and also the proportion of those compared with the total results.
This allows you to see the absolute numbers, plus the relative numbers compared to everything. For example: a company might return a match for only 50 patents, but that accounts for 80% of all the patents we found in this area, so their IP relevancy is very high. Or, a company returns 500 hits in the news, but that accounts for only 1% of total news we found in that area.
The functionality is also available on the detailed list view for every company returned in the results.
Note: You can click on the bars in the chart to see the underlying data.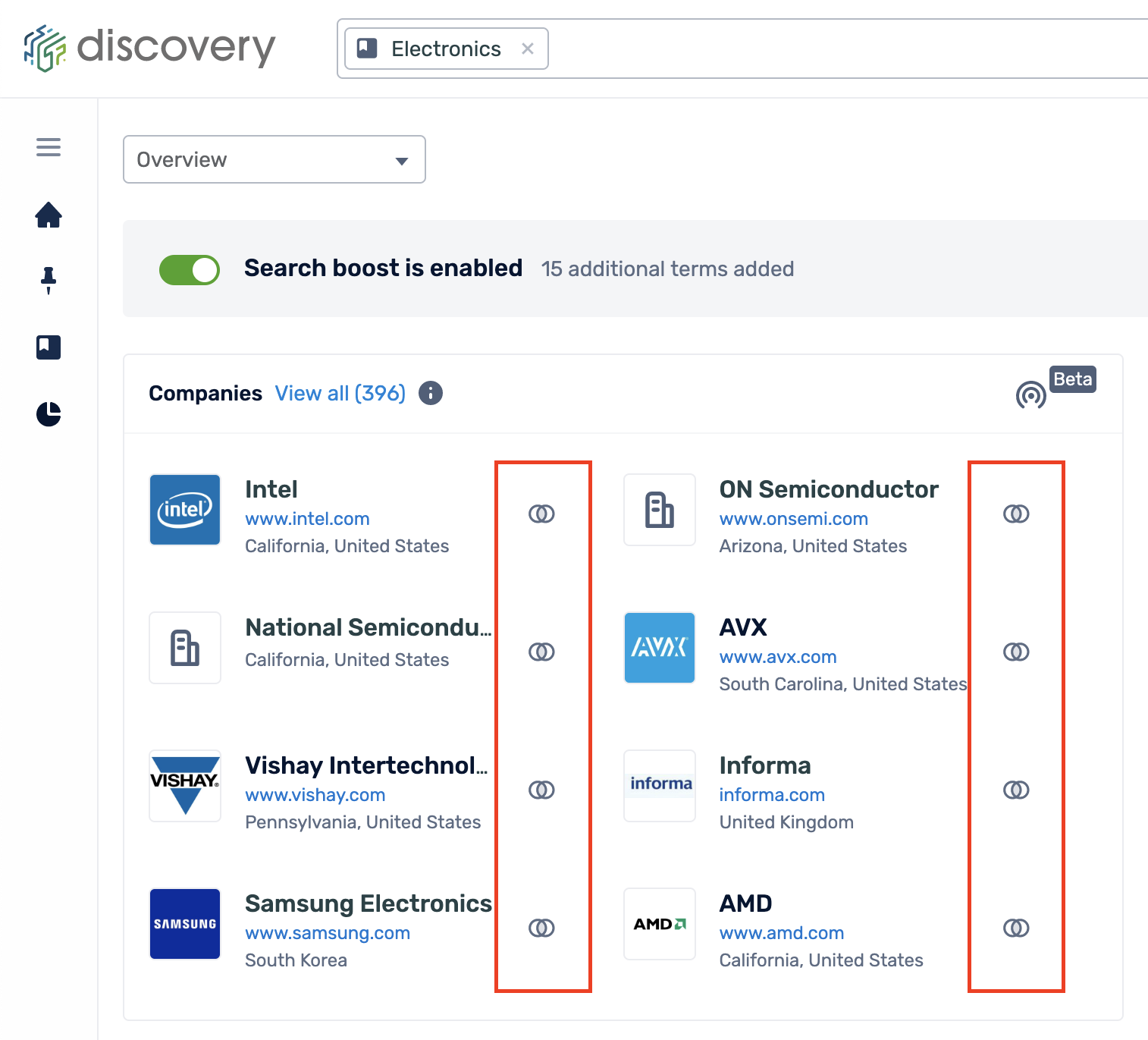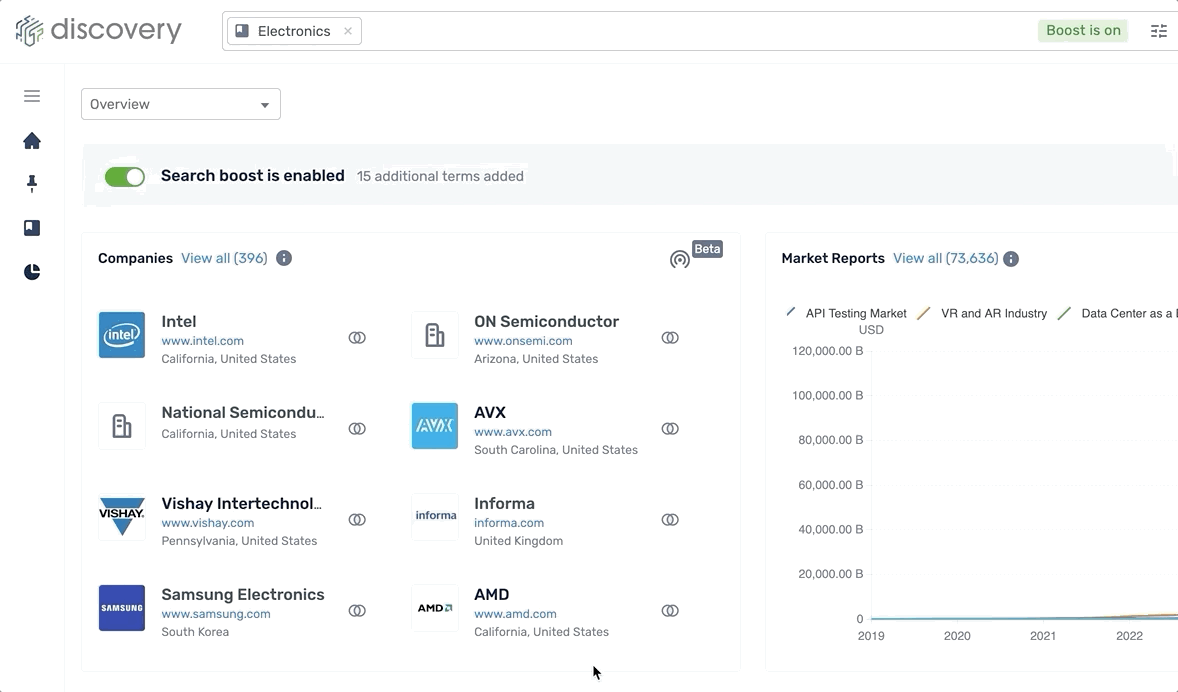 Market reports
We are working on a major overhaul of the Markets feature. The first step has been to improve the display of the results – to help you see which companies are linked to this report and the key sizing information – and to build a new detailed market report dashboard page.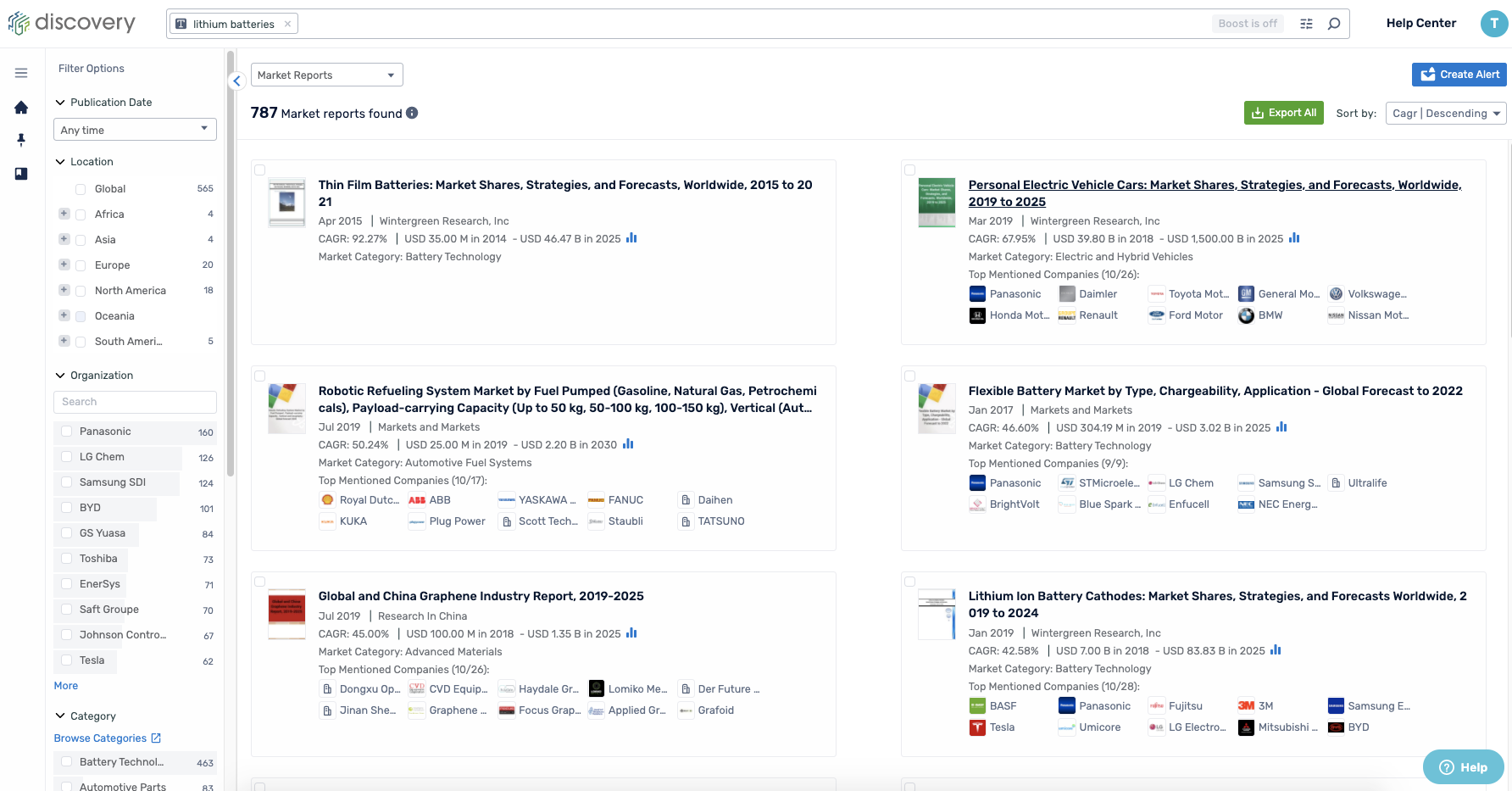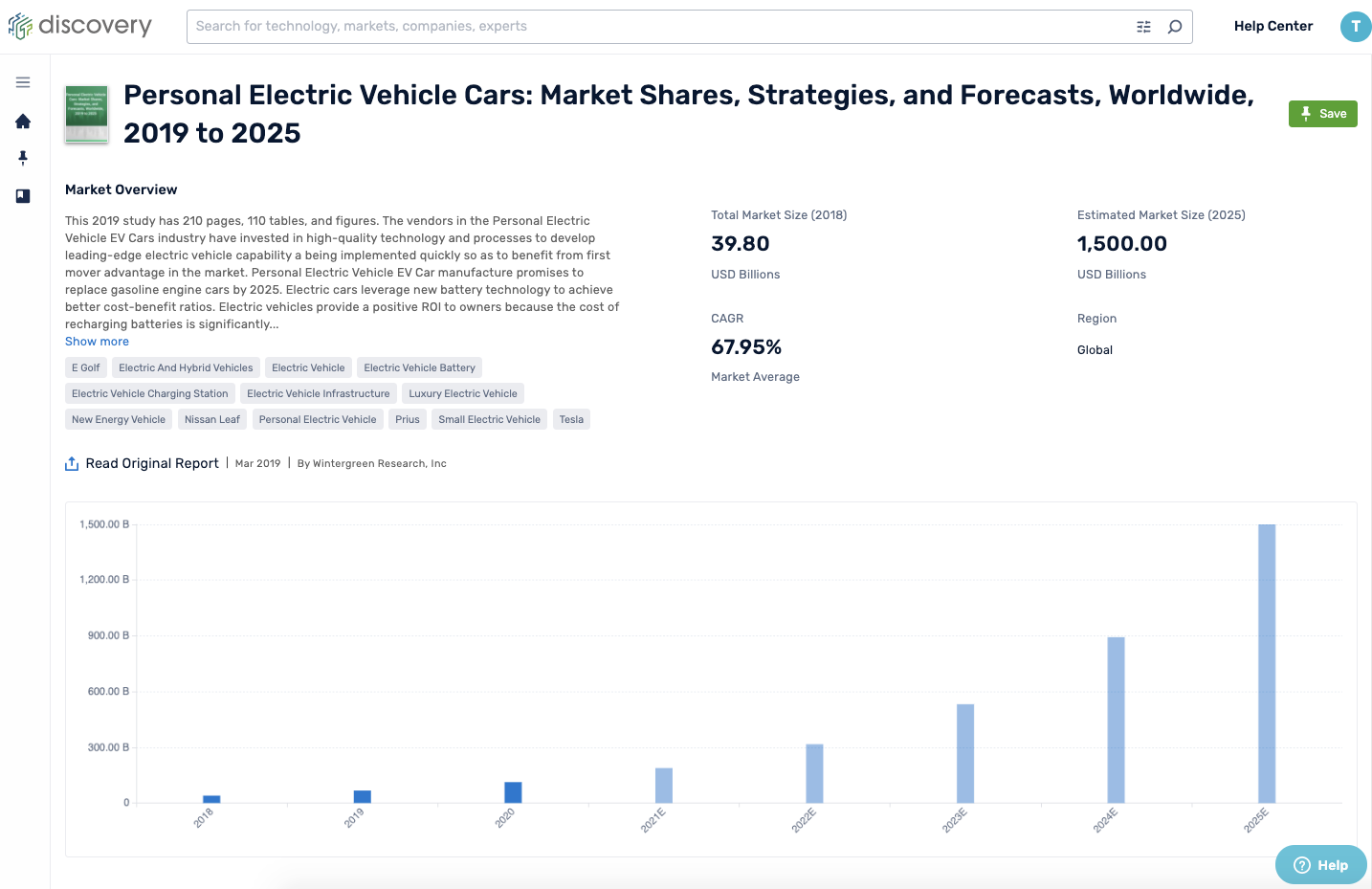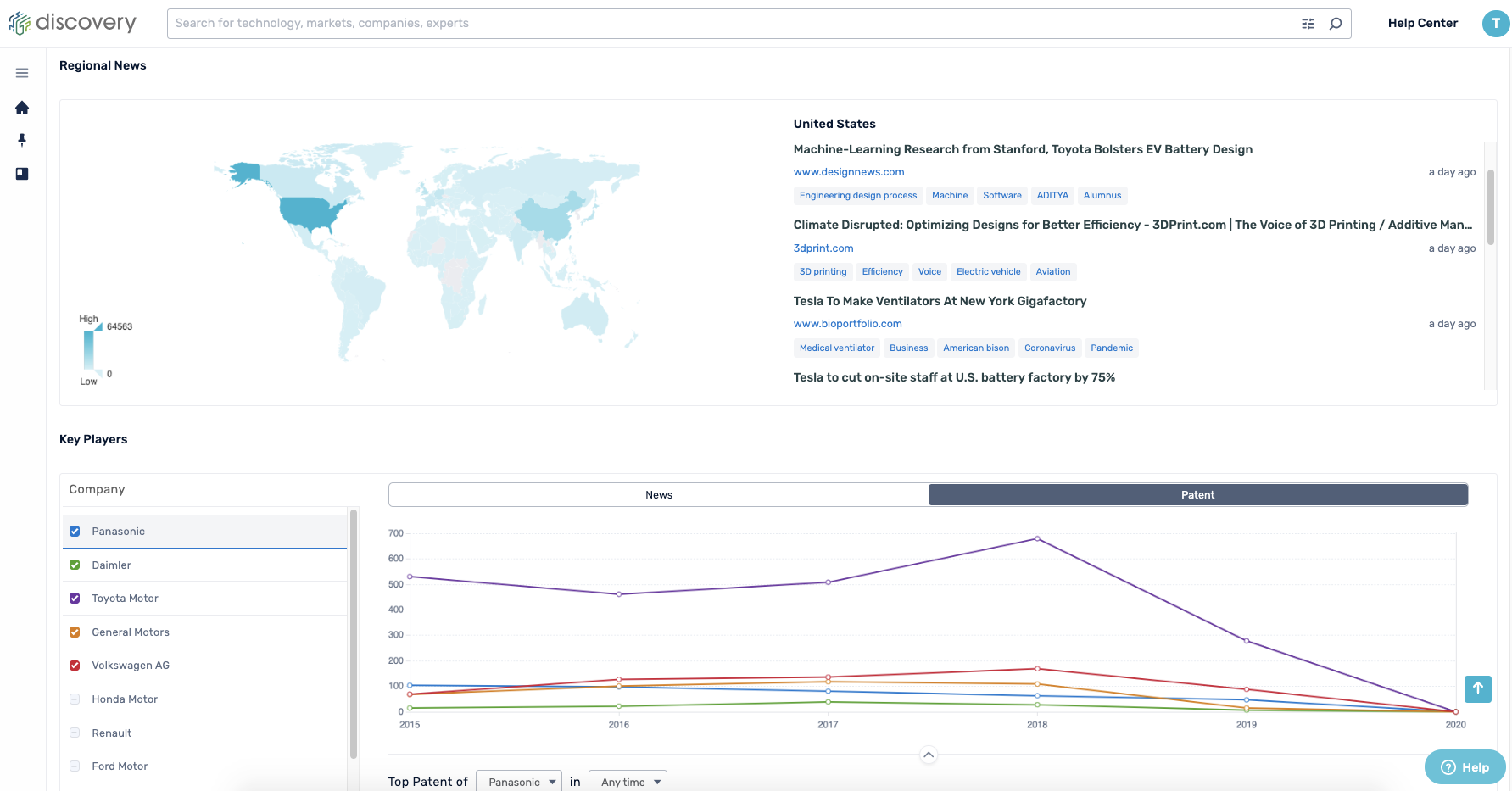 Additional filters added
Last month we revamped the filtering options for every data type, and we've now added more filters on top. For example, on the companies list view you can now filter by NAISC industry classification.
We'll be adding more filters in the coming weeks as well. If there are particular filtering options you would find valuable, do let us know.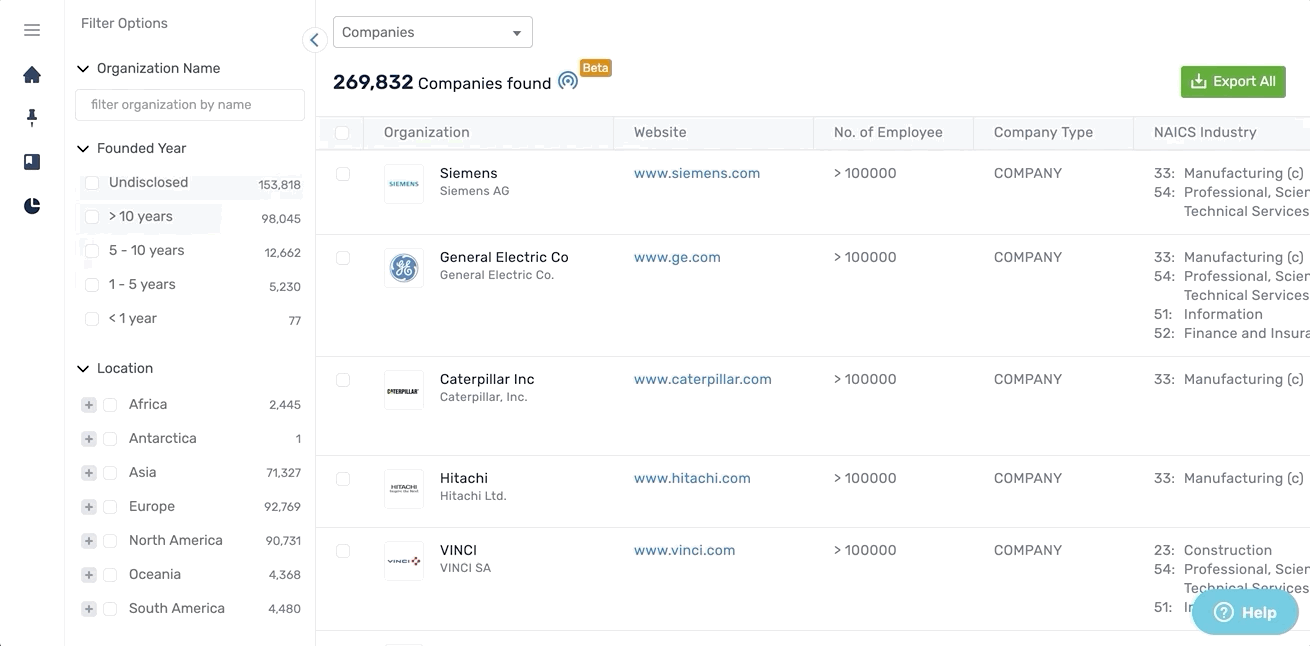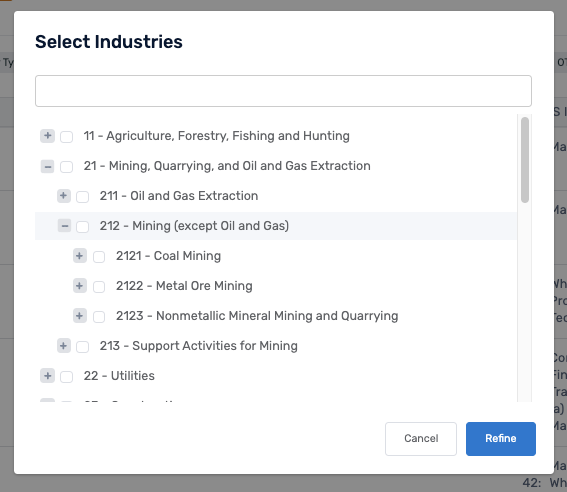 Checkboxes to select multiple items on list view
You can now select multiple rows on search results and add them to a Pinboard at once, or Export just those particular results to Excel.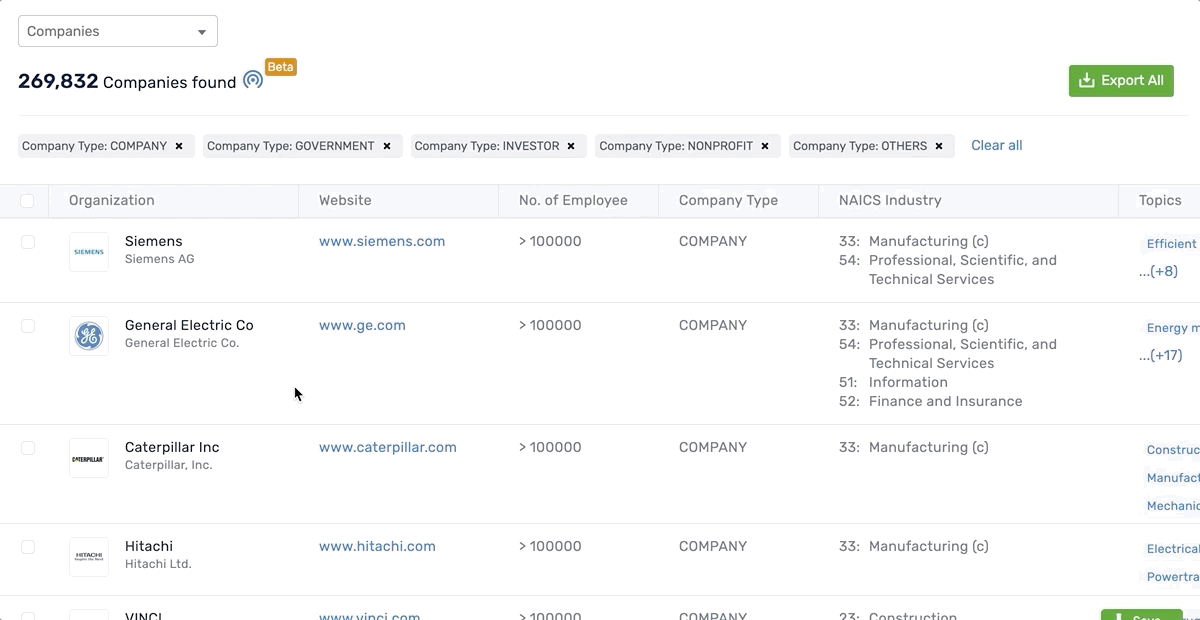 Commenting when saving to a Pinboard
When saving an item to a Pinboard you can now add a comment directly at the point of saving, this is useful to capture thoughts about the item for others to view or for your own purposes.
Note: this currently only works when saving one item at a time, and not on the multiple saving of items in the above new feature.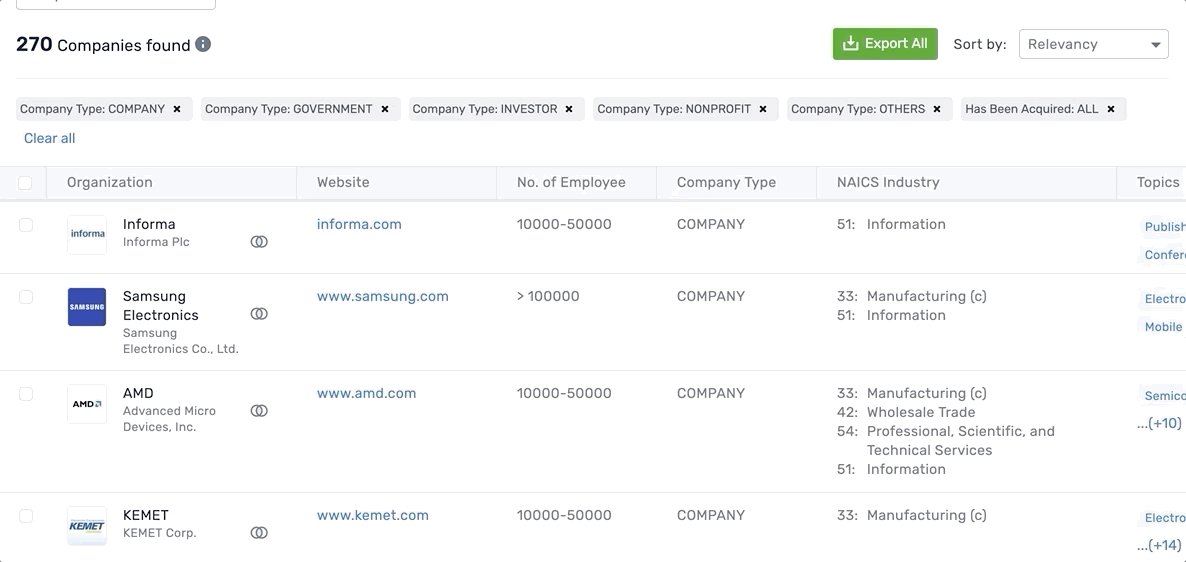 Company profile improvements
Investment and M&A grouped by industry
We've recently added the NAISC industry classification to our data, which means we can start showing activity based on industry. For example, we have added charts to show a company's investment and M&A activity by industry.
This example is showing LG's investments made in the last 10 years, sorted by industry grouping: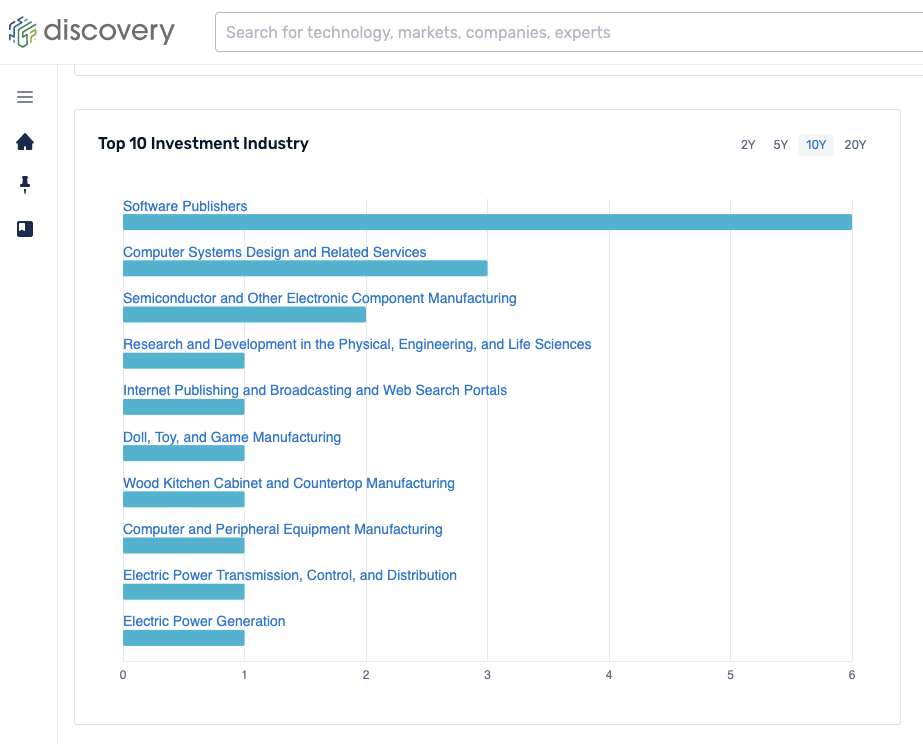 Company alert directly from the profile
As a small usability improvement, you can create an email alert directly from the company profile. These alerts will send you any new information relating to this company.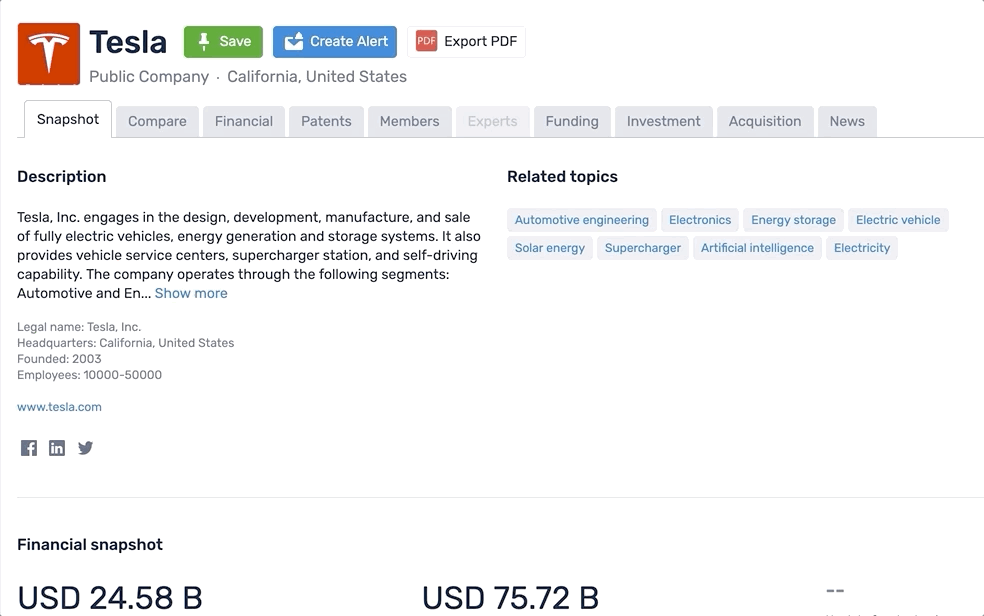 PDF export option (for feedback only at this stage)
We are looking into whether a PDF export of a company profile would be valuable to users. For now we added a button to the profile to see how many people click it, and then provide feedback to us. If this is a feature you think would be useful, do let us know, particularly if you have any suggestions on how this should be structured.

Direct search on company (beta feature)
We are testing different ways to search for companies, and in the coming months will be releasing a new feature specifically for conducting detailed searches for companies. For the time being there is now a small feature that shows on the company results which will enable you to change the search logic to be direct, rather than aggregated.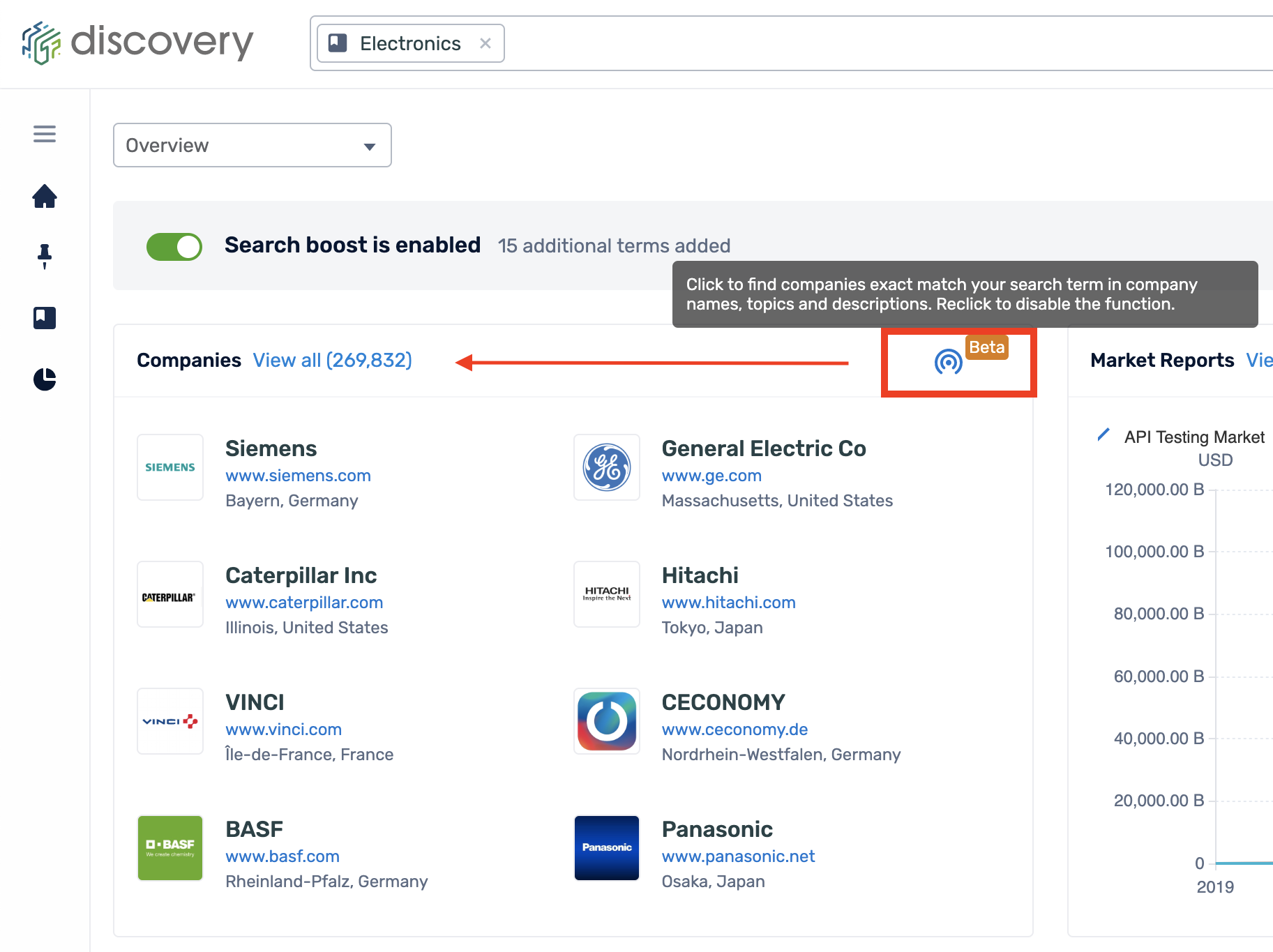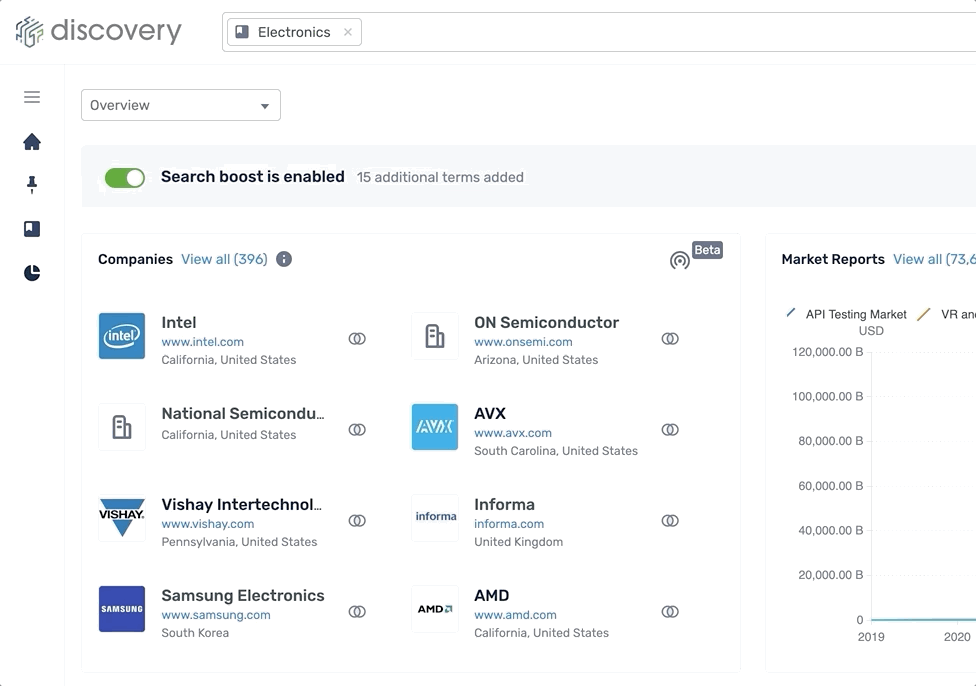 Note: to enable beta features like this, go to your profile on the top right menu and select the beta option.
Aggregation search: we take the query and search in each data type and bring back the top most mentioned companies across all of those types, then merge them together into the result list.
Direct search: we search the properties directly on companies, such as their description on their profile, the list of topics that have been labelled on them, and their name and alias names.
Both have advantages and disadvantages, and you may notice significant differences in the results. With the new feature we are building we hope to deliver the most robust and extensive company searching, utilizing all of our different methods, filters, and data sets.
Search results are across all time by default
Previously when searching, the default time range would be five years. We had a lot of feedback about this being confusing. We decided to change it so that searches now return results from all time by default.
The charts will still show only the last five years in most cases (although you can use the options to change that on the overview page).
Combined with the improved filtering on each data type, we think bringing back all time results and allowing for greater drill down capabilities, is the right way to go.
Just be aware that when searching the results on the overview page may now be much larger than before. When going into the detail pages, use the time range filter on the left to reduce this amount of results if needed.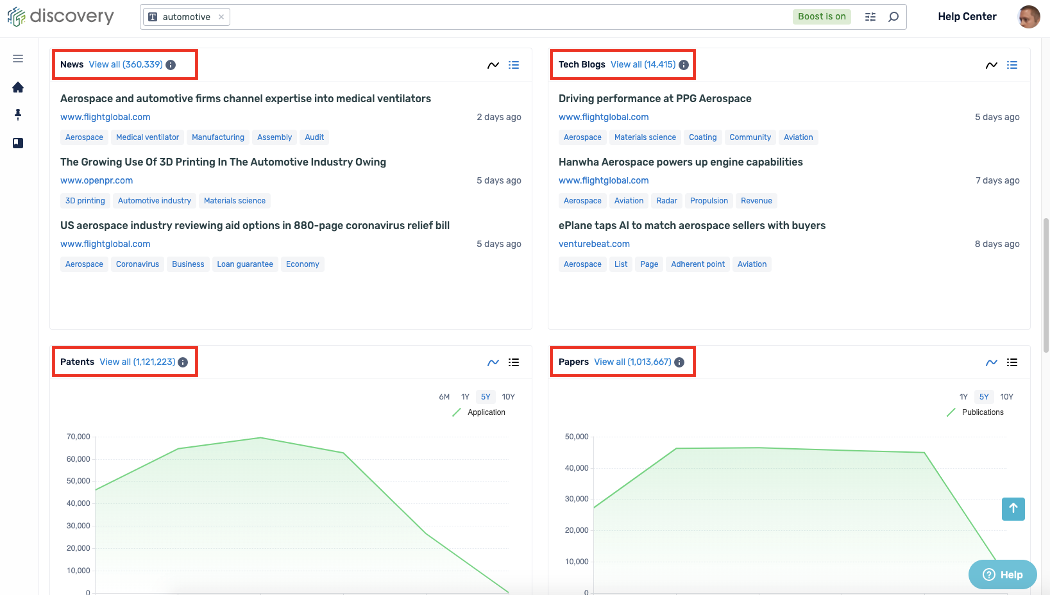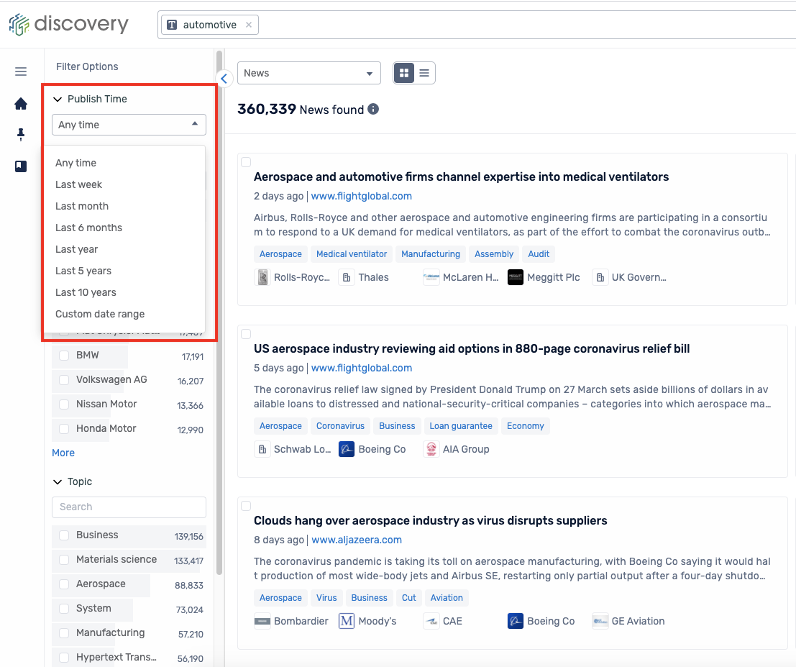 Product support and feedback
In the bottom right hand corner of the page you will now find a Help button. You can use this to search for Help Center articles, or click to 'Leave us a message' and we'll get back to you for any support issues or questions. There will also be a live chat function here soon for quick responses.
Feel free to send us any feedback using this method, it will come to the product team and we'll keep a track of all suggestions or issues.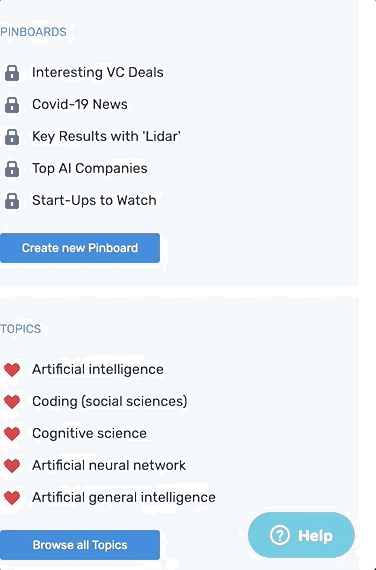 New data sources
News sources:
Technology Transfer sources: