This month we have made a number of improvements to the company profile snapshot page, including adding a relationship map with the top related companies and a word cloud for top 50 related topics. We have also implemented a corporate tree to companies. Check out the details below:
Company Corporate Tree
We have added corporate trees to companies. Finding out the structure of a company is important for multiple reasons, such as to find out their subsidiaries which may operate in a range technology areas or to have a complete view of any mergers and acquisitions that have taken place.
You can do this within Discovery by clicking on the Corporate Tree button from any profile page of a single company.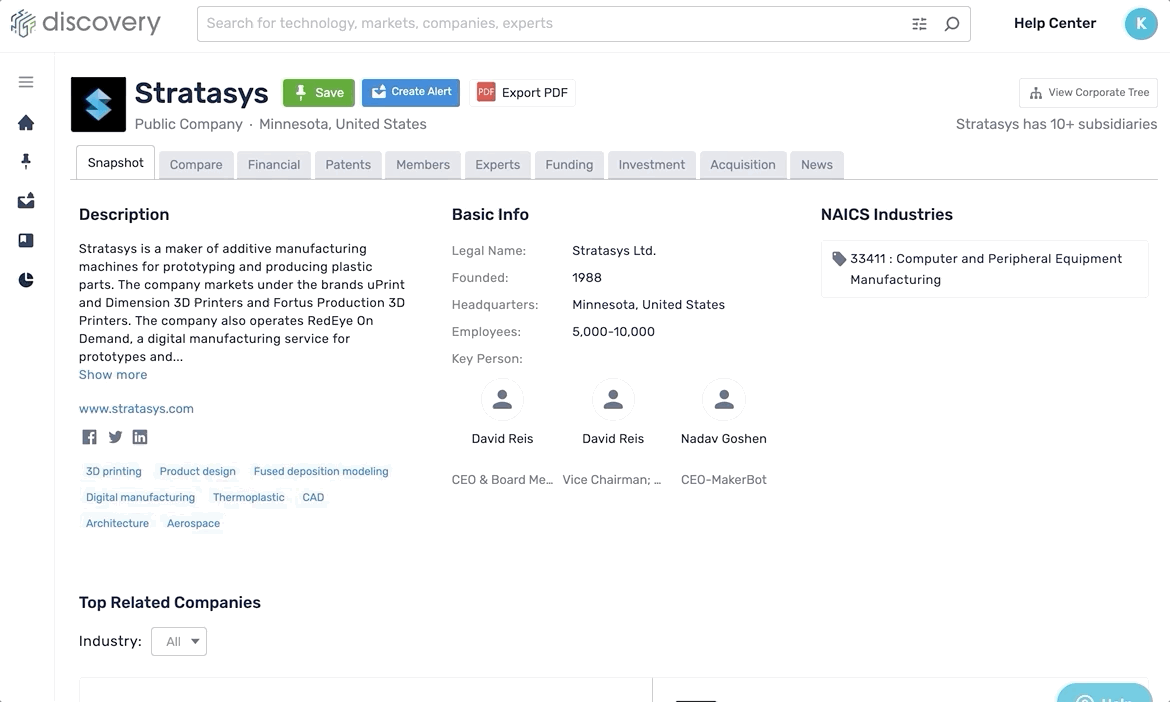 Market Browser
If you are especially interested in market reports, then there is an easy way to find them within Discovery using the Market Browser. Across hundreds of thousands of market reports in our database (706,651), we have extracted the most recent and notable ones from various industries while also linking news and patents to a market report.
An overview: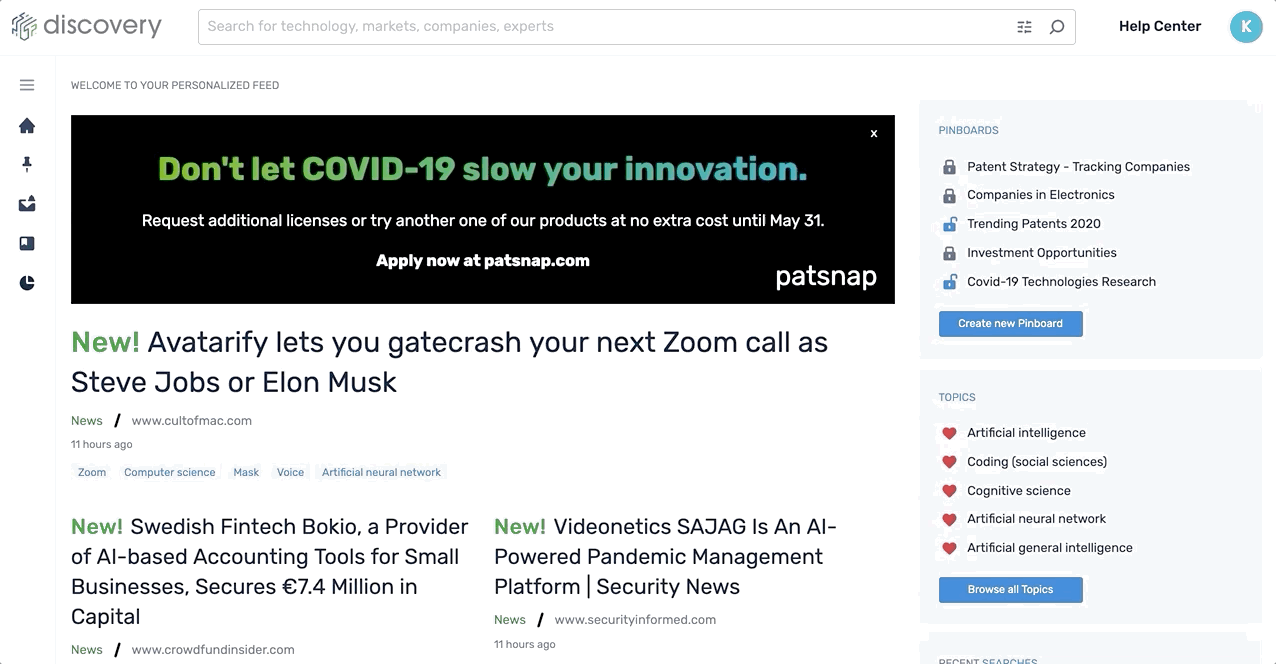 The details:
You can find this in the left-hand navigation "Markets".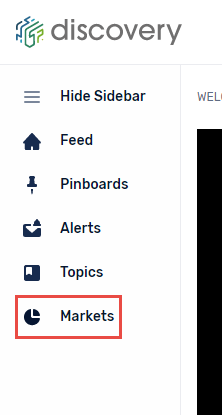 If you can't see a specific market category of interest, the search bar will bring back results which match your search term.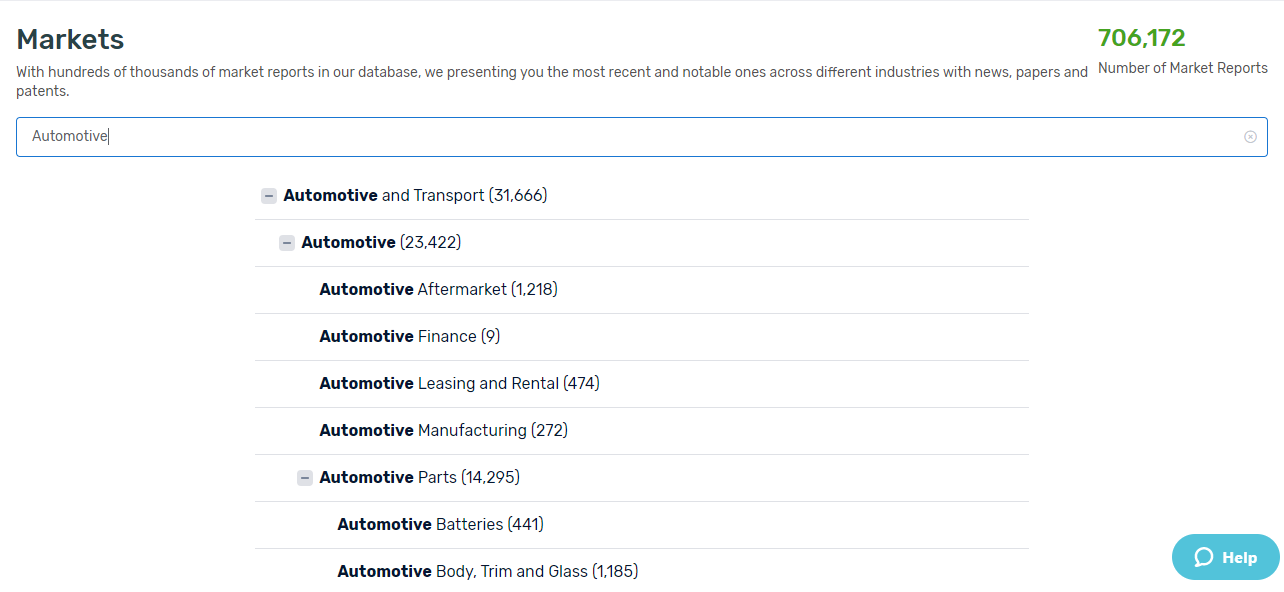 Market category detail page
Clicking into any of these categories will take you to the market category detail page.
Companies involved in market.
The first tab on the market sector detail page is "Companies" which gives you information on the companies involved in this market sector.
From here, you will be able to see a distribution of both the location and age of the different companies involved in this sector within the Company Overview.

Below this you can see the Company List, where you can see a list of the top companies that operate in this market sector. You can also refine down using the left hand side filters.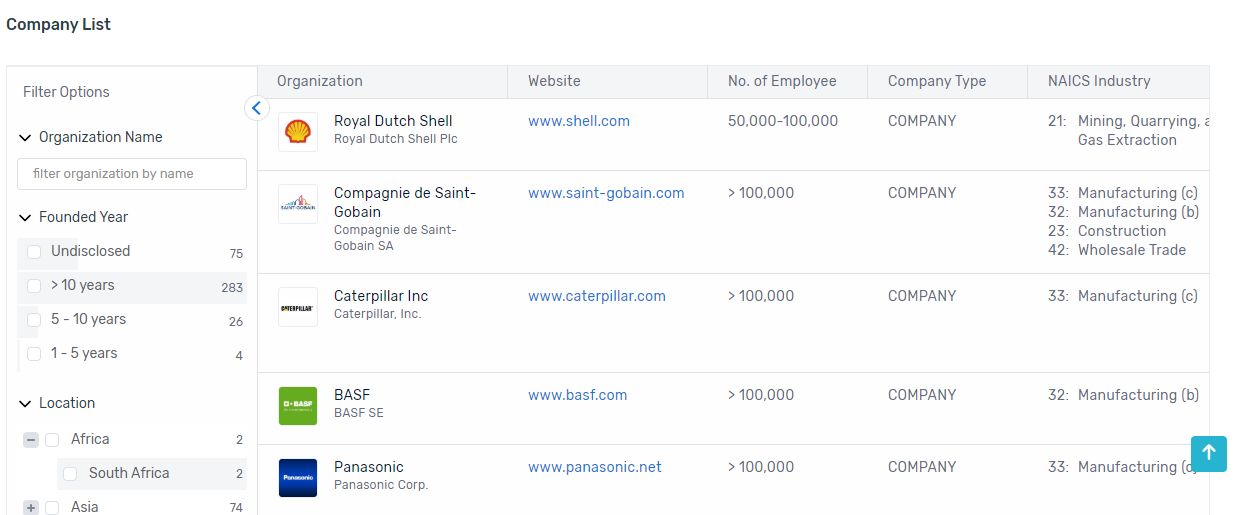 The Market Reports
The second tab on the market sector detail page is "Market Reports", providing you with specific information regarding the market reports for this sector.
Analyse the top sub-market sectors within a sector along with the current size of them.
See the list of Market Reports for this sector. You can also refine down using the left hand side filters.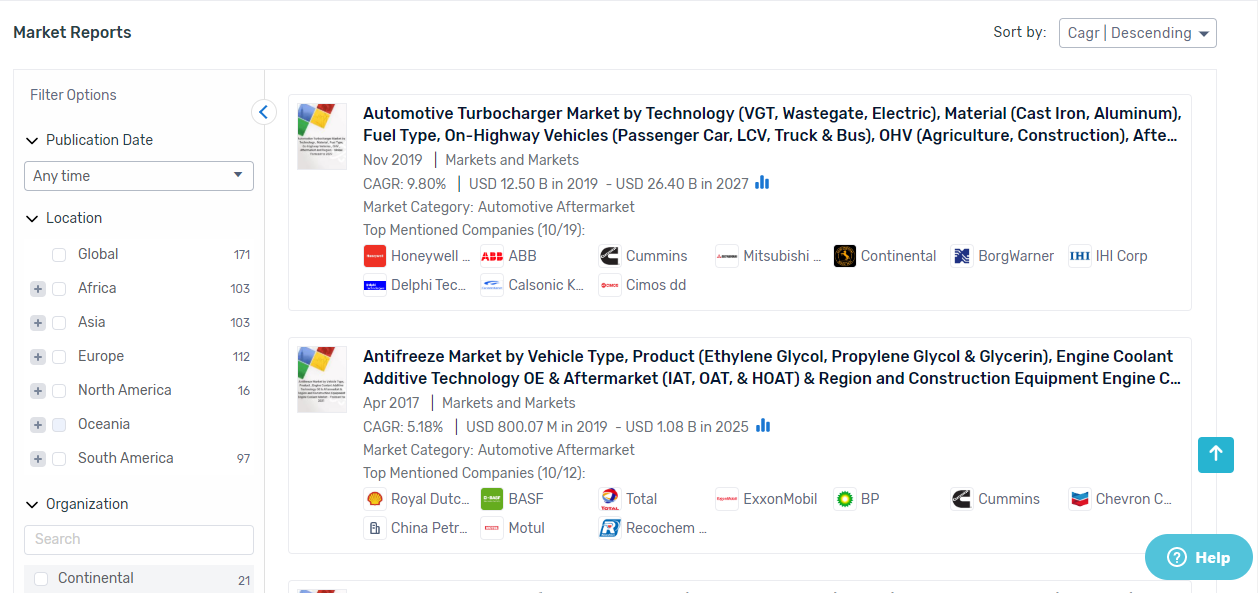 Individual market report page
If you click into a specific market report you will come to a page that is dedicated to it.
You will be able to save the report to a pinboard, along with seeing the sector that this report is in, market overview, associated topics, total current market size, estimated market size, CAGR and the region that this report concerns.

You can read the original report. Analyse the trend graph with the predicted size of this market.

Read related news of an individual report within different regions.

Identify who the key players are within this market, along with associated news and patents within a given time period.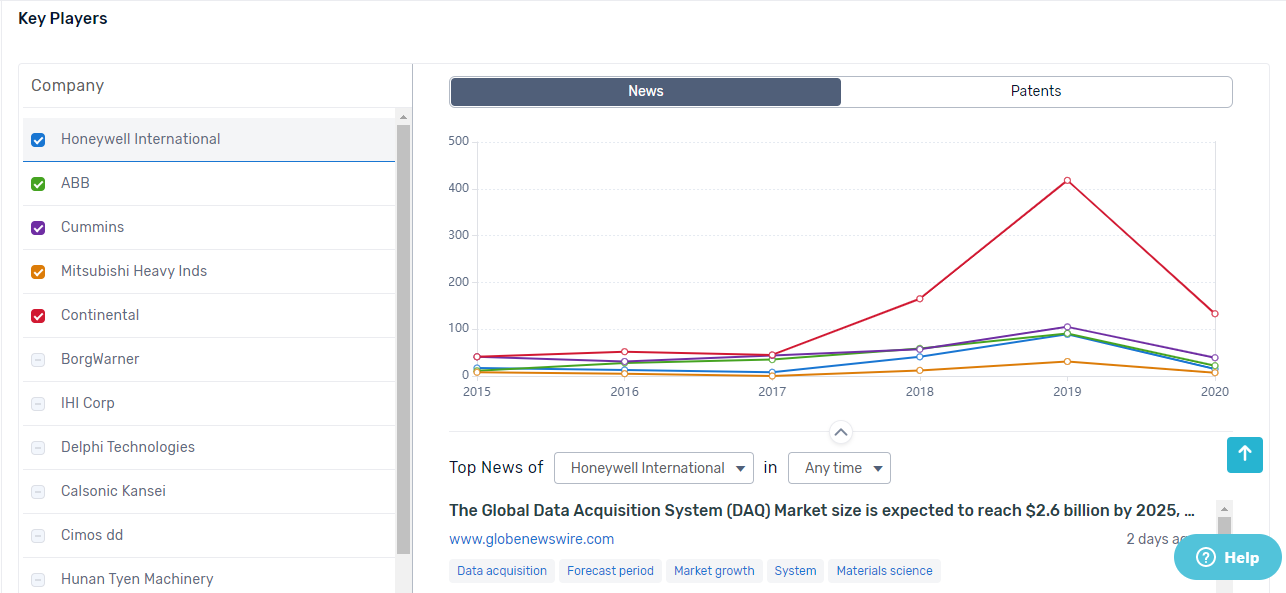 See other market reports related to the one you are currently viewing information on.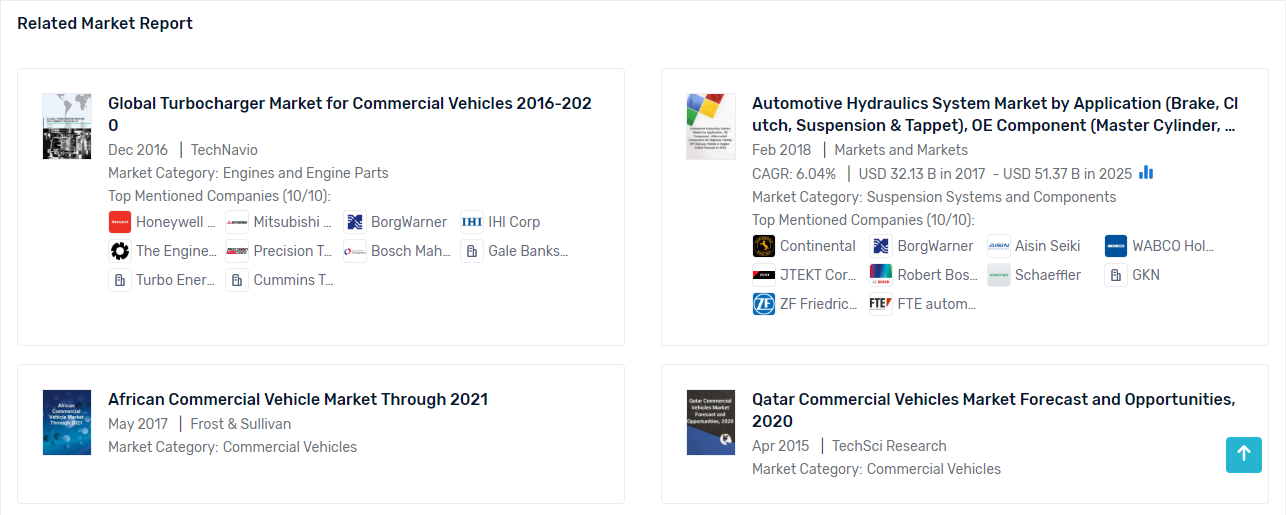 Exports are now also saved in the platform
We have added a new page so that any exports can now be saved there for 7 days, (Exports expire after 7 days). This will make it easier to access and download at any given time.
Note: The exports are also sent to your inbox as usual.
You can find the exports page by clicking "My Exports" in the profile icon drop down.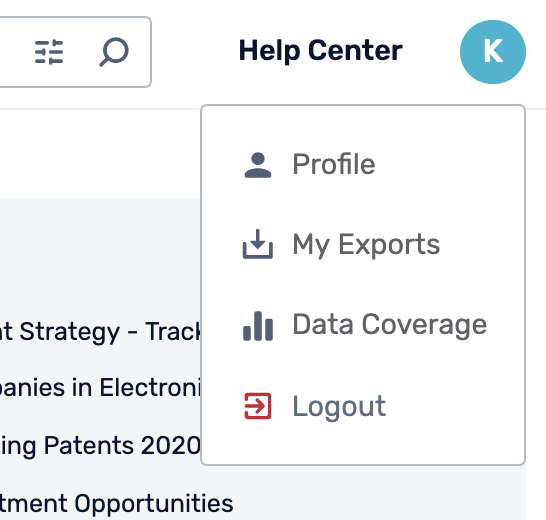 Here you can download or delete any of your previous exports.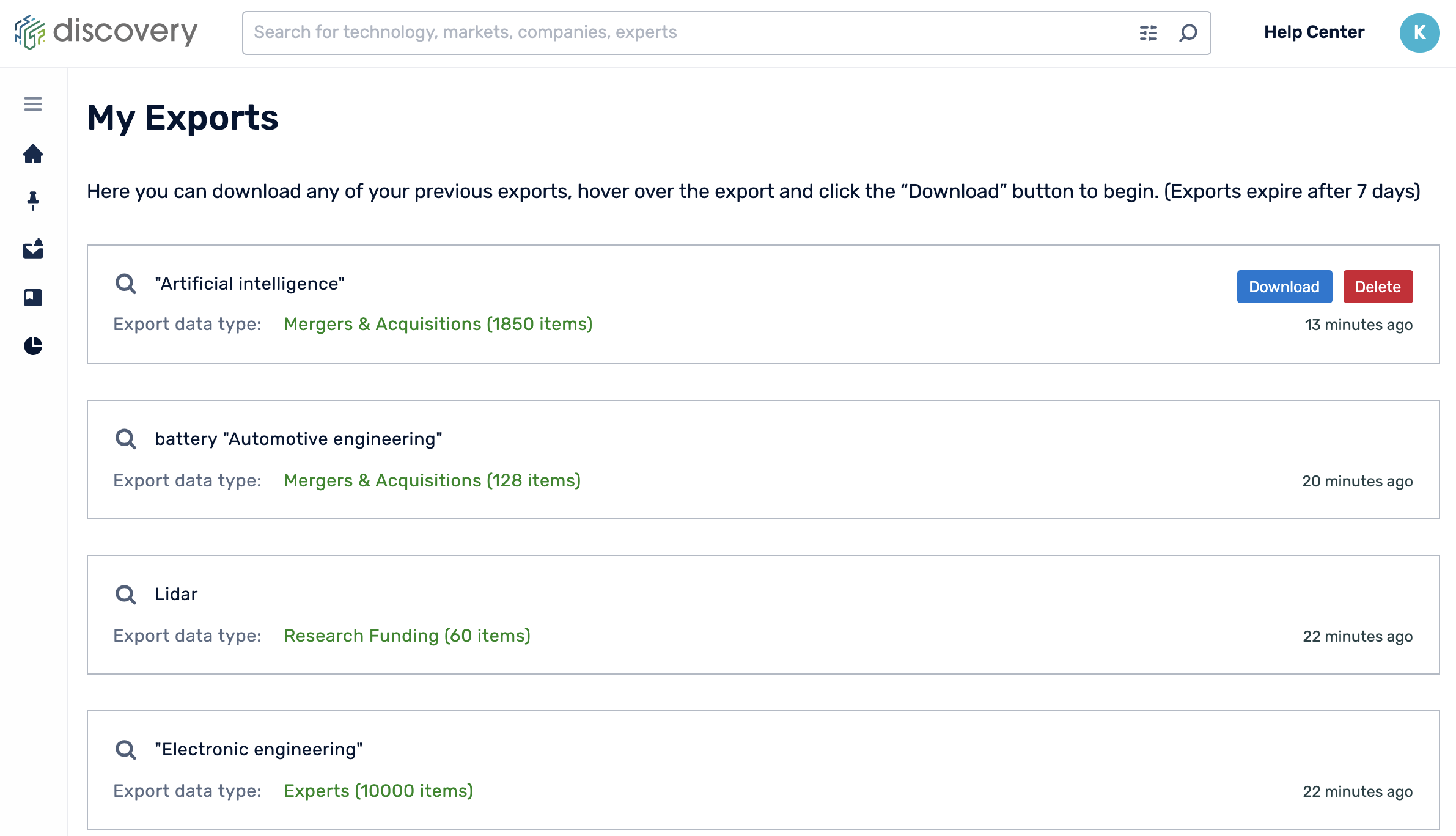 When exporting data, you will be presented with this message.

If the export has completed quickly, you will be presented with this message, where you can download by clicking "Click here to download", or you can visit the exports page by clicking "Exports".
If you are not presented with this message, you will still be able to find your export in your inbox, or soon after in "My Exports".

Improved company profile snapshot tab
We have made significant changes to improve the snapshot on company profiles. The snapshot is a complete overview with the most important signals and insights of a company, along with their relationship with other companies and universities.
An overview: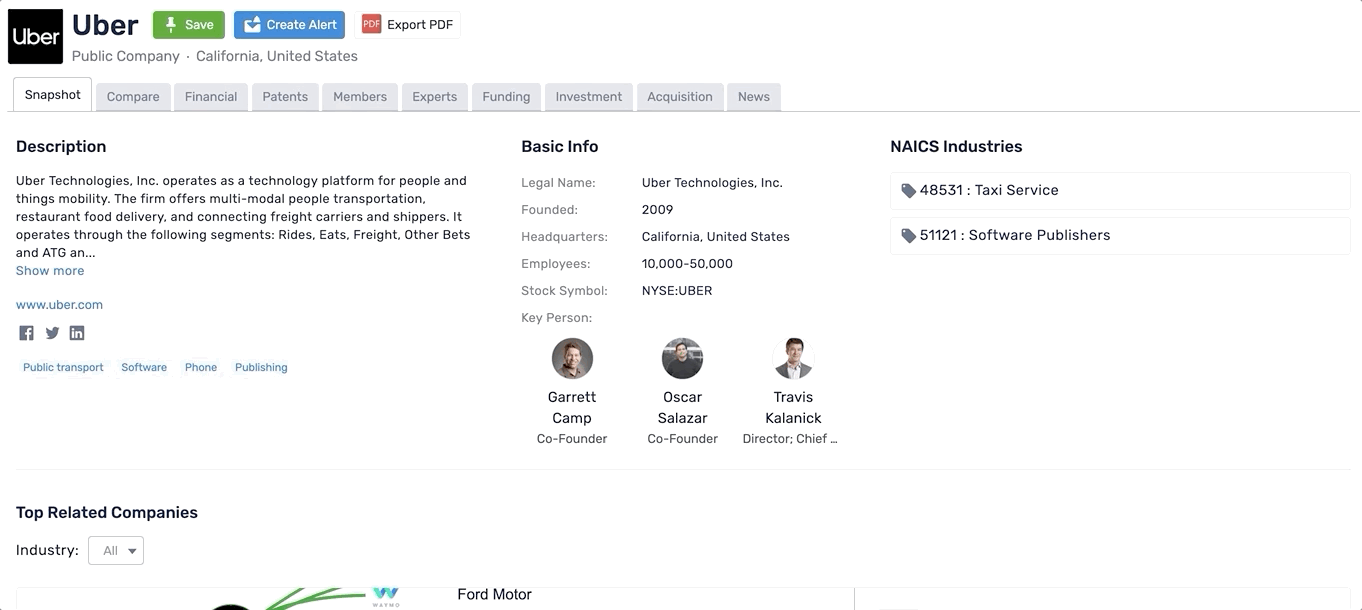 The details:
We have now tagged all companies with their NAISC industry classification.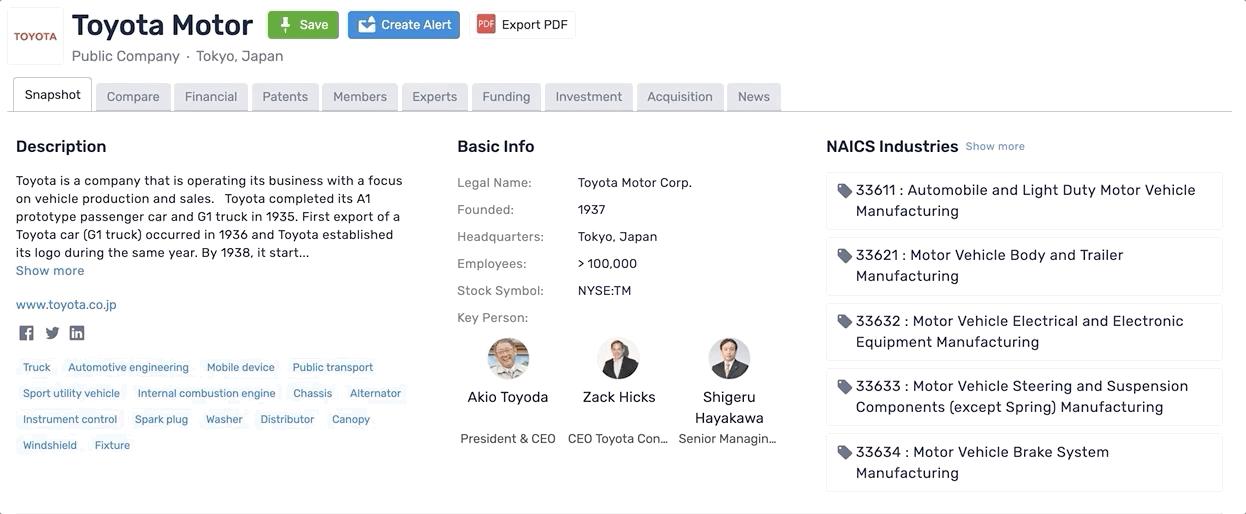 On the left we have added a relationship map that displays the top 20 related companies, you can click onto the company logos to view the data on how the two companies are related, which is displayed on the right.
On the right is a word cloud and a list of all the related data items. The word cloud displays the top 50 related topics between the company profile you are on and the company icon you have clicked on in the relationship map.
Note: This is a first version and we will be continuing to make improvements in the coming weeks.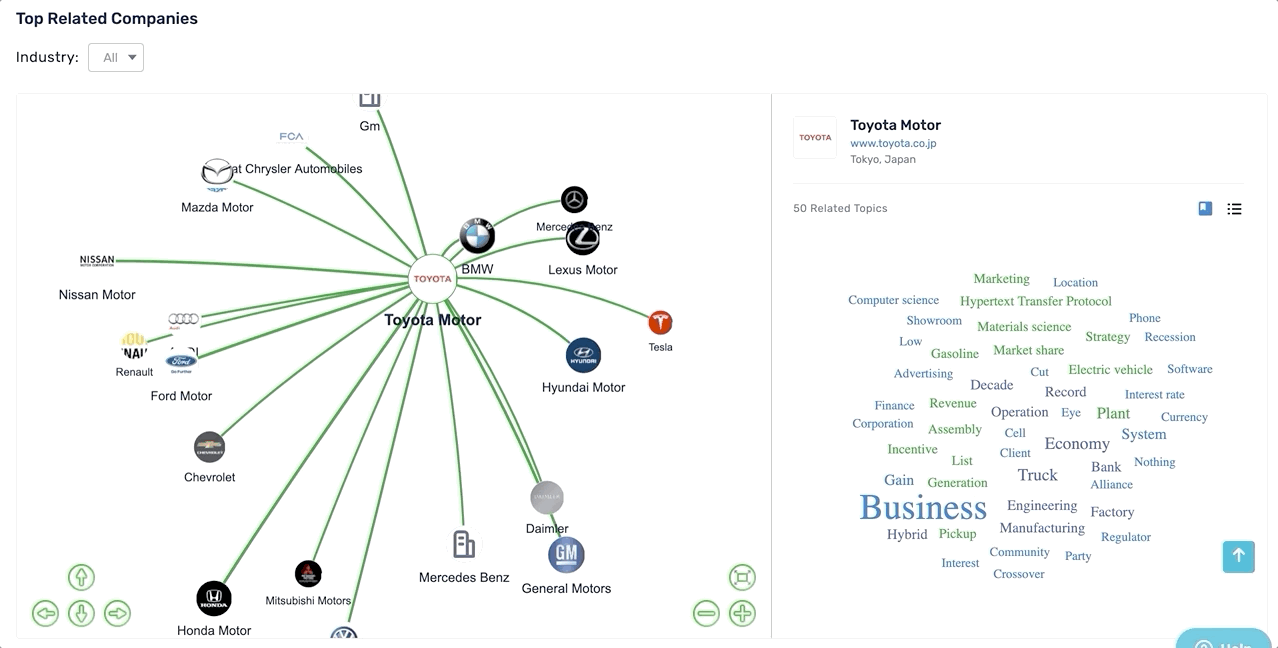 We have added a list of the top research partners for a company. These universities and research laboratories have published the most papers for this company across various industries. This will allow you to quickly understand which universities or laboratories are working with a company, the type of research they are conducting and you can also click onto the papers to read into the details.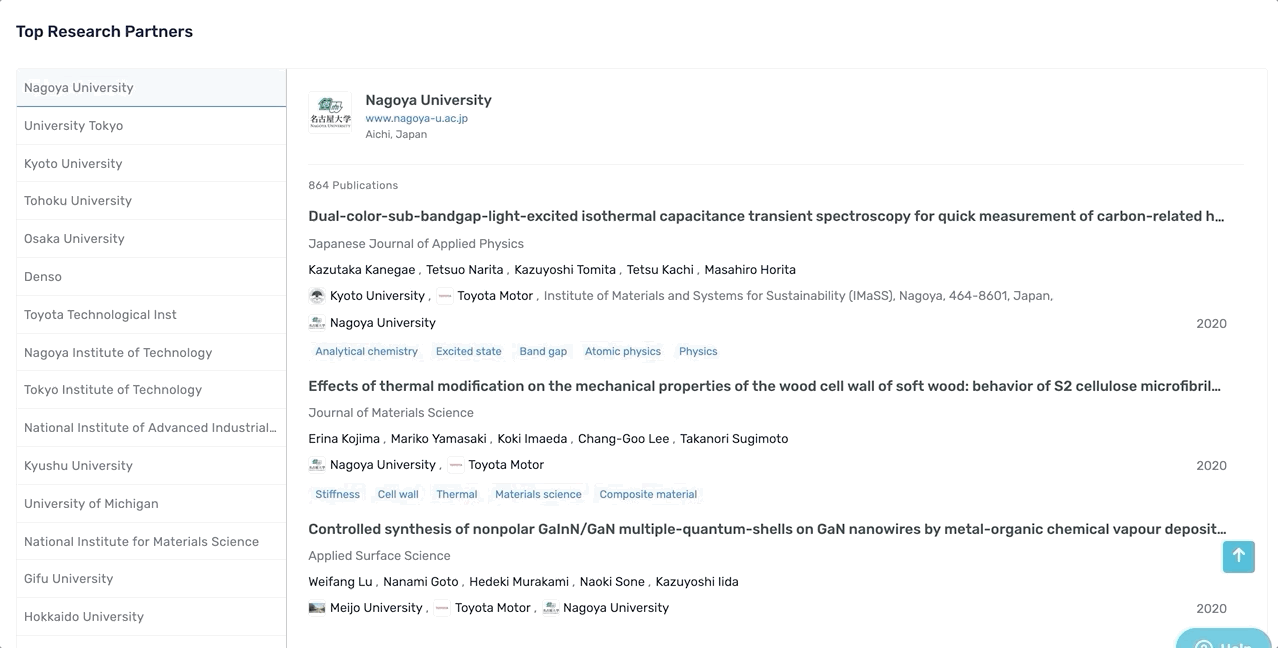 Sort by Patent Value and Citation Count
You can now sort by "Patent Value" and "Cited by Count" in the table columns of the patent data list page. This will allow you to find the most valued and influential patents for your search query.
Patent Value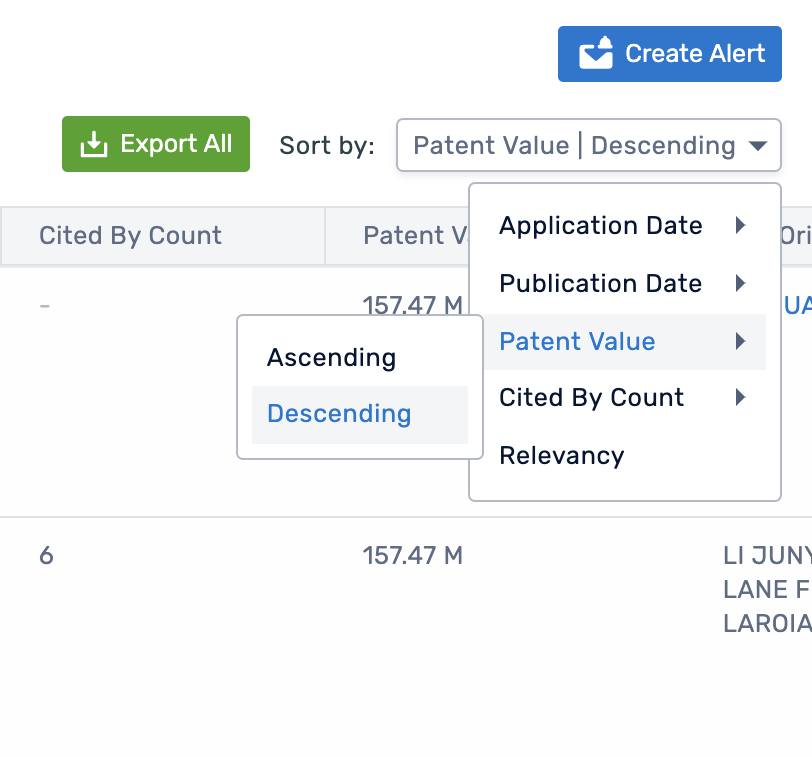 Cited By Count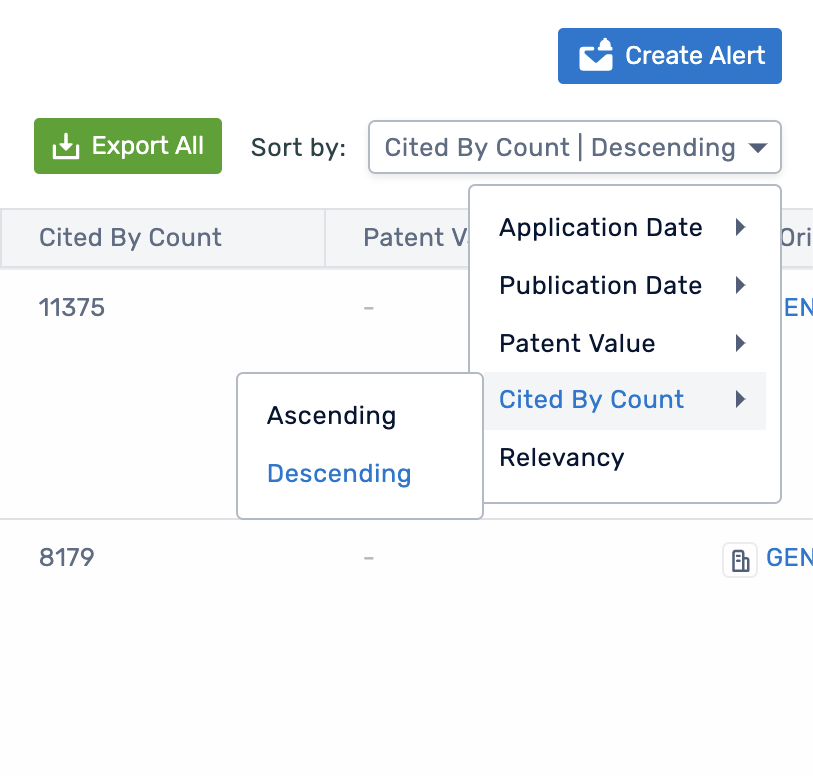 Additional filters added
You can now refine by "Authority" on the Patent data list page, simply select the authorities that you want to see in your results.
We are continuing to add more filters in the coming weeks, therefore if there are any filtering options you find valuable, do let us know.