In this release, we are excited to introduce our new Homepage UI and Competitive Landscape! Check out the details below:
New updates
New Homepage UI
Competitive Landscape result view
New 'Relevancy' analysis logic
New Advanced Search template
New Company list
New 'Explore Library' search point for specific data types
Feature removal
Competitive Intelligence playbooks
Tech Offering data type
Temporary removal of 'Experts' data type
Temporary removal of 'Save' search capability
New updates
New Homepage UI
The new Discovery Homepage presents a more simplistic display. The main search entry point will be at the very top of the page, allowing you to enter in a technology area of interest and immediately obtain a comprehensive overview of the competitive landscape.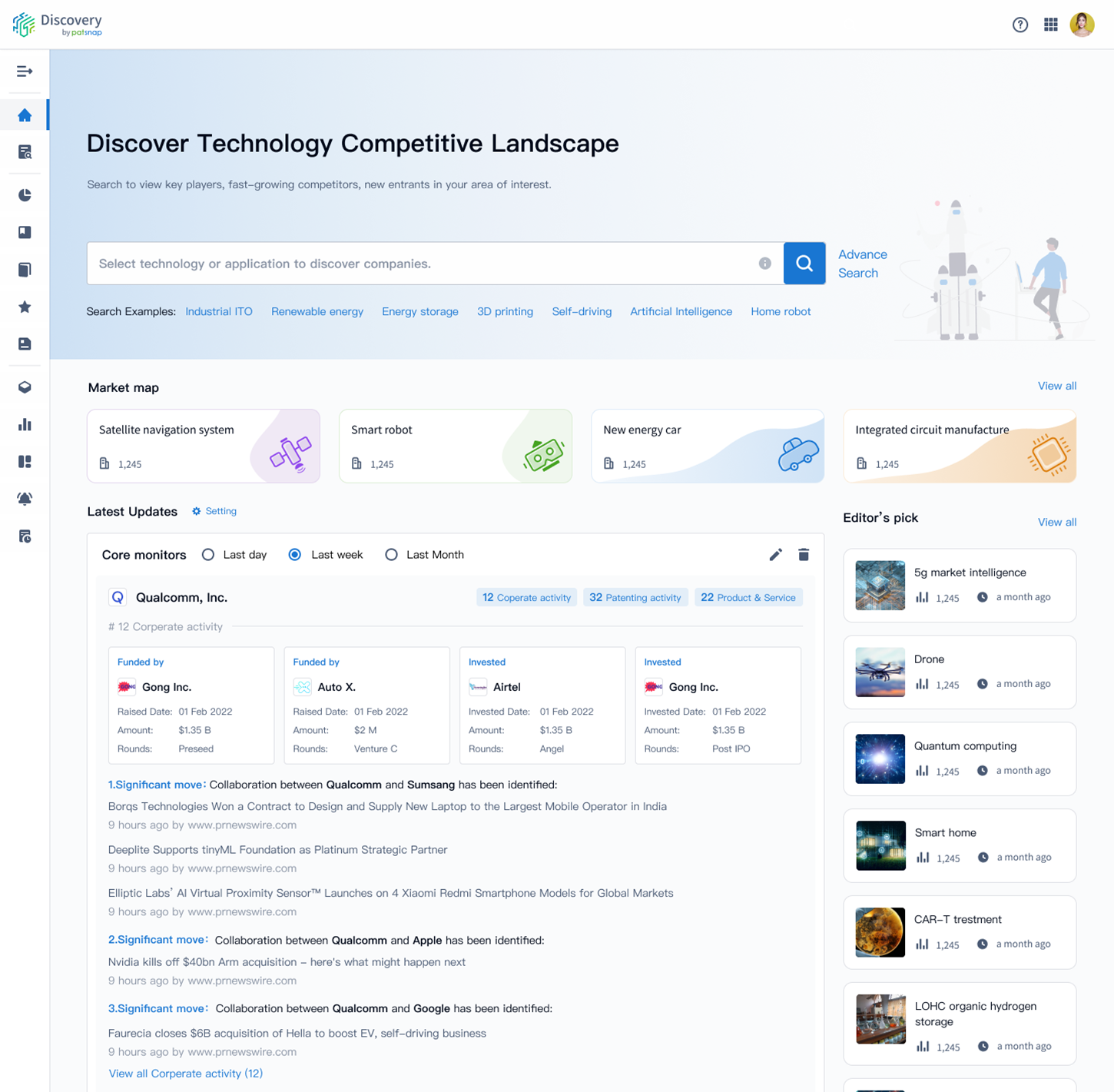 The 'Tech Scouting' playbooks have been moved to the left-hand side menu bar. Also the ability to search for a specific data type e.g. VC Investment, News etc has also been moved to the left-hand side menu bar under the 'Explore Library' tab.
Competitive Landscape
The new competitive landscape helps you discover key players in specific tech areas, identify potential threats as well as find opportunities for external collaboration.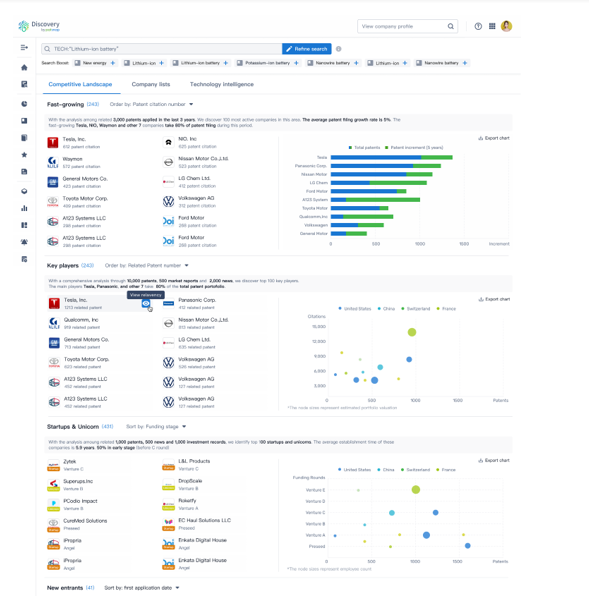 It searches across multiple different data sets (patent, paper, market report, news articles) and extracts the associated companies. It then organizes them into different groups based on their growth stage. You will also be able to rank the companies based on multiple dimensions e.g. Invention Intensity.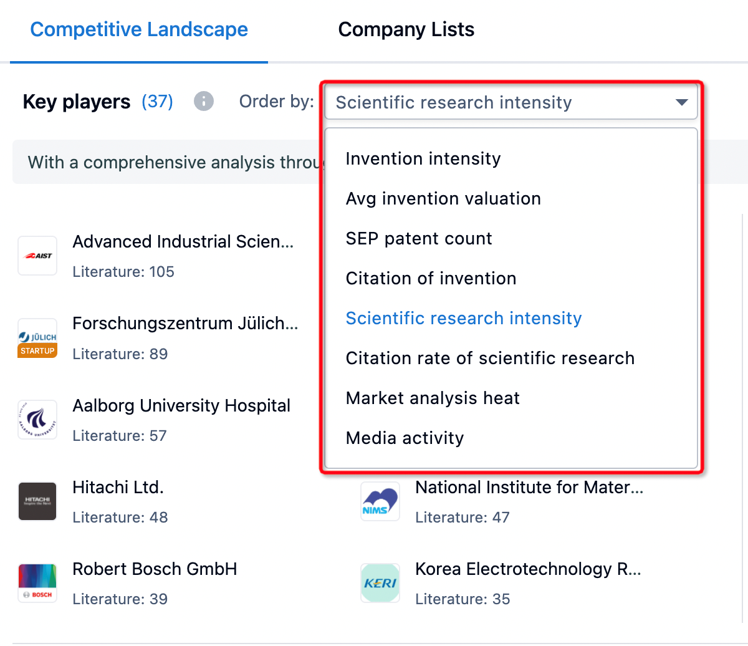 New 'relevancy' analysis logic
If you wish to understand the relevancy of a given company appearing in your search result, you can click on the "eye" icon beside the company name.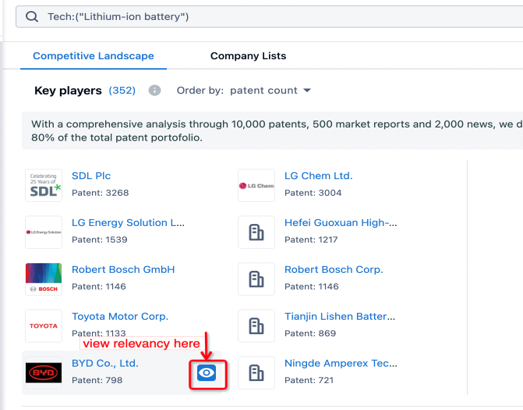 This will bring you to the analysis logic and allow you to understand the strength and relevancy of the company in comparison to the industry average based on multiple dimensions.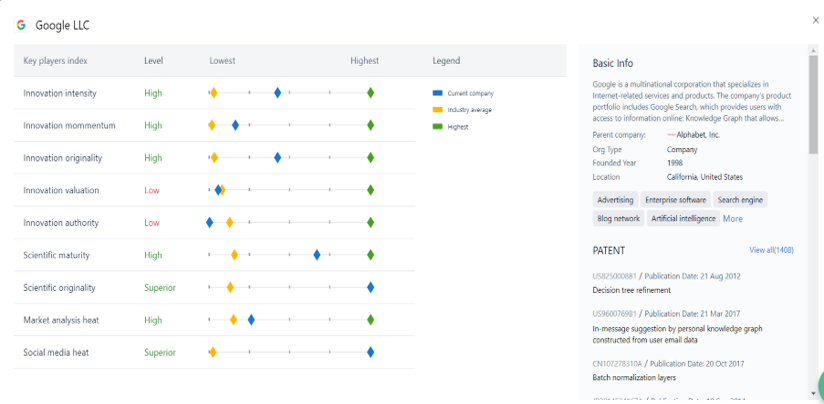 New Advanced Search template
The Advanced Search template provides you with the flexibility to compose an accurate and comprehensive query condition by using the combinations of different Boolean operators


New Company list
The company list view provides an entire list of your top companies and categorizes them based on their growth stage e.g. Unicorn, Startup etc. It displays a quick overview of the key information for each company as well as allowing you to filter and sort your results.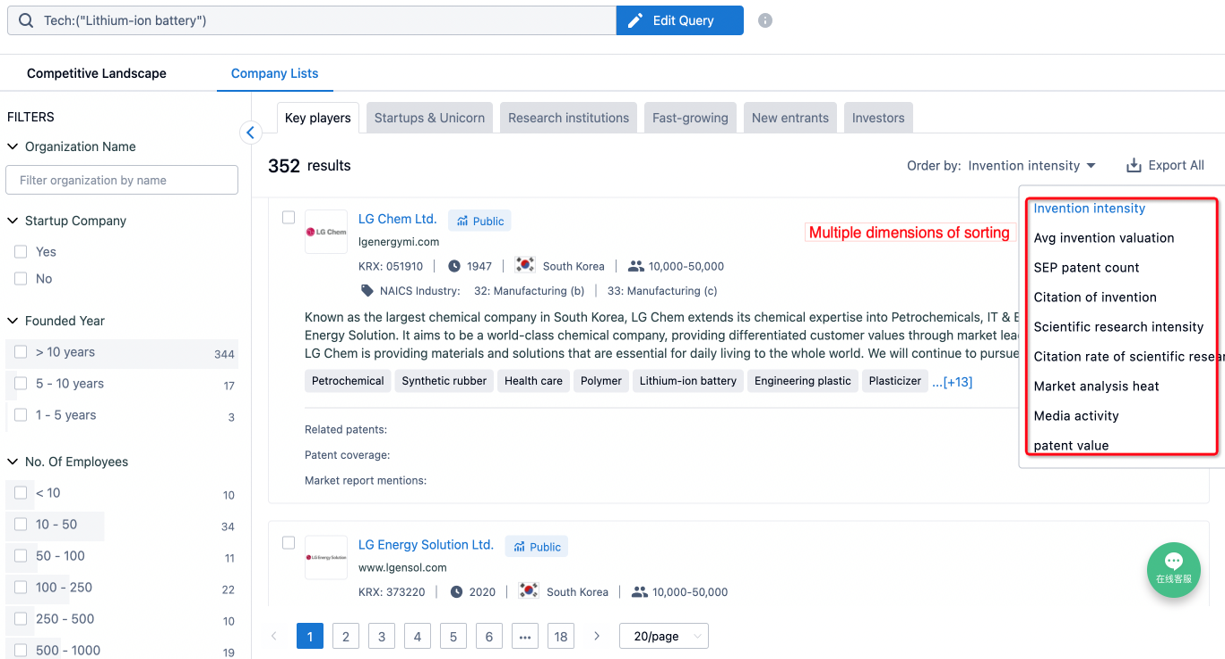 New 'Explore Library' search point for specific data types
'Explore Library' lets you search for specific data types e.g. VC Investment, M&A data. You can run the same query across different data types by switching tabs.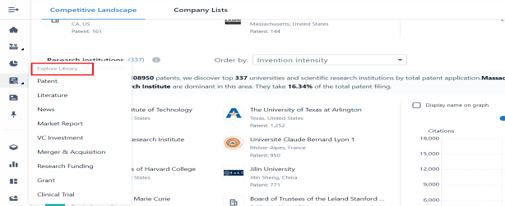 Feature removal info
Competitive Intelligence playbooks
This set of playbooks has been replaced by the new competitive landscape offering
Tech Offering data type
The patent transfer information that tech offering provided can be alternatively obtained on the business relationship map, located on the overview page for each company
Temporary removal of 'Expert' data type as well as 'Save' search capability
Some additional improvements are currently being made to these areas and therefore they will removed until the May release.