In this article, we will go through the workflows that you would want to utilize to be able to track your competitors using the Discovery platform. Being able to effectively track your competitors is critical, as it enables you to be able to see the exact technologies that they are trying to develop and then make your own plans based on this information.
There are two main ways to track your competitors using Discovery. This is to either track that company's complete activity or just within specific technology areas that you both operate within. Here are the steps you would want to make use of within Discovery to be able to cover both of these scenarios:
Scenario 1: How to track the entirety of a competitor's activity
Create a pinboard to save your research to
The first step is to create a pinboard to save any results of interest to, so you can investigate them further later on. This pinboard should have an appropriate name based on the company you are searching for.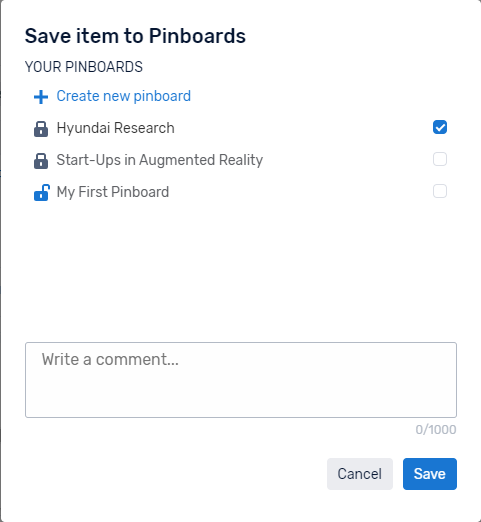 Set up a company search for your competitor
The first step you would want to perform is to just execute a basic company search for this competitor. We would recommend for you to click on the top suggested company in most cases.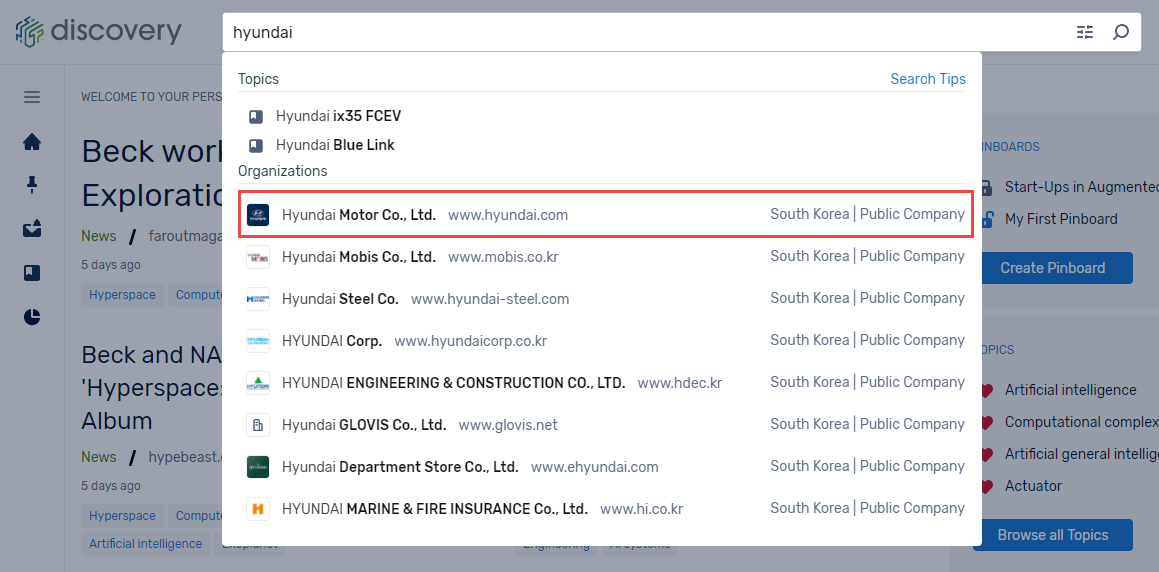 Go to the company profile page of your competitor
Once you reach the search results page, you will want to click on your competitor to reach their company profile page.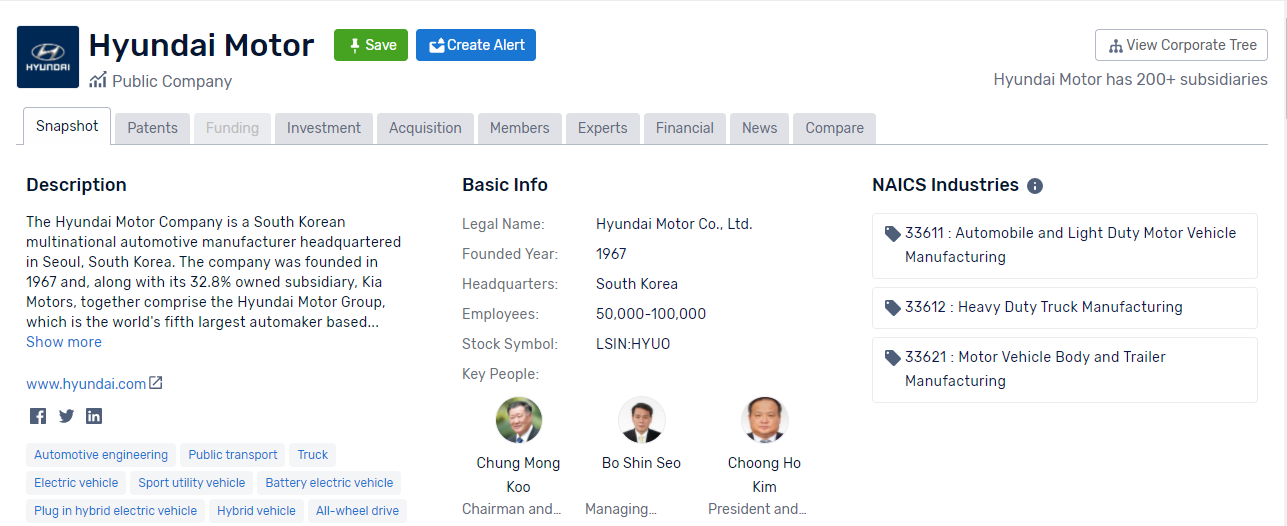 Have a look at the Data Snapshot to find key numbers regarding your competitor
If you scroll down this tab, you will come to the "Data Snapshot", which provides you with some key numbers relating to the amount of data we have for this company. You will then want to click into the data type of interest to find more information about this company's recent activity.

Investigate each of the data types further
Once you click into the different tabs for each of the data types, you can click into the results given for each of the charts.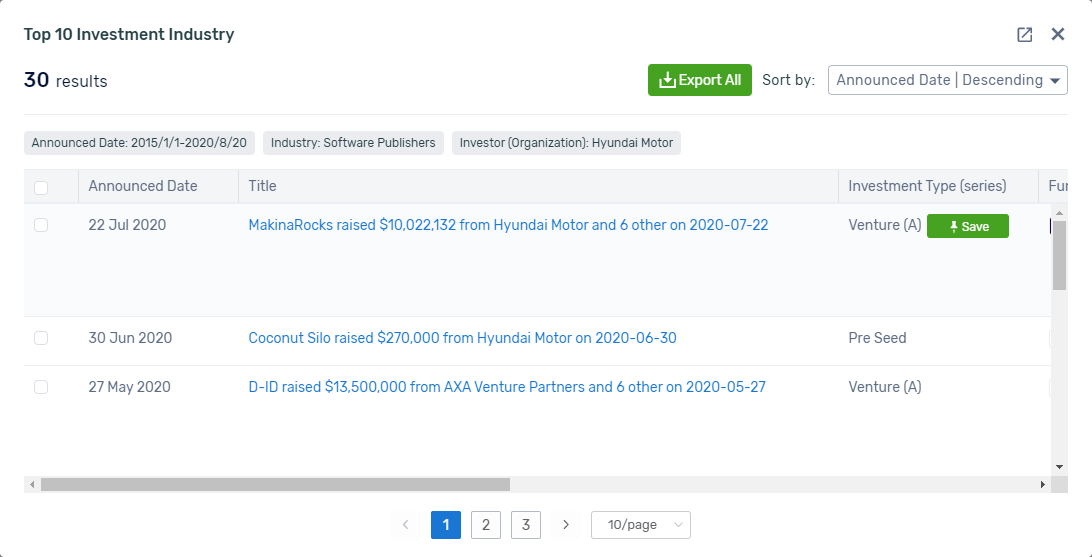 Consider subsidiaries by using the corporate tree
When you are looking into this company, it's important to look at their subsidiaries as well as they may be working in very specific technology areas. You can do this by viewing your competitor's corporate tree.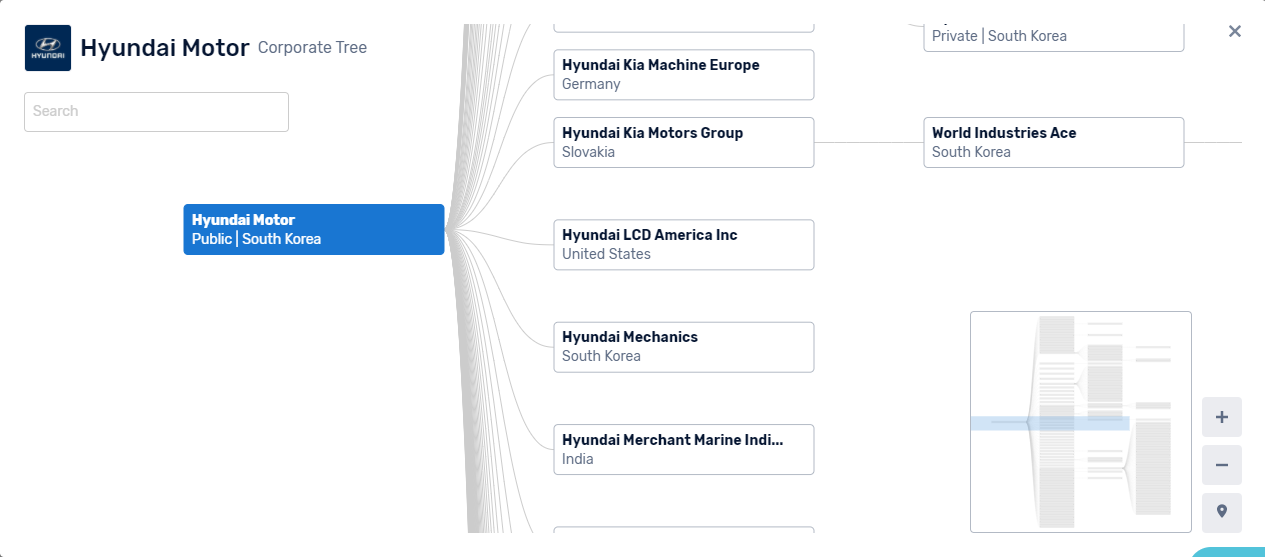 Variations of a company's name are considered as well
It's also important to note that all the variations for a company's name have been linked together into one entity, which can be seen in the "Patents" tab.

Set up an alert to be kept aware of updates for your competitor
You can also setup an alert for this company which will make you aware of any updates relating to this company for your data types of interest.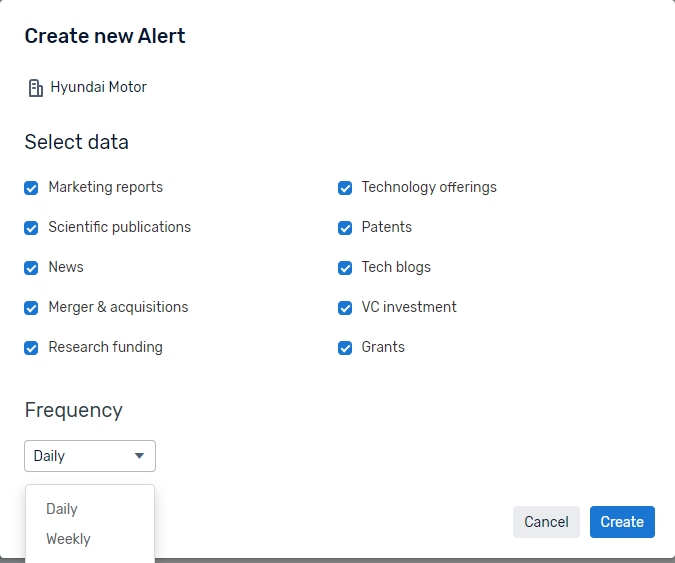 Scenario 2: How to track a competitor's activity within a specific technology area
Create a pinboard to save your specific research to
Like with the previous scenario, you will want to start by setting up a pinboard to save any results of interest to.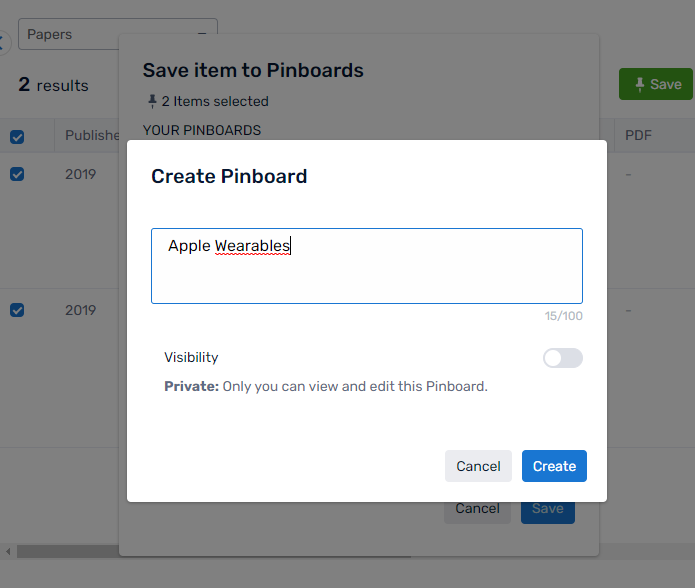 Use Field Search to build out a company+technology search
Once you have done this, you will want to make use of the Field Search Options to build a combined company and technology search, so you can restrict the search for your competitor just down to the technology area of interest. You will want to use variations in the naming of your technology area, to make sure you don't miss articles where different terminology has been used. You will also want to use topics rather than free text in general, as they are more exact and will make sure the data you get is relevant to this technology space.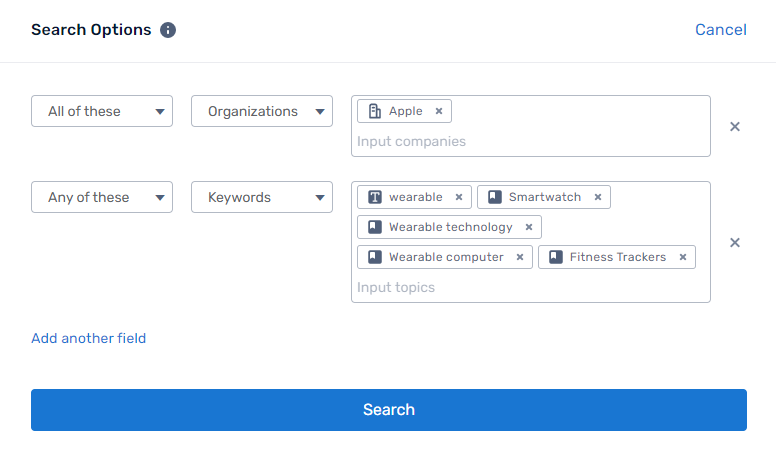 Look at the results for your competitor in this technology area
Once you reach the search results page, you will see a list of the top companies that relate to the search you performed. The specific competitor you focused on should always appear at the top of the list, however, you can also see other potential competitors within this technology area.
If you click into the Venn diagram icons found next to a company, you can see how many and the percentage of results that relate to them.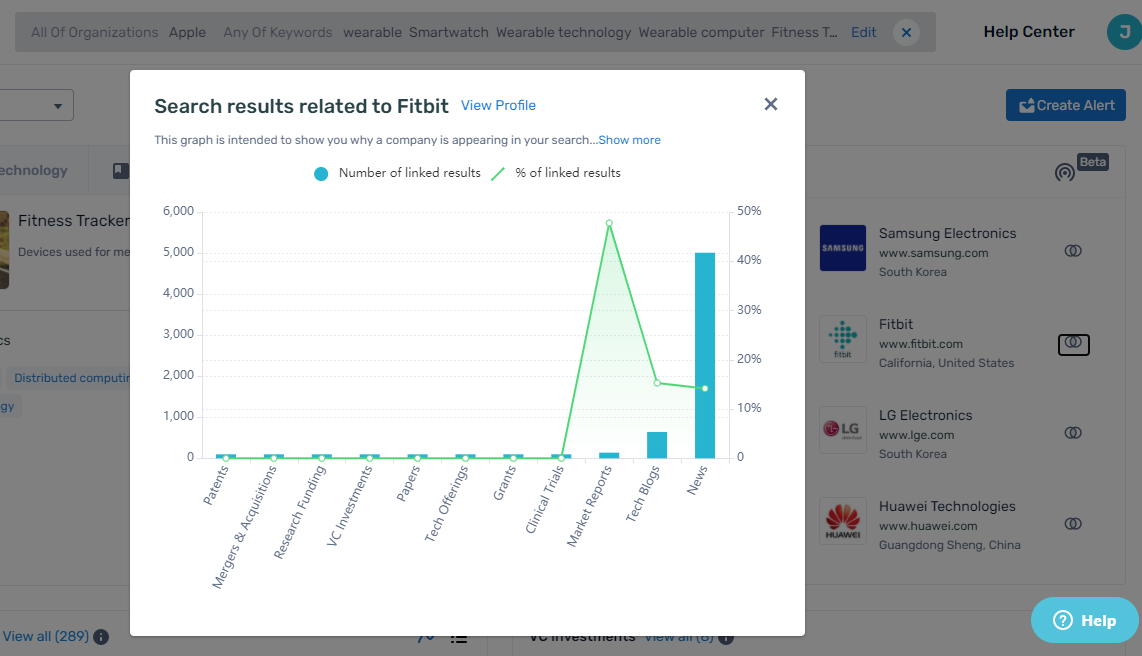 Look at universities collaborating with your competitor
You can do the same with universities who are collaborating with your competitor within this technology area.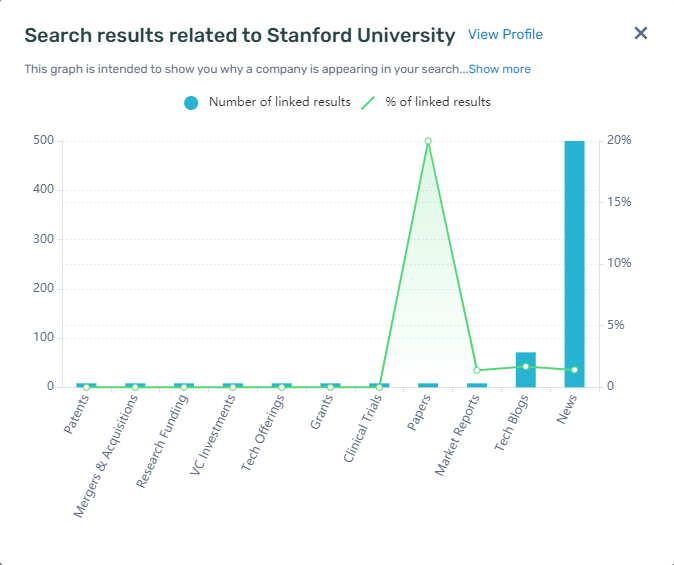 Drill into the data for each organization type
You can then drill into the result sets for each of the different types of organization. If you are getting too many results to comfortably deal with, make sure to utilize the filters on the left-hand side of the page to refine your results down further. This could be for example by date or by topic area.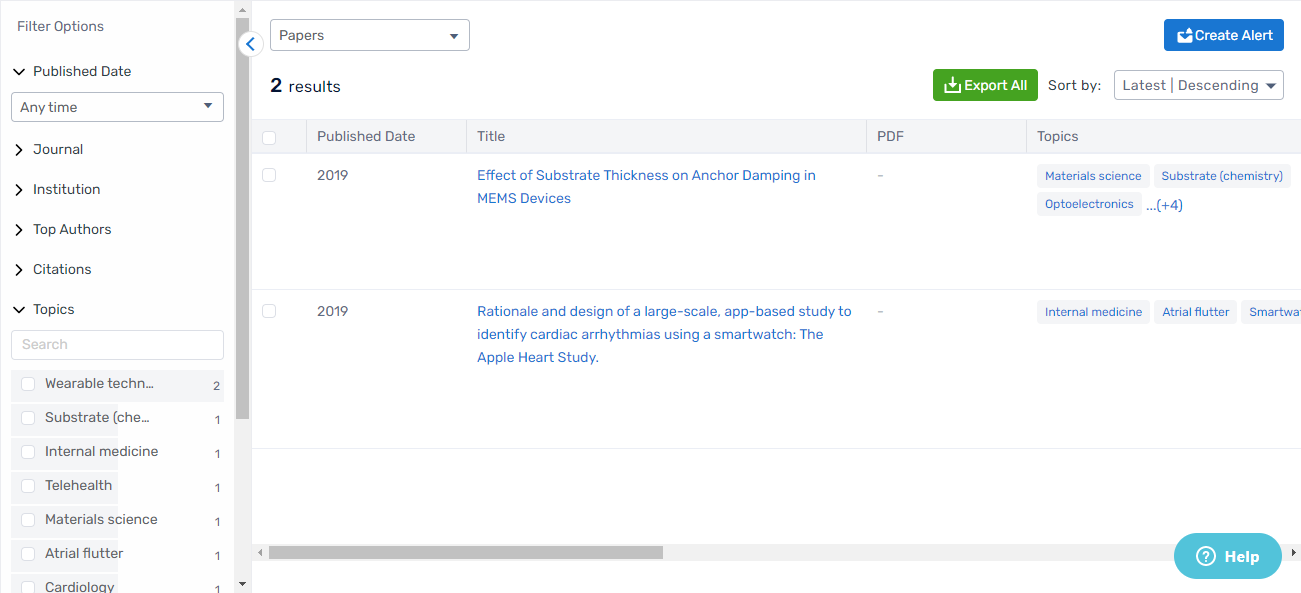 You can again also setup an alert for the different data types based on your search.