This workflow will allow us to be more interactive and look at a specific indication or target or organization and really hone in on the information that is critical to making decisions within the R&D space. For that, we will utilize dashboards, which can be accessed by clicking on the 'Dashboard' icon located on the navigation bar on the left of the screen:

So what dashboards are is a compilation of different widgets that are highly interactive tables, charts, and graphs, that allow you to really dissect information in a very visual way and share it with your teammates. So now that we are on the dashboard homepage here, you'll notice there are a couple of report demos. These are just pre-made reports done by us to kind of get you into the feel of how dashboards work and the capabilities of dashboards.
In order to create a dashboard, you will scroll down and see there are templates for personalized analysis:

Here you could create a dashboard on an indication, target, organization, or even a drug. In this example, we will focus on the target, so let's go ahead and do that. When you click on 'Create' in the 'Target Report Template' a pop-up will open that will ask you to choose your target. Let's go with PD-1 in this example: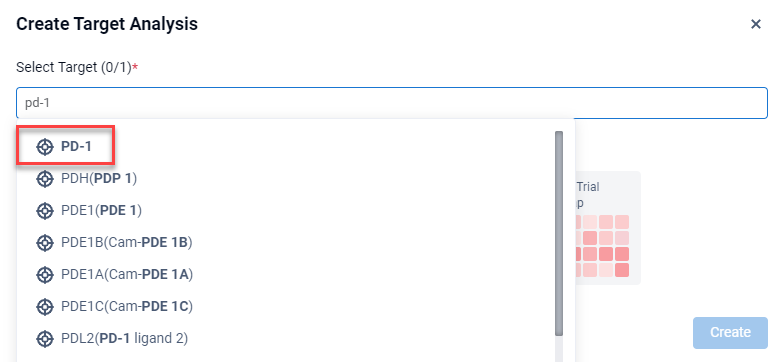 What you will notice at the bottom of the pop-up is that you have a quick template that will showcase all of the charts that are going to be created for this specific target: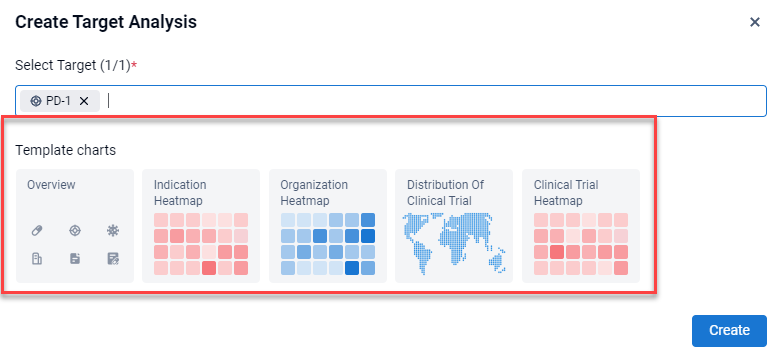 Once the dashboard is created, you'll notice we have a bunch of different tables and charts. So, for example, let's just walk through the 'Overview' really quickly. So the 'Overview' is kind of similar to what is seen on the drug detail page. All the numbers are highly interactive so as an example if you really wanted to, you could click through and see all the drugs for PD-1 by clicking on '252'.
You can take it a step further, for example, let's say you wanted to look at the indication heatmap. The great thing about this heatmap is that it is customizable. When you fullscreen the heatmap, you will notice that you have the original table that was created which is also very interactive. But you also have the capability to actually change the contents of this table:

For example, you could change the X-axis to show 'Time' instead of 'Highest Phase'. You can also change the values that are actually being showcased here. So right now it's on the number of news, you could change it to the number of clinical trials, the number of patents, or even the number of literature. So this is one of the real benefits of dashboards, it allows you to create some customizable tables and really take a look at all of the information that you need for the specific target in one place.