The Citation Map allows you to see at a glance all the forward and backward citations that a particular patent has. Just like when you are writing an essay, while applying for a patent, you are going to cite all the previous works that you took inspiration from, these are the backward citations. Then, some people might be inspired by what you have created and cite you as a source for their own innovation, these are the forward citations.
Where can you find the Citation Map?
You can find the Citation Map by navigating to the Citation Tab of any individual document, and then selecting the Citation Map button in green:

Why is it useful to know the forward and backward citations?
Many people in a company can benefit from using the citation map, from IP specialists to R&D managers, as it allows you to:
Identify prior art and potential infringement on a specific patent
See who is citing your work to identify potential infringement, your competitors and licensing opportunities.
How to use the Citation Map
When you first open the citation map, the map first shows you the "current assignees" that have cited or been cited by the centre patent. You can expand these assignee boxes to display the company's patents relevant to the citation map.
When you select a patent, a brief preview will be displayed on the right-hand side. Additionally, if a "+" appears next to a patent, you can then extend this citation map indefinitely, displaying the citations that this patent has.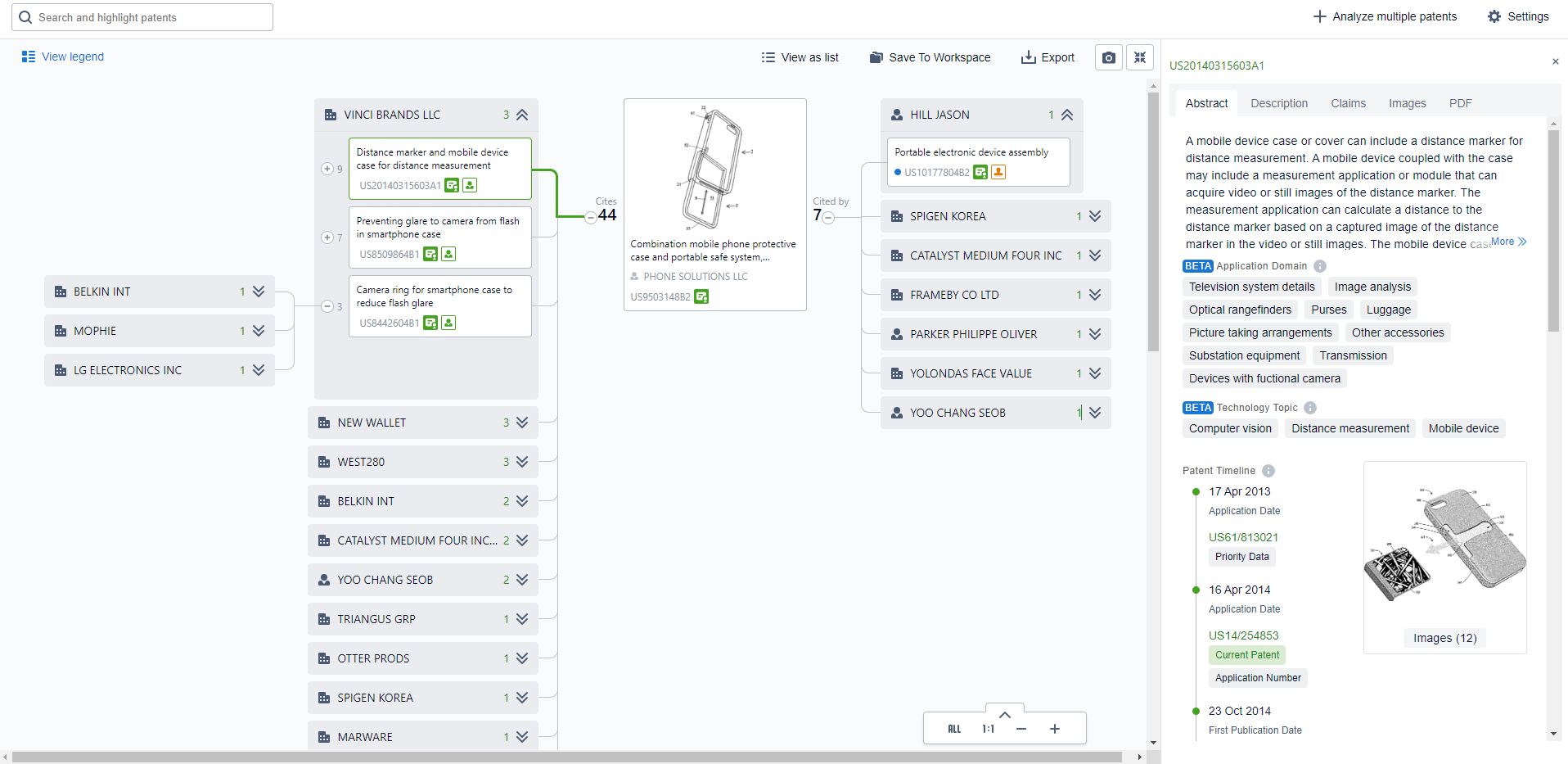 If you hover over a patent card three options are presented to you:
Citation analysis – opens a new citation map with this patent becoming the centre patent
Highlighter – highlights this patent card
Hide – hides patents in the citation map (you can view your hidden patents in the bottom left corner)
This allows you to tailor your citation map to show the most relevant information.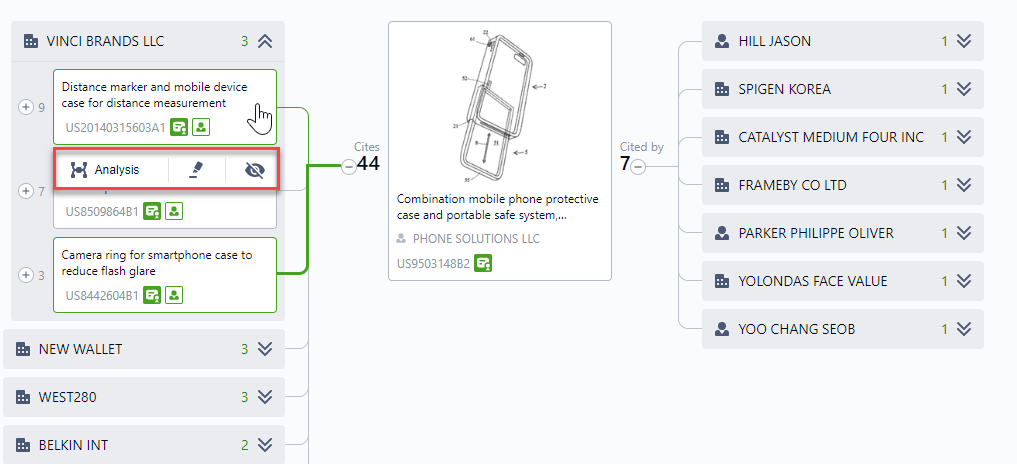 You are also able view your selected patents in a list, save them to a Workspace, or export them. Additionally, you can take a screenshot of the citation map using the camera icon, which can be saved to your computer as a PNG.

You can also search for specific patents within the citation map using keywords and filters. However, searching only works in assignee boxes that have been expanded first. An alternative to expanding all the assignee boxes is to ungroup the patents in the settings.

You can also add up to 10 different patents to the citation map, allowing you to analyse multiple different patents at the same time. This can be done by clicking "analyze multiple patents" in the top right hand corner of the page, or below the centre patent after hovering over it. After clicking "analyze multiple patents", several similar patents from the same assignee will be recommended to you.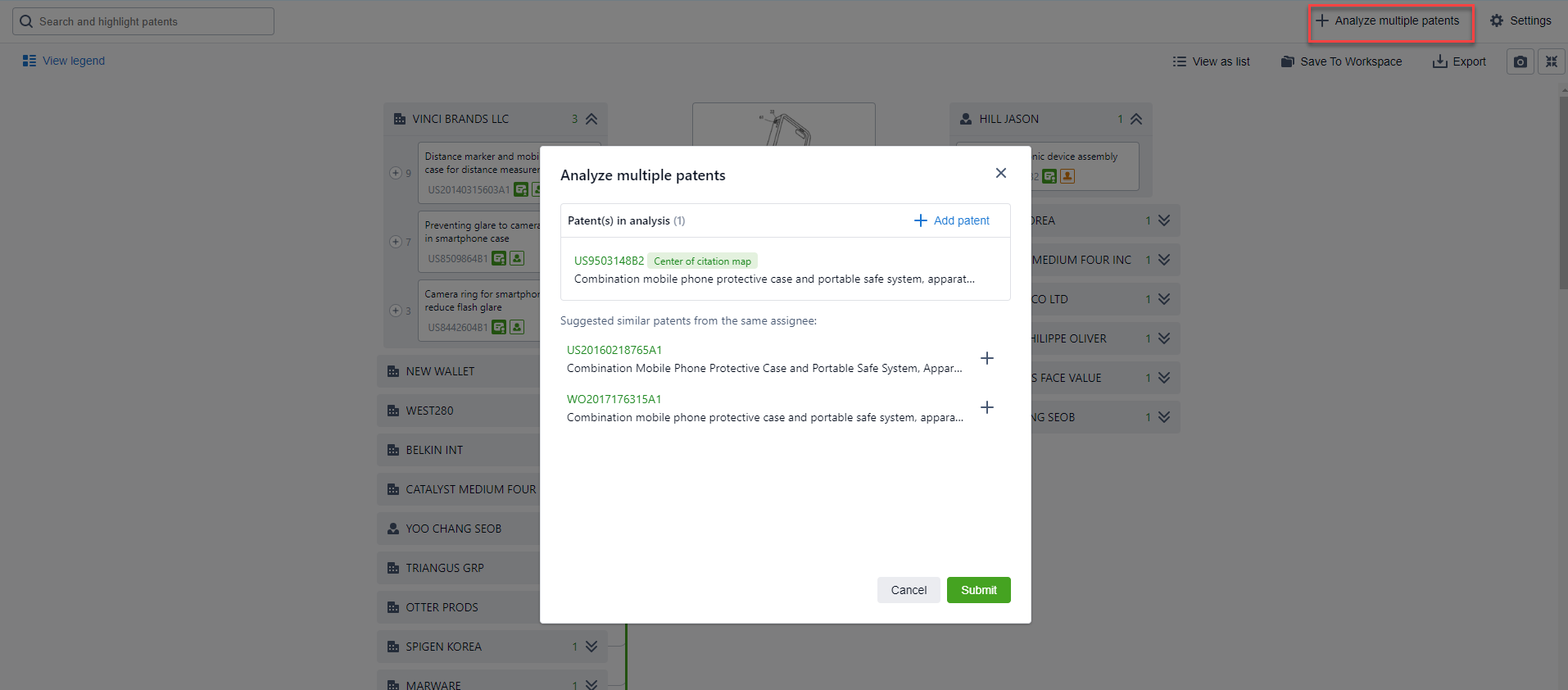 Settings
Settings can be found in the right top hand corner of the page. In settings, you can choose if you want the patents to be grouped by assignee or not. You can also sort patents based on a variety of different options and display results based on different patent families. Finally, you can change the patent card styles, depending on what information you want displayed.