You'll find a button called "Export" at the top of the search results page, or even from a Workspace, which will take you to a screen to export all of your documents.

Once you have chosen the patents you wish to download, you can select the format. PatSnap offers several formats including XLS, XLSX, original PDF, Word, XML, and CSV. Depending on the format you choose, each are customizable.

Note: On Excel and Word exports, each publication number will be hyperlinked with a publicly shareable link. This means you can send your export to anyone in the world - they don't need a PatSnap account, and they'll be able to access a limited view of the document within our system!
Next step is to choose the actual fields you want to export. There will be several options in this dropdown, depending on the kind of format you're using. If you choose an Excel file when exporting a list, don't forget you can also export any custom fields you have created.
You can also save a template of the export format you've created to save you from making the same selection each time you come back to this feature.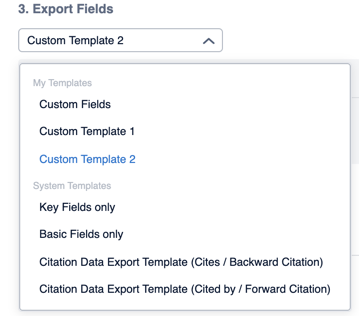 If you're exporting using the original PDF format, it is also possible to include a bibliographic machine translation for the patents as well.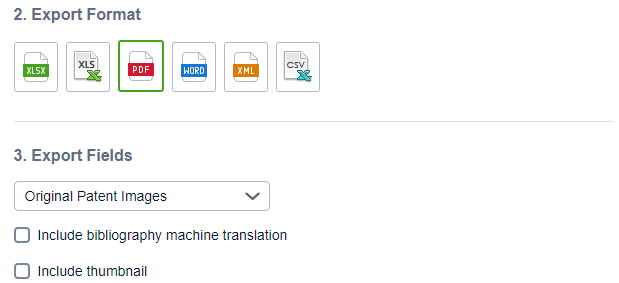 The search details can be included in some exported files for Simple, Advanced and Semantic searches. The supported files are XLS, Word and original PDF documents. This can be done by checking the 'Include search details' checkbox immediately below the 'Available Fields' section.

If you're exporting using the Word format, you also have an option of exporting the Information Disclosure Sheet (IDS) form, limited to a maximum of 100 patents at one time.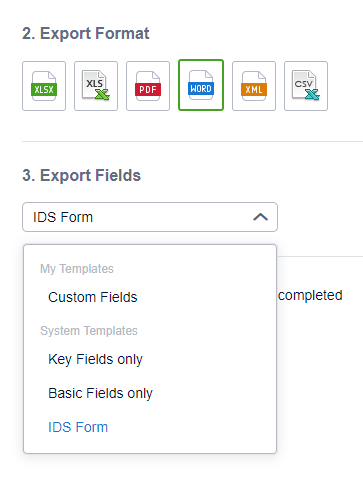 Doing so will generate the following form that you can easily edit in Word; the exported document is named "IDS file" by default.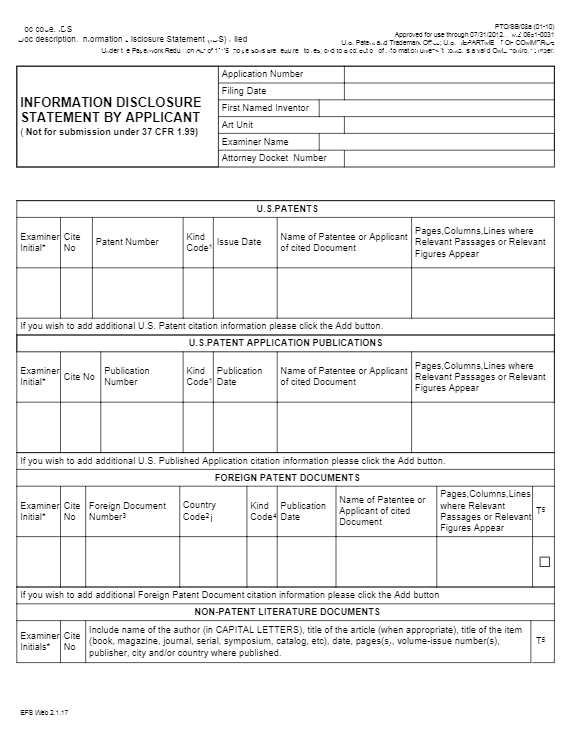 When you're happy with your selection, go ahead and click the export button. If it is a large export, and it is taking a long time to be ready, we can send you an email when the export is ready. Unless you're exporting ~1000 images or original PDFs, it should happen fairly quickly and you shouldn't need to wait too long.

On the final page, your export will generate. When it appears, click the "Download" button!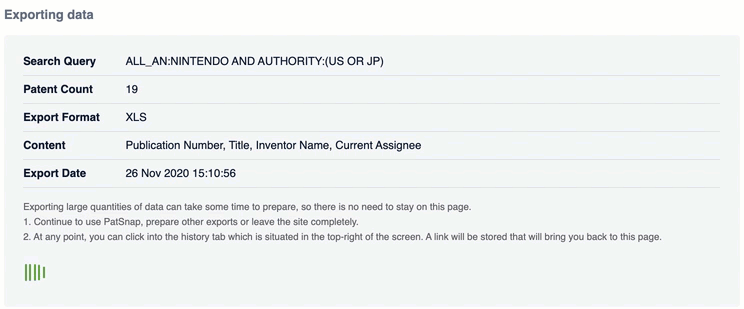 It's also worth noting that there are limits to the number of patents you can export at any given time.
The upper limit for exporting data in Excel, CSV, Word or XML format is 10,000 patent records.
The upper limit for exporting large text fields is

1,000

patents.
The upper limit for exporting original PDF full text is 2,000 patent records.
There are a maximum of

1,500,000

patents downloads.
The citation export template (cites/cited by) is only available with Excel or CSV formats. The upper limit for exporting citation data is 5,000 patent records.
We do not currently offer bulk PDF exports for MX, SG, BR and IN in line with our data compliance policies.
When shared, some PDFs are exportable for non-PatSnap users. Including PDFs for patents in the following jurisdictions: AU, BE, CA, CH, CN, DE, EP, ES, FI, FR, GB, IE, IL, JP, KR, MO, NL, NO, NZ, RU, SE, TW, US and WO.