There is a vast amount of data available to researchers in the medical and pharma sector. The key to succeeding at drug discovery is to find a faster and more effective approach to data identification, usage, and repurposing. Manually combing through siloed datasets to gain relevant insights can be frustratingly slow and cumbersome. High costs and risk of failure and errors are also common. This can all be prevented through the use of Knowledge Graphs.
The Knowledge Graph in Synapse is used to show relationships between drugs, targets, diseases, organizations, and additional data. Analyzing these relationships can build a road map of what future research may be done on a drug or target. This helps speed up the research process but also reduces the errors and failure of hypotheses, thereby increasing the chance of success while reducing costs. This can be used across a wide range of tasks, including drug repurposing and target prioritization. It should be noted that this feature is only available to Premium users.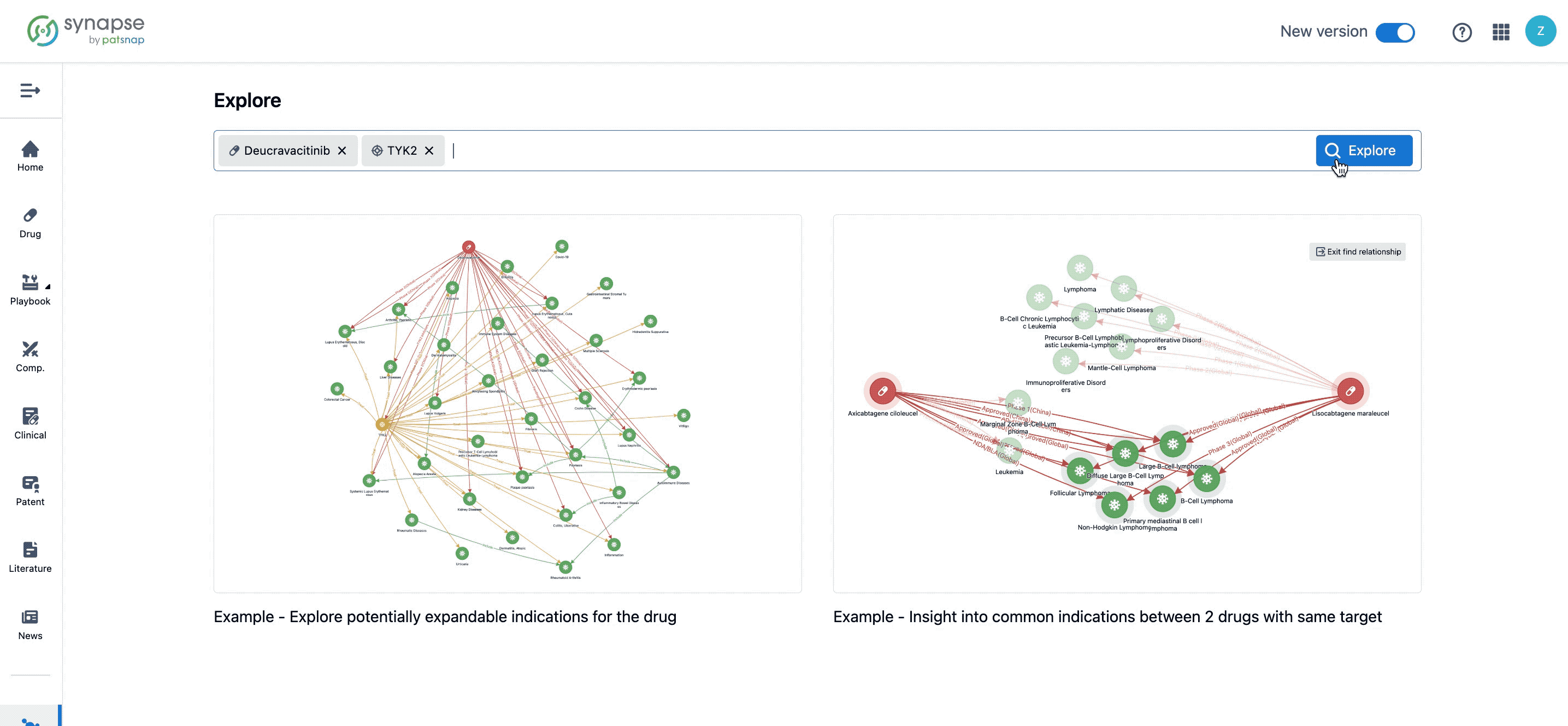 How to use Knowledge Graphs?
You can enter the Knowledge Graph in the following ways:
Tab on the left navigation bar. After that, you would need to enter at least one entity, up to a maximum of 20, or click on one of the examples to enter the Knowledge Graph.
The institution and drug details page
Competitive landscape page of targets and indications
Drug/clinical/patent/document result page
Drugs, institutions, indications, and targets are displayed in different colors on the graph, and when you click on a point, depending on the type, you will see a ring pop up around it with more information. If you click on a drug, you will see Active Indications, inactive Indications, Target, Active organization, and Inactive Organization. Clicking on an indication will show you Drugs, Subindications, and Targets. Clicking on an institution will show you Active Drugs, Inactive Drugs, and Suborganization. Finally, clicking on a target will show you Drugs, Sub Targets, and Indications.

To study the direct relationship between multiple entities, hold the "Shift" key down on your keyboard and select the different points of interest. A pop-up will appear displaying the number of common documents between the selected points.

When you select two entities of the same type, you will be able to use the 'Find associations' function. After clicking on it, a new page will open up, where the two entities selected are highlighted, and depending on what entities you select, you will also see any common targets, indications, drugs, and active/inactive indications. Please note, that you can only select 2 entities at one time for this feature to work.
To add an entity, click on the 'plus' icon on the top right of the screen which will open up a search bar through which you can search for a drug, indication, etc.

At the bottom of the screen, you will see the 4 different types of entities, which after clicking on them, will allow you to see only that specific entity in the Knowledge Graph.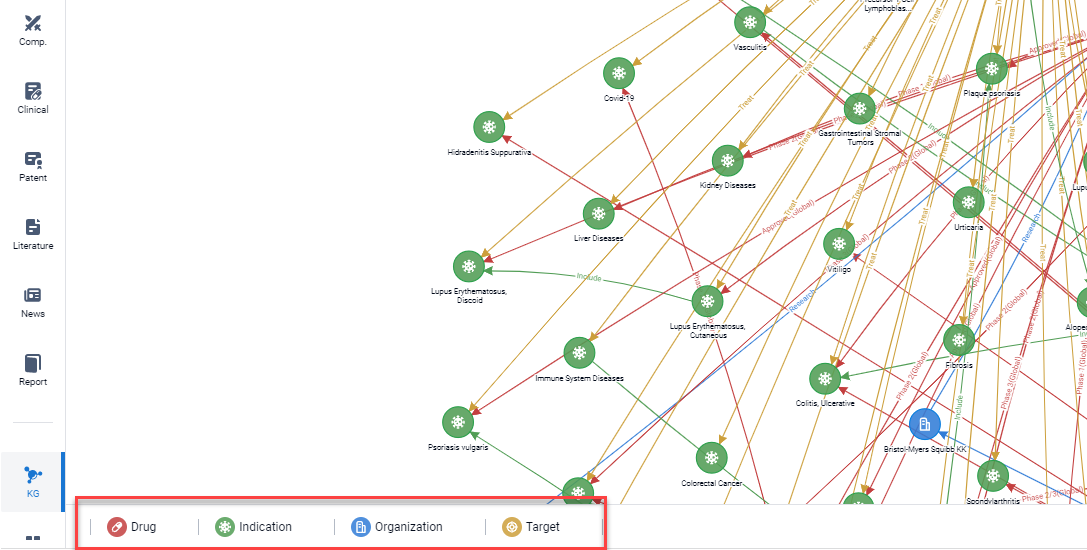 At the bottom, you will also find the download button that will allow you to download the graph as a png.