Patent DNA is an AI process that will extract important information from the patents and allow you to quickly analyze the key features of the document. Patent DNA is broken up into different fields.
Technical Field
Technical Problem
Technical Solution
Technical Means
Technical Efficacy
Technical Field
The Technical Field will find the general technical area that the patent pertains to. It will also give a secondary level that gives a slightly more specific technical area.

Technical Problem
The Technical Problem will will look for the primary objective of the invention and what is the issue that it will address. This is normally extracted from the "Background Art" or the "Summary of the Invention" section of the patent.

Technical Solution
This will extract the general technical solution that the patent gives to fix its stated problem or issue.

Technical Means
This extracts not only the solution, but also the purpose of the invention, the beneficial effect, and the logical relationship between them. It focuses on the key features of the technical solution that make a creative contribution to the invention.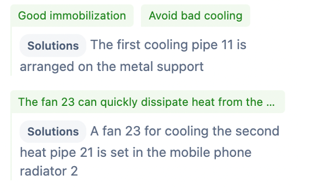 Technical Efficacy
This will extract the beneficial effect of the invention. For example the benefit could be that you will Improve the cooling effect, and extend the service life.