In this article we'll cover:
Search Helper Introduction
Search Helper Introduction
Searching has many aspects. These include different elements that interact with each other based on the commands you give them including different operators and fields. You can find more information about different search operators here: Searching in PatSnap 101.
Read on to find more information about the different searchable fields.
How to access the Search Helper within PatSnap Analytics
You can access the search helper through Simple search by following these steps: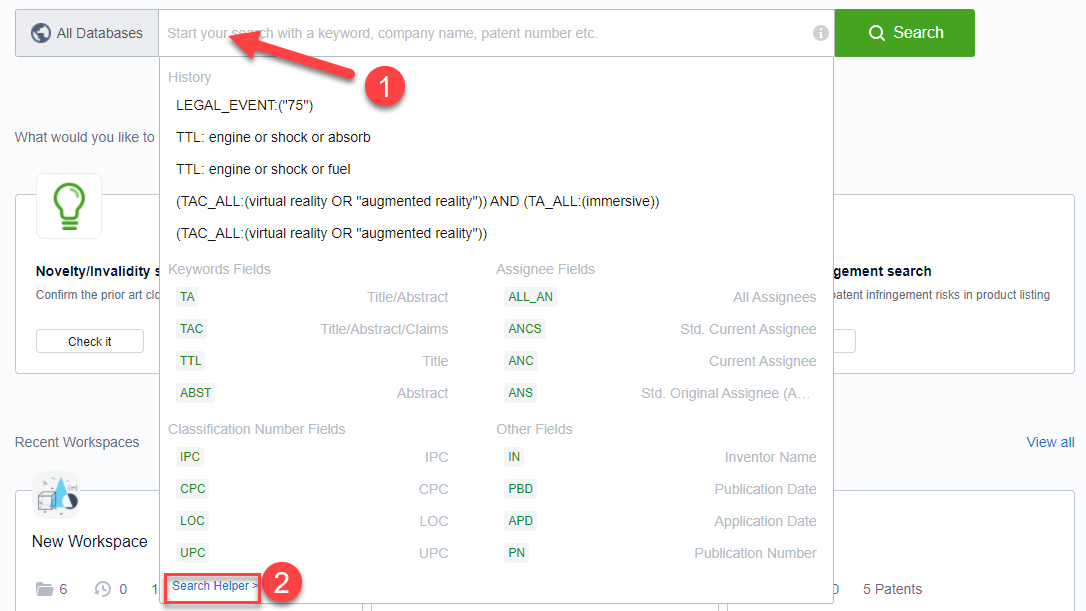 Alternatively, you can access it through Advanced search as follows: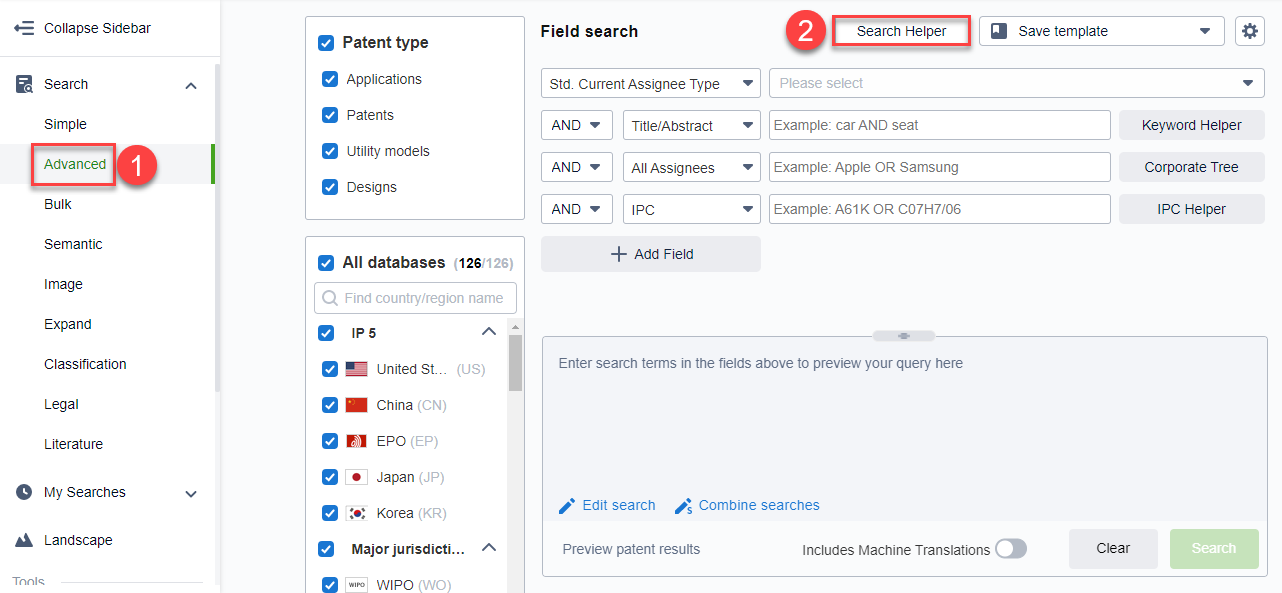 A final alternative, where you can access it from any page within Analytics, is as follows: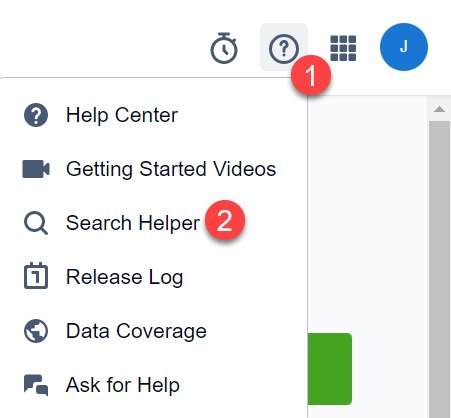 Searchable Fields
Here's a list of the searchable fields, grouped into different categories.
Number & Text
Field Abbreviation
Field Name
Type
Example and Comments

PN

Publication Number

Number

PN:US123456

APNO

Application Number

Number

APNO:US10/123456

PRNO

Priority Number

Number

PRNO:JP2013270967

KD

Kind Code

Number

KD:B1

PCT_PN

PCT Publication Number

Number

PCT_PN:WO2017161368

PCT_APNO

PCT Application Number

Number

PCT_APNO:US2017/023191

TTL

Title

Text

TTL:car

ABST

Abstract

Text

ABST:car

CLMS

Claims

Text

CLMS:car

ICLMS

Independent Claims

Text

ICLMS:car

English and CN patents only

DESC

Description

Text

DESC:car

DESC_F

Technical Field

Text

DESC_F:car

Available for CN patents only

DESC_B

Background Art

Text

DESC_B:car

Available for CN patents only

DESC_S

Summary of Invention

Text

DESC_S:car

Available for CN patents only

DESC_D

Brief Description of Drawings

Text

DESC_D:car

Available for CN patents only

DESC_E

Description of Embodiments

Text

DESC_E:car

Available for CN patents only

BENEFIT_SUM

Benefit Summary

Text

BENEFIT_SUM:car

Available for CN/EP/JP patent search

TA

Title/Abstract

Text

TA:(car and seat)

TAC

Title/Abstract/Claims

Text

TAC:(car and seat)

TACD

Title/Abstract/Claims/Description

Text

TACD:(car and seat)

TTL_ENTRANS

English Translated Title

Text

TTL_ENTRANS:car

ABST_ENTRANS

English Translated Abstract

Text

ABST_ENTRANS:car

CLMS_ENTRANS

English Translated Claims

Text

CLMS_ENTRANS:car

DESC_ENTRANS

English Translated Description

Text

DESC_ENTRANS:car

TTL_CNTRANS

Chinese Translated Title

Text

TTL_CNTRANS:

汽车

ABST_CNTRANS

Chinese Translated Abstract

Text

ABST_CNTRANS:

汽车

CLMS_CNTRANS

Chinese Translated Claims

Text

CLMS_CNTRANS:

汽车

DESC_CNTRANS

Chinese Translated Description

Text

DESC_CNTRANS:

汽车

TTL_JPTRANS

Japanese Translated Title

Text

TTL_JPTRANS:自動車

ABST_JPTRANS

Japanese Translated Abstract

Text

ABST_JPTRANS:自動車

CLMS_JPTRANS

Japanese Translated Claims

Text

CLMS_JPTRANS:自動車

DESC_JPTRANS

Japanese Translated Description

Text

DESC_JPTRANS:自動車

TTL_ALL

Original Title And Translation

Text

TTL_ALL:car

ABST_ALL

Original Abstract and Translation

Text

ABST_ALL:car

CLMS_ALL

Original Claims and Translation

Text

CLMS_ALL:car

DESC_ALL

Original Description and Translation

Text

DESC_ALL:car

TA_ALL

Original TA And Translation

Text

TA_ALL:car

TAC_ALL

Original TAC And Translation

Text

TAC_ALL:car

TACD_ALL

Original TACD And Translation

Text

TACD_ALL:car
Company & People
Field Abbreviation
Field Name
Type
Example and Comments
ALL_AN
All Assignees
Text

ALL_AN:MICROSOFT

All Assignees: Combined search field, search results including the following 4 fields: Standardized Current Assignee/Current Assignee/Standardized Original Assignee (Applicant)/Original Assignee (Applicant)

AN
Original Assignee (Applicant)
Text

AN:MICROSOFT

Original Assignee (Applicant): the person or entity to whom ownership of a patent or patent application belongs or was assigned at the first time it was applied.

ANS
Standardized Original Assignee (Applicant)
Text

ANS:MICROSOFT

Standardized Original Assignee (Applicant): Original Assignee name that has been standardized by PatSnap.

ANS_EXACT
Exact Standardized Original Assignee (Applicant)
Text

ANS_EXACT:Ferrari

Exact match with Standardized Original Assignee (Applicant).

Complete match including symbols, uppercase, and lowercase etc.

ANC
Current Assignee
Text

ANC:MICROSOFT

Current Assignee: the person or entity to which this patent is currently assigned. If no reassignments have occurred, the current and original assignee will be the same.

ANCS
Standardized Current Assignee
Text

ANCS:MICROSOFT

Standardized Current Assignee: Current assignee name has been standardized by PatSnap. Current assignee is the person or entity to which this patent is currently assigned.

ANCS_EXACT
Exact Standardized Current Assignee
Text

ANCS_EXACT:FERRARI

Exact match with Standardized Current Assignee. Complete match including symbols, uppercase, and lowercase etc.

GNAME
Grouped Assignee
Text

GNAME:MICROSOFT

AN_ADD
Original Assignee Address
Text

AN_ADD:California

AN_COUNTRY
Original Assignee Region
Text

AN_COUNTRY:CN

AN_COUNTRY:China

Search By Country Name or Country Code

AN_PROVINCE
Original Assignee State/Province
Text

AN_PROVINCE:江苏

AN_PROVINCE:32

Search By Province Name or Province Code

Available for CN patents only

AN_CITY
Original Assignee City
Text

AN_CITY:南京

Available for CN patents only

AN_DISTRICT
Original Assignee County/District
Text

AN_DISTRICT:鼓楼区

Available for CN patents only

ANC_ADD
Current Assignee Address
Text

ANC_ADD:California

ANC_COUNTRY
Current Assignee Region
Text

ANC_COUNTRY:CN

ANC_COUNTRY:China

Search By Country Name or Country Codes

ANC_PROVINCE
Current Assignee State/Province
Text

ANC_PROVINCE:江苏

ANC_PROVINCE:32

Search By Province Name or Province Code

Available for CN patents only

ANC_CITY
Current Assignee City
Text

ANC_CITY:南京

Available for CN patents only

ANC_DISTRICT
Current Assignee District
Text

ANC_DISTRICT:鼓楼区

Available for CN patents only

F_AN
First Original Assignee
Text

F_AN:MICROSOFT

F_ANC
First Current Assignee
Text

F_ANC:MICROSOFT

ANS_TYPE
Standardized Original Assignee Type
Text

ANS_TYPE:ACADEMY

ACADEMY: Academy

COMPANY: Company

GOVERNMENT: Government

PERSON: Person

HOSPITAL: Hospital

BANK: Bank

ANCS_TYPE
Standardized Current Assignee Type
Text

ANCS_TYPE:ACADEMY
ACADEMY: Academy
COMPANY: Company
GOVERNMENT: Government
PERSON: Person
HOSPITAL: Hospital

BANK: Bank

IN
Inventor Name
Text

IN:"STRONG ROBERT D."

IN_EXACT
Exact Inventor Name
Text

IN_EXACT:"STRONG ROBERT D"

Exact match with Inventor Name. Complete match including symbols, uppercase and lowercase etc.

IN_ADDRESS
Inventor Address
Text

IN_ADDRESS:California

F_IN
First Inventor
Text

F_IN:"STRONG ROBERT D."

AT
Attorney Name
Text

AT:"吉田 昌司"

ATC
Agency
Text

ATC:"KPPB LLP"

PE
Primary Examiner
Text

PE:"MACDONALD, ALLEN R."

AE
Assistant Examiner
Text

AE:"SARTORI, MICHAEL A."

Available for US patents only

AUTHORITY
Authority
Text

AUTHORITY:US
Date & Category
Field Abbreviation
Field Name
Type
Example and Comments
APD

Application Date

Date

APD:[20010101 TO 20011231]

APD:[20010101 TO *]

APD:20010101

APD_Y

Year of Application Date

Date

APD_Y:[2001 TO 2002]

APD_Y:2001

APD_YM
Year and Month of Application Date

Date

APD_YM:[200405 TO 200408]

APD_YM:200405

PBD
Publication Date

Date

PBD:[20010101 TO 20011231]

PBD:[20010101 TO *]

PBD:20010101

F_PBD
First Publication Date

Date

F_PBD:[20010101 TO 20011231]

F_PBD:[20010101 TO *]

PBD_Y
Year of Publication Date

Date

PBD_Y:[2011 TO 2012]

PBD_Y:2011

PBD_YM
Year and Month of Publication Date

Date

PBD_YM:[201403 TO 201405]

PBD_YM:201403

ISD
Issue Date

Date

ISD:[20010101 TO 20011231]

ISD:20010101

EXAMINE_DATE
Substantive Examination Date

Date

EXAMINE_DATE:[20150101 TO 20151231]

EXAMINE_DATE:20150101

Available for several jurisdictions only.

PCTENTRY_DATE
PCT Entry Date

Date

PCTENTRY_DATE:[20010101 TO 20011231]

PCTENTRY_DATE:20010101

LEGAL_STATUS_DATE
Legal Status Date

Date

LEGAL_STATUS_DATE:[20150101 TO 20151231]

LEGAL_STATUS_DATE:20150101

PRIORITY_DATE
Priority Date

Date

PRIORITY_DATE:[20010101 TO 20011231]

PRIORITY_DATE:20010101

E_PRIORITY_DATE
Earliest Priority Date

Date

E_PRIORITY_DATE:[20010101 TO 20011231]

PRIORITY_COUNTRY
Priority Country

Text

PRIORITY_COUNTRY:US

EXDT
Estimated Expiry Date

Date

EXDT:[20160101 TO 20181231]

IPC
IPC

Text

IPC:A61K

IPC:[A21B3/04 TO A21B3/16]

Supports range search for classification number sub classes.

Search for patents that contain any classification numbers that exist between two classification numbers.

IPC_SECTION
IPC Section

Text

IPC_SECTION:H

IPC_CLASS
IPC Class

Text

IPC_CLASS:H04

IPC_SUB_CLASS
IPC Sub Class

Text

IPC_SUB_CLASS:H04W

MIPC
Main IPC

Text

MIPC:A61K

MIPC:[A21B3/04 TO A21B3/16]

Supports range search for classification number sub classes.

Search for patents that contain any classification numbers that exist between two classification numbers.

MIPC_SECTION
Main IPC Section

Text

MIPC_SECTION:A

MIPC_CLASS
Main IPC Class

Text

MIPC_CLASS:A61

MIPC_SUB_CLASS
Main IPC Sub Class

Text

MIPC_SUB_CLASS:A61K

CPC
CPC

Text

CPC:G10L15/193

CPC:[A21B3/04 TO A21B3/16]

Supports range search for classification number sub classes.

Search for patents that contain any classification numbers that exist between the two classification numbers.

CPC_ALL
Official/Predicted CPC

Text

CPC_ALL:G10L15/193

CPC_ALL:[A21B3/04 TO A21B3/16]

Supports searching of both the official and PatSnap predicted Cooperative Patent Classificiation (CPC) numbers.

MCPC
Main CPC

Text

MCPC:H02J7/007

MCPC:[A21B3/04 TO A21B3/16]

Supports range search for classification number sub classes.

Search for patents that contain any classification numbers that exist between the two classification numbers.

CPC_SECTION
CPC Section

Text

CPC_SECTION:G

CPC_CLASS
CPC Class

Text

CPC_CLASS:G10

CPC_SUB_CLASS
CPC Sub Class

Text

CPC_SUB_CLASS:G10L

GBC
GBC

Text

GBC:A0119

GBC_SECTION
GBC Section

Text

GBC_SECTION:A

LOC
LOC

Text

LOC:01-01

LOC:[04-01 TO 04-03]

Available for Design patents only

Supports range search for classification number sub groups.

Search for patents that contain any classification numbers that exist between the two classification numbers.

UPC
UPC

Text

UPC:530/388.2

Available for US patents only

FI
FI

Text

FI:C12N5/00.A

Available for JP patents only

FTERM
F_TERM

Text

FTERM:4B024/HA11

Available for JP patents only

IPC_LOW
IPC (Hierarchy)
Text

IPC_LOW:A01/B02

Search within current category and its subgroups

MIPC_LOW
Main IPC (Hierarchy)
Text

MIPC_LOW:A01/B02

Search within current category and its subgroups

CPC_LOW
CPC (Hierarchy)
Text

CPC_LOW:A01/B02

Search within current category and its subgroups

UPC_LOW
UPC (Hierarchy)
Text

UPC_LOW:126/557

Search within current category and its subgroups

Available for US patents only

FI_LOW
FI (Hierarchy)
Text

FI_LOW:A01/B02

Search within current category and its subgroups

Available for JP patents only

FTERM_LOW
F-Term (Hierarchy)
Text

FTERM_LOW:2B002/AA01

Search within current category and its subgroups

Available for JP patents only

ADC
Application domain
Text

ADC:"engine manufacture"

TTC
Technology topic
Text

TTC:"microphone

SEIC
SEIC
Text

SEIC:"人工智能"

Available for CN patents only
Cite & Family
Field Abbreviation
Field Name
Type
Example and Comments

CITE

Cite Patent

Number

CITE:US5865274A

CITEDBY

Cited By Patent

Number

CITEDBY:US5865274A


CITEORCITEDBY

Cite Or Cited By Patent

Number

CITEORCITEDBY:US5865274A

CITES_COUNT

Count Of Cites Patent

Number

CITES_COUNT:[10 TO 20]

CITES_COUNT:10

CITEDBY_COUNT

Count Of Cited By Patents

Number

CITEDBY_COUNT:[10 TO 20]

CITEDBY_COUNT:10

CITEDBY_ANC

Cited By Current Assignee

Text

CITEDBY_ANC:MICROSOFT

CITE_CATEGORY

Citation Category

Text

CITE_CATEGORY:X

Search for patents that have any cites (backward citations) with specified citation categories.

Document category:

X - Document of particular relevance; the claimed invention cannot be considered novel or cannot be considered to involve an inventive step when the document is taken alone

Y - Document of particular relevance; the claimed invention cannot be considered to involve an inventive step when the document is combined with one or more other such documents, such combination being obvious to a person skilled in the art

A - Document defining the general state of the art which is not considered to be of particular relevance

D - Document cited in the application

E - Earlier application or patent but published on or after the international filing date

L - Document which may throw doubts on priority claim(s) or which is cited to establish the publication date of another citation or other specific reason (as specified)

R - Patent applications for the same invention which are filed on the same day by different entities or individuals

T - Later document published after international filing or priority date and not in conflict with the application but cited to understand the principle or theory underlying the invention

FAM

Simple Family

Number

FAM:WO2012001234A1

IFAM

INPADOC Family

Number

IFAM:WO2012001234A1

EFAM

PatSnap Family

Number

EFAM:WO2012001234A1

FAM_COUNT

Count of Simple Family Members

Number

FAM_COUNT:[10 TO 20]

FAM_COUNT:10

IFAM_COUNT

Count of INPADOC Family Members

Number

IFAM_COUNT:[10 TO 20]

IFAM_COUNT:10

EFAM_COUNT

Count of PatSnap Family Members

Number

EFAM_COUNT:[10 TO 20]

EFAM_COUNT:10

EFAM_COUNTRY

PatSnap Family Jurisdiction

Text

EFAM_COUNTRY:CN

Search By Country Codes

FAM_COUNTRY

Simple Family Jurisdiction

Text

FAM_COUNTRY:CN

Search By Country Codes
Patent Status & Quality
Field Abbreviation
Field Name
Type
Example and Comments

LEGAL_STATUS

Legal Status

Number

LEGAL_STATUS:3

1: Published 2: Examining 3: Granted 8: Double 11: Withdrawn 13: Rejected 14: Revoked 15: Expired 16: Non-Payment 21: Restoration 22: Ceased 23: P-Revoked 24: Discontinuation 30: Abandoned 222: PCT Publication 223: PCT-NP (In time limit) 224: PCT-NP (Past time limit) 225: Non-Entry PCT-NP

LEGAL_EVENT

Legal Event

Number

LEGAL_EVENT:61

61: Transfer 62: License 63: Pledge 64: Trust 65: Opposition 66: Re-examination 69: Customs 70: Litigation 71: Preservation 72: Invalid-procedure 73: Oral-procedure 74: Declassification 75: Dual filing

SIMPLE_LEGAL_STATUS

Simple Legal Status

Number

SIMPLE_LEGAL_STATUS:1

0: Inactive 1: Active 2: Pending 220: PCT designated stage expired 221: PCT designated stage 999: Undetermined

PV

Patent Value

Text

PV:[10000 TO 50000]

PV_COUNT:10000

PAGE_COUNT

Page Count

Number

PAGE_COUNT:[5 TO 10]

PAGE_COUNT:5

Available for several jurisdictions only. The page number reflects the PDF page number. Not Available for Design patents.

CLAIM_COUNT

Claim Count

Number

CLAIM_COUNT:[10 TO 20]

CLAIM_COUNT:10

AN_COUNT

Count of Original Assignees (Applicant)

Number

AN_COUNT:[2 TO 3]

AN_COUNT:2

ANC_COUNT

Count of Current Assignees (Applicant)

Number

ANC_COUNT:[2 TO 3]

ANC_COUNT:2

IN_COUNT

Count of Inventors

Number

IN_COUNT:[2 TO 3]

IN_COUNT:2

CPC_COUNT

Count of CPC

Number

CPC_COUNT:[2 TO 3]

CPC_COUNT:2

IPC_COUNT

Count of IPC

Number

IPC_COUNT:[2 TO 3]

IPC_COUNT:2

GOV

Government Interest

Text

GOV:1

Available for US patents only

EXAMINE_PERIOD

Examination Time

Number

EXAMINE_PERIOD:[5 TO 10]

EXAMINE_PERIOD:5

The number of months between the substantive examination date to the granted publication date. (Unit is month)

Available for several jurisdictions only.

PATENT_TYPE

Patent Type

Text

PATENT_TYPE:D
A: Application
B:Patent
U:Utility Model
D: Design


PCTENTRY_TYPE

Patent Records Via PCT

Text

PCTENTRY_TYPE:1

All patents that enter via PCT procedure

SEP

Patents With SEP

Number

SEP:1

SEP_NUMBER

SEP Number

Text

SEP_NUMBER:"ETSI_TS 23.402"

Available for full SEP number only

SEP_TITLE

SEP Title

Text

SEP_TITLE:E_UTRA

Available for English keywords only

SEP_SOURCE

SEP Source

Text

SEP_SOURCE:ETSI
Source: ETSI/IEC/IEEE/ISO/ANSI/CEN/ITU


SEP_PROJECT

SEP Project

Text

SEP_PROJECT:5G

Available for English keywords only

SEP_DECLARANT

SEP Declarant

Text

SEP_DECLARANT:huawei

Available for English keywords only

AWARD_NAME

Award Name

Text

AWARD_NAME:(European Inventor Award)

CN and EP patents only

AWARD_LEVEL

Award Level

Text

AWARD_LEVEL:(金奖)

CN patents only; Available for full Award Level
For example: 一等奖、二等奖、三等奖、优秀奖、银奖、金奖、特等奖、外观设计优秀奖、外观设计金奖、外观设计银奖

AWARD_SESSION

Award Session

Text

AWARD_SESSION:(2018)

CN and EP patents only

SUB_CASE

Division

Number

SUB_CASE:(US10/771529)

Search its all sub cases by one patent application number

PRIORITY_COUNTRY_COUNT

Priority Country Count

Number

PRIORITY_COUNTRY_COUNT:[10 TO 20]

PRIORITY_COUNTRY_COUNT:10

PRIORITY_EMPTY

Patents without priority

Number

PRIORITY_EMPTY:1
Litigation
Field Abbreviation
Field Name
Type
Example and Comments

LITIGATION

Patents with litigation information

Number

LITIGATION:1

Available for several jurisdictions only

CASENO

Case Number

Text

CASENO:("4:15-cv-00154")

Available for several jurisdictions only

COURT

Court Name

Text

COURT:(California Northern District Court)

Available for several jurisdictions only

JUDGE

Judge

Text

JUDGE:(仪军)

Available for several jurisdictions only

CHIEF_JUDGE

Chief Judge

Text

CHIEF_JUDGE:"Alan D Albright"

Available for several jurisdictions only

PLAINTIFF

Plaintiff Name

Text

PLAINTIFF:(Apple)

Available for several jurisdictions only

DEFENDANT

Defendant Name

Text

DEFENDANT:(Apple)

Available for several jurisdictions only

FILING_DATE

Filing Date

Date

FILING_DATE:[20150101 TO 20150630]

Available for several jurisdictions only

VERDICT_DATE

Verdict Date

Date

VERDICT_DATE:[20150101 TO 20151231]

Available for several jurisdictions only

HEARING_DATE

Hearing Date

Date

HEARING_DATE:[20150101 TO 20151231]

Available for several jurisdictions only

TRIAL_GRADE

Trial Level

Text

TRIAL_GRADE:一审

Available for several jurisdictions only

CASE_NATURE

Case property

Text

CASE_NATURE:(民事案件)

Available for several jurisdictions only

CASE_REGION

Case Region

Text

CASE_REGION:(江苏)

Available for several jurisdictions only

CASE_TITLE

Case Title

Text

CASE_TITLE:(apple)

Available for several jurisdictions only

CASE_FULL_TEXT

Fulltext

Text

CASE_FULL_TEXT:(phone)

Available for several jurisdictions only

LIT_CLOSEDT

Date of Closed

Date

LIT_CLOSEDT:[20150101 TO 20151231]

Available for several jurisdictions only

OUTCOME_JUDGEMENT

Outcome of Judgement

Text

OUTCOME_JUDGEMENT:(plaintiff)

OUTCOME_STATUS

Outcome Status

Text

OUTCOME_STATUS:("Closed (closed)")

Available for several jurisdictions only

LITIGATION_COUNT

Litigation Count

Number

LITIGATION_COUNT:2

Available for several jurisdictions only

CASE_DOC_TYPE

Case Type

Text

CASE_DOC_TYPE:2

Available for CN patents only

1: Judgment 2: Ruling 3: Mediation 4: Decision 5: Other documents

COURT_GRADE

Court Level

Text

COURT_GRADE:中级法院

Available for CN patents only
For example: 最高法院、高级法院、中级法院、基层法院、专门法院

VERDICT

Verdict

Text

VERDICT:(驳回)

Searching of US patent records not supported

PARTY

Party

Text

PARTY:(huawei)

The Party field covers plaintiff, defendant, and third party field data

Available for several jurisdictions only

PARTY_AGENT

Party Agent

Text

The Party Agent covers plaintiff agent, defendant agent and third party agent field data
Available for several jurisdictions only

PARTY_LAWFIRM

Party Attorney

Text

PARTY_LAWFIRM:(广东非凡律师事务所)

Available for several jurisdictions only

AMOUNT_PLAINTIFF

Damages Claimed

Number

AMOUNT_PLAINTIFF:[10000 TO 50000]

Available for CN patents only

DAMAGES_AMOUNT

Damages

Number

DAMAGES_AMOUNT:[10000 TO 50000]

Available for CN patents only

FILING_YEAR

Filing Year

Date

FILING_YEAR:[2011 TO 2012]

Available for several jurisdictions only

LITIGATION_PRODUCT

Product(s)

Text

LITIGATION_PRODUCT:(eyewear)

Available for several jurisdictions only
Licensing
Field Abbreviation
Field Name
Type
Example and Comments

LICENSE

Patents with licensing information

Number

LICENSE:1

LICENSOR

Licensor

Text

LICENSOR:(Samsung)

Available for several jurisdictions only

LICENSEE

Licensee

Text

LICENSEE:(U.S. DEPARTMENT OF ENERGY)

Available for several jurisdictions only

LICNO

License Number

Text

LICNO:2014510000101

Available for several jurisdictions only

EXCLUSIVITY

Exclusivity

Text

EXCLUSIVITY:(Exclusive)

Available for several jurisdictions only

LIC_EFDT

Effective Date

Date

LIC_EFDT:[20160101 TO 20160501]

Available for several jurisdictions only

LICENSE_COUNT

Licensing Count

Number

LICENSE_COUNT:2
Assignment
Field Abbreviation
Field Name
Type
Example and Comments

TRANSFER

Patents with assignment information

Number

TRANSFER:1

TRANSFER_BEFORE

Assignor

Text

TRANSFER_BEFORE:(Intel)

Available for several jurisdictions only

TRANSFER_AFTER

Assignee

Text

TRANSFER_AFTER:(Huawei)

Available for several jurisdictions only

TRANS_EFDT

Effective Date of Assignment

Date

TRANS_EFDT:[20180701 TO 20181231]

Available for several jurisdictions only
Re-examination & Invalidation (Available for several jurisdictions only)

| | | | |
| --- | --- | --- | --- |
| Field Abbreviation | Field Name | Type | Example and Comments |
| REEXAMINVALID | Patents with re-examination/invalidation information | Number | REEXAMINVALID:1 |
| RI_APPLICANT | Reexam/Invalid Applicant | Text | RI_APPLICANT:"Creative Consumer Concepts" |
| RIDN | Decision Number | Text | RIDN:(FS1112) |
| RIIN | Internal number | Text | RIIN:(F12964) |
| RIDDT | Decision Date | Date | RIDDT:[20160101 TO 20160501] |
| RIDTP | Decision Type | Text | RIDTP:(IPR) |
| RID | Decision | Text | RID:(admisible) |
| RIDP | Decision Points | Text | RIDP:(技术方案) |
| RIDSM | Decision Summary | Text | RIDSM:(不符合专利法第22条第3款的规定) |
| RILGS | Legal Grounds | Text | RILGS:(专利法第22条第3款) |
| INVALID_COUNT | Invalid Count | Number | INVALID_COUNT:2 |
Pledge
Field Abbreviation
Field Name
Type
Example and Comments

PLEDGE

Patents with pledge information

Number

PLEDGE:1

PLEDGOR

Pledgor

Text

PLEDGOR:auto

Available for China pledge and US security interest

PLEDGEE

Pledgee

Text

PLEDGEE:(SILICON VALLEY BANK)

Available for China pledge and US security interest

PLEDGENO

Pledge Number

Text

PLEDGENO:2015990000410

Available for China pledge and US security interest

PLE_EFDT

Pledge Effect Date

Date

PLE_EFDT:[20160101 TO 20160501]

Available for China pledge and US security interest

PLEDGE_CURRENT_STAGE

Pledge State

Text

PLEDGE_CURRENT_STAGE:生效

Available for CN patents only

PLEDGE_COUNT

Pledge Count

Number

PLEDGE_COUNT:2
Search Syntax
Logic Connector
Operator
Usage & Function
Examples

AND

Retrieves patents containing all matching keywords/criteria.

Either keyword/criteria may appear first.

solar AND cell

TTL:computer AND AN:apple

OR

Retrieves patents containing either keyword/criteria.

Either keyword/criteria may appear first.

battery OR cell

TTL:computer OR IPC:H01L

NOT

Retrieves patents containing the first keyword/criteria, but not containing the second keyword/criteria.

The priority order of logical operators is NOT>AND>OR. You can increase the priority of the corresponding part of the query by adding ().

battery NOT "lead-acid"

AN:apple NOT ABST:screen
Wildcards
Operator
Usage & Function
Examples

*

A wildcard that can be used to replace a string of characters at any place within a word.

Can be used once in each keyword and a keyword can't contain more than one type of wildcard.

Can be used in both text and number fields when "*" is used in the middle or end of a keyword.
Can be used within title/abstract/claims/description related fields when "*" is used on the left of a keyword and only for English language keywords.

Stemming has no effect on a keyword if a wildcard is used on it.

Does not support use with quotations.

*otor

electr*

EP200*B2

?

A wildcard that can be used to replace an individual character at any place within a word.
Can be used multiple times in a keyword but must be grouped together.
Can be used in both text and number fields when "?" is used in the middle or end of a keyword.
Can be used within title/abstract/claims/description related fields when "?" is used on the left of a keyword and only for English language keywords.
Stemming has no effect on a keyword if a wildcard is used on it.
Does not support use with quotations.

?otor

gra???ne

US7654??

#

A wildcard that can be used to replace zero or an individual character at any place within a word.
Can be used once in each keyword and a keyword can't contain more than one type of wildcard.
Can be used in both text and number fields when "#" is used in the middle or end of a keyword.
Can be used within title/abstract/claims/description related fields when "#" is used on the left of a keyword and only for English language keywords.
Stemming has no effect on a keyword if a wildcard is used on it.
Does not support use with quotations.

#otor

m#tor

moto#
Position Connector
Operator
Usage & Function
Examples

$Wn

Search words will be within n words of each other, in any order.

Positional connectors have higher priority than logic connectors.

data $W2 line

ABST:("solar cell" $W5 silicon)

$PREn

Search words will be within n words of each other, in the order specified.

Positional connectors have higher priority then logic connectors.

data $PRE2 line

ABST:("solar cell" $PRE5 silicon)

$WS

The keywords on either side of the operator appear within 99 words.

Positional connectors have higher priority then logic connectors.

display $WS HDMI

$SEN

Search words should be within the same sentence.

Position connectors have higher priority than logic connectors.

CLMS:(data $SEN line)

DESC:("solar cell" $SEN silicon $SEN vehicle)

$PARA

Search words should be within the same paragraph.

Position connectors have higher priority than logic connectors.

DESC:(data $PARA line)

DESC:("solar cell" $PARA silicon $PARA vehcile)
Frequency Operator
Operator
Usage & Function
Examples
$FREQn

The keyword appears at least n times in the specified field.

Supports the following fields: Title (TTL), Abstract (ABST), Claims (CLMS), Description (DESC) and their corresponding field combinations.

Translations are not supported using this field.

The upper limit of "n" value is 50.

If Stemming is ON, the count of both the original keywords and their extensions will be considered.

The keyword frequency command is limited to entry of a single keyword.

vehicle $FREQ2

TTL:("car" $FREQ2) AND ABST:("engine")
Others
Operator
Usage & Function
Examples

()

Parentheses can be used to define the order in which the system combines parts of your search.

vehicle AND (engine OR motor)

[]

Limit the start and end range of dates, numbers, and classification numbers when building your query.

PBD:[20010101 TO 20101231]

IPC:[H01L31/0203 TO H01L31/042]

""

Keywords within quotation marks should appear next to each other, in the order specified.

Phrase query searches limit the order of keyword positions within quotation marks to a fixed order.

"electric vehicle"

Stemming

Stemming ON will search for the original word and expand the search to consider singular, plural, and tense variations e.g. a search for "come" will expand to "comes", "came", "coming" and so on.

Stemming OFF will only search for exact matches of the keywords entered.

The use of wildcards in keywords within a search query will impact the effect of stemming.

Stemming ON only supports English words. Stemming does not apply to Assignee, Inventor, and any other person-related fields.

TTL:come
With stemming ON, patents with titles that have come, comes, came, or coming will be returned

With stemming OFF, patents with titles that have come will be returned

TREE@

Search patents of a company and its subsidiaries - it is supported under ANS, ANCS, and ALL_AN field. The name after TREE@ syntax should include the full name of any node of the PatSnap corporate tree.

ANCS:(TREE@"TOYOTA")

Special characters

Special characters are supported as a single character for retrieval, currently supported special characters include

-, /, ℃,℉, %, ±,°, ™,®, mg/l, @

ABST:(85℃)
Number Format
Country/Area
Number Constitution
Sample
Type Code and Description
CN
Application Number

CN[2 digits year] [1 digit type number] [5 digits serial number] (1985-1988)

CN[2 digits year] [1 digit type number] [5 digits serial number]. [Check digit] (1989-2003.9.30)

CN[4 digits year] [1 digit type number] [5 digits serial number]. [Check digit] (from 2003.10.01)

CN85101417

CN92112602.6

CN201210343937.X

Type Code:

1. Invention patent application;

2. Utility model patent application;

3. Design patent application;

8. PCT invention patent applications entering the national phase of China;

9. PCT utility model patent applications entering the national phase of China.

The check digit after "." can be 1 digit (0-9) or letter x.

Publication Number
Patent Application

CN[2 digits year] [1 digit type number] [5 digits serial number] [Identification code] (1985-1988)

CN[1 digit type number] [6 digits serial number] [Identification code] (1989 ~ 2007.7.11)

CN[1 digit type number][8 digit serial number] [Identification code] (from 2007.7.18)

CN85100619A

CN1616062A

CN101016492A

Type Code:

1: Patent; 2: Utility; 3: Design

Identification code (1985-1992):

A: Invention disclosure

B: Invention approval

U: Utility Model announcement

S: Design announcement

Identification code (1993-2010.3):

A: Invention disclosure

B: National defense decryption invention authorization (2005.4-2010.3)

C: Invention authorization

Y: Utility model announcement

D: Design announcement

Identification code (from 2010.4):

A: Invention disclosure

B: Invention authorization

U: Utility model announcement

S: Design announcement

Granted Patent

CN[2 digits year] [1 digit type number] [5 digits serial number] [Identification code] (1985-1988)

CN[1 digit type number] [6 digit serial number] [Identification code] (1989-2007.8.22)

CN[1 digit type number][8-digit serial number] [Identification code] (from 2007.8.29)

CN[1 digit type number] [6 digit serial number] [Identification code] (since April 2020)

CN85106565B

CN1024566C

CN104030289B

CN1840465B

Utility

CN[2 digits year] [1 digit type number] [5 digits serial number] [Identification code] (1985-1988)

CN[1 digit type number] [6 digit serial number] [Identification code] (1989-2007.08.22)

CN[1 digit type number][8 digit serial number] [Identification code] (from 2007.08.29)

CN85200431U

CN2126523Y

CN202100332U

Design

CN[2 digits year] [1 digit type number] [5 digits serial number] [Identification code] (1985-1988)

CN[1 digit type number] [6 digit serial number] [Identification code] (1989-2007.08.22)

CN[1 digit type number] [8 digit serial number] [Identification code] (from 2007.08.29)

CN86300574S

CN3533583D

CN303447665S

EP
Application Number
EP[4 digit year][6 digit serial number]
EP2002016590
Publication Number
EP[7 digit serial number][Identification code]
EP2161283A1

A1: Patent Application (With search report)

A2: Patent Application (Without search report)

A3: European Patent Application Search Report

A4: Publ. of suppl. search report

A8: Modified first page

A9: Modified complete specification

B1: Patent

B2: Patent after modification

B3: After limitation procedure

B8: Modified first page granted patent

B9: Corrected complete granted patent

WO
Application Number
Patent Application
PCT/[country code][4 digit year]/[6 digit serial number]
PCT/US2001/008052
Design
WO[6 digit serial number]
WO093519
Publication Number
Patent Application
WO[4 digit year][6 digit serial number][Identification code]
WO2012034414A1

A1: International application published with international search report

A2: International application published without international search report

A3: Later publication of ISR with revised front page

A4: Later publication of amended claims and/or statement

B1: Amended claims

A8: Modified first page

A9: International application or ISR republished with corrections, alterations or supplements

S: Appearance design

Design
WO[6 digit serial number][Identification code]
WO091172S
US
Application Number

US[4 digit year][6 digit serial number] (1969.12.31 and before)

US[4 digit year][6 digit serial number][Identification code] (1992.12.31 and before)

US[2 digit type number]/[6 digit serial number]

US1954473997

US1991793706D

US29/229488

Type number:

01~28: Invention and plant patent application

29: Design application

60: Provisional application

90: Unilateral re-examination request

95: Both parties review the request

Identification code:

D: Appearance design

Publication Number

US[4 digit serial number][7 digit serial number][Identification code]

US[2 digit type number][6 digit serial number][Identification code]

US[Type Number][Serial Number][Identification code]

US20150003831A1

US60551649P0

USR48037

Type number:

60/61/62: Provisional application

D: Appearance patent granted patent right after examination

PP: Plant patents granted patent rights after substantive examination

R: Re-announce the patent

T: Defensive announcement

H: Legally registered invention (SIR)

Identification code:

A1: First published patent application

A2: Republished patent application

A9: Corrected patent application

P1: First published plant patent application

JP
Application Number

JP[4 digit year][6 digit serial number]

JP[4 digit year][6 digit serial number][Identification code]

JP2014222770

JP2015004568U

U: Utility model

D: Design

Publication Number
Patent Application

JP[4 digit year][6 digit serial number][Identification code]

JPWO[4 digit year][6 digit serial number][Identification code]

JP2017059214A

JPWO2014020898A1

A: Published unexamined patent application (or based on international application)

B1: Published granted patent

B2: Published examined patent application (Second level)

U: Published unexamined utility model application (or based on international application)

Y1: Published examined utility model application

Y2: Published utility model registration (Second level)

S: Registered design publication

D: Publication of disagreed consultation on design application

Granted Patent

JP[serial number][Identification code]

JP[4 digit year][6 digit serial number][Identification code]

JP[7 digit serial number][Identification code]

JP5872023B2

JP1982049253B1

JP4892210B2

Utility

JP[serial number][Identification code]

JP[4 digit year][6 digit serial number][Identification code]

JP[7 digit serial number][Identification code]

JP16708Z

JP1992097468U

JP3183445U

Design

JP[7 digit serial number][Identification code]

JP[7 digit serial number][3 digit check digit][Identification code]

JP[4 digit year][6 digit serial number][Identification code]

JP1525758S

JP1104422002S

JP2012006082D

KR
Application Number

KR[2 digit type number][4 digit year][7 digit serial number]

KR1020130018414

Type number:

10: Invention application

20: Utility Model

30: Appearance design

Identification code:

A: Official gazette of the unexamined patents

B1: Patent specification

U: Official gazette of the unexamined utility models

Y1: Utility model specification

S: Design

Publication Number

KR[2 digit type number][4 digit year][7 digit serial number][Identification code]

KR[2 digit type number][7 digit serial number][Identification code]

KR1020140080586A

KR200478756Y1

DE
Application Number

DE[2 digit year][5 digit serial code][KD] (1994 and before)

DE[1 digit type number][2 digit year][5 digits serial number] (1995-2003)

DE[2 digit type number][4 digit year][6 digit serial number] (since 2004)

DE[2 digit year][5 digit serial number]

DE[2 digit year][6 digit serial number] (1968-1994 DE Translation Data)

DE[2 digit year][6 digit serial number][Identification code]

DE[4-7 digit serial number][Identification code]

DE[1 digit type number][7 digit serial number][Identification code]

DE[2 digit type number][6 digit serial number][Identification code]

DE9312868U

DEM9308882

DE202016003962

DE2059726

DE83107097

DE20307340U

DE0000002U

DES0116952

DEST002616

1 digit type number:

1: National patent application, PCT application national phase and SPC application

2: Utility model application, integrated circuit supplementary design

M: Industrial design (before 1997)

4: Design application (1997-present)

5: German application approved by EPO (applications submitted to EPO since 1989)

6: English or French application approved by EPO (applications submitted by EPO since 1989)

2 digit type number:

10: German patent application

11: PCT patent application enters the national phase

12: Supplementary protection certificate application

20: Utility model application

21: Utility models originating from PCT applications

22: Integrated Circuit Layout Design

40: Design application

50: Patent approved by EPO, applied in German

60: Patent approved by EPO, filed in English or German

Publication Number
Patent Application

DE[1-12 digit serial number][Identification code]

DE[2-8 digit serial number][Identification code]

DE[2 digit type number][4 digit year][6 digit serial number][Identification code]

DE1182954A

DE2001205A1

DE102006006882A1

A1: Laid open (first publication)

A5: Reference to international publication in German

A8: Corrected first page

A9: Corrected complete specification

B3: Patent (first publication)

B4: Patent (second publication)

B8: Corrected first page (granted patent)

B9: Corrected complete specification (granted patent)

C5: Revised patent

C8: Corrected first page revised patent

C9: Revised patent, corrected complete specification

U1: Utility model

U8: Corrected first page utility model

U9: Corrected complete specification utility model

S: Design

Granted Patent

DE[1 digit type number][serial number][Identification code]

DE[1-12 digit serial number][Identification code]

DE[7-8 digit serial number][Identification code]

DE[2 digit type number][4 digit year][6 digit serial number][Identification code]

DEF8563B

DE1182954A

DE1283426B1

DE102017219309B4

Utility

DE[7-8 digit serial number][Identification code]

DE[2 digit type number (20/21/22)][4 digit year][6 digit serial number][Identification code]

DE9490479U1

DE202010005543U1

Design

DE[(7-8) bit serial number][Identification code]

DE[1 digit type number (M/4)][2 digit year][5 digit serial number][4 digit product number][Identification code]

DE[2 digit type number(40)][4 digit type year][6 digit serial number][4 digit product number][Identification code]

DEM98500050040S

DE400000030001S

DE4020130000150005S
GB
Application Number

GB[4 digit year][6 digit serial number][Identification code]

GB[7 digit serial number][Identification code]

GB[7 digit serial number][Identification code](Design patent format)

GB2019019218

GB0036540

GB2073505D

D: Design
Publication Number
Patent Application

GB[4-9 digit serial number][Identification code]

GB[2 digit year][5 digit serial number][Identification code]

GB2534953A8

GB9930834D0

A: Application published

B: Patent granted

A8: Corrected first page published application

A9: Corrected complete specification published application

B8: Corrected first page patent specification

C: Amended or corrected patent specification

S: Design

Granted Patent

GB[4-9 digit serial number][Identification code]

GB[4 digit year][5 digit serial number][Identification code]

GB2169498B

GB188606773A

Design
GB[7 digit serial number][Identification code]
GB1049824S
FR
Application Number
Patent Application/Utility

FR[(5-9) bit serial number] (before 1969)

FR[4 digit year][6 digit serial number] (1969 and after)

FR69043922

FR2014056968

Patent Application

FR[4 digit year][6 digit serial number][T]

FR[4 digit year][6 digit serial number][C] (after 19781010)

FR2002752500T

T: Translation of European patent applications

C: Supplementary Protection Certificate

Design

FR[6 digit serial number][Identification code] (before 1980)

FR[4 digit year][6 digit serial number][Identification code] (1980 and later)

FR000001D

FR2019005630D

D: Design
Publication Number
Patent/Utility
FR[1-8 digit serial number][Identification code]
FR3088823A1

A: Invention patent specification as the first publication

A1: The publication text of the invention patent application is the first publication

A2: Supplement the publication text of the invention patent application as the first publication

A3: Utility model patent application text as the first publication

A4: Supplement the text of the utility model patent application as the first publication

A5: Invention patent (first and only publication)

A6: Supplementary invention patent (first and only publication)

A7: Utility model patent (first and only publication)

A8: Supplementary utility model patent (first and only publication)

B1: Invention patent (second publication after examination)

B2: Supplementary invention patent (second publication after examination)

B3: Utility model patent (second publication after examination)

B4: Supplement of utility model patents (second publication after examination)

S1: Design

Design

FR[1-6 digit serial number][3 digit product number][Identification code]

FR[4 digit year][4 digit serial number][3 digit product number][Identification code]

FR188827001S1

FR20085816003S1

RU
Application Number
Patent Application

RU[4 digit year][6 digit serial number]

SU[7 digit serial number]

RU1997107338

SU4734658

U: Utility

D: Design

Utility

RU[4 digit year][6 digit serial number][Identification code]

SU[7 digit serial number][Identification code]

RU2017113061U

SU5067907U

Design

RU[4 digit year][6 digit serial number][Identification code]

SU[7 digit serial number][Identification code]

RU2016505448D

RU61305D

Publication Number
Patent Application

RU[1-7 digit serial number][Identification code]

RU[2 digit year][6 digit serial number][Identification code] (1999 and before)

RU[4 digit year][6 digit serial number][Identification code] (2000 and later)

RU1089919A

RU97102108A

RU2014117297A

A: Application for invention

A8: Modified first page application for invention

A9: Reprinted application for invention

C: Patent

C1: Patent for invention

C2: Patent for invention (second publication)

C8: Modified first page granted patent

C9: Reprinted granted patent

U1: Certificate for utility model

U8: Modified first page utility model

U9: Reprinted utility model

S: Design

Granted Patent
RU[1-7 digit serial number][Identification code]
RU2597078C9
Utility
RU[1-7 digit serial number][Identification code]
RU122599U1
Design
RU[5-6 digit serial number][Identification code]
RU105002S
CH
Application Number
Patent Application

CH[4 digit year][6 digit serial number]

CH[4 digit year][6 digit serial number][Identification code]

CH2013002055

CH2001917289T

T: Translation of European patent applications
Design
CH[6 digit serial number]
CH114448
Publication Number
Patent Application

CH[1-5 digit serial number][2 digit year][Identification code]

CH[6 digit serial number][Identification code]

CH[7 digit serial number][Identification code]

CH690667A4

CH715306A8

CH1010767D

A1: Patent application with search report

A2: Patent application without search report

A3: Separate search report with first page of patent application

A8: Rectified first page of A document

A9: Rectified A document

B1: Assigned patent

B2: Modified patent

B8: Rectified first page of B document

B9: Rectified B document

C1: Partial withdrawal of Swiss patent

C2: Partial annulment of Swiss patent

C3: Second partial withdrawal of Swiss patent

C9: Rectified C document

S1: Design

Granted Patent

CH[1-6 digit serial number][Identification code]

CH[6 digit serial number][Identification code]

CH[7 digit serial number][Identification code]

CH8338A CH87385A

CH697580B1

CH0402152H1

Design
CH[6 digit serial number][4 digit product number][Identification code]
CH1316140003S1