Patentability and Freedom to Operate analyses are meant to answer two different questions, and while there are similarities between them, it is important to know the differences in the way they are approached, and their results analyzed. In short, a patentability search is meant to answer the questions: Is my idea new? Can I patent this invention?, and the Freedom to Operate search is meant to answer the questions: Can I commercialize this product (or part of it)? Will I infringe on anyone else's patents?
Keep in mind that just because you have freedom to operate in an area, it doesn't necessarily mean you can patent there. The same way, just because you were able to patent an invention, it does not mean you will never infringe on patents owned by a different party.

What is patentability?

To patent an invention, it has to be entirely novel. No-one can have publicly shared that idea ever before, anywhere. This means that if you're looking at patentability, you should recognize that aside from patents, any public facing information could hinder your plans to patent a particular item.
There are four different requirements that a potential patent must have to be considered for patentability as stated by the World Intellectual Property Organization (WIPO). These are (they are the specific patentability requirements stated by WIPO but these slightly differ between jurisdictions):
1. Patentable inventions
2. Novelty
3. Inventive step
4. Industrial applicability and disclosure requirements
1. Patentable Inventions

These are ideas of a particular nature that are immediately not considered to be patentable. These exceptions include mathematical theories, aesthetic creations, software, diagnostic methods, inventions contrary to morality and plant/animal varieties.
2. Novelty

By definition, novelty is the quality of being new, original or unusual. For a patent, this means any idea that conflicts with any prior art where prior art is everything made available to the public by any means before the filing of the patent application. So a single prior art reference will immediately defeat the novelty requirement for the invention if it contains all the limitations of the claimed invention.
3. Inventive step

For an invention to pass this requirement it must be considered to be not obvious to someone who is skilled in the particular technical field with regard to prior art whereby skilled means someone who has knowledge of the technical field but is devoid of any imagination or creativity. Obvious in this case will mean something which would not go beyond the natural progress of technology in this field.
4. Industrial applicability and disclosure requirements

In terms of the industrial applicability, the invention must be seen to be able to be made or be used in any kind of industry. In terms of the disclosure requirements, these vary between jurisdiction, but they are generally considered to be "enablement" and "written description". The enablement requirement states that a person skilled in the field can use and make the claimed invention without undue experimentation. The written description requirement states that the specification of the patent describes the claimed invention in enough detail that a person skilled in the field can reasonably conclude that the inventor "had possession" of the claimed invention.
Patentability Search

To perform a patentability search, you would need to look at existing patents, websites, scientific journals, industry publications, general media, and anywhere where there might be prior art relating to your idea. Keeping in mind at all times the 4 requirements we have just discussed.
There are instances in which your patentability search will indeed find examples of prior art, but the published material needs to have some level of detail in order to be considered as a barrier to patenting your invention. Maybe one sentence, or a couple of words that reference an idea similar to your invention, in the middle of a publication that as a whole is not really associated to the main area of your own research, would not stop you from obtaining a patent.
As an Example, this patent, cites an edition of the British comic book "The Beano" on its list of citations. (The patent actually ended up getting granted, so it looks like the applicant successfully argued this one!)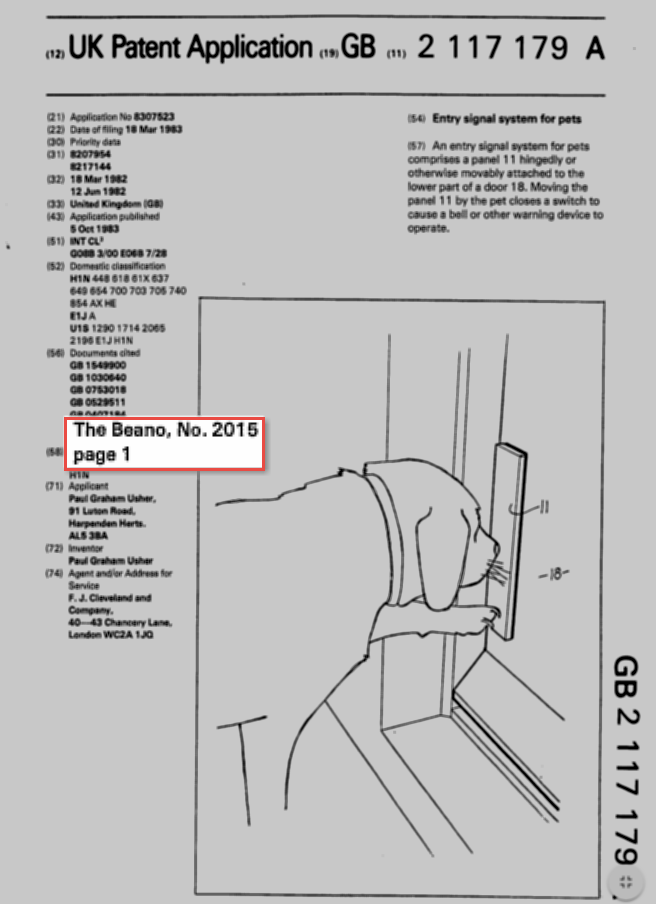 Another interesting case of some prior art is in another UK patent, where we have an applicant referencing a James Bond movie:



What is a Freedom To Operate Search?

A Freedom to Operate search (often referred to as an FTO analysis, or clearance search) is an essential part of the development process of any invention, and subsequently, its patenting and/or commercialization. Businesses conduct FTO searches to understand whether other companies have patented similar technologies and, if so, how they can amend theirs to get to market without infringing someone else's patents. FTO searches are about understanding if you are able to produce/sell/import a specific invention you have in mind, not necessarily giving you ideas on what is free to create.
The official WIPO definition of an FTO analysis is the following:
"A Freedom to Operate (FTO) analysis invariably begins by searching patent literature for issued or pending patents, and obtaining a legal opinion as to whether a product, process or service may be considered to infringe any patent(s) owned by others."
FTO Search process

As you already know, a patentability search considers any form of published media, and a freedom to operate search focuses on patents. In the claims of a patent to be exact. While it is wise to examine and analyze the patent in its entirety, the claims section is where the legal scope of a patent is determined.
Another important aspect to consider while doing an FTO search is the different countries in which you are planning to produce and commercialize a product. Since patents are granted by jurisdictions, you must always consider all the different countries involved in the process of manufacturing your creation. If a Product is being mass produced in China but sold in Canada, you must consider both jurisdictions in your FTO search.
While both, a patentability search and an FTO search can be very similar when it comes to the time and money it takes to perform the searching part of it, the results of a FTO search tend to have a much more detailed analysis. This is a consequence of different jurisdictions having different laws when it comes to patenting, and the fact that you need to keep an eye on different patents that are about to expire or lapse. Because of this, an FTO analysis as a whole tends to be longer, and costlier.

So, when should you do a Prior art Search?

There are two different schools of thought regarding when FTO searches are appropriate during a development process:
• Early search: If you conduct a search early in your innovation process, your invention might evolve and change so much during development that it no longer matches the original searches you performed.
• Late search: On the other hand, if you wait until the later stages of development and you find that you are infringing, it might be too late for you to alter the invention enough to no longer encroach on a patent.

What happens when you do find a patent?

And when you find a patent that seems to match your idea, whenever that might occur during your process, remember there are many reasons that you might still be able to produce that invention:
• Sell your product elsewhere. The patented technology that blocks your freedom to operate might be territorial, it might not have been protected globally – and if it is, patents are not necessarily the same in each jurisdiction, they might have variations in their claims, perhaps broader or narrower, so it is important to read each patent carefully, no matter how similar they seem at first. Additionally, just because patents have been applied for in a variety of different countries, doesn't mean they have been successfully protected.
• Look for expired patents. Patents that were granted protection may not have been maintained, and therefore could have lapsed or expired early. Maintenance fees may go unpaid if a patent is deemed unworthy of keeping, or if the owner hits financial hard times. In these cases, the patent will lapse early, and you would have freedom to operate.
• Invent-around. This is a process in which you adjust your invention to avoid infringement. This is a great option if the patent in question has specific claims and you can find a way to sidestep those claims. You are likely to be able to use the idea of a patent with narrow claims, but creating an invention different enough that you would be able to get your own patent or to have freedom to operate without infringing on someone else's IP.
• License or buy patents. Prior art searches can reveal who your potential licensors are, licensing a patent means the original holder owns it, but they give permission for you to use their patent. This might be the most obvious and easiest way to circumnavigate a freedom to operate infringement.