Classification codes are a type of categorization for patents which are used to classify the contents of a patent in a uniform manner. There are various different types of classification codes that are used which are used for different kind of patents and in some cases are jurisdiction-specific.
PatSnap has a glossary of all classification codes, which can be found under the Classification tab, or by using our helper tools in the Advanced Search tab.
You can find information on classification search here: What Is Classification Search?
Here is a list of the classification codes that you can search by within PatSnap:
International Patent Classification (IPC) - This is used in over 100 countries and is administered by the World Intellectual Property Office (WIPO). Within PatSnap, you are also able to search by Main IPC which will always be the first IPC mentioned on the patent. For example, on the image below the main IPC is B61D7/00 and the other IPCs mentioned which are not the main IPCs are B61D7/32 and B65G53/04: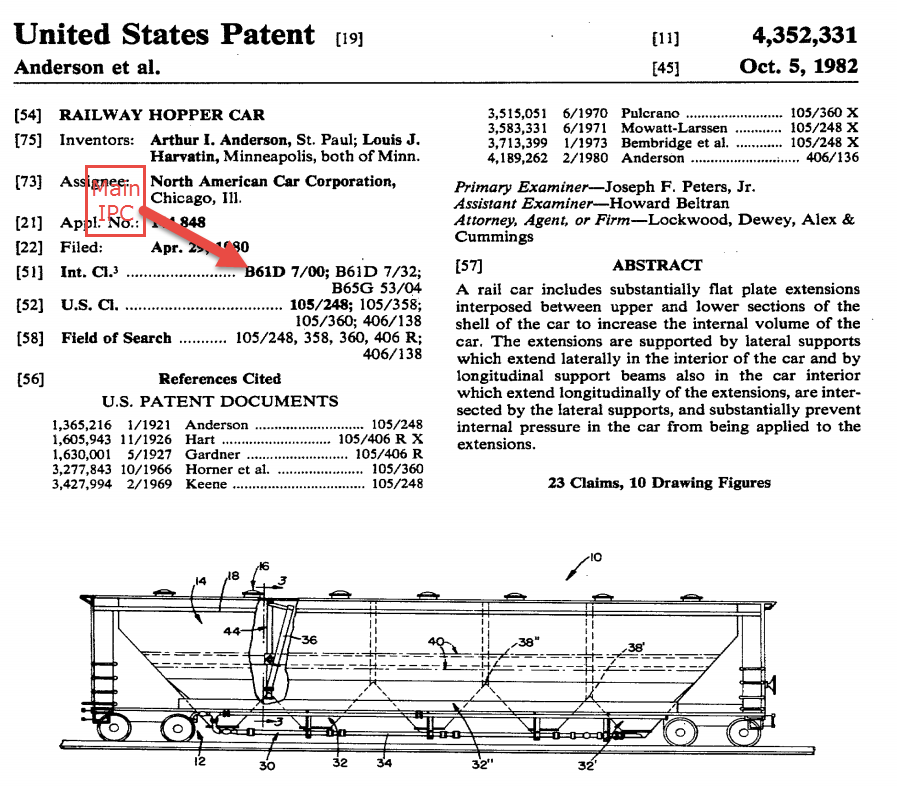 You can find out more about IPCs here: What is an IPC and why is it important to my search?
Cooperative Classification (CPC) - This is used in 39 countries and is administered in a joint collaboration between the European Patent Office (EPO) and the United States Patent and Trademark Office (USPTO). You can find more about CPCs here: What is a CPC and why is it important to my search?
Locarno Classification (LOC) - This is used in over 100 countries and like IPCs it is administered by WIPO. The way that it is different to IPCs is that it is specifically used for design patents.
United States Patent Classification (UPC) - This was a classification that was previously used for American patents only but has now been replaced by CPC, where that came into place at the start of 2013.
File Index (FI) - This is a classification that is specific to Japanese patents. This is a sub-division of IPC that consists of IPC groups and IPC-based subdivisions
File-Forming Term (F-Term) - Like FI, this classification is specific to Japanese patents. This is a development of FI which was developed to accommodate computer-based searching.
Japanese Design Classification (JDC) - This is another classification for Japanese patents. This is specifically for design patents. It is a combination of a "classification"(function of the product), and the D-Term.
Design Term (D-Term) - This is a component of the JDC. This is based on the form factor of the design.
Canadian Classification Standard for Industrial Designs (CADC) - This is a classification that is specific to Canadian designs. This uses the Locarno classification as it's basis, with additional subclasses to reflect the Canadian examination regime.
Strategic Emerging Industry Classification (SEIC) - This is a classification system created by the Chinese government. It is used to identify patents that fall under upcoming industries the Chinese government has designated as those with significant national importance (for reasons such as economic and social development).

The classification is applied to invention and utility model patents and the algorithm considers the patent title, abstract, background technology, and other fields.