PatSnap Workspaces enable R&D teams to manage work, set up automatic alerts for technology areas and competitors, track patent reviewing, capture important patents and annotate them. Observations can be shared amongst colleagues, enabling teams to work from the same dataset, and avoid duplication of efforts. Lists of patents can be marked with comments and custom fields, shared, and edited by anyone in an organization with a PatSnap account.
In this article, we are going to cover the following topics:
The Importance of Collaboration
For those involved in innovation, building a strong patent portfolio is the best way of increasing business value. It not only blocks competitors but proactively promotes freedom-to-operate (FTO) by discouraging further patenting within a field. This can also enhance your bargaining power when it comes to potential investors and competitors, with a view to potential cross-licensing opportunities.
At the same time, businesses are now finally beginning to integrate their patent strategy with their business strategy in order to create better alignment and more efficiency. To ensure the harmonic integration of protectable IP and the R&D vision, it is important to encourage a culture of collaboration and transparency. Cross-functional partnerships should be encouraged. Features, such as PatSnap Workspaces can be used to support this type of activity.
The Role of Workspaces
Workspaces allow you to manage your work, capture important patents and create your own notes. You can then share that observation with your colleagues and work off the same dataset. This will ensure there is no work duplication, which will make your work process much easier, organized and productive.
Workspaces cater to those interested in finding and exploiting the value of IP. Workspaces enable you to keep up to date with all the changes in any area of patents that you have decided to monitor. With the rapid pace of change in this current information and technology environment, keeping up-to-date on these changes is now a priority.
PatSnap's Workspaces provides an ideal forum for you to capture and manage what you find on the platform, including your IP portfolio, competitors' portfolios, and general technology searches. Within each Workspace, you can create multiple folders that allow you to store up to 500,000 patents. 
Workspaces also allow you to:
Save patents that are interesting, or need to be worked on later.
Add your comments or customized fields to categorize your patents.
Filter through patents and move or copy them into different folders.
Share folders with colleagues so you can collaborate on a project or share your thoughts.
Set up automatic updates to have any new patents relevant to your interest automatically placed into the appropriate folders.  
Workspace limits
The total number of patents which you can store in your total personal workspace is dependent on the package you are on:
Lite users - 100,000 patents 
Standard users - 1,000,000 patents 
Premium users - 10,000,000 patents 
You can view your personal and company workspace limit at the bottom left hand corner of the Workspace home page.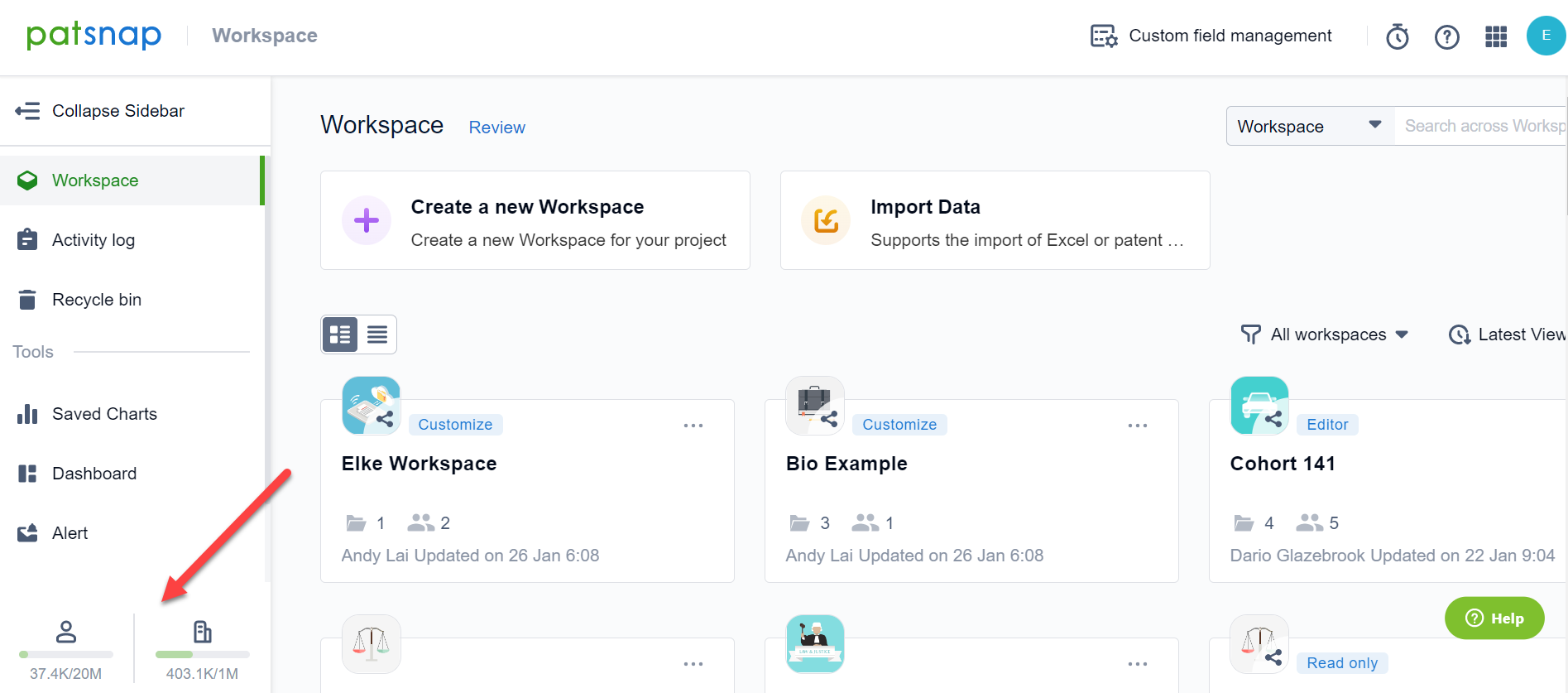 Folder limits: 
Patents: 500,000
Literature: 50,000
Market report: 50,000
Venture capital: 50,000
Mergers and acquisitions: 50,000
Sequence: 100,000
Custom fields:
Lite users - 50 (excluding drop-down tree)
Standard and Premium users - 70 (including drop-down tree)
Workspace limit:
Company workspace: 100
Personal workspace: 500
Creating a Workspace
The starting point before creating a Workspace is to establish the associated strategic objectives. These can either relate to internal projects, such as managing the current R&D pipeline, or external goals that encompass commercialization via licensing and M&A targets. The Workspaces that you create will stem from the type of searches you originally conduct. Whether you are looking into different companies' patent portfolios or delving into new technology areas, make sure you store your results in a Workspace with a clear label that easily relates back to key objectives.
Once you have conducted a search in PatSnap, you will see at the top of your results page a green button. Simply click this button and you will be given the option to choose how many patents you would like to put in the Workspace. You can then select whether to put the patents in a new Workspace or put them into an already existing folder.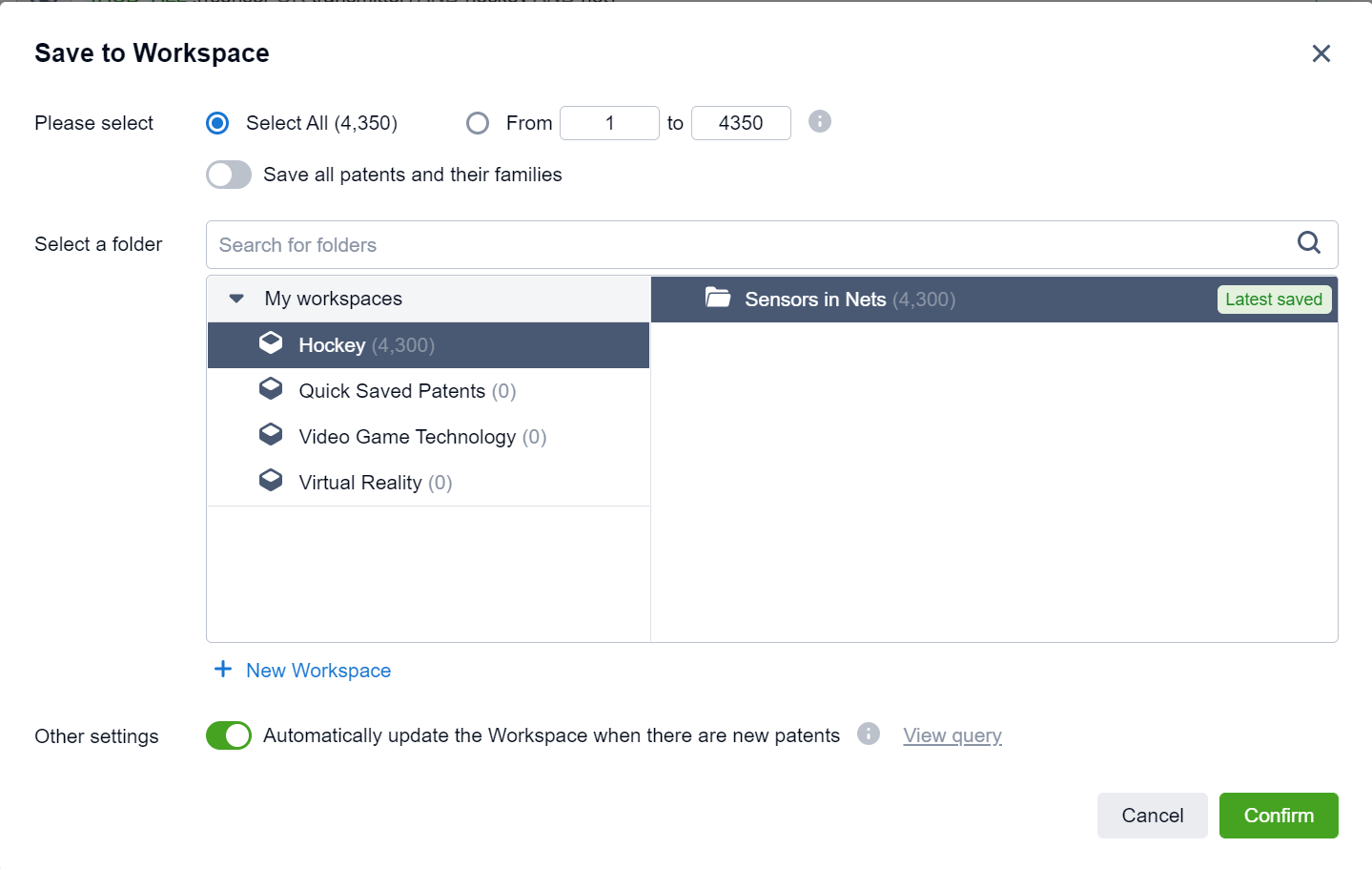 Within the Workspace overview, you can also click "Create a new Workspace" which will allow you to create a Workspace, where you can enter a "Name" for the project before doing a search.  In this screen, you can also add tags to your Workspace.  These can be used to filter your Workspaces on the main overview page. Additionally, you can apply custom templates for your display fields and filters (created in default field settings). Finally, you can share your workspace with teams and other users.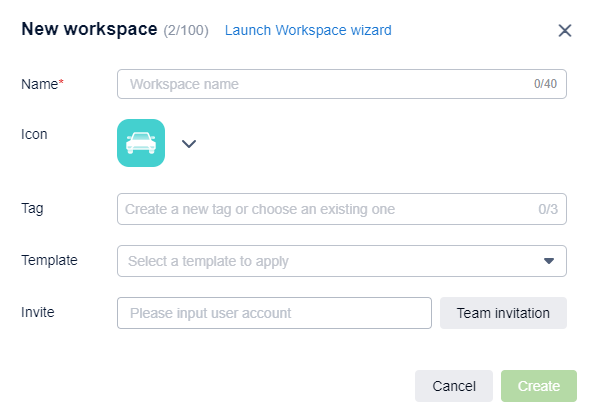 Managing Your Workspace
When you create a Workspace, it is recommended that you use a relevant naming convention for the projects, so it is easier to highlight the focus of your research.
Examples of types of results might include: Technology areas you are specialized in, types of products in your portfolio, Competitor monitoring, etc.
Workspaces give you a number of management options to align your projects with business objectives, internal policies, and research procedures.
There are 3 different sections that you can use to customize your experience, Page Settings, Folder Management, and General Settings. 
Page Settings is where you can change your general view of your workspace.  This includes things like Patent Grouping, Language, and Sorting settings.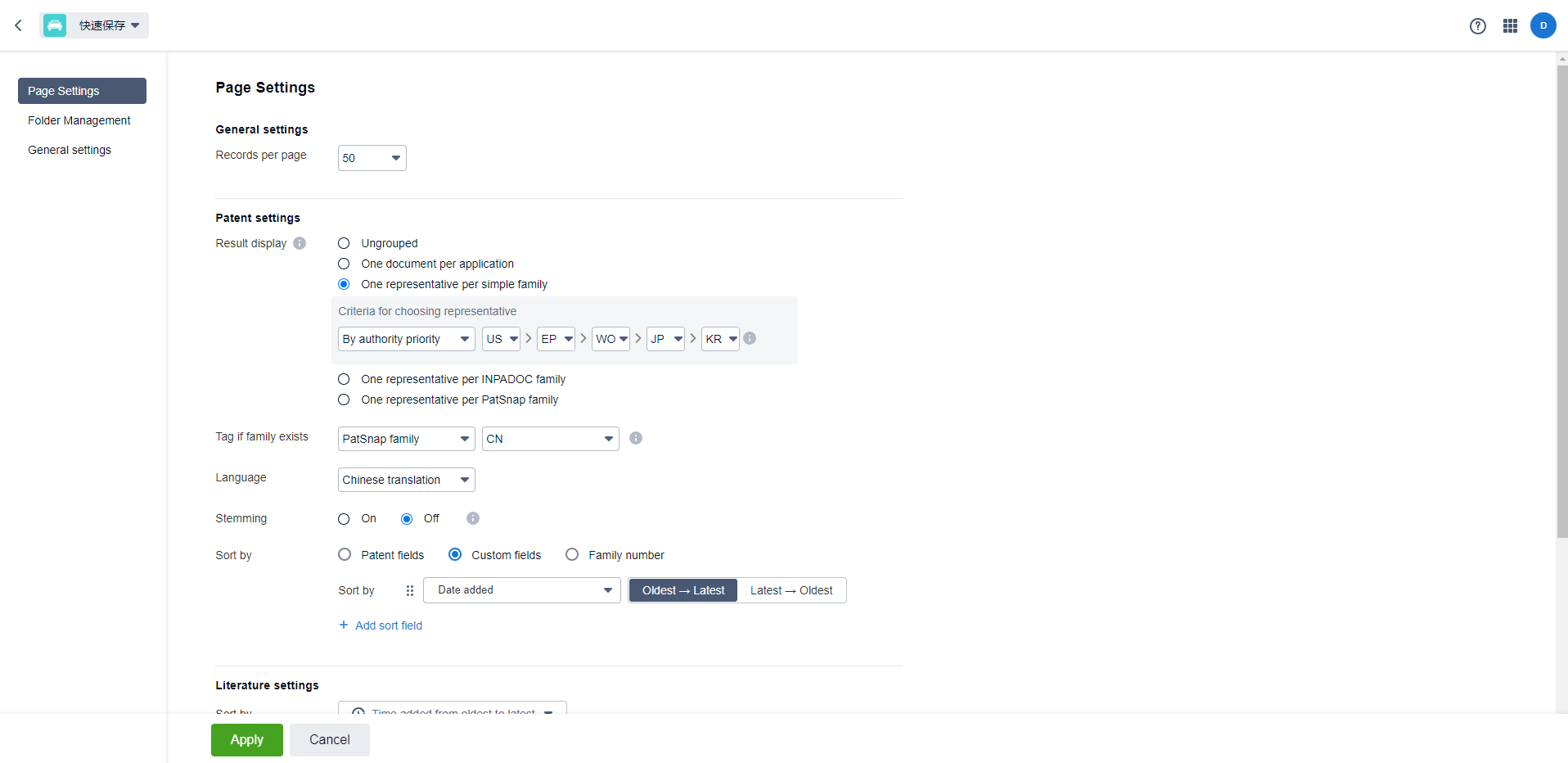 Folder Management is an additional place where you can add new folders as well as organize and edit any of your current folders.  These folders and sub-folders within a Workspace, can correspond to the stages of the product lifecycle and can enable you to bridge the gap between the IP, scientific and regulatory functions of the business. It can depend both upon the regulatory process you are mandated by and the type of portfolio you are focusing on.

Default field settings is where you can create custom templates for your display fields and filters, and apply them instantly when you make a new workspace. Enabling you make new workspaces more efficient and manage workspace settings more conveniently. To use this feature, first edit the different views to show your desired display fields and filters. Next click "save as a template" in the top right. Finally, toggle between your different templated using the drop down menu.  
Pressing "Save as Default" will apply the template to new workspaces when they are created. Meanwhile, selecting "Save and Apply" while apply the template for all existing workspaces.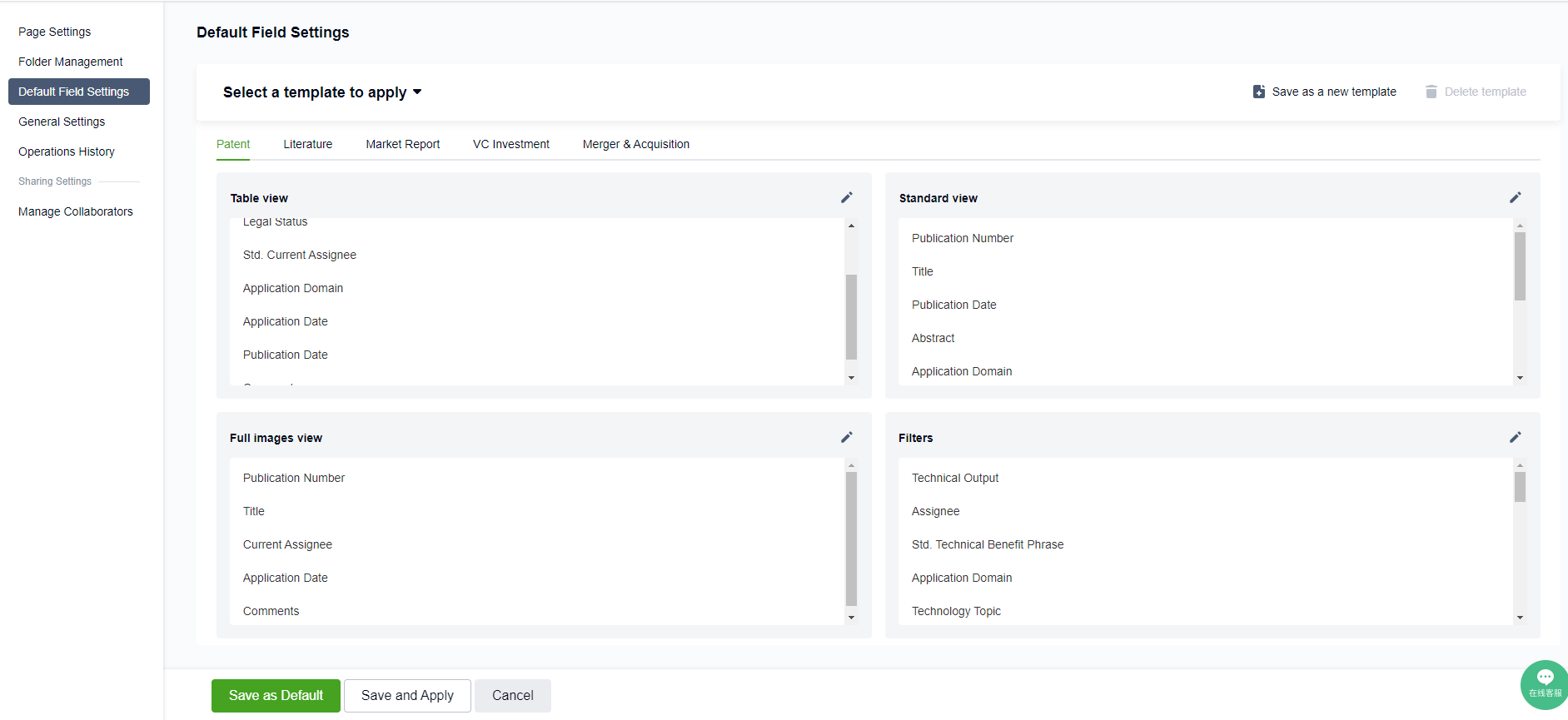 General Settings is where you can tailor your patent view based on your viewing preference.  If you have both an Analytics license as well as a Eureka license you can now choose what view your workspace will open the patents to.  If you would prefer more of an IP focused view Analytics is recommended, and if you are working more in an R&D role Eureka is recommended.  
In the Operations History, you gain access to a comprehensive log of all modifications made to your workspace within the past 30 days. This enables heightened transparency in team collaboration, enhances overall efficiency in collaboration, and facilitates the prompt identification of any unusual activities occurring within your workspace.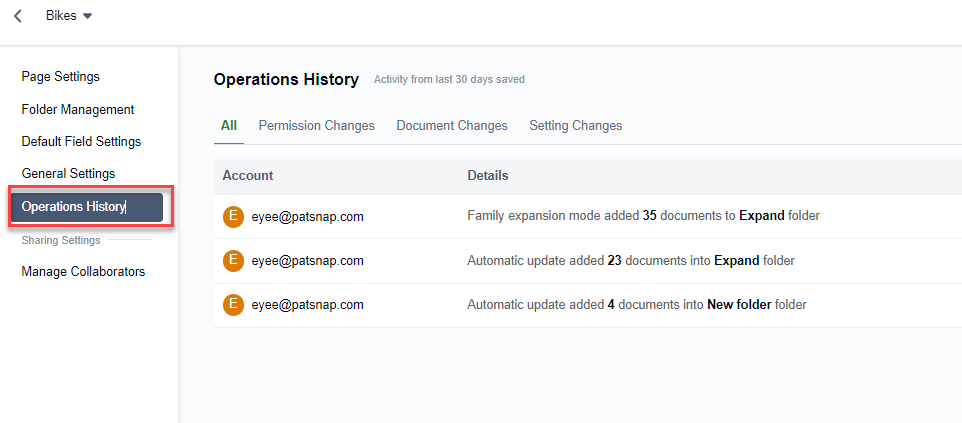 The "Comments" section provides an area where you can leave yourself or others notes relating to individual patents. This is key as you can remind yourself of any noteworthy information you've found within a patent. Comments can provide clear communication between you and your colleagues and aid in establishing effective collaborative portfolio management.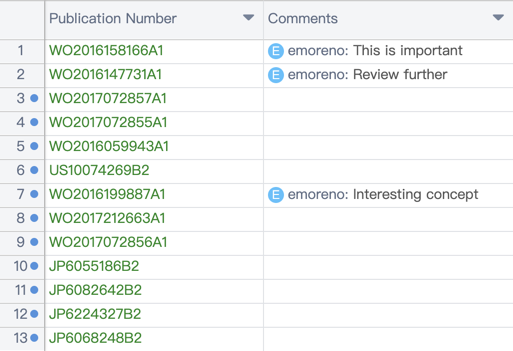 In order for your colleagues to work on the Workspace with you, they will need to have a PatSnap license.
Custom Fields
When you want to record more data relating to a patent or categorize it based on an internal metric or classification, you can add your own customized fields to the folder. This allows you to tailor each folder accordingly depending on your needs. In order to create a custom field, simply click on the Custom Fields tab, and then "+ Add Custom Field" within your Workspace to create a completely new custom field, or click on the "Manage fields" button (

) under the View settings tab to add previously created custom fields. 


There are six types of fields you can add: "Text", "Date", "Drop-down menu", "Numeric", "Drop-down tree", and URL Link.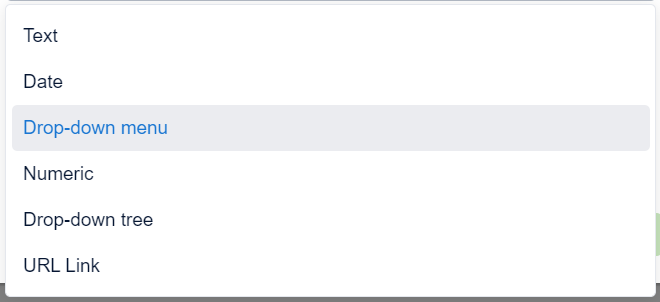 You can have a limited of each of these custom field types (the limit is based on the type of license you have), and there is no limit to the number of options you create in a drop-down menu or tree. Once you have created your custom fields, you can sort your list of patents based on one of the criteria or information within them.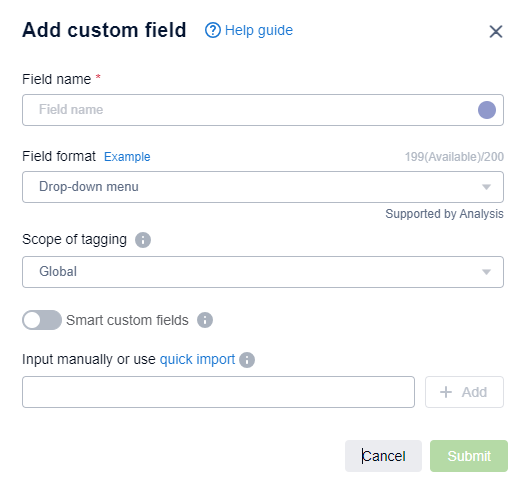 Scope of tagging: 
By selecting 'Global,' the custom field value assigned to a record in this workspace may be visible in other workspaces where the record exists.

By selecting 'Workspace-specific' the custom field value assigned to a record in this workspace will not be visible outside of this workspace.

Workspace-specific custom fields do not support AI Tagging.

Scope of tagging settings cannot be changed after a field is created.
The information entered in a custom field will remain attached to a document across PatSnap. You can see the custom fields you have applied to a document in the "Patent view" page. Similarly, if you choose to show the same custom field column on multiple Workspace folders where some of the patents repeat, you'll notice that the patents that have used this custom field before in a different Workspace will display the same information that was saved previously. 
Vote mode
For drop down menu custom fields and drop down tree, you are able to turn on a feature called vote mode. This allows users to vote on different values in these custom fields.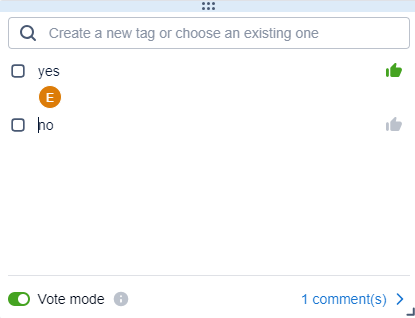 Sorting Options
You can find the sorting options for your workspace under the View Settings tab.  You can choose to sort based on the Patent Fields, Custom Fields, or the Family Number.  

Cell and Column customization
To deliver a better user experience while navigating Workspaces, PatSnap has implemented options similar to those of the most popular Spreadsheet programs out there.
Move Columns. It is possible to change an entire column's placement by clicking on a column header and dragging it to a new position.
Adjust the width of any column simply by clicking on the right side line of a column header, and dragging it left or right.

Freeze and unfreeze columns. All you need to do is to click on the arrow pointing down located in the column header, and select freeze/unfreeze. Frozen columns are always placed on the left side of a table.

Edit the contents of a cell by double-clicking on it.

Copy the contents of a custom field by clicking on the lower right portion of the cell and dragging it down.

Height adjustments (Text fields only)
Text can now be displayed in 3 different height options as demonstrated below:



Family Grouping
You can now find the Family Grouping options under the Data Management tab.  This will allow you to quickly change your grouping settings without having to go to the full settings screen.

Automatic Updates
You will often find that the technology space you are looking into is still active, and therefore, any searches you do are limited in terms of how long they will be relevant. To overcome that, a Workspace can be configured based on a query, which means it will be updated based on that query. There are two ways to achieve this:
1. Set up an automatic update for a folder when creating it
Once you have conducted a search and you are happy with a list of patents, you can put them into a Workspace. While doing this, select the "Automatic update" icon and add this to the folder in the Workspace you are creating.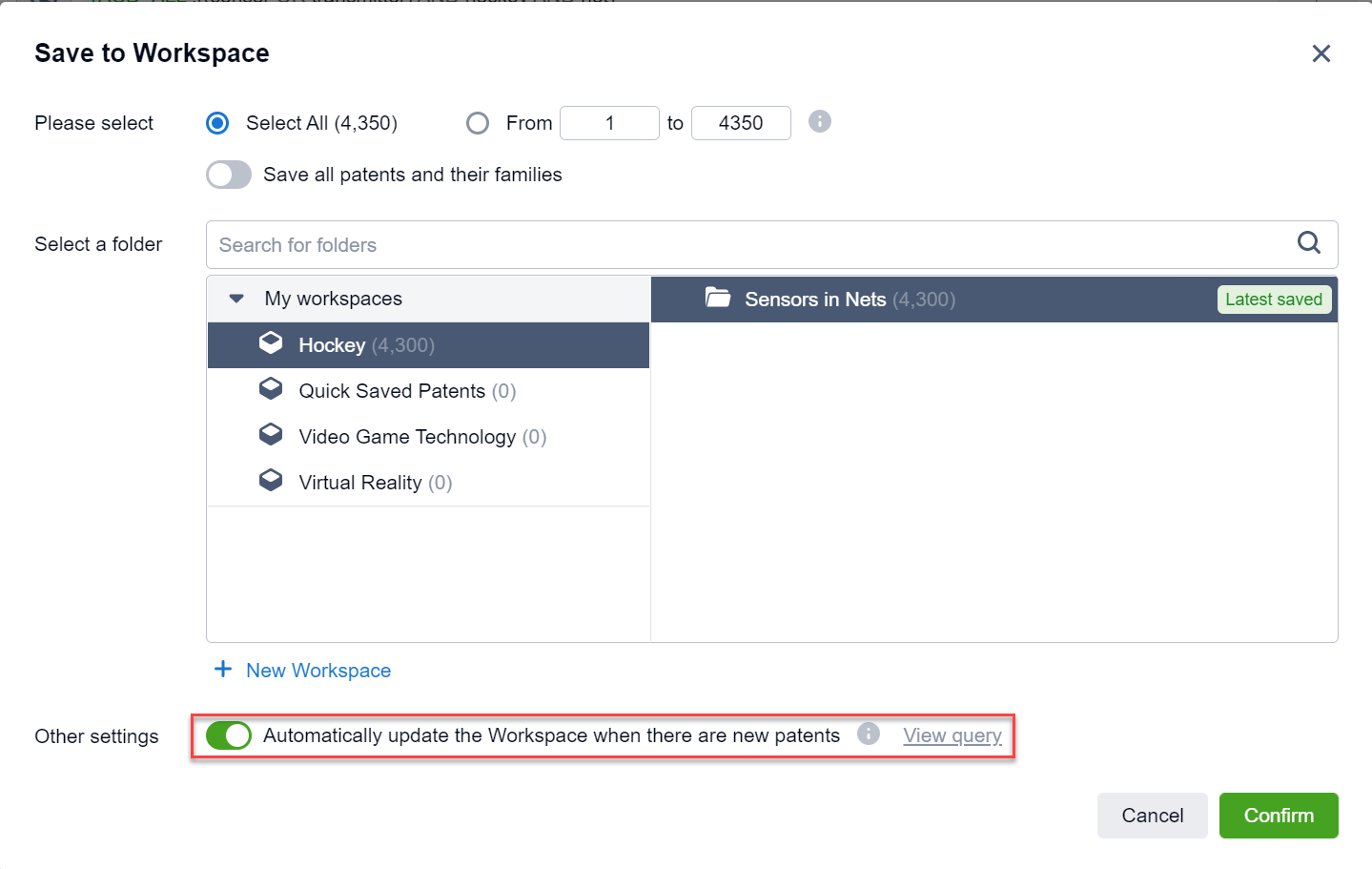 2. Add an automatic update to a folder after it has been created
Open the already existing Workspace in which you set up an automatic update. Select "Automatic Update" under the Data Management tab. Enter a search query and if a new patent is published that matches this search query, it will be automatically added to the Workspace.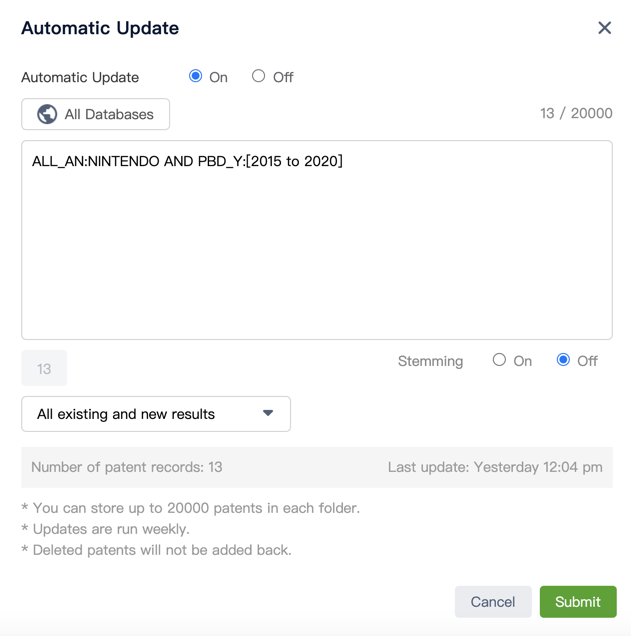 Export
The main difference between exporting patents from the results screen, and exporting them from a Workspace, is that in a Workspace export you are able to include the custom fields that you are currently using.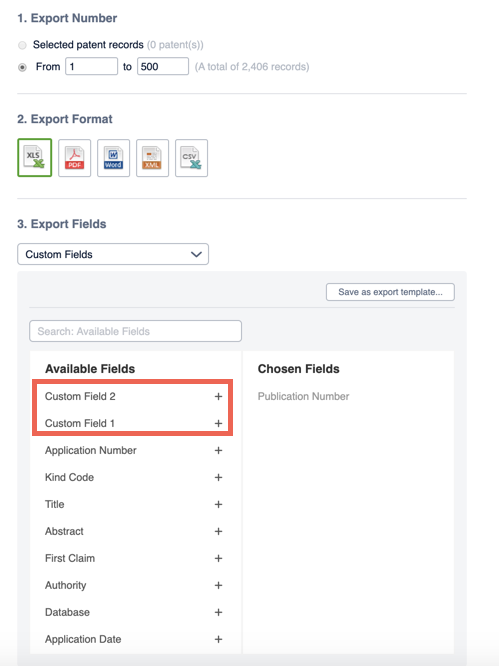 Import
"Import" will allow you to upload an xls/xlsx file with a a maximum of 20,000 patents at a time. PatSnap will match this list of patents to the corresponding entries in our database, and add them to your Workspace. The patents must be contained in a column with the title "publication number".
With the exception of "drop-down tree" fields, you can include any of the custom fields as part of an import. You just have to make sure that the custom fields used in the XLS file, are also present in your Workspace folder, and that they have the same title.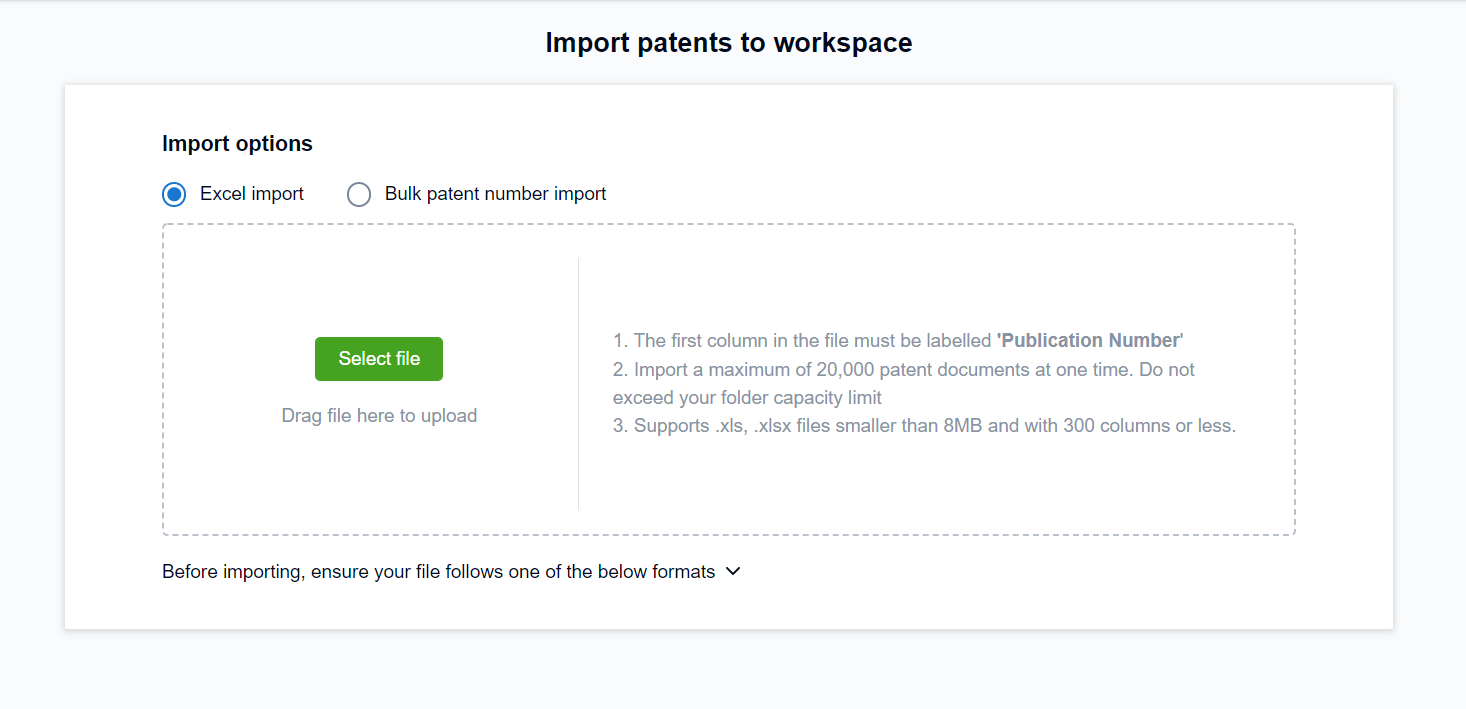 Email Alerts
"Email Alerts" provide the backbone to keeping up to date on changes within company portfolios or technology areas. To set up an alert on a patent or a set group of patents you want to track, go to your already created folder within a Workspace and click on the email alert button.
The automatic email alerts enable you to be one of the first to know of a new technology or freedom to operate area. These alerts enable you to stay up-to-date on any new patents being filed or on any changes being done to the existing patents that you might be tracking. These changes may consist of:
Legal status - e.g. Patents becoming invalid or withdrawn.
Simple/INPADOC/PatSnap family - e.g. When another application for that same technology gets filed elsewhere.
Citation - e.g. When any of your captured patents get cited by another patent.
Upcoming Expiry - e.g. Patents that are estimated to expire in the next 30 days.
Litigation - e.g. When any of the patents become involved in a litigation case.
Licensing - e.g. When any of the patents get into a licensing deal with another company.
Comments - e.g. When working on a shared folder you will be alerted when your colleague adds a comment.
It is recommended that you create a "Watch List" folder to house patents you have identified as expiring and then set up an email alert to be notified when this patent is about to expire.
To set up an alert, click on the "Email Alert" button under the Analysis and alerts tab. You can set up an alert for folders or sub-folders within your Workspace. Then give the alert a title and select the type of information that you want to receive notifications on. Using the "Send to" box, add in the email addresses of anyone who is a relevant stakeholder for this project (e.g. Regulatory teams, Patent Attorneys and Research Scientists). The key thing to remember is that these alerts can be sent to absolutely anyone, regardless of whether they have a PatSnap account or not. Anyone who wants or needs to stay informed can do so by having their email address placed in the alert.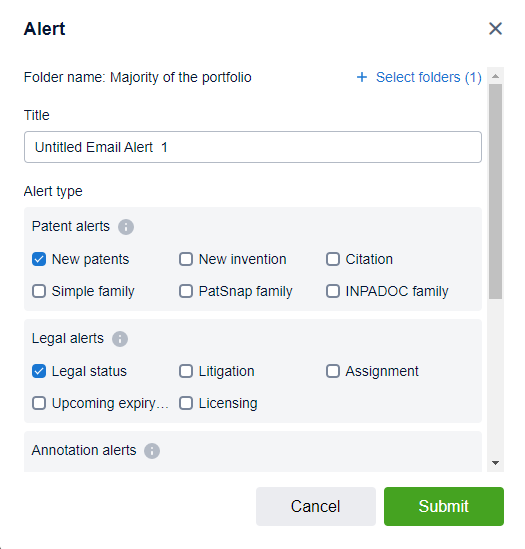 Sharing Workspaces
Working through large numbers of patents can be time-consuming. To get through patent portfolios as efficiently as possible, you have the option to share your Workspace with other PatSnap users. This promotes effective collaboration and leads to increased productivity. In some cases, sharing Workspaces provides the ideal system for tracing and managing different projects taking place within the same team or across two different departments.
Simply hover over the Workspace and the option "Share" will appear on the top right corner. Here, you can enter the email address of anyone who has a PatSnap account - this is not restricted to a specific company or organization, so you can share with external counsel, collaboration partners, etc.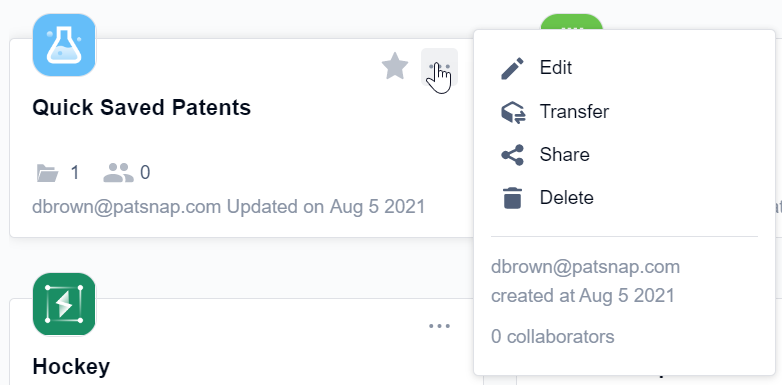 There are also different kinds of sharing in Workspaces, appropriate for different situations. Select "Read only" to ensure the person you are sharing the Workspace with can only see your comments or the folders you have made. Select "Editor" or "Administrator" if you want the other recipients to view everything that all users say and make their own edits. These are recommended for team projects. Select "Customize" to give specific tailored permissions.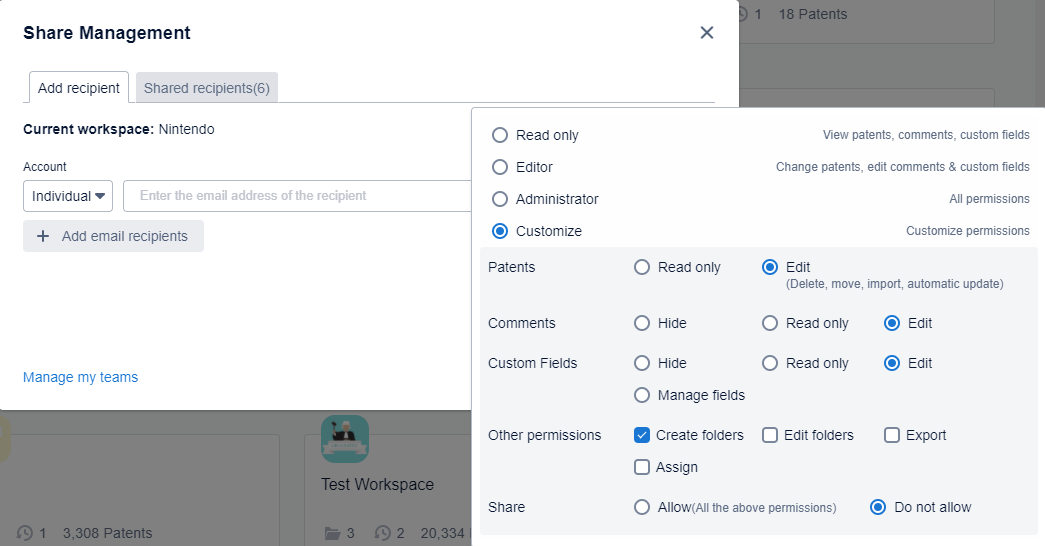 The shared workspace will appear in their Workspace tab.  You can can show only My Workspaces, Shared Workspaces, or Company Workspaces by clicking on the filter button in the top right corner.  

You can find more information about how to share or save a workspace here:  How Do I Share Or Save A Workspace? 
Patent Review Tracker
Complex innovation projects often require collaboration between different teams and departments. To reduce email traffic and keep projects organized, PatSnap has introduced the Patent Review Tracker. Patent Review Tracker enables you to allocate patents to other team members for review, and track the progress of your project. Deadlines can be set for time-sensitive tasks, and specific questions or instructions can also be given to the reviewer.
1. Select the patents you wish to allocate.
2. Then select "assign to".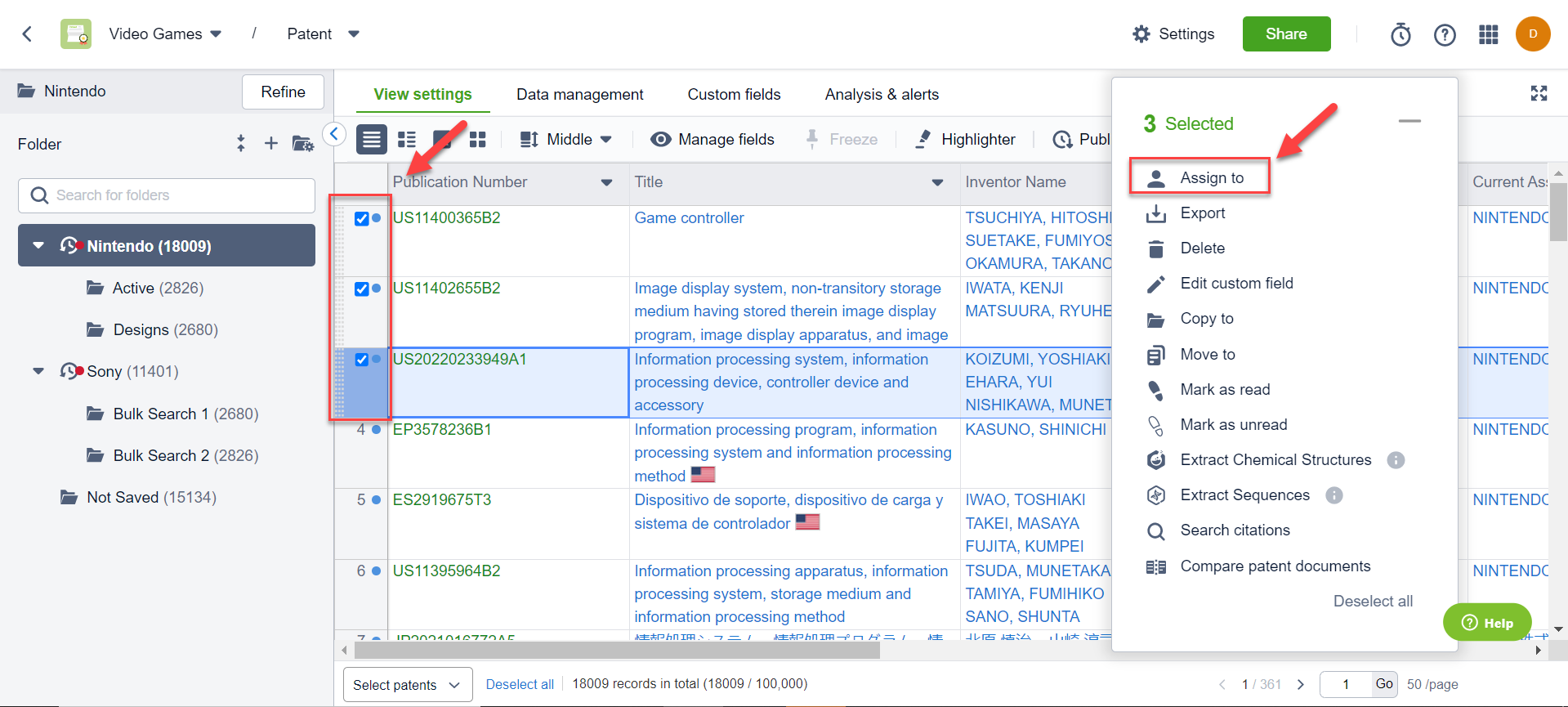 3. Assign Patents for Review.
This will bring up a pop-up menu where you will be able to select recipients, a completion date, set the priority level and provide the reviewer with any specific instructions.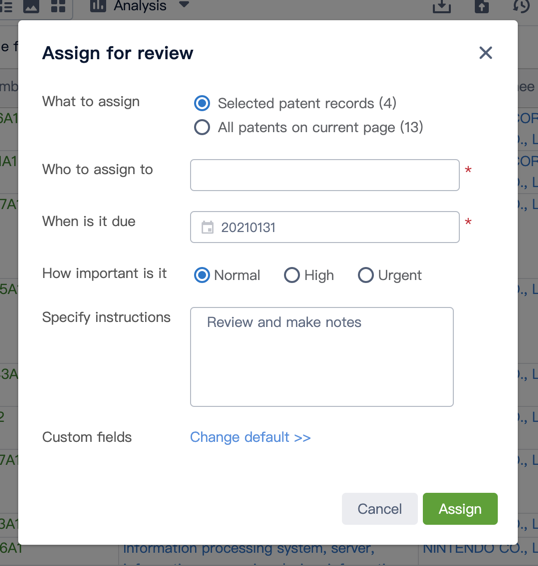 4. Track the status of your project.
The recipient will then a receive an email notification and the assignee will be able to review the progress of the task.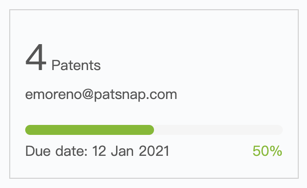 Undo
Undo button appears in all workspace types (personal, shared, and company), and appears in the tool bar in the top right hand corner in the workspace. Additionally, Ctrl+Z or Command Z can be used depending on your operating platform. Users need to have edit permissions to undo tasks in the workspace, and can undo up to 20 actions within 7 day period. 

Some undo tasks can only be done in the activity log, these include:
Batch tagging
AI tagging
Rule-based tagging
Family tagging 
Patent moving
Patent copying 

Summary
There are three key steps that can be taken to increase transparency and communication across teams using Workspaces by PatSnap:
Adopt a naming convention for your Workspaces and relate these to company objectives and goals.
Create a Workspace with customized fields and add comments so that anyone can review the research that has been carried out.
Share the Workspace with relevant stakeholders across the business.
R&D teams, IP divisions, and other business units must have a collaborative understanding of where their company's current portfolio and innovation scope is heading and review and tweak their strategies accordingly. Workspaces provide an ideal platform for this activity to be facilitated and encouraged, leading to an alignment of teams and successful execution against company goals and targets.