There are 2 ways of locating Competive Landscape within Discovery.
Firstly, you can find it in the Company tab once you have performed a technology and competitive intelligence search.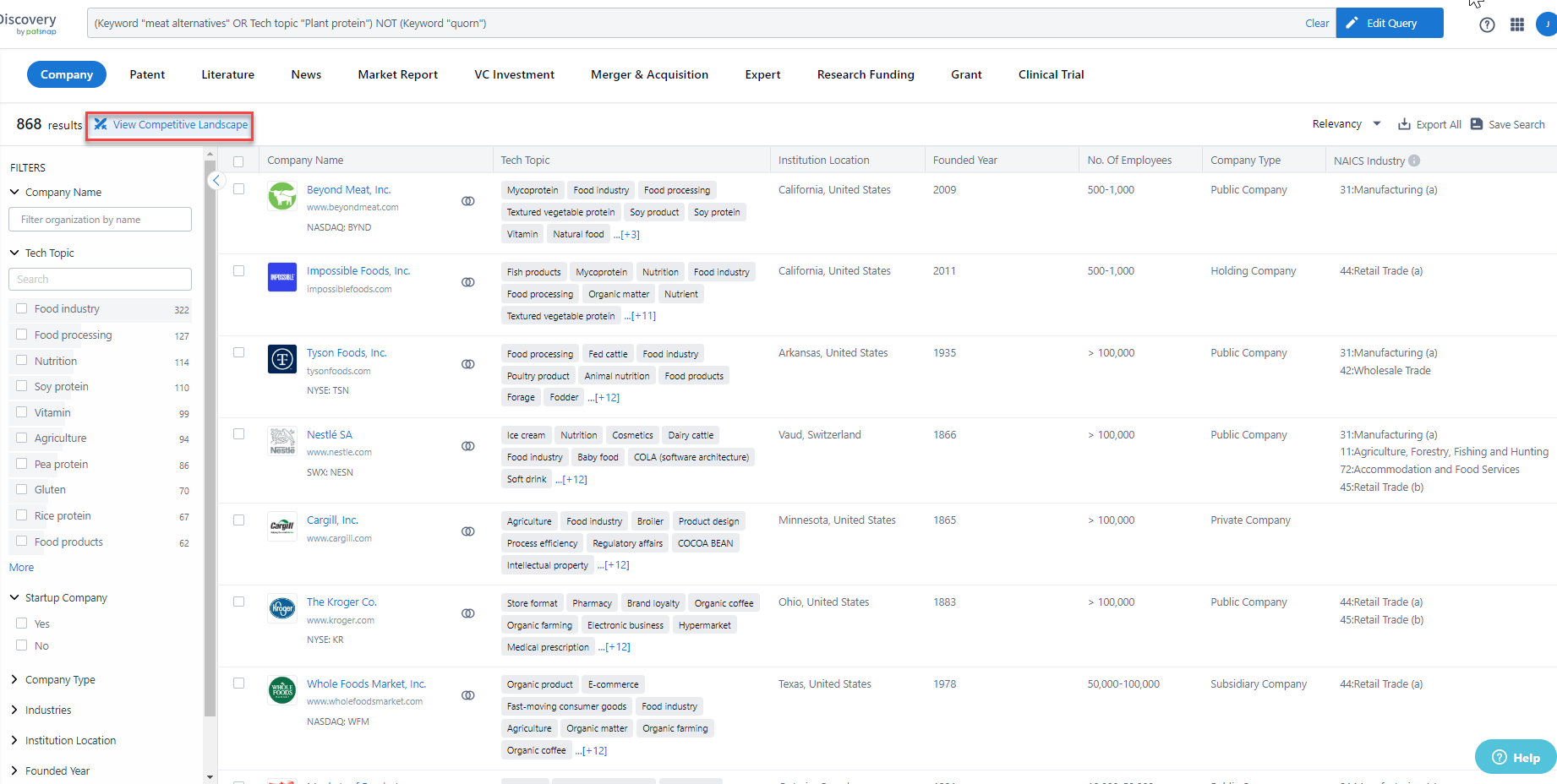 Secondly, there is the "Competive Landscape" icon on the left-hand side of the page, which allows you to build your search from scratch and then take it to a Competitive Landscape.

Once you reach the Competive Landscape, you will come to a screen that looks like this:

Competitors are organized into the following groups where the list of results for each can be found by clicking the options at the top of the page:
Key Players: Companies that are dominant in technology innovation with most patent filings, literature publications and frequently mentioned in market reports or news articles.
Startups & Unicorns: Newly founded companies in the last 10 years, and contains disruptive technology.
Fast-growing: Companies with remarkable innovation trends in the past five years with many patents filed.
New entrants: Companies that have recently entered the corresponding technology field.
Research institutions: Universities and research institutions which are dominant in scientic research with most patent filing, literature publications and citations.
For each of the groups, you will see a list of companies/institutions. You have the ability to sort the results and see a chart based on them. You can export these charts and choose to show names on them.
The list of categories you can sort the companies by using the drop-downs are as follows:
Key Players
With Most Patent Filings will display the key players according to the total amount of patents per company
With Highest Patent Value will display the key players according to the average patent value in the company
With Most SEP Patents will display the key players according to the total amount of SEP patents per company
With Most Patent Citation will display the key players according to which company has the most patents cited by other patents
With Most Research Publications will display the key players according to the total amount of papers associated with each company
With Most Literature Citation will display the key players according to which company has the most papers cited by other papers
With Most Market Reports will display the key players according to the associated market with the most report count
With Most News Heat will display the key players according to the associated news article count
Startups & Unicorns
With Most Patent Filings will display the top start-ups and unicorns according to the total amount of patents per company
With Highest Patent Value will display the top start-ups and unicorns according to the average patent value in the company
With Most News Heat will display the top start-ups and unicorns according to the associated news article count
With Most Market Reports will display the top start-ups and unicorns according to the associated market with the most report count
Fast growing
Patent Filing Most in 5 years - the most patent filings in the last 5 years
Patent Filing Most in 3 years - the most patent filings in the last 3 years
Patent Filing Most in 1 year - the most patent filings in the last year
New entrants
Patent Filing Most in 5 years - the most patent filings in the last 5 years
Patent Filing Most in 3 years - the most patent filings in the last 3 years
Patent Filing Most in 1 year - the most patent filings in the last year
Research institutions
With Most Patent Filings will display the top research institutions according to the total amount of patents per institution
With Highest Patent Value will display the top research institutions according to the average patent value for the institution
With Most SEP Patents will display the top research institutions according to the total amount of SEP patents per institution
With Most Patent Citation will display the top research institutions according to which institution has the most patents cited by other patents
With Most Research Publications will display the top research institutions according to the total amount of papers associated
With Most Literature Citation will display the top research institutions according to which institution has the most papers cited by other papers